Friday's top prospect performers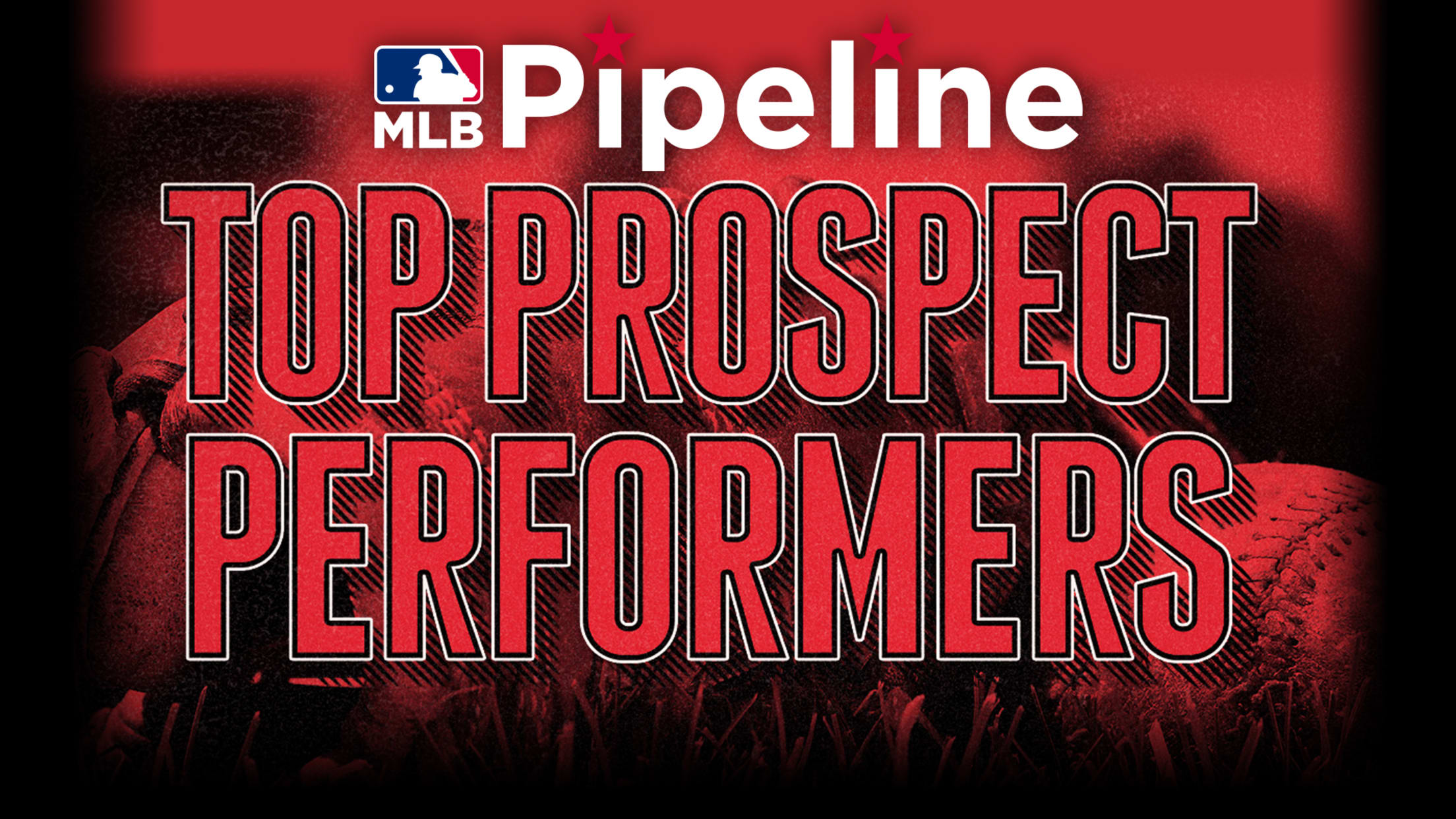 Here's a look at Friday's top Minor League performers from each team's Top 30 Prospects list: AMERICAN LEAGUE EAST Blue Jays: Cal Stevenson, OF (No. 24) – 2-for-2, 2 R, 2 BB (Class A Adv Dunedin) Stevenson reached base in each of his four trips to the plate, coaxing a
Here's a look at Friday's top Minor League performers from each team's Top 30 Prospects list:
AMERICAN LEAGUE EAST
Blue Jays: Cal Stevenson, OF (No. 24) – 2-for-2, 2 R, 2 BB (Class A Adv Dunedin)
Stevenson reached base in each of his four trips to the plate, coaxing a pair of walks and two singles as he extended his hitting streak to eight games. The 22-year-old outfielder posted a .192 average in April but has batted .294 with 20 walks (vs. 21 strikeouts) in 40 games since the start of June. A 10th-round pick out of Arizona in 2018, Stevenson received an aggressive assignment to the Florida State League this season after a terrific pro debut in which he slashed .369/.511/.523 with 23 extra-base hits, 21 steals and a ridiculous 64/24 BB/K.
Blue Jays prospects stats »
Orioles: Alex Wells, LHP (No. 26) – 5 1/3 IP, 5 H, 1 R, 2 BB, 5 K (Double-A Bowie)
A pitchability lefty out of Australia signed in 2015 by Baltimore, Wells is thriving in his Double-A debut this year. His ERA sits just under 2 at 1.90, which would be a career-best for the fourth-year pro. He's only struck out 43 batters in 61 2/3 innings, but that's not his game. The 22-year-old southpaw regularly turns in performances like this one, as it's his seventh outing of one earned run or fewer in 11 starts this year. Bowie would score more than enough to earn Wells a deserved win, his fifth of the season, defeating Harrisburg 6-2.
Orioles prospects stats »
Rays: Matthew Liberatore, LHP (No. 4, MLB No. 46) – 7 IP, 4 H, 1 R, 2 BB, 2 HBP, 7 K (Class A Bowling Green)
The 2018 first-round pick (No. 16 overall) carried a no-hit bid into the sixth inning before South Bend's Brennan Davis tagged him for a two-out double and came in to score when the next batter singled to center field. That lone run was the difference in the game, as Bowling Green fell to the Cubs, 1-0, to hand Liberatore his first loss in seven starts this season. The 19-year-old southpaw has worked seven innings in back-to-back starts and has completed at least five frames in all seven turns for the Hot Rods, pitching to a 1.76 ERA with 39 strikeouts in 41 innings overall.
Rays prospects stats »
There are zeros all over the box score for the #Rays' 2018 first-round #MLBDraft pick and No. 4 prospect Matthew Liberatore.

5 IP
0 H 👀
0 R
2 BB
4 K

Live stats for all of #MLB's Top 100 prospects: https://t.co/Ou6GPikiOb pic.twitter.com/KkYppiXOgC

— MLB Pipeline (@MLBPipeline) June 22, 2019
Red Sox: Tristan Casas, 1B/3B (No. 1, MLB No. 96) – 2-for-5, HR, 2 RBI (Class A Greenville)
Casas teed off in his first at-bat of the game, hitting a two-run homer in the second inning to put Greenville on the board. He was one of five players to record multiple hits for the Drive on the night, and all nine starters for finished the game with at least one knock in their 5-0 win over Lexington. Casas' homer was his third in his last seven games and 13th of the season, and the 19-year-old has now gone deep 11 times since the start of May after homering twice during the season's first month. More than just a slugger, Casas has produced a .273/.346/.528 line with 55 RBIs (second-most in the South Atlantic League) over 64 games in his first full season after being taken with the No. 28 overall pick in the 2018 Draft.
Red Sox prospects stats »
Yankees: Garrett Whitlock, RHP (No. 16) – 6 IP, 7 H, 3 R, 0 BB, 7 K (Double-A Trenton)
Whitlock qualified for a quality start and was in line for a win, but the bullpen allowed the game to enter extras where the Thunder won anyway. An 18th-round pick out of Alabama-Birmingham, Whitlock looked like a bit of a steal and is proving to be a solid arm and broke out last season with a 1.86 ERA across three levels. He's at Double-A full time this season and pitching to a 3.03 mark, and while his strikeouts have been down a bit, Friday's seven over six innings are a positive sign.
Yankees prospects stats »
AMERICAN LEAGUE CENTRAL
Indians: Eric Haase, C (No. 29) – 2-for-4, HR, 3 RBI, 2 R, BB (Triple-A Columbus)
Haase earns his best grades on his MLB Pipeline scouting report in power and arm. He's shown both off this season, especially the power over the past few weeks. The 2011 seventh-round Draft pick out of the Michigan prep ranks has seven homers since his last trip to the Majors back on May 25, and he's up to 18 on the season. With two more homers, which are almost sure to come unless he moves up to the Indians for the long haul, he'll have his third straight 20-HR campaign. His arm is as good as advertised, as well, as he's prevented 16 steals on 44 attempts for the Clippers this season.
Indians prospects stats »
Royals: Brewer Hicklen, OF (No. 16) – 2-for-3, 2 R (Class A Adv Wilmington)
The Blue Rocks didn't need a lot of offense to win on Friday, as Wilmington held Frederick scoreless, but Hicklen did his part to make sure the victory was secured by scoring twice batting out of the No. 3 spot in the lineup. Hicklen is an on-base machine this season with an OBP of .426 after Friday's game, which would be a career-best for the 2017 draftee out of Alabama-Birmingham. He's reached base two or more times in five of his past six appearances.
Royals prospects stats »
Tigers: Tarik Skubal, LHP (No. 17) – 5 IP, 4 H, 3 R (1 ER), 2 BB, 11 K (Class A Adv Lakeland)
Skubal racked up a career-high 11 strikeouts on Friday, fanning at least two batters in every frame -- he struck out the side in the fifth, while pitching around a two-out error -- in Lakeland's win over Charlotte. The double-digit strikeout performance was the 22-year-old lefty's third this season in 13 starts and pushed his season total to 83 strikeouts (against 18 walks) in 66 1/3 innings. The Tigers appear to have found a steal in Skubal, whom they took in the ninth round of last year's Draft out of Seattle University, even though he had put up underwhelming numbers as a senior after losing most of the 2016-17 season to Tommy John surgery. To go along with his impressive strikeout total, the 6-foot-3, 215-pounder also has pitched to a 2.98 ERA while limiting opposing hitters to a .205 average and four home runs.
Tigers prospects stats »
Twins: Luis Rijo, RHP (No. 30) – 5 IP, 1 H, 0 R, 1 BB, 5 K (Class A Cedar Rapids)
Rijo allowed exactly one hit over five scoreless innings for a third straight start. He faced one over the minimum in the outing, striking out five and generating seven groundouts while throwing 47 of 70 pitches for strikes. What the 20-year-old lacks in overpowering stuff he compensates for with plus control, which has enabled him to make easy work of most Midwest League offenses this season while compiling a 2.72 ERA in 46 1/3 innings (nine starts).
Twins prospects stats »
White Sox: Luis Robert, OF (No. 1, MLB No. 5) – 1-for-4, HR (Double-A Birmingham)
After snapping an 0-for-17 skid with a home run last night, Robert made it two dingers in as many nights on Friday when connected on a solo shot in the sixth inning of Birmingham's loss against Chattanooga. It was the tooled-up 21-year-old's sixth homer in 43 games at the Double-A level, and, overall, he's gone deep 14 times in 62 games across two levels this season after failing to jump the yard over 50 games in 2018. To go along with that power, Robert has produced a robust .350/.401/.642 line with 38 extra-base hits and 19 steals.
White Sox prospects stats »
Luis Robert is back on track. 💣 🔥

The #WhiteSox top prospect swatted his 14th HR of the year, his second in as many games for the @BhamBarons, after ending an 0-for-15 skid yesterday.

Here's how all #NextSox are doing: https://t.co/uBQmd4CvWn pic.twitter.com/DNeyQVNIsW

— MLB Pipeline (@MLBPipeline) June 22, 2019
AMERICAN LEAGUE WEST
A's: Brian Howard, RHP (No. 21) – 6 1/3 IP, 6 H, 2 R, 0 BB, 9 K (Double-A Midland)
Howard was unlucky on Friday, picking up the loss after turning in a quality start with a season-high nine strikeouts. The 2017 draftee out of TCU had allowed four runs in three straight starts prior to his strong outing for the RockHounds, who fell to Arkansas 4-1. Howard is at Midland for the second straight season, and his numbers have been consistent from Day 1. He strikes out just under a batter per inning with an ERA in the mid threes and a WHIP right around 1.30. He's got a ton of decent pitches in his arsenal and the A's will hope he'll continue to develop them and become a rotation option sooner or later.
A's prospects stats »
Angels: Jo Adell, OF (No. 1, MLB No. 4) -- 3-for-4, HR, 2 RBI, 2 R, BB (Double-A Mobile); Matt Thaiss, 1B/3B (No. 6) -- 2-for-4, 2 HR, 3 RBI, BB (Triple-A Salt Lake)
Adell smashed a 1-2 fastball on the outer half of the plate over the wall in right-center field for his second home run in as many games, the highlight of his third multihit effort in four games for the BayBears. The 20-year-old suffered a knee and ankle injury on the same play during Spring Training and didn't make his season debut until May 24, but he's quickly making up for lost time since returning to action, slashing .365/.440/.676 with five homers, eight doubles and four steals in 20 games between Mobile and Class A Advanced Inland Empire. The 2017 first-rounder solidified his place as one of baseball's best prospects last season, when, at age 19, he batted .290/.355/.543 with 20 homers, 32 doubles and 15 steals while ascending three levels to Double-A. Thaiss has been on a power surge this month, swatting seven homers to raise his season total to 13. That puts him on pace to smash his career best of 16, set last season across two levels of play. This season has been spent exclusively with the Triple-A Bees, as the 24-year-old knocks on the door of a crowded first base/designated hitter situation at the big league club. If the power isn't attracting the Angels' attention, his plate approach should, as he's already up to 51 free passes this season, more than the 44 he earned last year in 55 more games.
Angels prospects stats »
June is Matt Thaiss month.

The #Angels' No. 6 prospect swatted two more homers tonight, bringing him up to 13 on the season and 7 this month! He's batting .292 in June with an OPS of 1.024.@Angels Top 30 prospects: https://t.co/tfiH8kaRXs pic.twitter.com/Hq8vxXTKSp

— MLB Pipeline (@MLBPipeline) June 22, 2019
Astros: Enoli Paredes, RHP (No. 25) – 6 IP, 3 H, 0 R, 2 BB, 9 K (Double-A Corpus Christi)
Paredes put a shaky first Double-A start (3.1 IP, 5 H, 6 ER, 4 BB) behind him as he matched his season high in strikeouts and innings to pace the Hooks' in a combined three-hit shutout against Springfield. Operating with a fastball that reached the upper 90s in the outing, the 23-year-old righty recorded exactly half of his outs via the strikeout to increase his season total to 77 in 57 1/3 innings across two levels. What's more, Paredes has given up just 29 hits this season, holding opposing hitters to a .148 average. So, yeah, he's pretty nasty.
Astros prospects stats »
Mariners: Jake Fraley, OF (No. 14) -- 2-for-3, HR, 4 RBI, 2 R, BB, SB (Triple-A Tacoma)
Making his Triple-A debut after receiving a promotion from Double-A Arkansas on Thursday, Fraley launched a three-run home run in his second at-bat and added an RBI single in his next trip to the plate to power Tacoma past El Paso. The 24-year-old was promoted to the Minors' highest level after he batted .313/.386/.539 with 11 homers, 47 RBIs and 16 steals over 61 games in the Texas League. Acquired in the November trade that sent catcher Mike Zunino to Tampa Bay, Fraley, with his impactful power-speed combo, could soon become a fixture in the Mariners' big league outfield.
Mariners prospects stats »
Rangers: Leody Taveras, OF (No. 6) – 4-for-5, 2B, R (Double-A Frisco)
Most people like to make a good first impression with their new employers, and that's what Taveras did on Friday night. The recently promoted 20-year-old made a splash in his second Double-A game, collecting four hits, which ties for his season-high. Signed for $2.1 million out of the Dominican Republic in 2015, Taveras is having the best season of his pro career, hitting for a much better average while retaining his speed on the basepaths. His .302 season average is 31 points better than the mark he posted in his pro debut across three levels of short-season ball.
Rangers prospects stats »
NATIONAL LEAGUE EAST
Braves: Jasseel De La Cruz, RHP (No. 23) – 7 IP, 2 H, 1 R, 5 BB, 9 K (Double-A Mississippi)
De La Cruz has soared up the ranks of the Braves' system this season, but not without some highs and lows. The 21-year-old signed out of the Dominican Republic started out in Rome, earned a move up to Class A Advanced Florida, and proved he deserved another promotion after tossing a no-hitter May 18. He was promptly send to Mississippi, and struggled out of the gate for the M-Braves. He allowed nine earned run in his first three outings, but in his past two he's allowed just one earned run per start. The five walks are a bit of a red flag, but the nine strikeouts match a season high.
Braves prospects stats »
Marlins: Monte Harrison, OF (No. 2, MLB No. 85) – 1-for-4, solo HR (Triple-A New Orleans)
Power and speed. That's Harrison in a nutshell, and he put the first half of that equation on display yet again on Friday night. It's the third homer in four games for the team's top hitting prospect, who also has 20 steals on 21 attempts this year. Acquired as a part of a the package sent from the Brewers in exchange for Christian Yelich, Harrison is posting career numbers in the hitter-friendly Pacific Coast League this season, his second with the Miami organization.
Marlins prospects stats »
Mets: There were no notable performances by Mets prospects on Friday.
Phillies: Francisco Morales, RHP (No. 8) – 4 IP, 1 H, 0 R, 1 BB, 7 K (Class A Lakewood)
A big, projectable right-hander signed in 2016 out of the Venezuela, Morales is not stranger to high strikeout totals. Friday's outing was his fourth this season with seven or more punchouts, and all four appearances have been five innings or fewer. On the season, he's whiffed an incredible 73 in 46 innings. He's struggled to keep batters from reaching base, as his 1.41 WHIP is close to his career mark of 1.43, but that hasn't been the case in recent games. He's allowed three or fewer hits in his past three games, and outside of a pair of four-walk appearances he's limited opponents to one or fewer free passes in every game since May 10.
Phillies prospects stats »
Nationals: Carter Kieboom, SS/2B (No. 1, MLB No. 21) – 2-for-5, HR, 3 RBI (Triple-A Fresno)
Kieboom didn't hit consistently enough when he got his first chance in the big leagues, but if his Triple-A performances are any indication, he'll eventually figure it out and become a quality Major League hitter sooner rather than later. His .993 OPS with the Grizzlies this season would be a career best by over 100 points, and while some of that is down to the hitter-friendly league in which Fresno plays, it's also a byproduct of the hit tool and power tool that have led to the 2016 draftee's steady rise through the organization's ranks. One year prior to Friday's impressive performance at the plate at Triple-A, Kieboom was making his first appearance at the Double-A level. The 21-year-old out of the Georgia prep ranks continues to demonstrate why he is such a highly touted prospect, and it's only a matter of time before those skills are on display in the nation's capital.
Nationals prospects stats »
🔑💥

Carter Kieboom has gone deep for the 11th time as a member of @FresnoGrizzlies this season, and twice in his past three games.

He's the #Nationals' No. 1 prospect: https://t.co/bBUWaG3pGH pic.twitter.com/cGPnJIEASA

— MLB Pipeline (@MLBPipeline) June 22, 2019
NATIONAL LEAGUE CENTRAL
Brewers: Aaron Ashby, LHP (No. 9) – 7 1/3 IP, 3 H, 0 R, 3 BB, 8 K (Class A Adv Carolina)
Ashby, who is the nephew of 14-year big league hurler Andy Ashby, cruised through the first seven innings, allowing just three hits and a walk, but lost some steam when he returned for the eighth and was lifted after walking two of the first three batters in the frame. He recorded eight strikeouts and eight groundouts while throwing 101 pitches (65 strikes) in the scoreless outing, which was his second in as many starts – 14 1/3 IP, 4 H, 16 K overall -- since being promoted to Carolina. After leading all Division I JUCO pitchers in strikeouts (156) and K/9 (18.8) last year for Crowder JC in Missouri, the 21-year-old southpaw has punched out 96 batters in 75 1/3 innings so far in his first full season, giving him 162 strikeouts in 133 innings as a pro since his selection by Milwaukee in the fourth round of the 2018 Draft.
Brewers prospects stats »
Aaron Ashby's ERA with the @CarolinaMudcats is 0⃣.

The #Brewers No. 9 prospect has done nothing but throw 🔥 since promotion.

Tonight's line:

7 1/3 IP
3 H
0 R
3 BB
8 K

In two starts for Carolina:

14 1/3 IP
4 H
0 R
3 BB
16 K@Brewers prospect stats: https://t.co/I2GPBPfPre pic.twitter.com/BfwvQqQ1Tg

— MLB Pipeline (@MLBPipeline) June 22, 2019
Cubs: Aramis Ademan, SS/2B (No. 6) – 2-for-3, HR, 3 RBI, BB (Class A Adv Myrtle Beach)
Ademan drilled a go-ahead three-run homer in the fourth inning, only to watch as the Pelicans' bullpen surrender three runs over the final four frames to fall to Fayetteville, 5-4. After a challenging challenging campaign in the pitcher-friendly Florida State League last season (.207/.291/.273, 3 HR in 114 games) at age 19, Ademan is showing across-the-board improvement in his return to the level this season, with a .271/.380/.394 batting line and four home runs through 58 games.
Cubs prospects stats »
Cardinals: Conner Capel, OF (No. 17) – 3-for-5, HR, 2B, 4 RBI, 2 R (Triple-A Memphis)
Capel, whom the Cardinals acquired with outfielder Jhon Torres from the Indians last summer in the Oscar Mercado trade, plated runs with each of his three hits on Friday in the Redbirds' 14-7 win against Oklahoma City. His two-run single in the third inning and RBI double in the sixth were both game-tying hits, and he helped pad the Redbirds' lead in the eighth when he connected on his second home run in seven games since his promotion to the Triple-A level. He's batting .414 with seven extra-base hits in that span, after posting a .216/.279/.382 line with eight homers and nine doubles in 58 games with Double-A Springfield.
Cardinals prospects stats »
Pirates: Max Kranick, RHP (No. 25) – 7 IP, 9 H, 3 R, 1 BB, 4 K (Class A Adv Bradenton)
Kranick's seven-inning start matched his longest outing of 2019, and he got there despite giving up a season-high nine hits along the way. The 21-year-old has completed at least six innings in six straight starts and eight of his 14 turns this season, so it shouldn't come as a surprise that he ranks third the Florida State League leaders with 74 innings pitched. His ERA, meanwhile, sits at 4.01 after Friday's performance.
Pirates prospects stats »
Reds: Stuart Fairchild, OF (No. 13) – 2-for-3, HR, 2 RBI, BB (Class A Adv Daytona)
Fairchild, 23, drove in both of the Tortugas' runs on Friday, hitting an RBI single in the first inning and solo home run in the sixth in their 3-2 loss to Clearwater. He's batting .324 over his last 10 contests, with five multihit performances and seven RBIs in that span. The 2017 second-round pick started the season slowly, hitting just .130 in April, but since then he's raked at a .326 clip, with six homers and 19 extra-base hits in 36 games.
Reds prospects stats »
NATIONAL LEAGUE WEST
D-backs: Jazz Chisholm, SS (No. 1, MLB No. 59) – 2-for-3, HR, 3 RBI, 2 R, BB (Double-A Jackson)
Chisholm tied a bow on Jackson's four-run first inning with a three-run home run, his 14th of the season, though it wasn't enough to keep the Generals from falling to Mobile, 9-7. The 21-year-old shortstop got off to a slow start in his first Double-A campaign, hitting .151 in April and .180 in May, with 69 strikeouts in 45 games between the two months, but is starting to turn the corner in June, with a .245/.379/.453 line and only 18 strikeouts in 16 games. Chisholm put himself on the map last year by hitting 25 homers last season between two Class A levels, then continued to improve his stock with a standout turn in the prestigious Arizona Fall League at age 20.
D-backs prospects stats »
Dodgers: Will Smith, C (No. 5) – 2-for-5, HR, 2B, 2 RBI, 2 R (Triple-A Oklahoma City)
The 24-year-old backstop has been a home-run-hitting machine lately. He went deep for the sixth time in his last seven games Friday, one day after he his five-game homer streak came to an end with an 0-for-3 performance. After a 2018 campaign in which he slugged a career-best 20 homers last season between the Double- and Triple-A levels, Smith has already gone yard 16 times in 55 games this season, hitting 14 in Triple-A and two during his six-game stint in the big leagues.
Dodgers prospects stats »
Will Smith snapped his five-game homer streak last night.

Is he about to start another one?

The #Dodgers' No. 5 prospect went yard once again for @okc_dodgers tonight, his sixth since being optioned.

Live @Dodgers prospect stats: https://t.co/7DQOa0JpoJ pic.twitter.com/33Yvibof6e

— MLB Pipeline (@MLBPipeline) June 22, 2019
Giants: Mario Luciano, SS (No. 3) – 4-for-4, HR, 2B, 3 RBI, 3 R, SB (AZL Giants Orange)
The Giants inked Luciano, the top-rated middle-infielder prospect in last year's international class, for $2.6 million last July, and they deemed him advanced enough to make the jump stateside this year for his pro debut. Well ... so far, so good, as the 17-year-old recorded four hits including a home run after going 3-for-5 with a homer on Wednesday. Luciano has a gorgeous right-handed swing, one that should enable him to hit for both average and power, and he has the requisite athleticism and arm strength to profile just about anywhere on the field should he not stick as a shortstop.
Giants prospects stats »
Padres: Owen Miller, SS (No. 23) – 1-for-5, HR (Double-A Amarillo)
Miller, 22, reached the Double-A level late in his 2018 pro debut and filled in admirably for an injured Fernando Tatis Jr. at shortstop during the Texas League playoffs. Returning to the Double-A level in 2019, the third-round pick out of Illinois State has continued to impress, hitting .316/.370/.454 with eight homers and 40 RBIs in 70 games.
Padres prospects stats »
Rockies: Rico Garcia, RHP (No. 21) -- 5 IP, 6 H, 1 R, 1 BB, 5 K (Triple-A Albuquerque)
Garcia breezed through the first four innings of his Triple-A debut and fanned the first two batters he faced in the fifth before surrendering a ground-rule double followed by a triple. He finished the frame after a mound visit to complete an impressive outing in which he 53 of 88 pitches for strikes. The Rockies bumped the 25-year-old up to Triple-A after he dominated in Double-A during the first half, going 8-2 in 13 starts for Hartford, with a 1.85 ERA, 87/23 K/BB and .179 in 68 innings.
Rockies prospects stats »