Wednesday's top prospect performers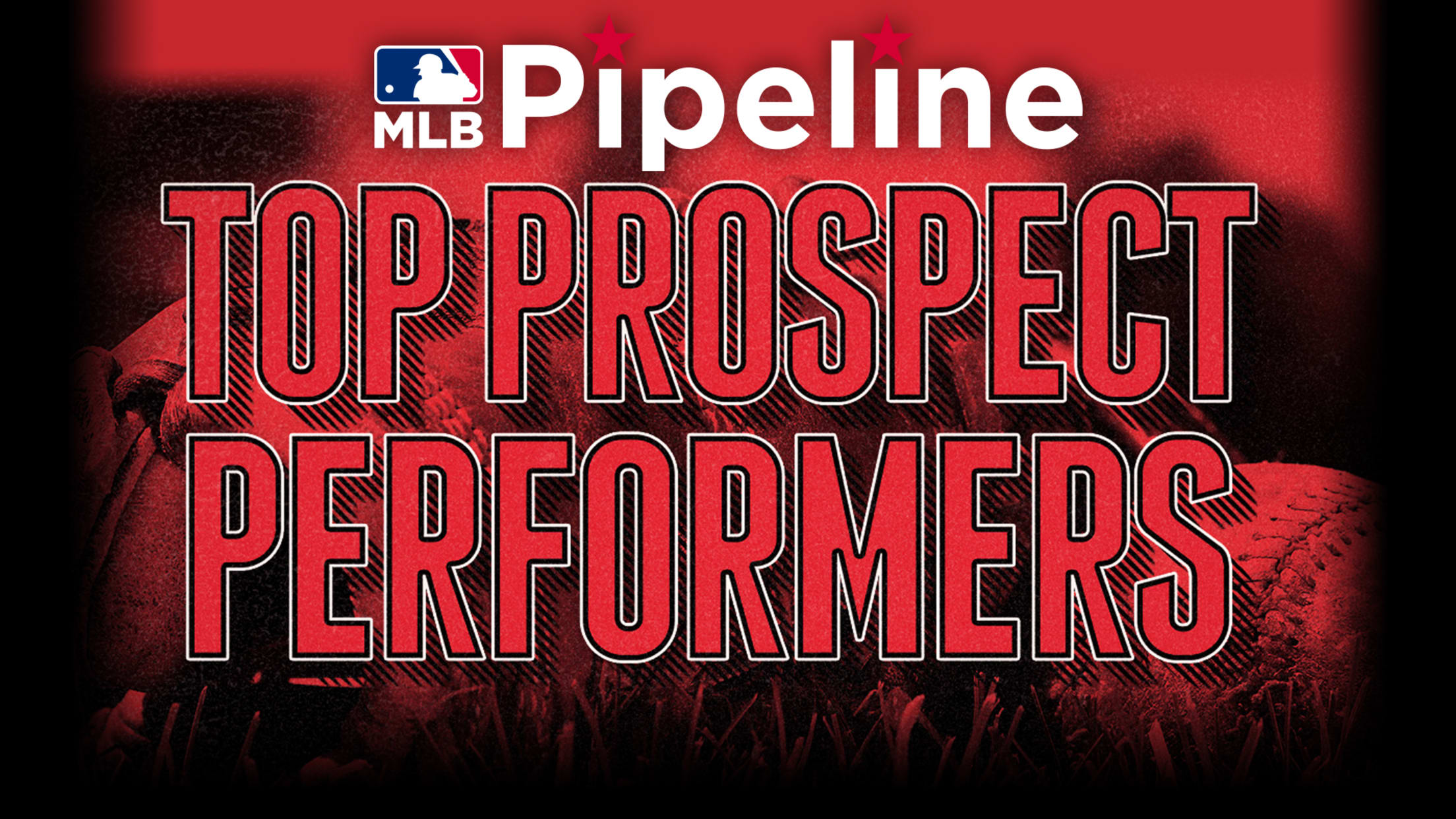 Here's a look at Wednesday's top Minor League performers from each team's Top 30 Prospects list: AMERICAN LEAGUE EAST Blue Jays: Bo Bichette, SS (No. 1, No. 8 in MLB) -- 2-for-4, 2 HR, 3 RBI (Triple-A Buffalo) Make that three straight multihit performances for Bichette, who extended his hitting
Here's a look at Wednesday's top Minor League performers from each team's Top 30 Prospects list:
AMERICAN LEAGUE EAST
Blue Jays: Bo Bichette, SS (No. 1, No. 8 in MLB) -- 2-for-4, 2 HR, 3 RBI (Triple-A Buffalo)
Make that three straight multihit performances for Bichette, who extended his hitting streak to five games with the first two-homer game of his career. The 21-year-old hit a solo shot in the fifth and then added a two-run blast in the seventh, bringing his home run total to seven and his average to .309. Bichette missed roughly six weeks with a broken hand, but returned in mid-June and has been raking ever since. The 2016 second-rounder sprays line drives all over the field, is a capable defender and it appears he's likely headed to Toronto at some point this season. Blue Jays prospects stats »
B 💣 to straight away center!!

Bichette's second homer of the day!!! #Bisons #BlueJays pic.twitter.com/peNfHdqGir

— Buffalo Bisons (@BuffaloBisons) July 17, 2019
Orioles: No Orioles prospects had noteworthy performances in the Minor Leagues on Wednesday.
Rays: Ronaldo Hernandez, C (No. 7) -- 3-for-5, 2 RBI (Class A Advanced Charlotte)
Hernandez continued his hot streak and is 8-for-14 over the past four games after his latest three-hit performance. The 21-year-old has been red-hot lately and is hitting .349 through 11 games this month. Hernandez has the ability to be an impact performer on both sides of the ball as he projects to hit for both power and average and also possesses plus arm strength and catch-and-throw skills. Rays prospects stats »
Red Sox: Pedro Castellanos, 1B/OF (No. 25) -- 1-for-4, HR, 2 RBI (Class A Advanced Salem)
Castellanos hit his second homer of the season, a two-run blast, in Salem's 4-2 win over Down East. The 21-year-old is hitting .269 in his first season with Salem after hitting .302 last year with Class A Greenville. Signed in 2015, Castellanos shows impressive pop in batting practice, but it hasn't translated to games thus far in his career. Red Sox prospects stats »
Yankees: Clarke Schmidt, RHP (No. 5) -- 5 IP, 2 H, 1 R, 0 ER, 1 BB, 5 K (Class A Advanced Tampa)
Schmidt has already had two stints on the injured list this season, but when he's been healthy, he's thrown well. The 2017 first-round pick has pitched to a 3.21 ERA through 42 innings with the Tarpons and hasn't allowed an earned run in three of his 12 outings. While he doesn't have overpowering stuff, Schmidt has the best four-pitch mix of any prospect in the Yankees' system and is generally around the zone -- he threw 40 of his 54 pitches for strikes Wednesday. Schmidt has the potential to throw four solid or better pitches, but his best pitch is his fastball, which has heavy sink and generates a lot out ground outs. Yankees prospects stats »
AMERICAN LEAGUE CENTRAL
Indians: Yu Chang, SS (No. 11) -- 1-for-4, HR, 4 RBI (Triple-A Columbus)
Chang only came up with one hit, but it was a big one as he delivered a sixth-inning grand slam in Columbus' win over Scranton/Wilkes-Barre. The 23-year-old, whom the Indians signed in 2013, is back with the Clippers for a second straight season. After hitting .256 last year, Chang, who did make his Major League debut and appear in two games this season, is hitting .261 through 35 games. Indians prospects stats »
Royals: Kris Bubic, LHP (No. 8) -- 6 IP, 5 H, 1 R, 0 BB, 11 K (Class A Advanced Wilmington)
Bubic continues to demonstrate his ability to stockpile strikeouts as he put together his fifth double-digit strikeout performance of the year. The 21-year-old Stanford product has pitched across two levels this season and fanned 135 in 97 2/3 innings. Bubic has struck out 21 batters over his past 13 innings pitched. On Wednesday, he threw 64 of his 94 pitches for strikes, fanned at least one in each of his six innings and struck out the side in the fourth. Royals prospects stats »
#Royals No. 8 prospect Kris Bubic was 💵 for @WilmBlueRocks:

6 IP
5 H
1 R (1 run over last 13 IP)
1 BB
11 K (5th double-digit strikeout game this season)

Live stats for all the @Royals' top prospects: https://t.co/6fTVs4PuRL pic.twitter.com/AI9Se6pGM8

— MLB Pipeline (@MLBPipeline) July 18, 2019
Tigers: Parker Meadows, OF (No. 8) -- 4-for-5, 2B, RBI (Class A West Michigan)
That's a career high in hits for Meadows, the Tigers' second-round pick from the 2018 Draft. The 19-year-old is 6-for-6 over his past two games and hitting .289 through 13 games this month, his best month thus far. After hitting .290 over 28 games last year in his professional debut, the younger brother of the Rays' Austin is hitting .234 this season. Tigers prospects stats »
Twins: Jhoan Duran, RHP (No. 8) -- 6 IP, 5 H, 0 R, 2 BB, 4 K (Class A Advanced Fort Myers)
Duran's 2-8 record certainly stands out, but it's not indicative of how the right-hander has pitched. The 21-year-old has a 3.16 ERA through 68 innings (14 games, 13 starts) this season and has held opponents to two earned runs or fewer in seven of his past eight appearances. Duran, a Dominican Republic native, mostly relies on his two fastballs -- a mid-90's four-seamer and a low-90's two-seamer that is a hybrid sinker and splitter -- although he does flash a plus curve from time to time. Twins prospects stats »
White Sox: No White Sox prospects had noteworthy performances in the Minor Leagues on Wednesday.
AMERICAN LEAGUE WEST
A's: Sheldon Neuse, 3B (No. 9) -- 2-for-3, 2B, RBI (Triple-A Las Vegas)
Neuse put the Aviators on the board with an RBI double in the first inning and he later picked up another hit, but the skies opened up and the game was called after five innings. Neuse is hitting .317 this season, has hits in 10 of his past 11 games and has also shown off some defensive versatility this year. The 24-year-old, acquired via a 2017 trade with the Nationals, will likely stick at third base, but has spent some time in the outfield as well as at second base and shortstop. A's prospects stats »
Angels: Trent Deveaux, OF (No. 14) -- 1-for-4, HR, 2 RBI (Rookie-level Arizona League)
Deveaux, a 19-year-old from the Bahamas, hit his second homer in his 23rd game of the season. Last year Deveaux hit just one homer over 44 games. While he has yet to put up big numbers, the outfielder is one of the best athletes in the Angels' organization and has 80-grade speed that will help him on the basepaths and could eventually help him reach his ceiling of being a plus defender. Offensively, Deveaux presently strikes out a lot, but is adding strength to his frame, which should help him impact the baseball and drive it a bit more. Angels prospects stats »
Astros: Enoli Paredes, RHP (No. 24) -- 6 IP, 3 H, 0 R, 2 BB, 9 K (Double-A Corpus Christi)
Paredes has been a case of Jekyll and Hyde since being promoted to Corpus Christi. The 23-year-old has made six appearances for the Hooks and has held the opposition scoreless every other time out. In the outings in between, he's surrendered a combined 15 runs over 12 1/3 innings. The Astros signed Paredes in 2015 and, when everything is working, the Dominican native uses his electric arm speed to unleash a low-to-mid 90s fastball and a solid slider. He also throws a changeup that shows promise. Astros prospects stats »
Mariners: Logan Gilbert, RHP (No. 3, No. 68 in MLB) -- 5.1 IP, 2 H, 2 R, 2 BB, 8 K (Double-A Arkansas)
Gilbert ultimately gave up two earned runs, ending his streak of 20 innings without an earned run, but that hardly takes away from his impressive Double-A debut. The 2018 first-round pick began the year with Class A Advanced Modesto, but quickly proved he was worthy of a promotion as he went 5-3 with a 1.73 ERA through 12 starts. Gilbert got off to a fast start in Double-A, too, as he cruised through the first four innings, retiring all 12 batters he faced. The fifth, however brought some trouble as Gilbert hit a pair and walked one, but still managed to escape the frame unscathed. Mariners prospects stats »
#Mariners No. 3 prospect Logan Gilbert, who hasn't allowed an earned run over his past 20 innings, just escaped a bases-loaded jam and is impressing his @ARTravs debut:

5 IP
0 H
0 R
1 BB
7 K

Live stats for all the @Mariners' top prospects: https://t.co/s5aDCFn32D pic.twitter.com/LPsVkyoLKF

— MLB Pipeline (@MLBPipeline) July 18, 2019
Rangers: Leody Taveras, OF (No. 6) -- 2-for-4, HR, 4 RBI (Double-A Frisco)
Taveras matched his season high with four RBIs, three of which came via his third homer of the year. The 20-year-old doesn't possess a ton of power, but was able to run into one on Wednesday night. Typically Taveras, a switch-hitter, is more of a hit-for-average batter with advanced bat-to-ball skills and is hitting .282 over two levels (88 games) this season. Rangers prospects stats »
NATIONAL LEAGUE EAST
Braves: Freddy Tarnok, RHP (No. 14) -- 4 IP, 4 H, 0 R, 1 BB, 2 K (Class A Advanced Florida)
Wednesday's start was yet another strong performance from Tarnok, who has yielded one run or fewer in four straight starts. Three of those starts came in the Rookie-level GCL as the 20-year-old was working his way back from a stint on the injured list. Wednesday's outing was Tarnok's first with the Fire Frogs since June 3 and he certainly impressed. Tarnok threw 43 of his 68 pitches for strikes and retired 11 of the 16 batters he faced. Braves prospects stats »
Marlins: Christopher Torres, 2B/SS (No. 27) -- 2-for-4, 3B (Class A Clinton)
The 2019 season hasn't been kind to Torres, who is hitting .187 through 70 games, but things may be trending up. The 21-year-old is in the middle of a six-game hitting streak that includes four multihit efforts and five extra-base hits. The Marlins acquired Torres from the Mariners in 2017, but the Dominican has suffered multiple injuries over the past couple of years and hasn't really had a chance to get steady reps and work on his development. Marlins prospects stats »
Mets: Mark Vientos, 3B (No. 4) -- 3-for-4, 2B, HR, RBI (Class A Columbia)
Vientos has 10 homers through 82 games this season -- one shy of his career high -- and it looks like it's only a matter of time until he surpasses that mark as homers have been coming in bunches recently for the 19-year-old. Vientos, a 2017 second-round pick, has homered four times in the past 10 games and in three of the past five. But it's more than just homers for Vientos, who also has hits in seven of those 10 games and is hitting .380 through 14 games this month. The Florida prep product was hitting .248 at the end of June and now sees his average sitting at .270 as he been raking in July. Vientos was one of the youngest players in his Draft class, which makes his current production all the more exciting. Mets prospects stats »
Nationals: Carter Kieboom, SS (No. 1, No. 21 in MLB) -- 3-for-5 (Triple-A Fresno)
Kieboom has mashed Triple-A pitching all season and that continued Wednesday as he extended his hitting streak to six games and boosted his average to .313. The 21-year-old has shown that he's ready for the Majors and actually made his Major League debut earlier this season. Kieboom's first Major League hit was actually a game-tying homer, but the 2016 first rounder didn't hit much with Washington and has a .128 average through 11 games. However, as he continues to dominate in Triple-A, it seems like only a matter of time until he gets another shot with the Nationals. Nationals prospects stats »
Phillies: Connor Seabold, RHP (No. 28) -- 5 IP, 2 H, 0 R, 1 BB, 5 K (Class A Advanced Clearwater)
Seabold's season got off to a late start as he began the year on the injured list with an oblique strain. However, the 2017 third-round pick is quickly making up for lost time. After a trio of starts in the Rookie-level Gulf Coast League, Seabold was bumped up to Clearwater, where he's been nothing short of dominant. The 23-year-old has racked up 10 strikeouts and yielded one run over nine innings (two starts). He's also given up four hits and issued just one walk. Seabold was viewed as an advanced pitcher coming out of Cal State Fullerton and he was living up to that billing late in 2018 as posted a 2.79 ERA over five August starts with Double-A Reading. The oblique injury slowed Seabold's development, but it will be intriguing to see how he looks when he gets back to Double-A. Phillies prospects stats »
NATIONAL LEAGUE CENTRAL
Brewers: Trent Grisham, OF (No. 30) -- 3-for-4, 2 2B (Triple-A San Antonio)
Grisham's hot streak continued with his fifth straight multihit performance, the latest big game in a breakout season for the former first-round Draft pick (2015). Grisham hit .233 over 107 games last year, but has exploded in 2019 and is hitting .276 with a career-high 22 homers. Grisham was considered one of the best prep hitters in his Draft class so this potential has long been there, however it took the 22-year-old a few years to discover who he was as a hitter and really start tapping into his potential. Brewers prospects stats »
Cardinals: Dylan Carlson, OF (No. 2, No. 88 in MLB) -- 3-for-4, 2 HR, 2 RBI (Double-A Springfield)
Carlson, a 2016 first-round pick, is putting together a breakout season in his first Double-A exposure. The 20-year-old turned in the first two-homer game of his career as he went deep in the first and fifth innings. Carlson is certainly hitting for power as his 16 homers are a career high, but he's also hitting for average. His current .291 mark is well above his previous career high of .251, set back in 2015. Cardinals prospects stats »
Twice as nice.
Carlson went deep again, his first two-homer game of the year. He now has 16 🚀 for @Sgf_Cardinals.

— MLB Pipeline (@MLBPipeline) July 18, 2019
Cubs: No Cubs prospects had noteworthy performances in the Minor Leagues on Wednesday.
Pirates: Cal Mitchell, OF (No. 6) -- 2-for-4, HR, 4 RBI (Class A Advanced Bradenton)
A walk-off homer is exciting, but a walk-off grand slam is about as good as it gets. Mitchell sent Marauders fans home happy as he capped a six-run ninth with a walk-off grand slam in a 7-3 win over Clearwater. The 20-year-old, a second-round pick from the 2017 Draft, also has hits in six straight games and has homered in back-to-back games, bringing his season total to a career-high 12. Mitchell is hitting .254 through 84 games in his first exposure to the Class A Advanced level and has the makeup to be a plus hitter in the future. Pirates prospects stats »
Here is that aforementioned Walk. Off. Grand. Slam. pic.twitter.com/CwY0f0IOlw

— MLB Pipeline (@MLBPipeline) July 18, 2019
Reds: Michael Siani, OF (No.6) -- 2-for-4, SB (Class A Dayton)
Make that three straight multihit games for Siani, who is working on a five-game hitting streak and batting .341 in July. The 2018 fourth-rounder doesn't have a ton of power, but he does possesses a balanced approach. Once he gets on base Siani has above-average speed and has made the most of it, having already swiped 27 bases this season. Reds prospects stats »
NATIONAL LEAGUE WEST
D-backs: Alek Thomas, OF (No. 7) -- 3-for-4, 3B, 2 RBI (Class A Kane County)
Thomas, a second-round pick from last year's Draft, extended his hitting streak to six games with his third straight multihit effort. The 19-year-old hit .333 in his professional debut and is hitting .313 through 78 games of his first full season. Thomas uses the whole field well and has an advanced approach from growing up around the game. While he doesn't have a ton of power, he has a good feel for the barrel, which results in sneaky pop and he could develop in a 12-15 homer type of player. D-backs prospects stats »
Dodgers: Gavin Lux, SS/2B (No. 2, No. 31 in MLB) -- 2-for-5, 2 HR, 5 RBI (Triple-A Oklahoma City)
Lux is seemingly unstoppable these days. The 2016 first-round pick out of the Wisconsin high school ranks hit two-run homers in the second and fourth innings and continued what has been a ridiculous offensive surge. He has reached base in 27 straight games and is working on a 15-game hitting streak and has now homered in four straight games. What's more, he's hitting .500 through his first 14 games with Oklahoma City. While this recent stretch is on a different stratosphere, it's not like Lux was slumping before. Prior to his promotion, the 21-year-old hit .313 through 64 games with Double-A Tulsa and hit .324 over 116 games a season ago. Simply put, Lux can hit. Dodgers prospects stats »
Ok seriously ... can anyone stop him?

Lux just went deep again, his third two-homer game of the year. He has six homers in 14 games with @okc_dodgers.

— MLB Pipeline (@MLBPipeline) July 18, 2019
Giants: Logan Webb, RHP (No. 4) -- 5 IP, 2 H, 0 R, 1 BB, 4 K (Class A Short Season Salem-Keizer)
Webb posted a 2.41 ERA over 104 2/3 innings last season and appeared to have the highest ceiling of any prospect in the Giants' system. The 22-year-old was showing promise once again this year, but got popped for an 80-game suspension in May after testing positive for a performance-enhancing substance. Webb has made two appearances since serving the suspension and has yielded one run over 10 innings. Giants prospects stats »
Padres: Luis Campusano, C (No.12) -- 2-for-5, 2B (Class A Advanced Lake Elsinore)
Campusano, a second-round pick from the 2017 Draft, is hitting .318 through 76 games in his first stint with the Storm. The 22-year-old has plenty of power, but gets too aggressive at times and his swing sometimes get long. However, Campusano has an ability to square up the baseball and with plus bat speed, should become an effective hitter if he's able to tone down the aggressiveness. Defensively, Campusano has plus arm strength and will likely remain behind the plate. Padres prospects stats »
Rockies: Sam Hilliard, OF (No. 9) -- 3-for-5, 2B, HR, 3 RBI (Triple-A Albuquerque)
Another multihit game for Hilliard? These really shouldn't come as a surprise anymore as the 25-year-old has turned in multihit performances in five of his past six games. A 15th-round pick from the 2015 Draft, Hilliard has solid tools across the board, but isn't always consistent. The 27 homers through 92 games mark a career high and are an indication that he's learning to tap into his plus raw power. Rockies prospects stats »