Bauer nearing return following bullpen session
Indians right-hander aiming to face hitters by early this week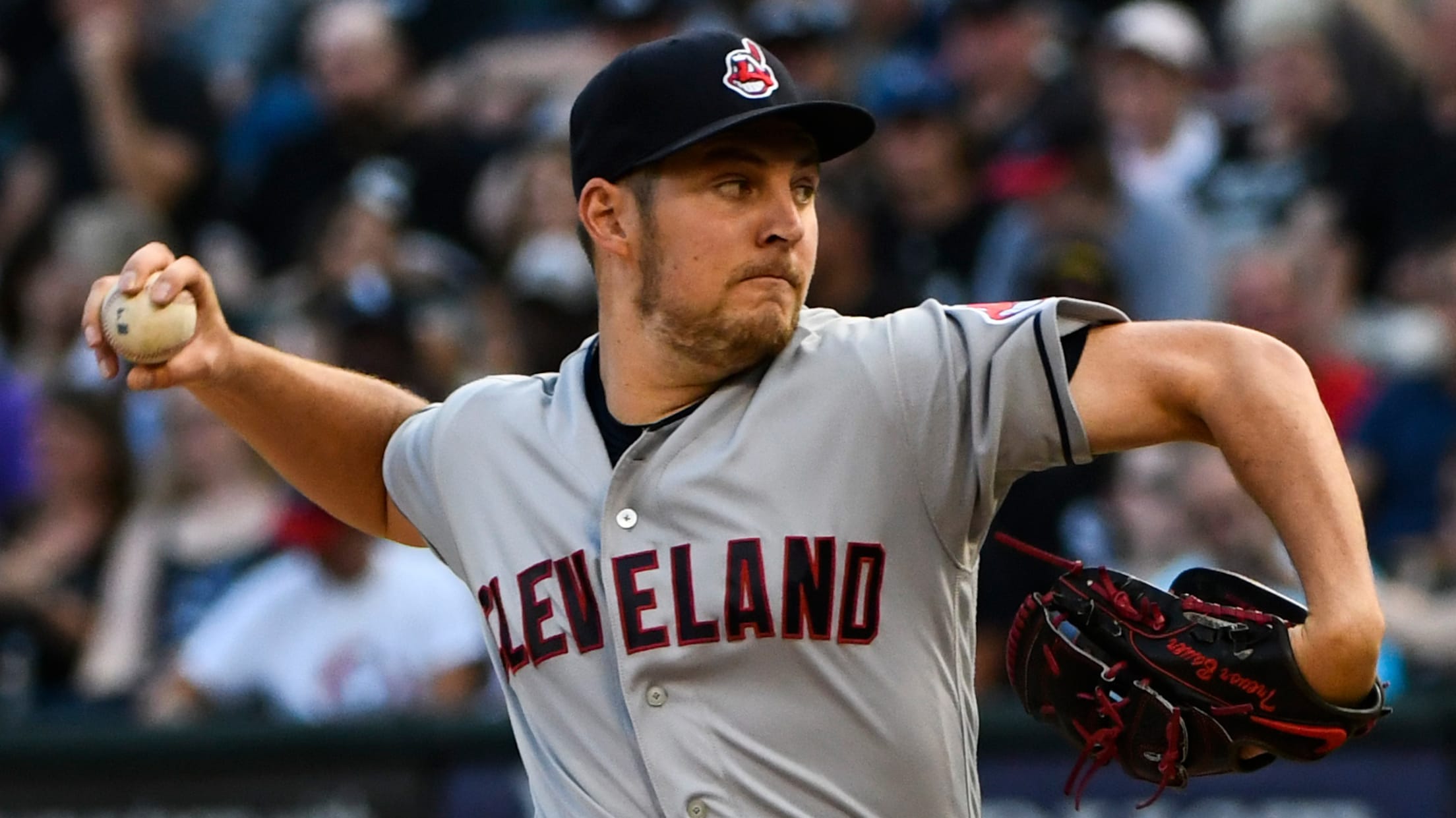 CLEVELAND -- With the regular season ending in under three weeks, Indians right-hander Trevor Bauer is doing all he can to be available for the postseason. He cleared another hurdle in that process this week by getting back on a mound.Prior to Friday's series opener against the Tigers, manager Terry
CLEVELAND -- With the regular season ending in under three weeks, Indians right-hander Trevor Bauer is doing all he can to be available for the postseason. He cleared another hurdle in that process this week by getting back on a mound.
Prior to Friday's series opener against the Tigers, manager Terry Francona noted that Bauer's bullpen session (consisting of approximately 20-25 pitches) went well on Wednesday and he has bounced back strong in the past two days. Bauer, who is on the disabled list with a stress fracture in his right fibula, is slated to throw off a mound again on Saturday.
"I would say, of all people," Francona said, "his arm will be as ready to go as you can possibly expect."
According to Francona, Saturday's session will take place on the mound at Progressive Field in order to use the stadium's Trackman system, which can gather data on pitch velocity, spin rate and other elements. The skipper also noted that Bauer is currently doing his running in the team's alterG treadmill, but he might be cleared to run on the field in three days.
Barring any setbacks, Francona indicated it is possible that Bauer might face hitters by Tuesday.
Bauer went 12-6 with a 2.22 ERA in 25 starts prior to being struck on the right foot by a line drive from Jose Abreu on Aug. 11 in Chicago. At the time of the injury, Bauer had 214 strikeouts against 56 walks in 166 innings, and he was a legitimate contender for the American League Cy Young Award. Bauer still ranked fifth in the Majors in WAR (5.9 per Fangraphs) entering Friday, even having missed the past month.
The big question surrounding Bauer's return will be whether he rejoins the Tribe's staff as a starter or reliever when he is deemed healthy. Indians president of baseball operations Chris Antonetti discussed that aspect of Bauer's return earlier this week, and he said much will depend on how quickly Bauer is able to advance through the rehab schedule.
"It's too early to say that he wouldn't be a starter for us," Antonetti said on Monday. "Our goal and hope is that we can build him back up to assume that role, but I think the one thing we're confident in is, if Trevor's healthy and able to pitch, that he can impact a postseason series. Whether that's in the rotation or bullpen is not something we've worked through yet."
Worth noting
• In his first two appearances since being activated from the DL, lefty relief ace Andrew Miller logged four strikeouts with one hit and no walks in two shutout innings (on Monday and Wednesday against the Rays at Tropicana Field). Miller has not worked back-to-back games since July 30-31 with Triple-A Columbus and he has not worked in consecutive games for the Tribe since May 22-23.
Francona said Miller is not far from being able to pitch in back-to-back games again.
"I think we probably can," Francona said. "We talk to him every day. We talk the medical staff every day. It's funny, because you're at the point in the season [where] you're trying to kind of cut back on some of the guys and you're trying to build him up. So, we're trying to do a number of things."
• Indians third baseman Josh Donaldson was out of the starting lineup on Wednesday, but he returned to the mix on Friday against the Tigers. Francona noted that Donaldson will receive a day off on Saturday before playing again on Sunday. The club then has an off-day on Monday.
• Josh Tomlin, who started for the Indians on Friday, is scheduled to get a handful of starts down the stretch, per Francona. That means right-hander Adam Plutko will stay in the bullpen for the time being. Said Francona: "We'll see how the next couple weeks go. We told [Plutko] that there certainly could be a start for him."