Horizon High retires Tuffy's jersey
Gosewisch's No. 2 hangs alongside brother Chip's No. 3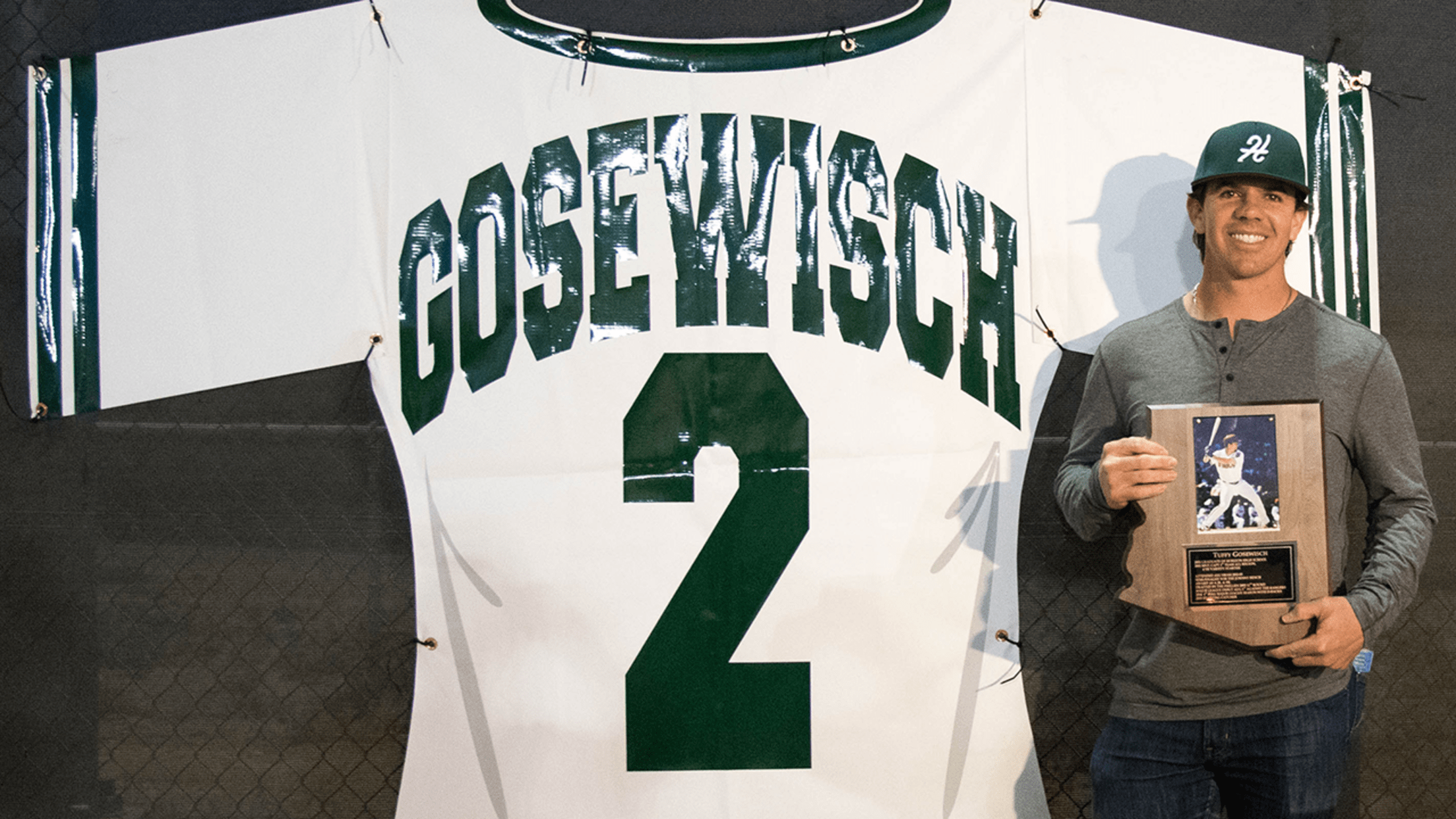 Tuffy Gosewisch started at Horizon in Scottsdale, Ariz., as a shortstop but knew his future was behind the plate. (D-backs)
When he played for a Phoenix-area high school, Tuffy Gosewisch already was displaying the character traits that would help him survive a nine-year sojourn through the Minor Leagues to reach his goal of becoming a Major League catcher with the D-backs.Horizon High School baseball coach Eric Kibler cited Gosewisch's insatiable
When he played for a Phoenix-area high school, Tuffy Gosewisch already was displaying the character traits that would help him survive a nine-year sojourn through the Minor Leagues to reach his goal of becoming a Major League catcher with the D-backs.
Horizon High School baseball coach Eric Kibler cited Gosewisch's insatiable work ethic, his desire to improve and his understanding of how to work with pitchers, as Horizon honored Gosewisch on Tuesday evening as the sixth player inducted into the school's Hall of Fame.
"He was a hard-nosed little kid,'' Kibler said, noting that he has known Gosewisch since he showed up for a baseball camp when he was 6 years old. "With his work ethic, the way he handled pitchers, I always thought he would go a long way.''
Gosewisch's family looked on and cheered with other Horizon fans as an image of his No. 2 jersey was displayed with those of other Hall of Fames members on the right-field wall before the start of a game. Gosewisch's jersey is next to his older brother Chip's No. 3.
Chip and Tuffy Gosewisch both went on to play for the Arizona State University baseball team, but not at the same time. Chip, a second baseman, is six years older than Tuffy.
"This is a high honor," Tuffy said Tuesday night. "I never thought anything like this would happen. It makes me feel really good. I really learned how to play baseball here.''

Gosewisch started at Horizon as a shortstop, a move made out of necessity because the team needed help at that position, but he always knew his future was behind the plate. He said Horizon assistant coach Bob Strachan told him when he was 8 years old that he was going to catch.
"I knew when I was in high school that I wanted to do this the rest of my life,'' Gosewisch said.
He said he knew it would take a lot of work to make it to the big leagues. He praised Kibler and Strachan for teaching him how to play and how to handle himself on and off the field. He spent nearly a decade in the Minors, mostly in the Philadelphia Phillies farm system, before he was called up to the D-backs in 2013.
Gosewisch served as the D-backs' starting catcher early in 2015, batting .211 but playing solid defense, until he was sidelined with a season-ending knee injury. He is back with the team this spring, playing in Cactus League games.
"If you talk to anybody, they had their struggles, it's just part of it,'' Gosewisch said. "You have to try to persevere and be relentless in what you do. It's just want I always tried to do. I didn't worry about accolades or anything. I just wanted to keep playing.''

Gosewisch said he hopes his career will inspire others to work hard toward a Major League career, but he also reminds them not to forget why they enjoy playing the game.
"My number one thing is to remember it's a game and to have fun. I think a lot of kids take it too seriously,'' he said.
Daniel Berger, a junior at Horizon and a catcher, considers Gosewisch an inspiration.
"It's nice to know he went here and what he was able to accomplish,'' Berger said. "It gives me motivation to work harder.''
Gosewisch, who quickly swapped a gold ASU baseball cap for a Horizon cap shortly after his arrival for the festivities, quoted the late Yankees catcher Yogi Berra in his remarks during the ceremony.
"Baseball is 90 percent mental and the other half is physical,'' Gosewisch said.
Chip Gosewisch said he is proud of his brother's baseball career and also is proud of how Tuffy lives his life as a husband and a father.
"Being a good athlete is just part of the equation. You have to be a better person,'' Chip Gosewisch said.
Jim Walsh is a contributor to MLB.com.