Dozier, Twins aiding Harvey relief efforts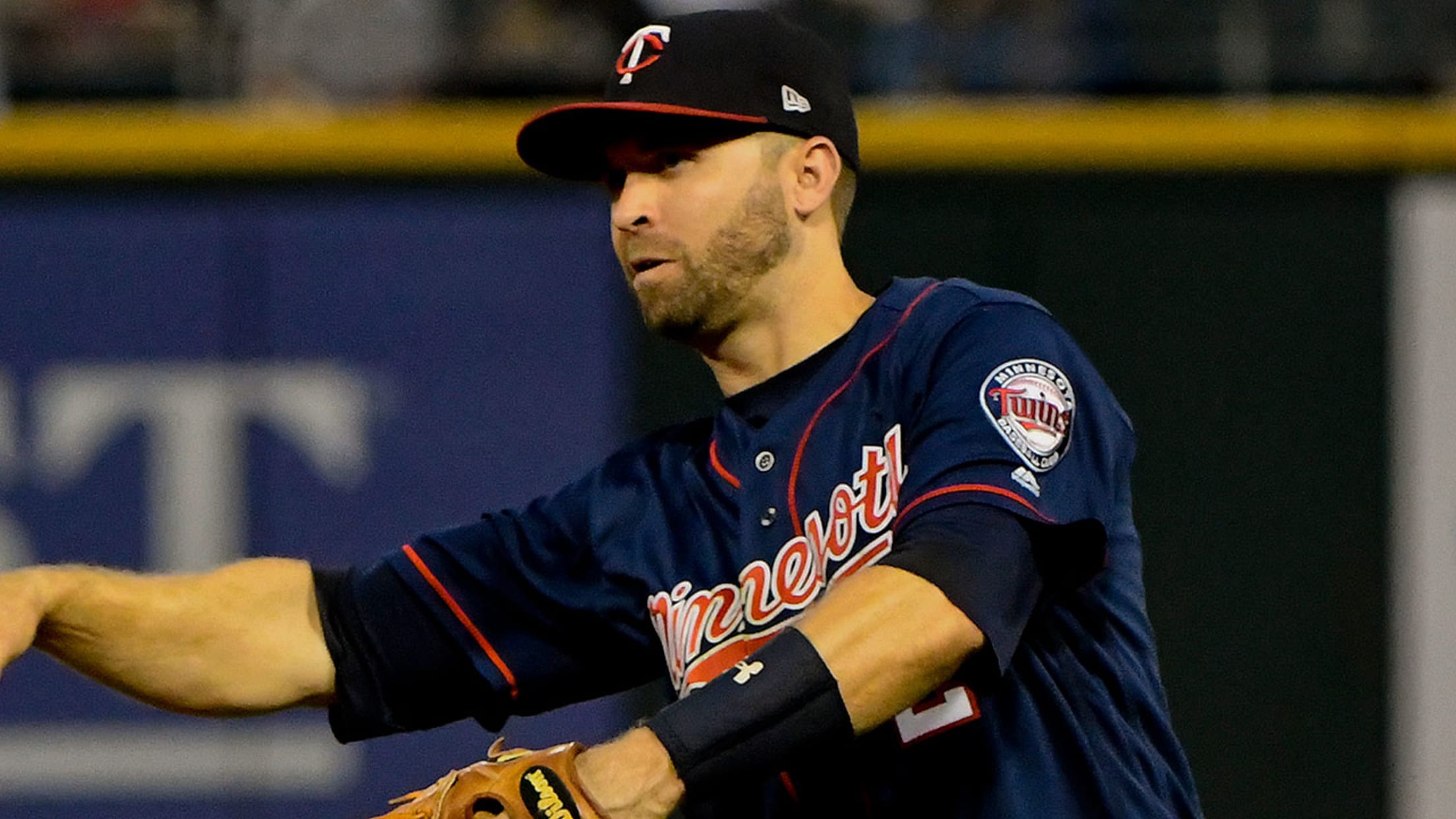 Second baseman Brian Dozier took to Twitter to seek help in the Twins' efforts toward Hurricane Harvey relief. (AP)
MINNEAPOLIS -- With six native Texans on their 40-man roster, including Houstonians Tyler Duffey and Robbie Grossman, Twins players have created a fundraiser for Hurricane Harvey relief.Second baseman James Dozier, a Mississippi native affected by Hurricane Katrina in 2005, posted a video to his Twitter page late Tuesday night, urging
MINNEAPOLIS -- With six native Texans on their 40-man roster, including Houstonians Tyler Duffey and Robbie Grossman, Twins players have created a fundraiser for Hurricane Harvey relief.
Second baseman James Dozier, a Mississippi native affected by Hurricane Katrina in 2005, posted a video to his Twitter page late Tuesday night, urging fans to donate to the relief effort. Fans can donate at youcaring.com/twinsfortexas, and the Twins are also hosting an auction on game-used apparel with the proceeds going toward the relief efforts, with players matching whatever funds are raised by the auction. The auction items, which include game-used cleats signed by players such as Byron Buxton, Miguel Sano, Max Kepler and Dozier, can be found at auctions.mlb.com.
"However bad you think this is, it's a lot worse," Dozier said. "You're talking about thousands and thousands of people who have lost everything. You want to be down there helping physically, which we can't obviously, so the next best thing is monetarily. It's going to take so much to get people back on their feet."
https://t.co/MFKRZzzH37 pic.twitter.com/eZ9n7argu9

— Brian Dozier (@BrianDozier) August 30, 2017
Through the donation page, the Twins have raised more than $20,000 from more than 100 donors, and are looking to reach their goal of $50,000. Duffey, a Houston native who also pitched at Rice University, retweeted Dozier's effort Tuesday night, and said he's trying to raise as much awareness and money as possible.
"It's huge," Duffey said. "The toughest part is I'm here, and my family and friends are all at home. It's nothing in the grand scheme, but it's as much as I can do from here, trying to make as many people aware as possible. I'm guessing it'll be in the hundreds of thousands of people who are uprooted and have damage and things like that."
Duffey said he's fortunate his family's home didn't suffer any flooding, but that he has many friends who have been impacted by the storm, and several who have joined the relief efforts in Houston.
There's no donation too small! The numbers of those in need is only growing! Let's rally for Houston, my hometown! #twinsfortexas @Twins https://t.co/s7PwVmVP9r

— Tyler Duffey (@TheDoof13) August 30, 2017
"There's no telling how bad the damage will be until all the water is gone," Duffey said. "Fortunately for me, everyone is safe and dry. Everyone is back home getting things back together. But I can't say the same about a lot of my friends. It's tough. But it's great to see people rallying behind it to help. It's made me proud. I've had buddies at home use their boats to go rescue people. It's crazy."
Worth noting
• Sano continues to recover slowly from the stress reaction in his left shin. He was eligible to return Wednesday, but has been using a walking boot and will back off his rehab for the next few days to let his shin heal.
• Right-hander Dillon Gee will remain in the rotation and get another start on Friday against the Royals. He gave up four runs in four innings against the Blue Jays last time out.
• Catcher Jason Castro (concussion) has started to increase his baseball activities, but the Twins are still being cautious with him. He's eligible to return on Thursday, but still has more hurdles to clear before being activated.
• Twins manager Paul Molitor said he expects about three players to initially join the team when rosters expand Friday. Not all of them are on the 40-man roster, and Molitor said they're still working on what day they'll be brought up.