Twins nearing decision on Opening Day starter
Santana or Gibson expected to get the nod from Molitor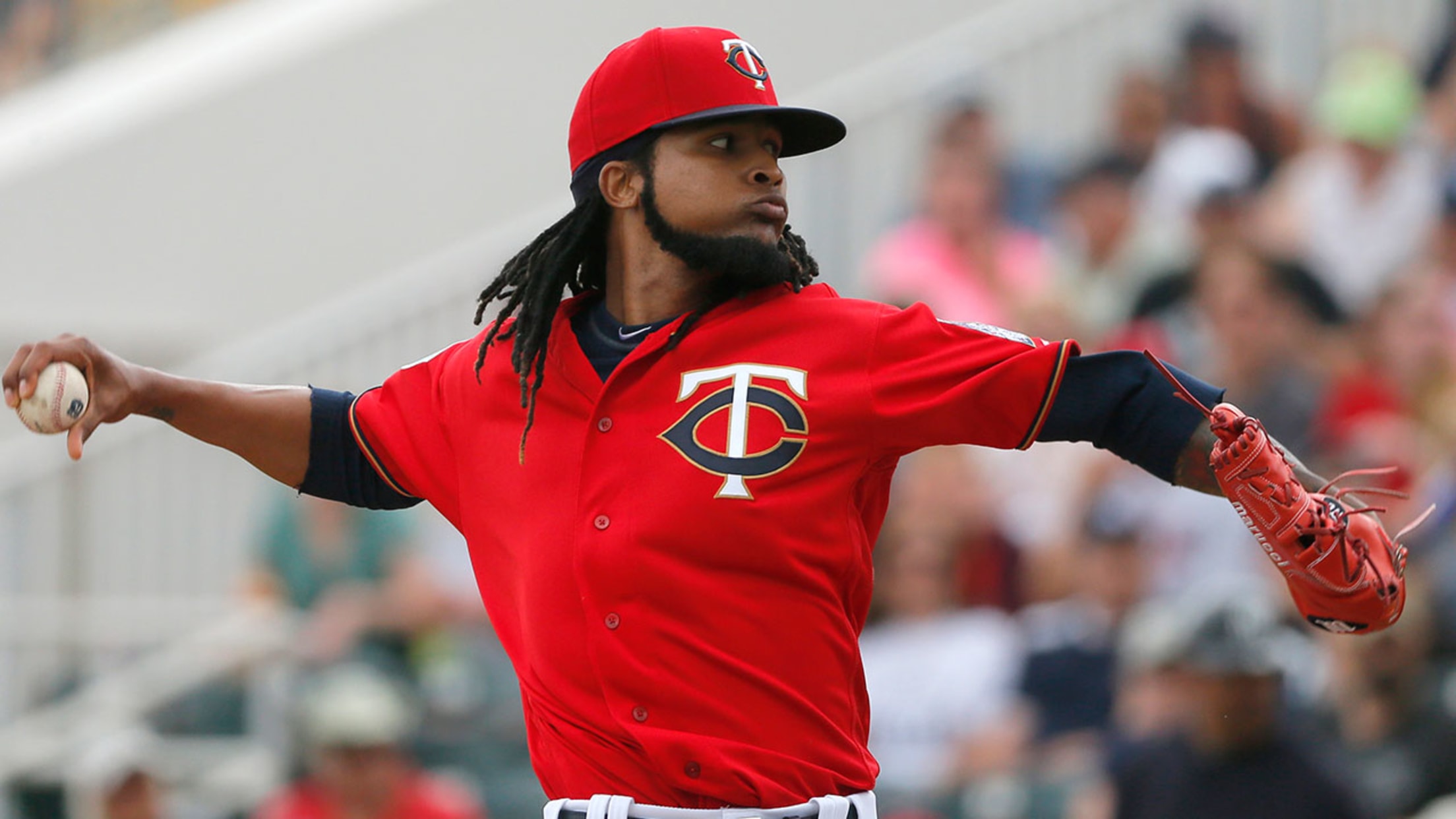 Ervin Santana allowed four runs (three earned) over five innings Sunday against the Yankees. (AP)
FORT MYERS, Fla. -- Right-hander Ervin Santana made his fourth start of the spring in a 6-4 loss to the Yankees on Sunday that has him lined up to start on Opening Day in Baltimore on April 4, but Twins manager Paul Molitor said he's not ready to announce his
FORT MYERS, Fla. -- Right-hander Ervin Santana made his fourth start of the spring in a 6-4 loss to the Yankees on Sunday that has him lined up to start on Opening Day in Baltimore on April 4, but Twins manager Paul Molitor said he's not ready to announce his rotation until after Monday's game against the Pirates.
Right-hander Kyle Gibson starts on Monday, and he is also a candidate to start Opening Day but is currently lined up to start in the second game of the season, which would mean he'd get to start the home opener against the White Sox on April 11.
"I think we're getting close to talking about who is going to pitch in Baltimore," Molitor said. "But everyone is taking the ball, making their pitches. They're healthy. But we need to let people in here know fairly quickly as far as that first series is concerned and go from there."
• Spring Training:Schedule | Tickets | Gear
Santana, an 11-year veteran, has had several accolades throughout his career, including being an All-Star, throwing a no-hitter and winning two postseason games, but he's never pitched on Opening Day. So while he said it would be an honor, it's not something he's worried about right now.
"It would be good," Santana said. "But I don't expect it. I never do. Why should you expect that? I've never been an Opening Day starter."
Santana went five innings on Sunday, allowing just two hits, but he also surrendered four runs (three earned). He walked three in his start and committed a balk with a runner at third base in the fifth. Santana hasn't committed a balk in a regular-season game since 2011 and was clearly upset by his mistake.
Molitor noticed Santana was frustrated because he saw the radar gun on each of his next three pitches. The velocity? It was 95, 96 and then 97 mph on consecutive fastballs.
"I think it bothered him some, especially after seeing the next three pitches," Molitor said with a smile.
Otherwise, Molitor was fine with Santana's performance, as he got 10 ground-ball outs in the start and was hurt by an error from Miguel Sano in right field as part of a three-run third.
"It was clean," Molitor said. "When he can choke that fastball off and get some movement, he can get ground balls. And he can get a little something extra on that fastball. His velocity was good. He's usually around 89-94, but up to 97 today."