Gibson's pitches don't sink vs. Marlins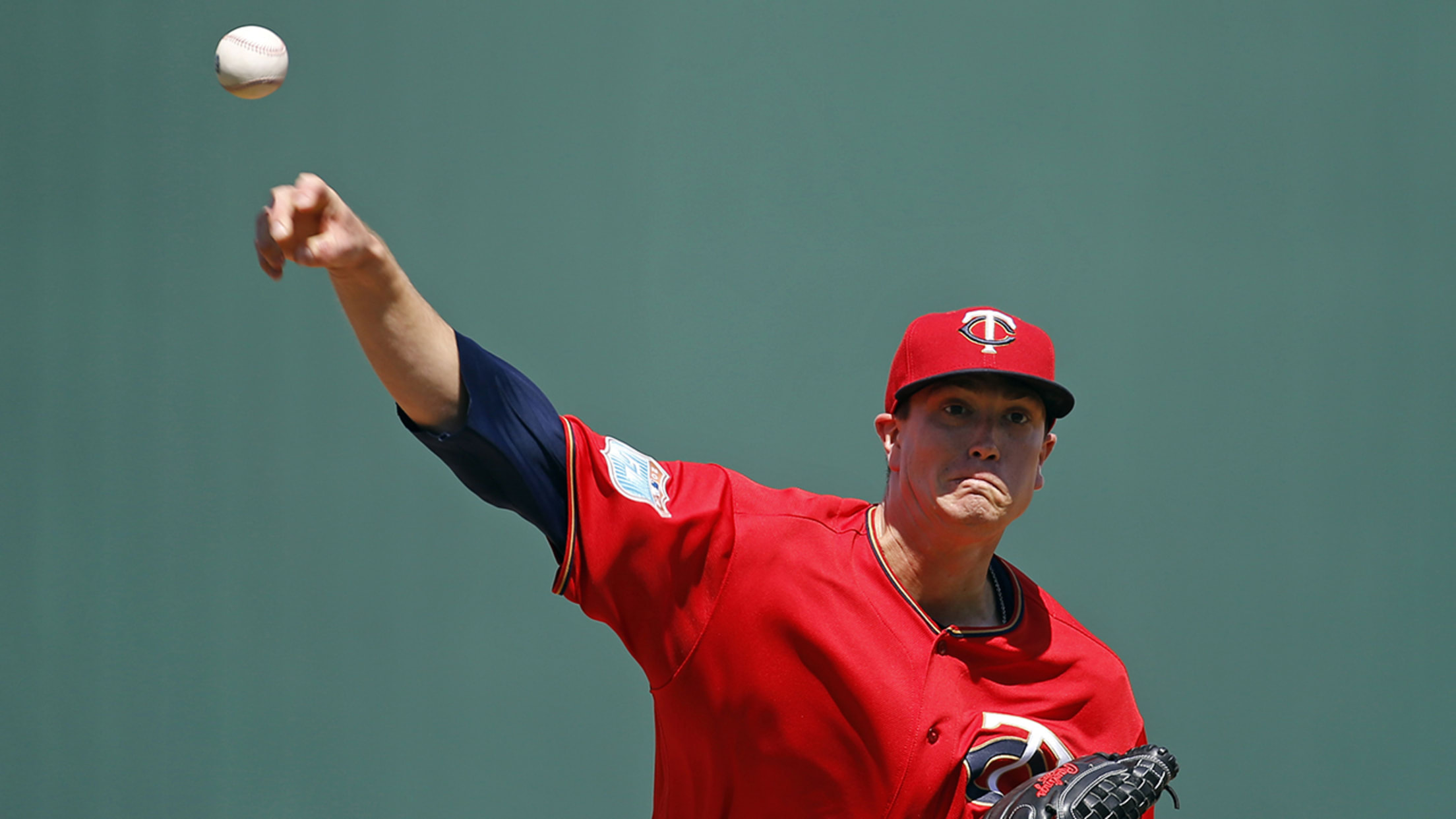 Kyle Gibson allowed two runs over two innings against the Marlins. (AP) (Patrick Semansky/AP)
FORT MYERS, Fla. -- By nature, Kyle Gibson is a sinkerball pitcher.His two-seamer simply wasn't sinking in a 6-5 loss to the Marlins on Friday in his second Grapefruit League start.Gibson, who was scheduled to go three innings, lasted two frames as he reached his 45-pitch limit. He gave up
FORT MYERS, Fla. -- By nature, Kyle Gibson is a sinkerball pitcher.
His two-seamer simply wasn't sinking in a 6-5 loss to the Marlins on Friday in his second Grapefruit League start.
Gibson, who was scheduled to go three innings, lasted two frames as he reached his 45-pitch limit. He gave up two runs on four hits with three walks, but he ended his outing with a strikeout of Justin Bour.
• Spring Training:Schedule | Tickets | Complete info
"It was just the same thing as the other day," Gibson said. "Try to elevate the fastball in certain situations and throw as many or more curveballs and sliders. I just didn't have the fastball command today. The sinker wasn't really sinking. The glove-side sinkers weren't very good. I was throwing it where I intended it to throw it, but it just wasn't sinking and was like a four-seamer basically."
The 28-year-old righty, though, said he was happy with his offspeed stuff, especially his curveball, which is a pitch he's working on this season. He threw it roughly four percent of the time in 2015, but he is looking to double its usage this year.
• May using DJ skills for cause | Park uses Snapchat
"The curveball has actually been a pleasant surprise for me," Gibson said. "If there's anything to take away from it, my curveball, changeup and slider were all pretty good today. So if I can get that curveball there, it'll be a pitch I can use this year."
Worth noting
• Korean slugger Byung Ho Park continued to show off his power, hitting his team-leading third Grapefruit League homer in the fourth inning against right-hander Andre Rienzo. All three of Park's homers have come while he has played first base.
• Setup reliever Kevin Jepsen threw a perfect third inning with two strikeouts. He has allowed one hit in three scoreless frames his spring. Lefty Ryan O'Rourke also tossed a scoreless inning and has yet to give up a hit in his three innings of Grapefruit League play.
• Miguel Sano had a big day at the plate, going 2-for-2 with an RBI double in the fifth. He has a .571 on-base percentage this spring.
• Twins general manager Terry Ryan said top prospects Max Kepler and Jorge Polanco need consistent playing time and will not make the club as bench players. Kepler is ranked as the No. 44 prospect by MLBPipeline.com, while Polanco is ranked No. 97. Both are expected to open the year with Triple-A Rochester.
• Non-roster catcher Juan Centeno has been swinging a hot bat this spring, adding an RBI single on Friday. Centeno, who has Major League experience with the Mets and Brewers, is hitting .555 (5-for-9) with a homer and five RBIs in five games this spring.