Twins have hard-throwing relievers in pipeline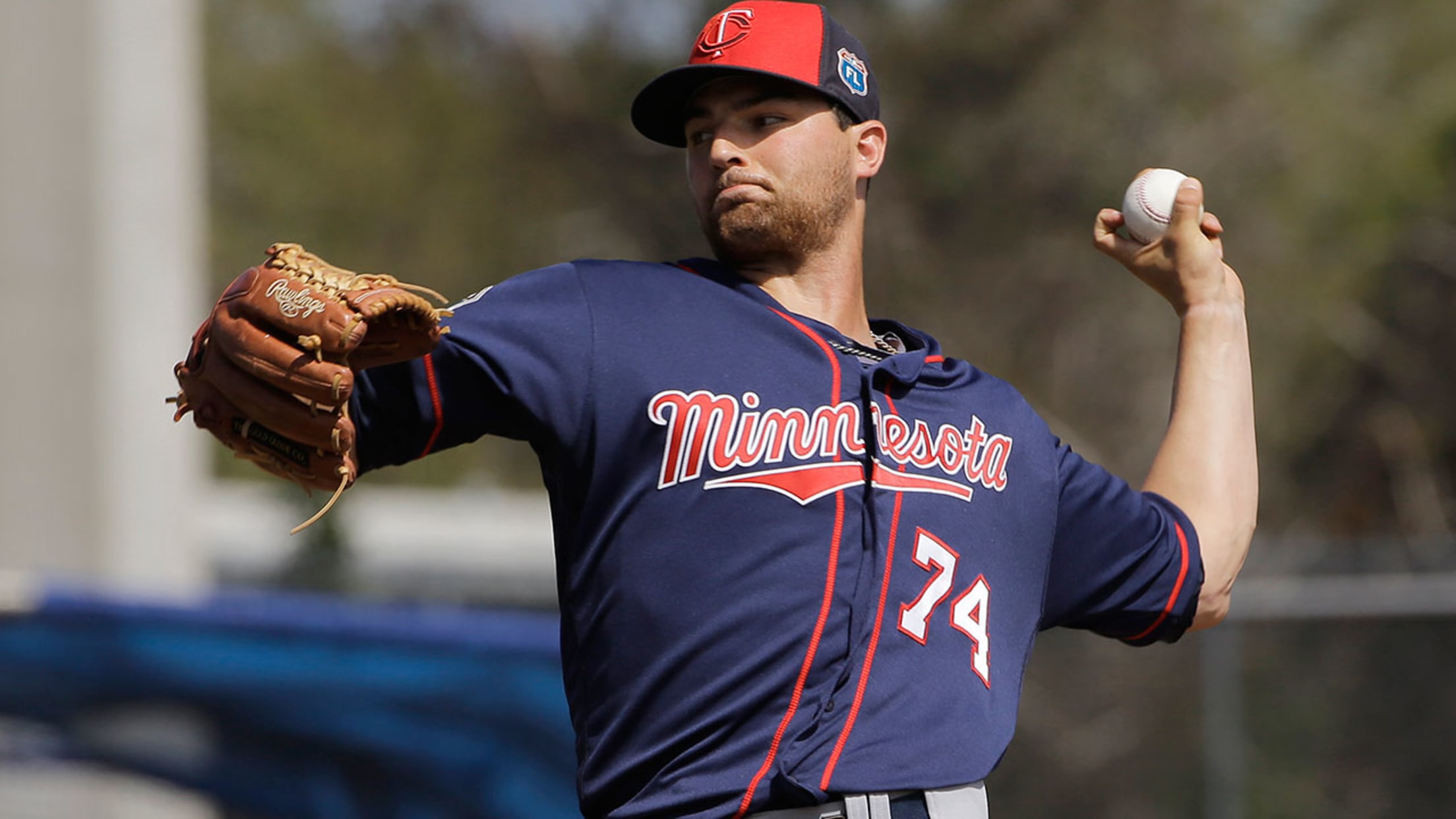 Mason Melotakis missed the 2015 season after undergoing Tommy John surgery. (AP)
FORT MYERS, Fla. -- Despite their efforts to shed the label, the Twins have long been seen as an organization with a pitch-to-contact philosophy.But in recent years, no doubt seeing the impact power arms have made in bullpens throughout the game, the Twins have quietly loaded up on flamethrowers who
FORT MYERS, Fla. -- Despite their efforts to shed the label, the Twins have long been seen as an organization with a pitch-to-contact philosophy.
But in recent years, no doubt seeing the impact power arms have made in bullpens throughout the game, the Twins have quietly loaded up on flamethrowers who are nearly ready to reach the Majors.
The shift in philosophy essentially started in 2012, when they drafted hard-throwing relievers like Jake Reed and Mason Melotakis, and it continued in a 2014 Draft class that featured Nick Burdi and J.T. Chargois. All four of players got their first taste of Major League camp this year, and while they'll all open the year in the Minors, the Twins are excited about their potential to contribute in the near future.
"There was a concerted effort to draft more velocity a handful of years ago, compared to those pitch-to-contact guys who served us well for a lot of years," Twins manager Paul Molitor said. "As the game changed and the strikeout changed, our philosophy changed a little bit. They've started to surface up here. It's how the game has evolved. It's good to have. I'm excited, like a lot of people are, about the arms we have coming."
The addition of high-velocity bullpen arms would be a welcome change for the Twins, whose pitchers threw only one pitch at least 97 mph in 2014, according to data from baseballsavant.com. They were a bit better last year with 64 pitches thrown at least 97 mph, but half of those came from Rule 5 Draft reliever J.R. Graham.
"It just so happened the last couple years we drafted a lot of those relievers, and they threw hard," general manager Terry Ryan said. "We've got a pretty good group coming. But they've got to be a little bit better than they were last year before you can throw them into that category we have a wave coming. But we have something to work with here."
So while all four were sent to Minor League camp last week, here's a look at what they bring:
RHP Nick Burdi
Draft selection: Second-round pick in 2014, University of Louisville.
2015 statistics: 4.53 ERA, 54 Ks and 32 BBs, 43 2/3 IP at Double-A Chattanooga, 2.25 ERA, 29 Ks and 3 BBs, 20 IP at Class A Advanced Fort Myers.
The skinny: Burdi, 23, is the hardest thrower of the group, but took a small step backward last year when he had to be demoted to Fort Myers after a slow start. But he cut his walk rate after going down a level and finished the year strong at Double-A. Burdi, ranked as the club's No. 9 overall prospect by MLBPipeline.com, followed that up with a flawless performance at the Arizona Fall League, tossing 13 scoreless innings with 17 strikeouts and one walk.
Repertoire in his own words: "My fastball is anywhere from 97-100 mph. My slider is 85-88 and then I've been working on a splitter. It's a work in progress. Once I get to throw it more often, I think it'll be a good pitch. But I've only thrown it in bullpens."
RHP J.T. Chargois
Draft selection: Second-round pick in 2012, Rice University
2015 statistics: 2.40 ERA, 19 Ks, 5 BBs, 15 IP at Fort Myers; 2.73 ERA, 34 Ks, 20 BBs, 33 IP at Chattanooga.
The skinny: Chargois, 25, missed two full seasons with an elbow injury that led to Tommy John surgery, but bounced back with a strong showing in 2015. Chargois, ranked as Minnesota's No. 10 prospect, has been working to develop a consistent changeup.
Repertoire in his own words: "My fastball is anywhere from 95 to upwards to 100 mph. My slider and changeup are pretty much in the same range from 83-85. But this Spring Training, I've tried to mix in my changeup quite a bit and get a feel for it against lefties and righties. I feel like it's definitely a weapon."
LHP Mason Melotakis
Draft selection: Second-round pick in 2012, Northwestern State University of Louisiana
2015 statistics: Out for the year with Tommy John surgery
The skinny: Melotakis, 24, spent some time as a starter early in his career, but moved back to relief and ended up missing the 2015 season after tearing his ulnar collateral ligament. Melotakis, ranked as their No. 20 prospect, threw live batting practice in the instructional league last year, but didn't see his first game action until this spring.
Repertoire in his own words: "I have a fastball, curveball, changeup mix. My curveball is more of a slurve in a sense. My velo ranges from 92-94 mph and I can bump it up to 96. And occasionally it can go a little higher. It depends on the day. My slider is more hard and sharp, and my changeup is high 70s to low 80s. When I started rehabbing, I worked on my changeup and it's become a good pitch for me so now I have a three-pitch mix."
RHP Jake Reed
Draft selection: Fifth-round pick in 2014, University of Oregon
2015 statistics: 6.32 ERA, 39 Ks, 21 BBs, 47 IP at Chattanooga; 0.00 ERA, 7 Ks, 1 BB, 12 1/3 IP at Fort Myers
The skinny: Reed, 23, had a forgettable year at Double-A and was demoted to Fort Myers where he finished the year. But Reed, ranked as their No. 16 prospect, fared much better in the Fall League, with 17 scoreless innings with 16 strikeouts and seven walks.
Repertoire in his own words: "I'm like a mid-90s guy who relies more on my sink. I'm not going to strike out as many people as maybe the other guys. I'm looking to get early contact and get ahead. I've been working on my changeup a lot more. It became a good pitch for me in the Fall League. I also throw a slider from 84-87 mph."