Twins mourn passing of beloved Imhoff
Press box ambassador, 79, was with club for 42 years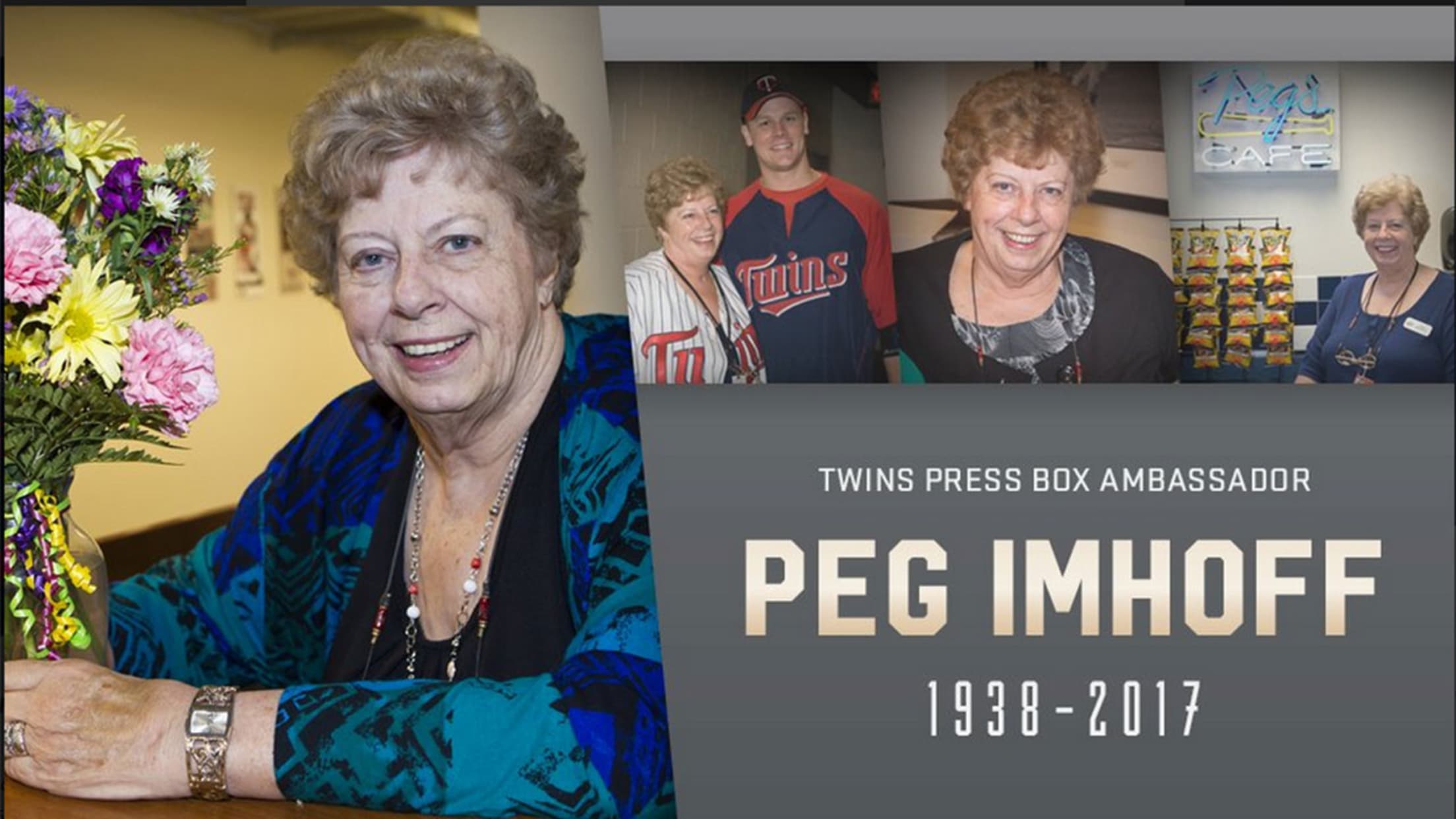 MINNEAPOLIS -- Margaret "Peg" Imhoff, a fixture in the Twins' press box for 42 years, known for her welcoming personality and effervescent smile, passed away Thursday morning after a battle with cancer. She was 79.Imhoff, whose official role with the club was press box ambassador, was beloved by Twins employees
MINNEAPOLIS -- Margaret "Peg" Imhoff, a fixture in the Twins' press box for 42 years, known for her welcoming personality and effervescent smile, passed away Thursday morning after a battle with cancer. She was 79.
Imhoff, whose official role with the club was press box ambassador, was beloved by Twins employees and media members alike, and she warmly greeted those as they entered the press box at all three stadiums the Twins have played in since moving to Minnesota in 1961. The Twins named the dining room behind the press box "Peg's Café" when Target Field opened in 2010.
The Twins mourn the loss of longtime employee, Peg Imhoff.

For 42 years Peg was a true representative of the Minnesota Twins character. pic.twitter.com/Yb3K5O6li3

— Minnesota Twins (@Twins) September 14, 2017
"The Minnesota Twins are deeply saddened by the loss of Peg Imhoff, who was the first and only Press Box Ambassador at Metropolitan Stadium, the Metrodome and Target Field," read a statement released by the organization. "Peg, who was known for her glowing smile and kindness, was a committed employee of 42 years. She was a true representative of the Minnesota Twins character and dedicated her life to baseball. The club, like many of her friends throughout the Major League Baseball community, are thinking of the entire Imhoff family during this difficult time."
Peg Imhoff was among most beloved employees in @Twins history.Her class set standard for press box hospitality across @MLB. God Bless Peg!

— Dave St. Peter (@TwinsPrez) September 14, 2017
With her longevity with the Twins, Imhoff was well-known among baseball circles and had close relationships with other longtime Twins employees such as owner Jim Pohlad, president Dave St. Peter, former general manager Terry Ryan, former scouting director Jim Rantz, broadcasters Dick Bremer and Bert Blyleven and many more.
I truly believe we have angels placed in our lives to brighten our days. Twins media types were blessed to have Peg Imhoff who passed today.

— Dick Bremer (@dbremer_pxp) September 14, 2017
Early this morning the Good Lord took a wonderful and kind woman Peg Imoff to heaven. She will be missed. RIP Peg 🙏🍪

— Bert Blyleven (@BertBlyleven28) September 14, 2017
Funeral arrangements will be announced in the coming days.