Monday's top prospect performers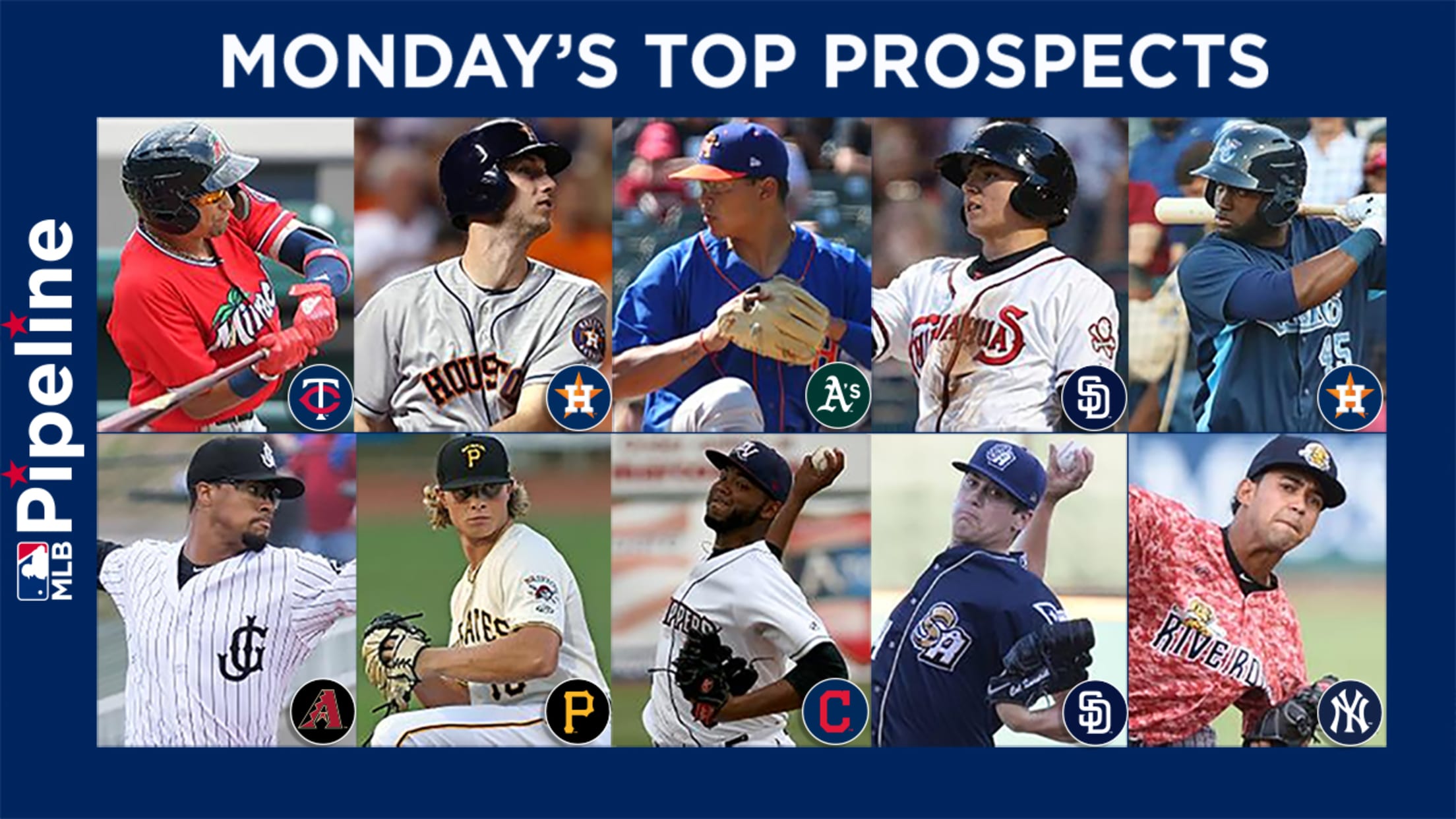 Here's MLB Pipeline's roundup of the top prospect performances in the Minor Leagues on Monday.No stage has been too big for Royce Lewis in his first full season.:: Complete prospect coverage ::The Twins' No. 1 prospect (No. 10 overall) put together one of the finest games as a pro as
Here's MLB Pipeline's roundup of the top prospect performances in the Minor Leagues on Monday.
No stage has been too big for Royce Lewis in his first full season.
:: Complete prospect coverage ::
The Twins' No. 1 prospect (No. 10 overall) put together one of the finest games as a pro as he homered off 2018 No. 1 overall pick Casey Mize en route to matching career highs with two home runs and five RBIs to help power Class A Advanced Fort Myers over Lakeland, 13-0.
Lewis, the top pick in the 2017 Draft, took Mize (Tigers' No. 1, No. 20 overall) deep in the third inning, hitting a two-run shot that put the Miracle on the board. He would add a pair of singles and also reach once via a walk to finish 4-for-6 with three runs -- also career-high-tying totals.
The four-hit performance was Lewis' fifth in his last 10 games, during which he's hitting .390 (16-for-41) with 15 runs scored. In 21 games with the Miracle, he's produced a .329/.418/.506 line with three homers and 17 RBIs and nearly as many walks (13) as strikeouts (15).
Between Fort Myers and Class A Cedar Rapids, the 19-year-old shortstop has posted a combined slash line of .318/.380/.489 while totaling 12 homers, 29 doubles and 70 RBIs in 96 games. He's also scored 74 runs and swiped 26 bags in 32 attempts.
The rest of the best performances from top prospects Monday
• No. 8 overall prospect Kyle Tucker (Astros' No. 2) and Yordan Alvarez (Astros' No. 3, No. 41 overall) both hit a home run and combined for five RBIs in Triple-A Fresno's 12-3 win over Memphis. They both went deep in the third inning, with Tucker connecting on a two-run shot and Alvarez adding a three-run blast later in the frame. Tucker later notched a second hit to finish 2-for-5 with three runs scored. On the year, Tucker and Alvarez have hit 15 and 18 home runs, respectively.
MILB Video - Title: Tucker goes deep - Url: http://www.milb.com/r/video?content_id=2355691783
• No. 12 overall prospect Jesus Luzardo (A's No. 1) was impressive as he earned the win in his Triple-A Nashville debut. Luzardo worked five scoreless frames as he scattered eight hits and struck out six. Of his 76 pitches, 52 were strikes. The 20-year-old left-hander has been sensational while pitching at three levels in his first full season, as his latest gem gives him a 2.01 ERA with 117 strikeouts in 98 1/3 innings. Over his past 10 starts, meanwhile, Luzardo owns a 0.53 ERA in 51 innings.
MILB Video - Title: Luzardo's sixth strikeout - Url: http://www.milb.com/r/video?content_id=2355474283
• No. 22 overall prospect Luis Urias (Padres' No. 4) smashed a two-run homer in his first at-bat and added a double in his next trip to the plate before finishing 2-for-3 in Triple-A El Paso's win over Round Rock. The homer gives the 21-year-old Urias a career-high eight home runs on the season, and he's now tallied an extra-base hit in four of his last five games. Cal Quantrill (Padres' No. 10) paced El Paso on the mound by tossing six innings of two-run ball in his Triple-A debut. He scattered seven hits and struck out four.
MILB Video - Title: Watch: Urias goes yard - Url: http://www.milb.com/r/video?content_id=2356441683
• No. 69 overall prospect Jon Duplantier (D-backs' No. 1) faced the minimum over five perfect innings in a no-decision for Double-A Jackson. He struck out three and recorded another seven outs via ground balls, throwing 43 of 69 pitches for strikes. The 24-year-old right-hander has been sharp since returning from the disabled list, allowing just one earned run on five hits in 12 innings spanning three starts. Overall, Duplantier owns a 2.21 ERA, 0.98 WHIP and .199 BAA over 40 2/3 innings (eight starts) at the Double-A level.
MILB Video - Title: Duplantier notches a K - Url: http://www.milb.com/r/video?content_id=2355258683
• No. 95 overall prospect Shane Baz (Pirates' No. 4) worked 4 2/3 scoreless innings in a strong start for Rookie-level Bristol. The 2017 first-rounder scattered four hits, issued three walks and struck out six in his first scoreless outing since his debut on June 20. In nine starts this season, Baz, 19, has compiled a 4.46 ERA with 48 strikeouts and an outstanding ground-ball rate over 40 1/3 innings.
• Making his full-season debut, Indians No. 10 prospect Luis Oviedo tossed five scoreless innings to help lead Class A Lake County past Great Lakes, 4-2, and earn the win. The 19-year-old righty allowed two hits while posting four walks and four strikeouts while throwing 46 of 77 pitches for strikes. Oviedo was promoted to the Midwest League after he posted a 1.88 ERA, 0.92 WHIP and a 61-to-10 strikeout-to-walk ratio over 48 innings (nine starts) with Class A Short Season Mahoning Valley.
• Indians No. 19 prospect Tyler Freeman hit a first-inning double to extend his hitting streak to 18 games for Class A Short Season Mahoning Valley. The 19-year-old old shortstop also recorded a 13-game hitting streak earlier in the season and has hit safely in 39 of 46 games overall in the New York-Penn League. He's hitting .382 with 23 extra-base hits on the season.
• Padres No. 12 prospect Luis Patino took a no-hit bid into the fifth inning as he received a no-decision in Class A Fort Wayne's rain-shortened loss against Lansing. The electric 18-year-old righty allowed two runs (one earned) on two hits and one walk in 5 1/3 innings, striking out eight. Through 14 starts in his first full season, Patino sports a 2.43 ERA with 77 strikeouts and 18 walks in 66 2/3 frames.
• Yankees No. 12 prospect Deivi Garcia combined with reliever Christian Morris to throw a no-hitter in Class A Advanced Tampa's 1-0 extra-inning loss against Clearwater in Game 2 of a doubleheader. He racked up 12 strikeouts, tying his career high, over seven perfect innings in his longest pro start. The live-armed 19-year-old right-hander has compiled 82 strikeouts against 13 walks in 52 1/3 innings this season across two levels. He's pitched to a 3.10 ERA in that span, while holding hitters to a sub-.200 average.