Wade 'disappointed' at not making Yanks' roster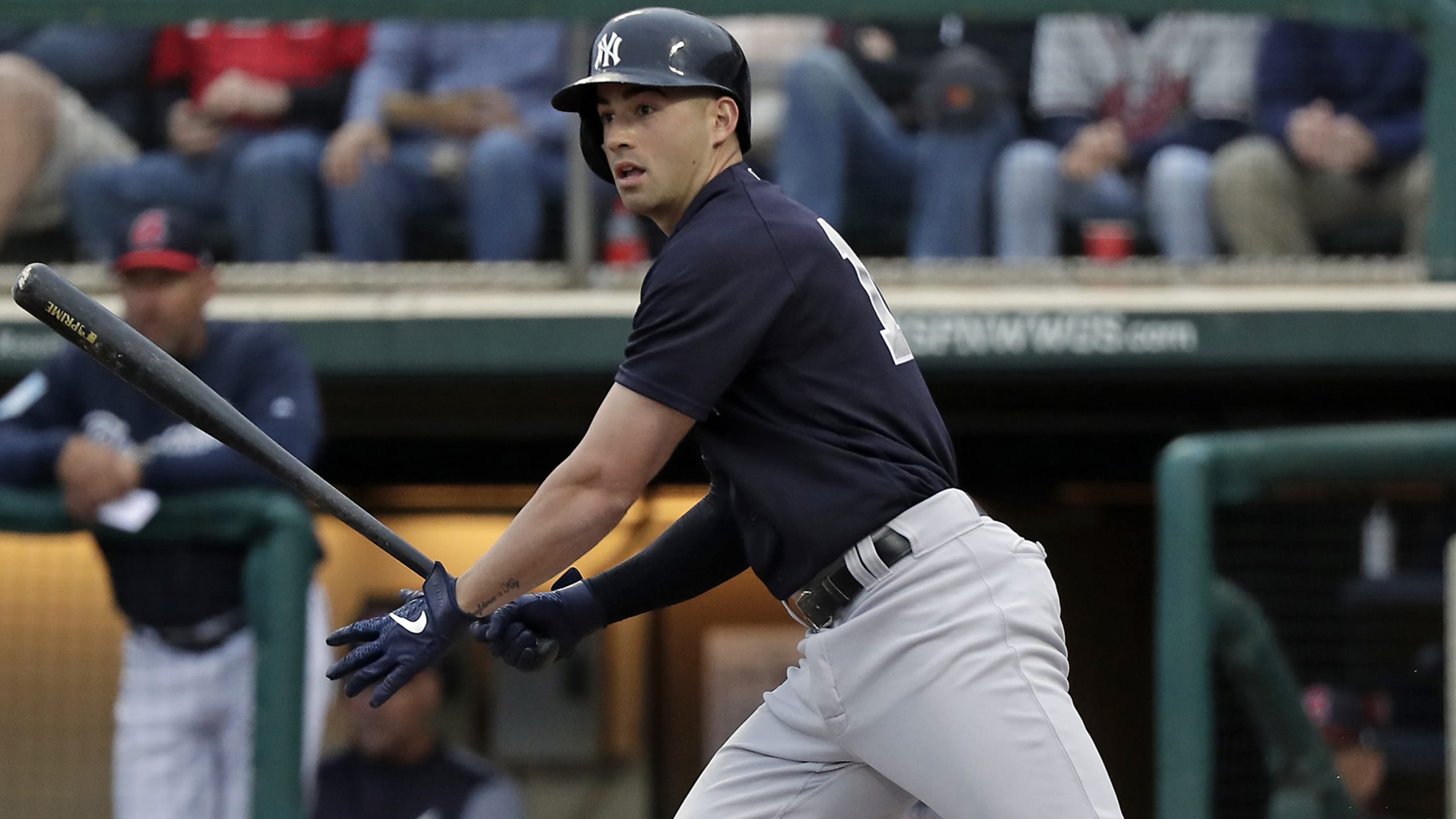 TAMPA, Fla. -- Tyler Wade believed he had earned a place on the Yankees' roster and said he was "blindsided" on Sunday when told that he was instead being optioned to Triple-A Scranton/Wilkes-Barre, with the club opting to carry newly acquired outfielder Mike Tauchman instead. "I just wanted to break
TAMPA, Fla. -- Tyler Wade believed he had earned a place on the Yankees' roster and said he was "blindsided" on Sunday when told that he was instead being optioned to Triple-A Scranton/Wilkes-Barre, with the club opting to carry newly acquired outfielder Mike Tauchman instead.
"I just wanted to break with the team, and I thought my performance offensively and defensively showed that," Wade told reporters in Fort Myers, Fla. "No one's ever had a problem with my defense. It's always been my bat, and I got my bat figured out. I'd made all those adjustments."
Wade went 1-for-3 with a run scored and a strikeout in the Yankees' final Grapefruit League exhibition on Sunday, a 5-3 victory over the Twins. He hit .320 with seven doubles, a homer and three RBIs in 19 spring games.
A converted infielder, Wade has been playing the outfield since he received a crash course during the 2016 Arizona Fall League season. He increased his reps in center field late in camp, a response to the lingering injury in Aaron Hicks' lower back.
Wade said the Yankees told him they needed a "real outfielder" like Tauchman, who played 115 games in the outfield last season (nine in the Majors), seeing time at all three positions.
"I didn't know what to say," Wade said. "I couldn't really speak. I was not expecting this whatsoever. I was very excited to get up there to New York and do whatever I could to help this team, and I'm just disappointed."
Manager Aaron Boone envisions Tauchman backing up Brett Gardner, Aaron Judge and Giancarlo Stanton in the early part of the season. He acknowledged that Wade would probably have been on the roster if there had been no trade, and said it was "difficult" to deliver the news.
"It could be something that could be a temporary thing," Boone said. "His job now is, just go and prepare himself the best he can. He's going to help us this year. He's going to be here at some point. So as best he can, [he needs to] make sure his mind is right and working on his craft. He's done a lot of good things, and we saw a lot of progress in his game."
Pax all, folks
James Paxton completed his first spring with the Yankees on Sunday, firing 5 2/3 innings of two-run ball against the Twins, scattering six hits with a walk and five strikeouts. His next assignment will come against the Orioles on March 30 at Yankee Stadium.
"Just watching on the side and [during] games, I felt like stuff-wise, he's been so overpowering, so dominant," Boone said. "Today he wasn't quite as dominant. I thought he really pitched. It was good to see him go pretty deep in the game today. I thought his command was pretty good. He finished off what was a very good spring and feels really good heading into the season."
Curves ahead
Right-hander Domingo Germán beamed as he walked out of Boone's office on Saturday, having been informed that he would serve as the fourth starter to begin the season. He credits his improved curveball for making a significant difference.
"It's sharper now," German said through an interpreter. "It has a big bite, the way it did back in 2017. Just having the opportunity to use it now, to put away hitters, for a strike -- it's just sharper, much sharper. Last year there were a couple of adjustments I wanted to make with it, and I never felt really comfortable with it. Right now I feel that it's back to where it was in 2017, when it probably was at its best."
Left behind
Several notable Yankees are remaining at the team's Player Development Complex in Tampa, including right-hander Dellin Betances, outfielder Hicks, left-hander CC Sabathia and right-hander Luis Severino, all of whom are aiming to rejoin the big league squad in the near future.
Betances (right shoulder impingement) could resume playing catch on Monday. Hicks (chronic back pain) has not resumed swinging a bat, making it unlikely that he will be ready when eligible to be activated from the injured list on April 4.
Sabathia (recovering from right knee surgery) is on the active roster, only to run out the clock on his five-game suspension; he is targeting a late April return to the Majors. Severino (inflammation in right shoulder) has tossed at 90 feet and will next advance to 120 feet.
In addition, left-hander J.A. Happ will stay in Florida for a few more days, taking advantage of warmer weather while he prepares for a March 31 start against the Orioles. Shortstop Didi Gregorius (left elbow surgery) has been hitting off a tee as he targets a possible June return.
Green returns
The Yankees announced on Sunday that they got right-hander Nick Green back as a Rule 5 Draft return from the D-backs. Green was the No. 12 overall selection of the Draft, which was held at the Winter Meetings in December.
Up next
The Yankees are traveling to Washington for Monday's 5:05 p.m. ET exhibition at Nationals Park. Nestor Cortes Jr. is scheduled to start. After that, the Yankees will return home for their March 28 opener against the Orioles.