X-rays negative on White's hand after HBP
Infielder bruised but at full strength, ready to return to field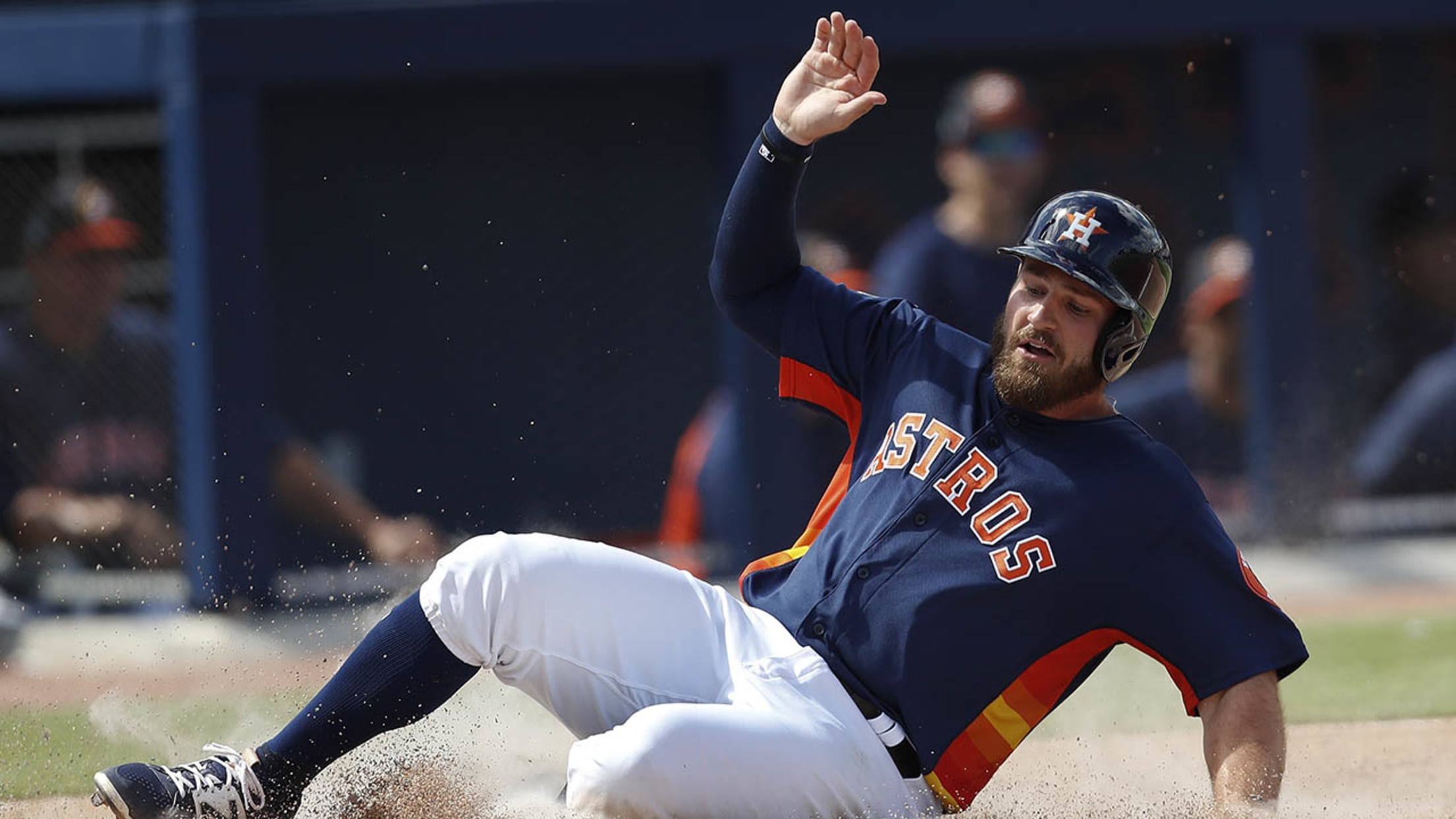 Tyler White exited in the fifth inning on Saturday after being hit in the right hand by a fastball. (AP)
WEST PALM BEACH, Fla. -- Tyler White went about his normal routine on Sunday. He took batting practice and had full strength in his right hand, although there was an obvious bruise on the meaty part of his palm from being hit with a pitch in Saturday's 5-4 win over
WEST PALM BEACH, Fla. -- Tyler White went about his normal routine on Sunday. He took batting practice and had full strength in his right hand, although there was an obvious bruise on the meaty part of his palm from being hit with a pitch in Saturday's 5-4 win over the Nationals at The Ballpark of the Palm Beaches.
The Astros' infielder left the game after being hit with a fastball in the fifth inning by Nats starter Joe Ross, who was immediately pulled for a reliever after his 76th pitch of the outing.
The X-rays proved negative, and after some anxious moments with numbness and swelling, White said he feels ready to get back out there.
• Spring Training: Info | Tickets | Schedule | Gear
"It's fine, just a little bruised," said White, who considers himself lucky to have been hit in the fleshy part of the hand. "It got me in a good spot. Everything's fine. Little bit of soreness, but everything's good."
Though he wasn't in the starting lineup for Sunday's game with the Yankees, White said he's good to go in whatever capacity needed.
"Just whatever they need," White said. "I came in today and took some swings in the cage. If you can hit in the cage, you can hit in the game."
White said that he was looking for a breaking pitch late in the count and instead got a fastball up and in.
"He had thrown a lot of sliders in a row," White said. "It was late in the count; I had two strikes on me. It's hard to get out of the way of the fastball when you're sitting back waiting on that slider. I just wasn't able to get out of the way in time. But I was lucky that it hit me where it did."
Glenn Sattell is a contributor to MLB.com.