Uganda RBI finds support far from home
Team made long journey to participate in World Series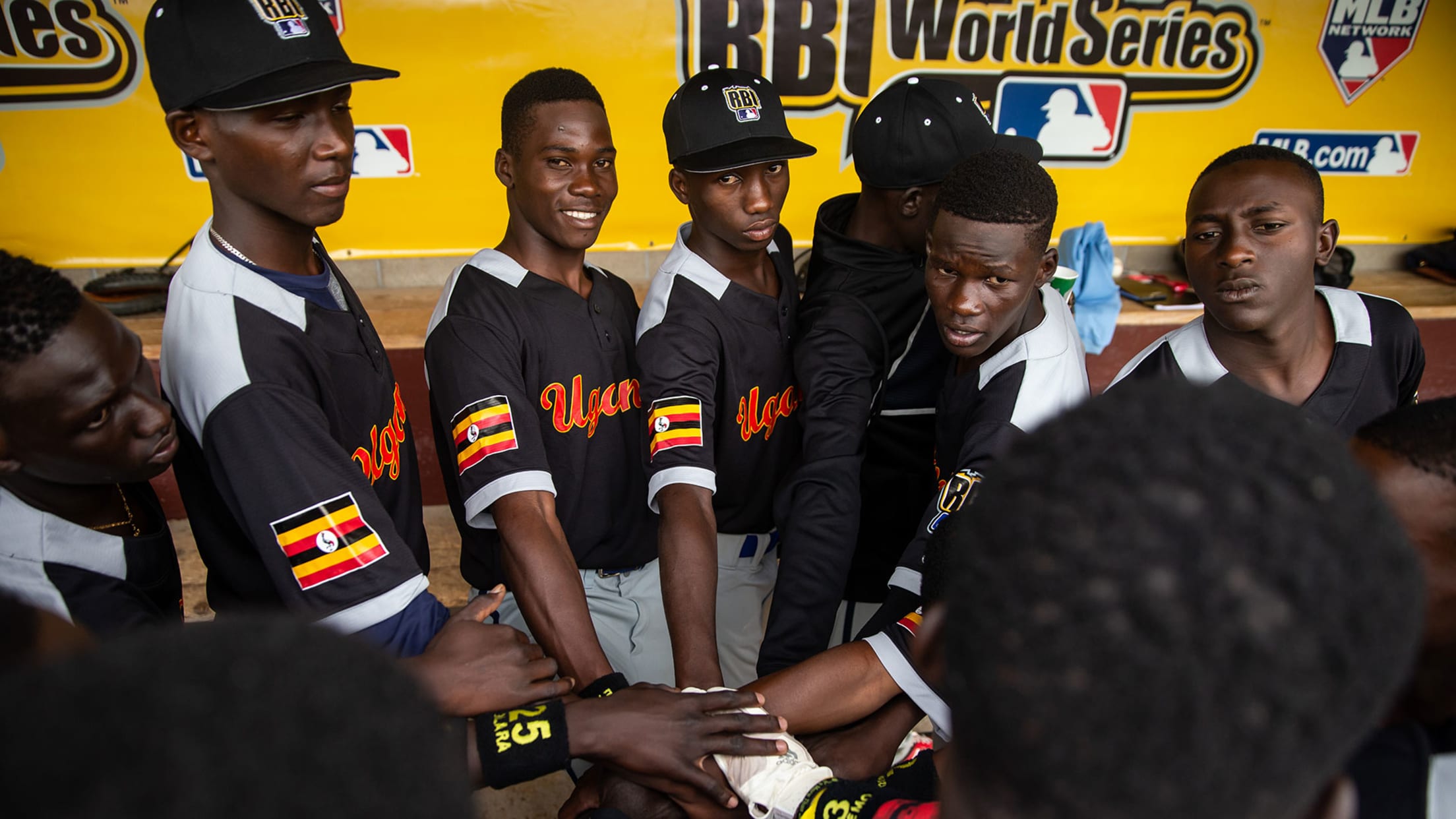 ST. PAUL, MINN -- With the weight of their country on their shoulders, playing baseball in the RBI (Reviving Baseball in Inner Cities) World Series has been the least of Uganda RBI's worries for the past two weeks.To make it this far, Uganda's players and coaches traveled three hours by
ST. PAUL, MINN -- With the weight of their country on their shoulders, playing baseball in the RBI (Reviving Baseball in Inner Cities) World Series has been the least of Uganda RBI's worries for the past two weeks.
To make it this far, Uganda's players and coaches traveled three hours by bus to Entebbe National Airport, flew nine hours to Amsterdam before enduring a layover, then caught another nine-hour flight to the U.S.
With only a day of rest between their arrival and their tournament opener, an 8-3 victory over Arizona on Monday, the 13 players, ranging in age from 13 to 15, are starting to grow accustomed to the travel. Eight days prior, the team made virtually the same trip in order to get to Vero Beach, Fla., where it navigated its way through a three-day regional tournament before prevailing in the championship to earn a spot in this week's RBI World Series in Minnesota.
• Complete coverage of the RBI World Series
If all that weren't enough, Uganda RBI will play this week with the pressure of being the first team from their country to qualify for the RBI World Series.
"It's been fun and it's a great opportunity," Uganda first baseman Nicholas Alumai said. "It has been eye-opening to us. When we go back home, we want to train harder and work on our mistakes and play even better."
The process of making the 7,899-mile trip to the tournament was difficult for the players, and nearly impossible for their families. But even though the players' loved ones are relegated to watching from home, Uganda will have support from a fanbase that, while small in numbers, is immensely passionate.
Welcome to the #RBIWorldSeries, Uganda! pic.twitter.com/4p7S0Nz6uz

— MLBRBI (@MLBRBI) August 7, 2018
At each game, Jennifer Kirabo and Mike DiGiacinto are posted behind the team's dugout, waving a full-sized Ugandan flag and cheering their hearts out in support of the players who have become like family to them over the years.
Kirabo, a filmmaker, traveled to Kampala, Uganda, in 2013 after she saw the 2012 Uganda Little League World Series squad playing on TV. She saw a group that overcame immense adversity within their home country to make it to Williamsport, Pa., and felt compelled to help however she could.
Kirabo traveled to Uganda and worked as a volunteer at The Allen VR Stanley Secondary School, where she taught acting and filmmaking. She saw a tangible impact in how her lessons instilled confidence in the students and inspired them to share their stories. She knew she needed to find a way to make it a full-time endeavor.

Kirabo returned to Uganda in 2016, this time with DiGiacinto, her good friend, who had acted in some of her past films. Through Kirabo's project, Filmanthropy, the pair spent a month working and living at the school and forging close relationships with the students, including those who now make up RBI Uganda's roster.
"They're just the most warm-hearted, sweet people you'll ever meet in your life," Kirabo said. "We just got so close to them that when we left, they're crying, we're crying. It was just so hard to leave them. Then when we went back, literally all I did in the States was work so I could get back there. Like, I couldn't stop thinking about them."

Through Filmanthropy, the pair introduced creative writing, acting and filmmaking classes and helped the students write, film and act in their own short film. A half-year later, they edited the film and premiered it at the second-largest theater in Kampala, while giving the students a red-carpet experience.
"We had dresses donated for the girls and shirts and ties for the boys," Kirabo said. "We invited their families and it was just amazing. … Some had never been to a real theater before."
Kirabo had the chance to continue volunteering with the school in 2017, and now each time Uganda plays in the U.S., she and DiGiacinto clear their schedules and travel to support them.
"It's just funny how your life changes," DiGiacinto said. "We had our lives and our careers and then this beautiful, magical thing happens and all these other beautiful people fall into our lives. I've kind of taken a step back from individual goals, just to just do what we can."

With Kirabo and DiGiacinto there in support, Uganda shrugged off the jet lag and won its first game of the tournament, the 8-3 win over Arizona. They dropped its next two matchups on Tuesday, but will have a chance to make some noise during Thursday's interleague playoff.
"They've got no time to worry too much," Uganda coach Tonny Opio said. "As long as they play. They sleep, eat. And win. Even though we lost the two games, we can still catch up."
Jarrid Denney is a reporter for MLB.com based in Minneapolis.