Fellow broadcasters on mark Scully has left
Notable voices around game share favorite stories, calls of retiring legend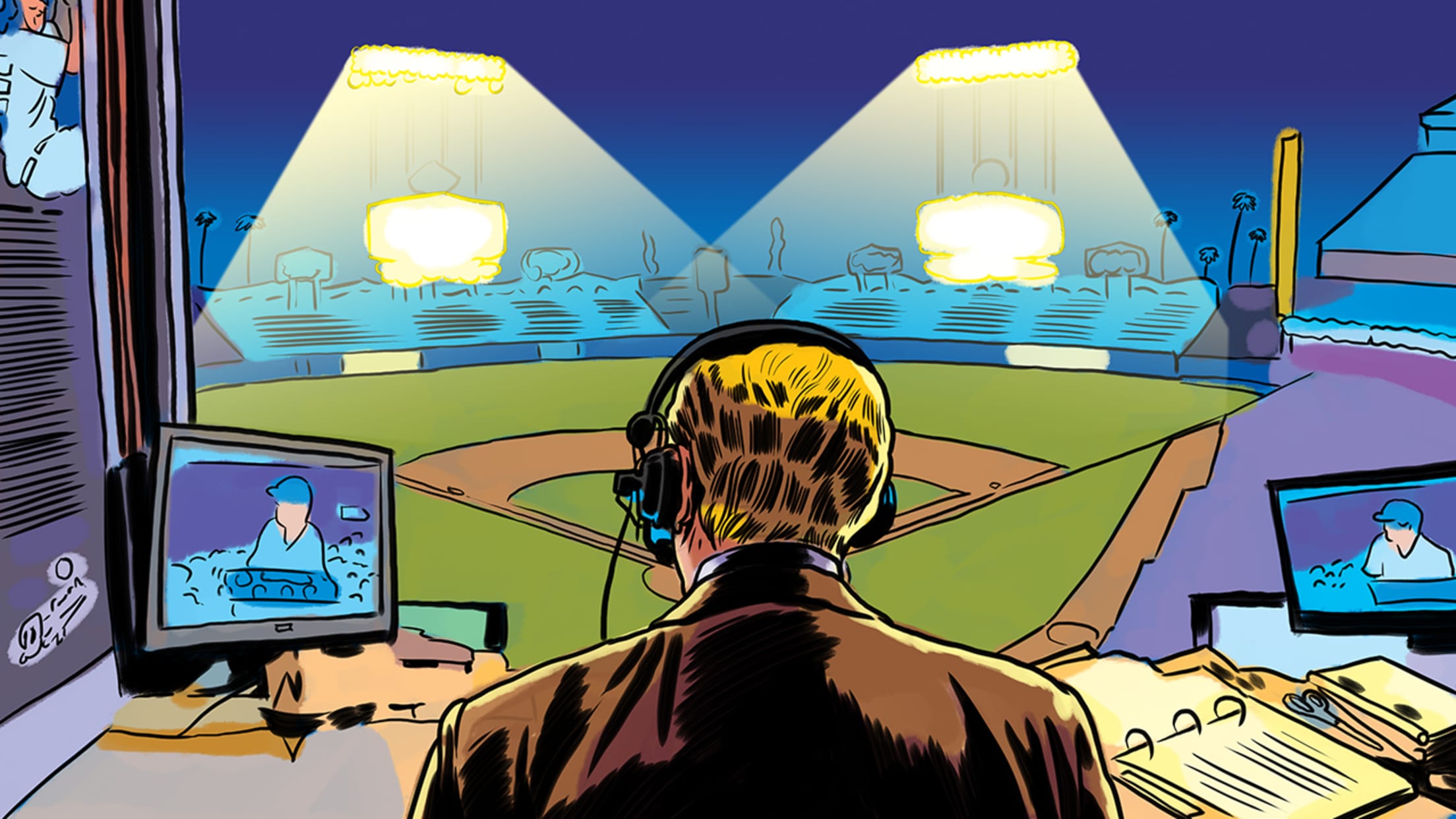 The season-long retirement party for Dodgers broadcaster and baseball legend Vin Scully is nearing its close. With each inning and each pitch called in Scully's unforgettable voice, we realize that the 67-year reign of the king of the profession is that much closer to ending on Sunday.Throughout the year, personalities
The season-long retirement party for Dodgers broadcaster and baseball legend Vin Scully is nearing its close. With each inning and each pitch called in Scully's unforgettable voice, we realize that the 67-year reign of the king of the profession is that much closer to ending on Sunday.
Throughout the year, personalities from on and off the field have visited Scully to pay their respects. The outpouring of affection and gratitude to Scully for a life well-lived and ensconced in love for the game of baseball has been obvious and infectious.
:: Farewell, Vin Scully ::
And all the while, the Dodgers have been pulling aside Scully's colleagues, peers and friends in the broadcasting business to gather their thoughts about Scully's career, life, talents and grand, generous personality and record them for safekeeping.
The Dodgers spoke to a broad spectrum of the game's current broadcasting greats, including Scully's Dodgers coworkers, Rick Monday, Charley Steiner and Jaime Jarrin; Reds radio icon Marty Brennaman; Giants booth men Duane Kuiper and Mike Krukow; D-backs color man Bob Brenly; and Padres play-by-play man Dick Enberg.
Also interviewed were Pirates broadcaster Bob Walk, Braves announcer Chip Caray, ESPN's Dave O'Brien, Rays play-by-play man Dewayne Staats, Orioles play-by-play man Gary Thorne, Brewers broadcaster Jeff Levering, Red Sox radio man Joe Castiglione, Hall of Fame pitcher and FOX baseball analyst John Smoltz, former big league player and broadcaster and current D-backs assistant hitting coach Mark Grace and Matt Vasgersian of MLB Network.
These esteemed men of the microphone waxed poetic and nostalgic on a variety of Vin-centric topics. Here are some of the highlights of their thoughts, memories and observations of a man they revere:
Soundtrack of summer
Monday: I've always said that Vin could read the phonebook and he would get children in the sandbox to stop playing with the blocks and look up to the speaker. Every time I would see him coming on and still, to this day, when I would see Vin Scully, I would think of a kid growing up in Southern California, sitting in the passenger seat of my mother's car and listening to him on the radio.
Steiner: When I was 7 years old, growing up on Long Island, the first time I heard a baseball game was the Brooklyn Dodgers. There was a [small] radio in my mom's kitchen, and I was mesmerized. And from that moment on, I knew what I wanted to be when I grew up.
Walk: My grandfather was a great Dodger fan, so that basically is all we did almost every night when I was at his house. So I think that the voice of Vin Scully … he made my childhood wonderful, is all. He set me on my path that has been my life in baseball. He put me on my path.
Krukow: I was raised here in Southern California, and in 1958, when the Dodgers came here, I was 6 years old and I thought baseball was the greatest thing ever. My whole family played baseball and the love affair with Vin Scully started for all of us, and he taught me the game. And as I became a baseball player, it was my goal that someday Vin Scully was going to say my name and say it on the radio.
The style of a master
O'Brien: It's really perfection. He reached a level of calling baseball that no other announcer has ever achieved, and I would venture even further than that and say any sport announcer calling any sport, any event, has not been able to obtain the level of mastery and perfection: the combination of the caliber of his voice, the tone of his delivery, the warmth of the inflection, the incredible talent to rise to the occasion but not envelope the occasion, not crowd it or bury it. That's an art form.
Enberg: I would want to describe what Vin isn't. It's not loud. It's not frantic. It's not about himself grandstanding, it's not shouting. It's smooth and soft and well-prepared. It's that favorite sweater that you put on during a chilly day.
Thorne: He came up in an era where it's all radio and where the voices of the teams were as much a part of the fabric of the ballclub as the players were. Working alone gives him the opportunity to bring out who he is, to tell the stories in his own way with no rush.
Krukow: There is no anger in his broadcast. There is respect and there is an observance in what is happening that night, and there is an observance of what happened 10 or 15 or 40 years ago, and he ties it all in.
Steiner: For one, he makes everything look and sound easy, and I can tell you in a booth when there are a million things going on at once with the crack of the bat, the crowd is going crazy and the play is unfolding, he has the ability to somehow slow that down. He has that more than anybody, I think, has ever done it. Two, he has got a vocabulary that is not fair. That's how good it is. And three, he has a perspective, obviously, after doing it for 67 years, so he has seen the game evolve, the world evolve, and he has been the narrator for so many as the Dodgers grow, as we grow.
67 years strong
Brenly: I can't imagine doing anything for 67 years, let alone sit in a broadcast booth and watch baseball day after day after day, but I think it's obvious the joy he has for this game and the feeling he has for this game and how much he appreciates the artistry of baseball and when it's played well and when players are doing good things on the field.
Staats: I think to do it that long, it almost has to be preordained that you're going to do that. … I've been doing this for over 40 years now in the Major Leagues, and that puts me a quarter of a century behind Vin.
Thorne: I cannot put into perspective 67 years of broadcasting Major League Baseball. I don't know, honestly, how you do that. … To do that alone in the booth and to do that for 67 years, I don't know how you do that. It's a magnificent accomplishment and tells you something about his love for the game that the focus is still there.
Caray: Vin Scully has broadcasted approximately half of the games of this Dodger franchise. Think about that. Going all the way back to the 1800s when the Dodgers were in Brooklyn, Vin Scully has done half of the games. What a wonderful achievement.
Pick a call, any call
Castiglione: "Ground ball behind the bag, and it gets by Buckner and the Mets win it." Actually, I didn't hear it until "SportsCenter" that night. I was broadcasting with Ken Coleman, I went down to the Red Sox's clubhouse after the top of the 10th inning of Game 6 of the World Series when it looked like they had the win, and I was standing there as they brought the champagne into the clubhouse and heard Bob Murphy's call of the wild pitch that tied the game. And I started to run up to the booth to do the 11th, and I heard the crowd. I knew it was over, so when I got back to the hotel, I heard Vin's call of the ball getting by Buckner, and yeah, that's my No. 1 memory.
Thorne: My favorite call by Vinny would probably be the Kirk Gibson call [in Game 1 of the 1988 World Series], because … there is nothing you can do in preparation for what Gibson did, because it's so completely and totally unexpected, and that's exactly the way it came out: "In the year of … the improbable, the impossible has happened." That's what Vinny is all about. He's the Hemingway of broadcasters.
Kuiper: [Fernando] Valenzuela's no-hitter, when he said, "If you have a sombrero, throw it to the sky." I wasn't even in town. I was in San Francisco, and I wanted to get a sombrero and throw it to the sky.
Thorne: I mean, how do you come up with that? It's completely off the top. It's completely because you have the talent and ability to do it.
Enberg: The '65 perfect game, [Sandy] Koufax against the Cubs, when he had the genius to be able to tie it into a timeline. "This time, Strike 3, and now it's 9:51," and he detailed going through a perfect [game] using the time of the night. ... For Vin to use the clock to get us to the final out, the final tick, was pure genius.
Steiner: Whether it was the Hank Aaron [715th] home run, whether it was the Koufax no-hitter, the Valenzuela no-hitter, the Gibson home run … they are all sublime for any particular reason at that given moment. … The Hank Aaron call, for instance, the Aaron call was of sociological import. How that came to him in that moment, I don't know. In the Gibson call -- "the year that has been so improbable" -- where does that come from? That is the stuff that Vin is able to do that all of us wish we could.
Friend of the game
Jarrin: I have been so fortunate, so blessed, to have him with me or me with him, near him, for 58 years. … At the beginning, he played such an instrumental part, because I had very few experiences with baseball. He took the time to explain things to me, to help me in my broadcasts, so he has really been very special. I will never hesitate to say that he has been my teacher, my mentor, my friend.
Steiner: Rick Monday and I have been extremely fortunate. We have dinner with Vin every night before the game. We have had thousands of dinners with Vin. … We are so fortunate. Dinner generally takes about an hour, hour 15 minutes and then the [darnn] game gets in the way.
Staats: As a young broadcaster, I was with Houston, I think, 24 years old, my first year with them, and he treated me as if I had been in the league 10 or 15 or 20 years. We would stroll in and he would say, "Hey D, how are ya?" And for a 24-year-old kid to have Vin Scully greet you that way is pretty special.
Krukow: Last year, we were talking about [how] there was a tarp problem in Wrigley and it caused a delay. And we were telling him the story, and he said, "Well, it was happening when the St. Louis Browns were playing. They had a tarp and they pulled it off, and it literally broke in half and all of the water went on the field." And, I mean, everything you say, he has something that enhances it, and inevitably when we are in that room, he turns us all into kids again. And those are the moments that are most special to me, most special to us, my broadcast partners. And I'm going to miss those days.
A lasting legacy
Smoltz: Vin Scully has been the class of baseball and has been so soothing to so many fans. We are going to miss you. You have been an ambassador for the game.
Caray: I don't think anyone needs to write any kind of a legacy for Vin. His work stands alone, and there are so few broadcasters who can say that. I hope that people remember him obviously as a great broadcaster, as a wonderful ambassador for the game, as a man whose love of this sport shined through in every single broadcast that he did.
Staats: I don't think you can help but be influenced by Vin. … When you come to this ballpark and you hear Vin, I will not ashamedly admit that there were times during those visits here to Dodger Stadium, because you heard Vin all the time, that there might be a call or two and I would think, "Maybe I'm slipping into my Vin Scully call."
Enberg: Vin Scully beats us all to the ballpark. He wants to be the best-prepared person in the ballpark every night he is calling a game. I admire that deeply, the fact that he's never taken his job, his role in baseball, for granted. … He doesn't take a day off, and I think that reflects the fact that he is sincere about what he is presenting to his audience and the fact that he indeed loves the game too much. He doesn't want to commit an error.
Brennaman: Greatest baseball broadcaster that ever lived. Not even close.
Monday: Whether he is under the weather with a cold, whatever it may be, whether he is stuck in traffic, it is always a gracious day with Vinny as he walks into this ballpark and he touches all of us who have come in contact with him for so many years. I don't think he understands to this day how truly loved he is.