Vlad Jr. rests, focused on season's second half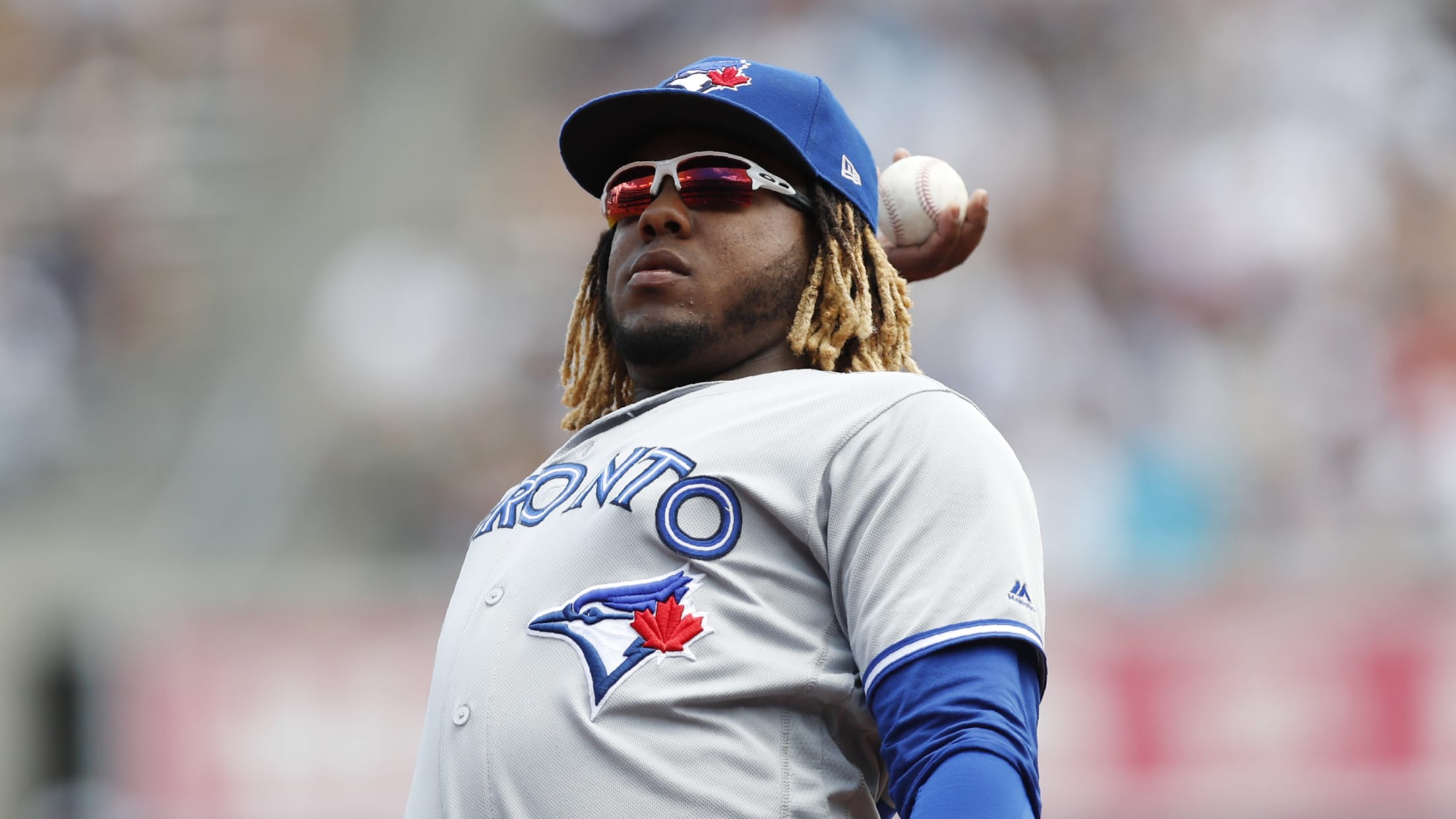 BOSTON -- Vladimir Guerrero Jr. sat out of the series opener against the Red Sox at Fenway Park to rest on Monday. The rookie has appeared in 64 games since making his Major League debut on April 26. Brandon Drury started at third base and Eric Sogard moved into the
BOSTON -- Vladimir Guerrero Jr. sat out of the series opener against the Red Sox at Fenway Park to rest on Monday.
The rookie has appeared in 64 games since making his Major League debut on April 26. Brandon Drury started at third base and Eric Sogard moved into the designated-hitter role.
A week removed from the T-Mobile Home Run Derby, where he finished second to Pete Alonso while belting a record-breaking 91 shots, Guerrero is focused on the second half of the season.
"I want to keep working very hard to help the team win every day," Guerrero said. "Here [in the big leagues], you've got to come to work every day just to perform the best you can. Work, work, work and work every day."
Guerrero is batting .245 with eight home runs and 25 RBIs this season. Blue Jays manager Charlie Montoyo is looking forward to the 20-year-old getting on a hot streak in the second half. Guerrero has not hit a homer since June 29. That being said, the fact that his average is as high as it is without a long offensive streak has been impressive to Montoyo.
Quick look at Vlad Jr.'s pregame fielding drill. pic.twitter.com/jpuEjERXD2

— Jessica Camerato (@JessicaCamerato) July 15, 2019
"Whenever he gets hot and starts hitting, he's going to be really good," Montoyo said. "He hasn't been really hot, he just finds a way to get hits here and there, and he's hitting .240, .250."
The Blue Jays have three games remaining in the series at Fenway, where Guerrero is hitting .214 in 14 at-bats this season.
McKinney back in a big way
After optioning first baseman Rowdy Tellez to Triple-A on Sunday, the Blue Jays recalled outfielder Billy McKinney from Buffalo on Monday. He wasted little time being back with the Blue Jays and smacked a two-run home run in his first at-bat off Rick Porcello.
McKinney, who batted eighth in Toronto's 10-8 loss, has been working on his swing. He has seen results from making an adjustment to limit his upper body movement.
"I'm just trying not to really lock my hips out at much," McKinney said. "I'm trying to be a little more upright and more stacked, I'd call it. [I'm] trying to be more stacked in my body so it kind of frees up my hands a little more. Just trying to do that as much as I can right now, and just get that feel and be on time."
Montoyo said he would like to see that McKinney's approach has improved. McKinney hit .412 (14-for-34) with two home runs and five RBIs in his most recent stint in Triple-A.
While McKinney gets another big league opportunity, Montoyo wants Tellez to make the most of his time in Buffalo. The Blue Jays have sent several players to the Minor League this season, and Montoyo hopes their returns to the Majors will be a good example.
"He handled it really well," Montoyo said of Tellez. "It was just me talking, more than him. He understood, 'I want you to have more at-bats and your approach has to get better. You're going to have a chance to do that in Triple-A. Play every day, make an adjustment and get your approach better at the plate. That way you can come back, like everybody else has.'"