Pipeline preview: Walker, Sheffield among prospects to watch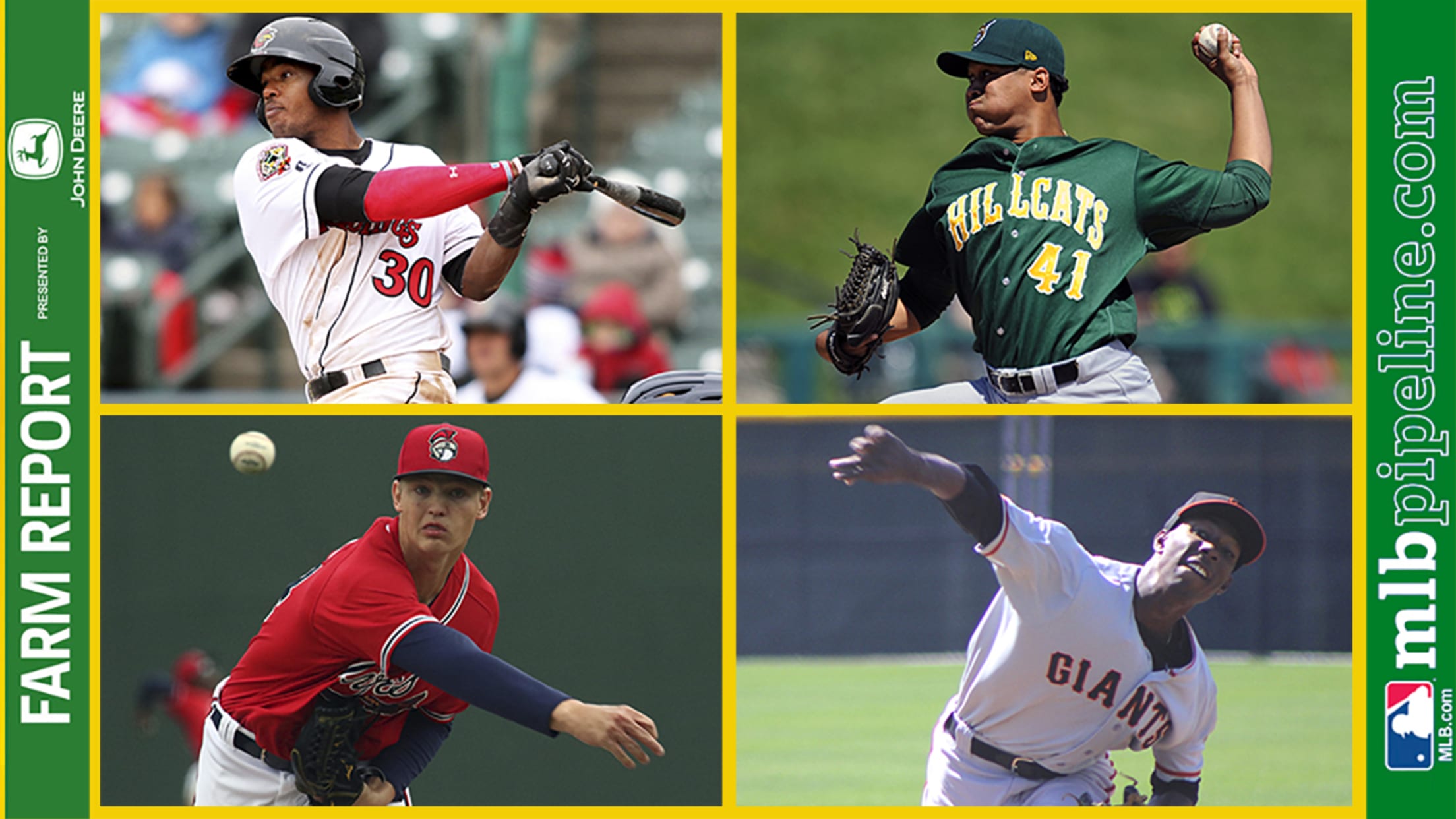 Here's a look at top prospects to watch in today's Minor League action:Hitter to watch: Adam Walker (Twins' No. 10) Adam Walker has hit plenty of home runs in his career, but never before had he gone deep three times in a game before doing so on Saturday night for
Here's a look at top prospects to watch in today's Minor League action:
Hitter to watch: Adam Walker (Twins' No. 10)

Adam Walker has hit plenty of home runs in his career, but never before had he gone deep three times in a game before doing so on Saturday night for Triple-A Rochester. His trio of long balls marked his second multi-homer performance of the week -- he clubbed a pair of homers Thursday -- and he now has five in his last three games. Overall, Walker has homered nine times in 35 games this season for Triple-A Rochester, good for a share of the International League lead, and he'll look to improve on that total Sunday when Rochester takes on Durham at 5:05 p.m. ET on MiLB.TV.
MILB Video - Title: Walker's third homer - Url: http://www.milb.com/r/video?content_id=723488983
Pitcher to watch: Justus Sheffield (Indians' No. 5)

Sheffield, whom the Indians selected with the No. 31 overall pick in the 2014 Draft, made a smooth transition to full-season ball last season, when he went 9-4 with a 3.31 ERA and a 138/38 strikeout-to-walk ratio in 127 2/3 innings for Class A Lake County. That success has carried over into the 2016 season for the No. 100 overall prospect, who has pitched to a 2.76 ERA in 42 1/3 innings over eight starts for Class A Advanced Lynchburg. The 20-year-old southpaw has been particularly sharp of late for the Hillcats, with 12 strikeouts and just one run allowed in 12 2/3 innings between his last two starts. On Sunday, Sheffield and Lynchburg will square off against Myrtle Beach at 5:05 p.m. ET on MiLB.TV.
Duel of the day: Mike Soroka (Braves' No. 13) vs. Michael Santos (Giants' No. 22), Rome vs. Augusta
Sunday's slate of Minor League games is highlighted by an intriguing pitching matchup between a pair of promising young right-handers in Soroka and Santos. Drafted 28th overall by the Braves in 2015, Soroka, 19, has been impressive so far in his full-season debut for Class A Rome, posting a 2.32 ERA, a 0.98 WHIP and a 41/8 strikeout-to-walk ratio in 42 2/3 innings across eight starts, four of which have been of the scoreless variety. Santos, meanwhile, is coming off back-to-back eight-inning starts for Augusta and has allowed just four runs in 21 innings across his last three turns. Overall, the 20-year-old owns a 3.02 ERA in 41 2/3 frames (seven starts) on the season. Fans can watch the two youngsters duel on MiLB.TV at 2:00 p.m. ET.
Sunday's Top 100 prospect probables

No. 8 Tyler Glasnow (Pirates' No. 1), Indianapolis vs. Scranton/Wilkes-Barre (1:35 p.m. ET on MiLB.TV)
No. 11 Alex Reyes (Cardinals' No. 1), Memphis vs. Fresno (3:05 p.m. ET on MiLB.TV)
No. 31 Robert Stephenson (Reds' No. 2), Louisville vs. Columbus (2:05 p.m. ET on MiLB.TV)
No. 48 Jeff Hoffman (Rockies' No. 4), Albuquerque vs. New Orleans (2:35 p.m. ET on MiLB.TV)
No. 57 Josh Hader (Brewers' No. 4), Biloxi at Tennessee (Time TBD on MiLB.TV)
No. 66 Mark Appel (Phillies' No. 4), Lehigh Valley vs. Toledo (1:35 p.m. ET on MiLB.TV)
No. 74 Erick Fedde (Nationals' No. 4), Potomac at Frederick (A-Advanced)
No. 100 Justus Sheffield (Indians' No. 5), Lynchburg at Myrtle Beach (5:05 p.m. ET on MiLB.TV)
More top prospect probables

Taylor Guerrieri (Rays' No. 6), Montgomery at Birmingham (AA)
Scott Blewett (Royals' No. 6), Lexington at Greenville (A)
Kyle Freeland (Rockies' No. 7), Hartford at New Hampshire (AA)
Nick Travieso (Reds' No. 9), Pensacola at Jacksonville (AA)
Ariel Jurado (Rangers' No. 13), High Desert vs. Lancaster (A-Advanced)
Alec Mills (Royals' No. 14), Northwest Arkansas vs. Tulsa (AA)
Ofelky Peralta (Orioles' No. 14), Delmarva at Lakewood (A)
Jordan Holloway (Marlins' No. 14), Greensboro vs. Hagerstown (A)
Tyler Alexander (Tigers' No. 14), Lakeland vs. Charlotte (A-Advanced)
Clay Holmes (Pirates' No. 15), Altoona vs. Portland (AA)
Tom Eshelman (Phillies' No. 15), Clearwater vs. Palm Beach (A-Advanced)
Parker Bridwell (Orioles' No. 16), Bowie at Harrisburg (AA)
Joe Gunkel (Orioles' No. 18), Norfolk at Syracuse (AAA)
Trey Ball (Red Sox' No. 19), Salem vs. Winston-Salem (A-Advanced)
Heath Fillmyer (A's No. 19), Stockton vs. Visalia (A-Advanced)
Jordan Montgomery (Yankees' No. 20), Trenton at Reading (AA)
Max Povse (Braves' No. 26), Carolina at Wilmington (A-Advanced)
Jean Cosme (Padres' No. 27), Fort Wayne vs. West Michigan (A)
Rob Whalen (Braves' No. 27), Mississippi at Mobile (AA)