Week Ahead: Twins, Cards, Halos on the rise
All 3 clubs look to keep surging back into postseason mix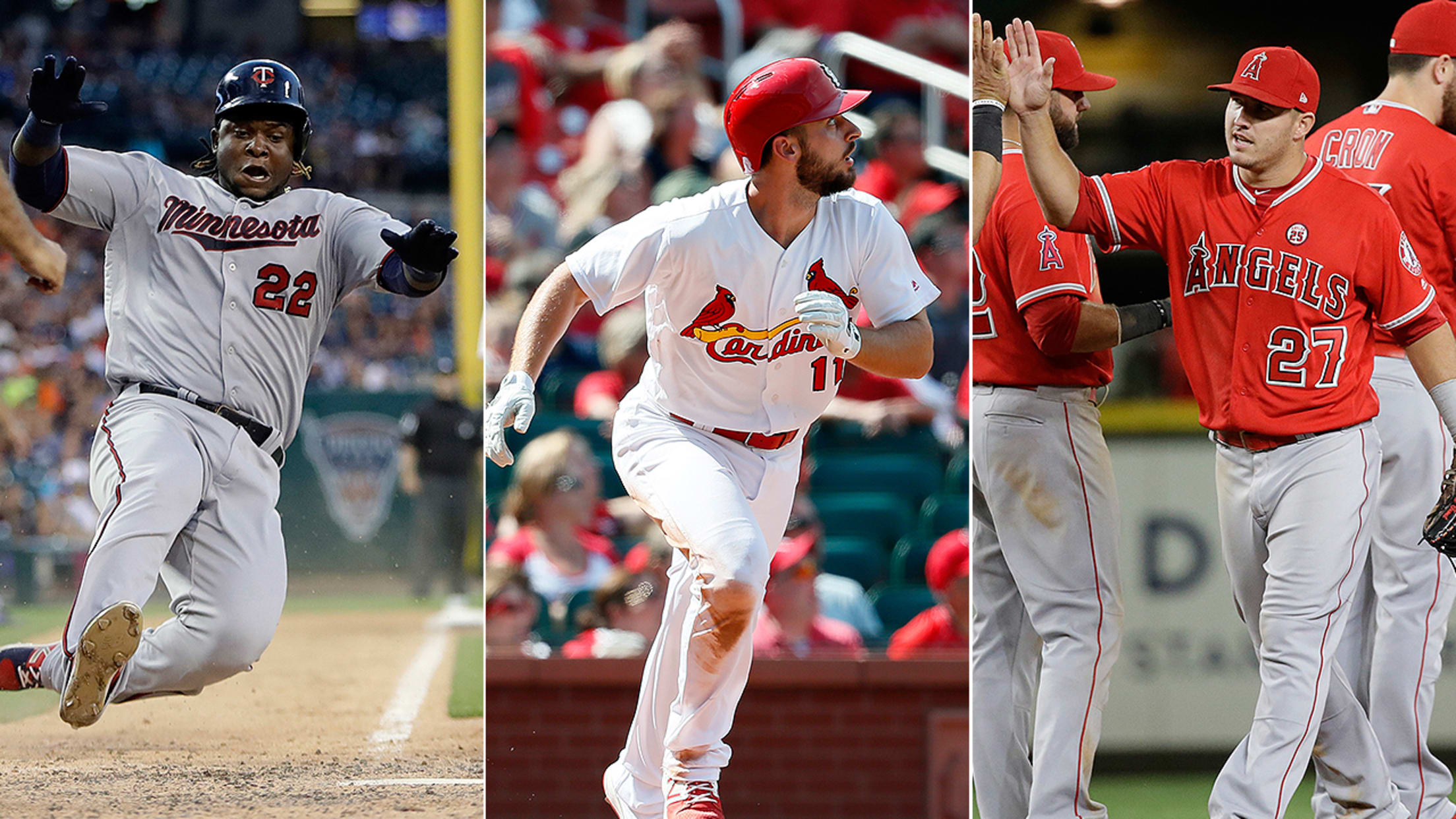 With more than six weeks left in the regular season, the Twins, Cardinals and Angels are making sure they're not forgotten. (AP)
It's mid-August in Major League Baseball, and while some teams might already be thinking about the hospitality tents they'll be setting up near their ballparks come October, some keep on grinding day to day, hoping beyond hope that they'll somehow scrape their way into the postseason.In the week ahead, the
It's mid-August in Major League Baseball, and while some teams might already be thinking about the hospitality tents they'll be setting up near their ballparks come October, some keep on grinding day to day, hoping beyond hope that they'll somehow scrape their way into the postseason.
In the week ahead, the focus shifts to a few of the clubs that are still sticking around and refusing to go away.
In other words, hello again, Minnesota Twins. Sorry we wrote you off, St. Louis Cardinals. And hey, Los Angeles Angels of Anaheim, let's not forget about you, with a bit more than six weeks left in the 162-game regular-season dance.
• Up-to-the-minute standings
All three clubs are right there in the postseason mix, and all three have been playing their best ball of the season.
The Twins, for example, won six of seven last week and on Sunday wrapped up their 59th victory of the season, which matches their total for 2016, when they went 59-103 and had the worst record in MLB.
"It's amazing the difference a year makes," Twins manager Paul Molitor said. "We're still looking at 46 games to go. I think we all know what happened last year as far as having to endure that. But we're obviously in a much better position."
That position is second place in the American League Central standings, 4 1/2 games behind Cleveland, and a half-game out of a Wild Card spot. This week, Minnesota gets a huge chance to make a serious dent in the division with home games against those very Indians from Tuesday to Thursday before a weekend set at Target Field against the contending Arizona Diamondbacks.
"We had a meeting a few weeks ago about playing hard for the next two months and seeing what happens," Twins outfielder Byron Buxton said recently. "That's what we've been doing and having a lot of fun doing it. I think that's carrying over to that success."
The same can be said for the Cardinals, who have vaulted to within a game of the Cubs in the National League Central after a sizzling week that included the tail end of an inspired eight-game winning streak. St. Louis is getting contributions from all over the roster, including rookie Paul DeJong, who has a team-high 18 home runs, and outfielder Randal Grichuk, who has 15.
"We're a better team than when we started," St. Louis manager Mike Matheny said. "I believe we're going to be better as we move along, too. [We've] just got to continue to work to figure out the holes we've got to continue to fix.
"I see this as a level of expectation of how we should play every game as we go forward, as long as they let us play."
The Cardinals will visit the Red Sox for two games starting Tuesday before heading to Pittsburgh for a four-game series against the Pirates in a challenging week ahead.
Meanwhile, the Angels are picking things up as well. Manager Mike Scioscia's gang went to the Pacific Northwest -- on the weekend the Wild Card-contending Mariners retired legend Edgar Martinez's number -- and retired Seattle in a four-game sweep.
Now the Angels have won six consecutive games. They have a fully healthy Michael Trout. Jose Pujols is hitting. They're enjoying an unexpected breakout season from rookie starter Parker Bridwell, who tallied another win on Sunday afternoon at Safeco Field. And most important, they enter the week ahead at 61-58 and in the second AL Wild Card slot, right behind the Yankees and a half-game ahead of the Twins.
"This is a tough season that we've been through, and now we finally gained a spot," Angels starter JC Ramirez said. "People that weren't hitting, now they're hitting. Pitchers that weren't doing very well, now they're doing good. I think that's the kind of team we are. Now we just need to continue doing it. I think that's the kind of team we're supposed to be since the beginning of the season."
The Angels get a rare two days of rest during the week ahead, but the five games they play will not be easy, with two Interleague road games against the Nationals and a three-pack vs. the Orioles in Camden Yards.
Elsewhere around the Majors, other teams are trying their best to stay in the chase, too. The D-backs are very much in the Wild Card mix in the NL and get a stern test in the form of the AL West-leading Houston Astros. And the Pirates aren't out of it yet, either. Pittsburgh enters the week at 58-60 and four games behind the Cubs in the division race.
"I think it's kind of a snowball effect," Pittsburgh reliever A.J. Schugel said. "Everyone kind of feeds off each other, and it's the same with the team. It's all about trying to get hot at the right time.
"The race right now is so tight, anything could happen."