Inbox: What is the Nats' Deadline plan?
Beat reporter Jamal Collier answers fan questions about possible moves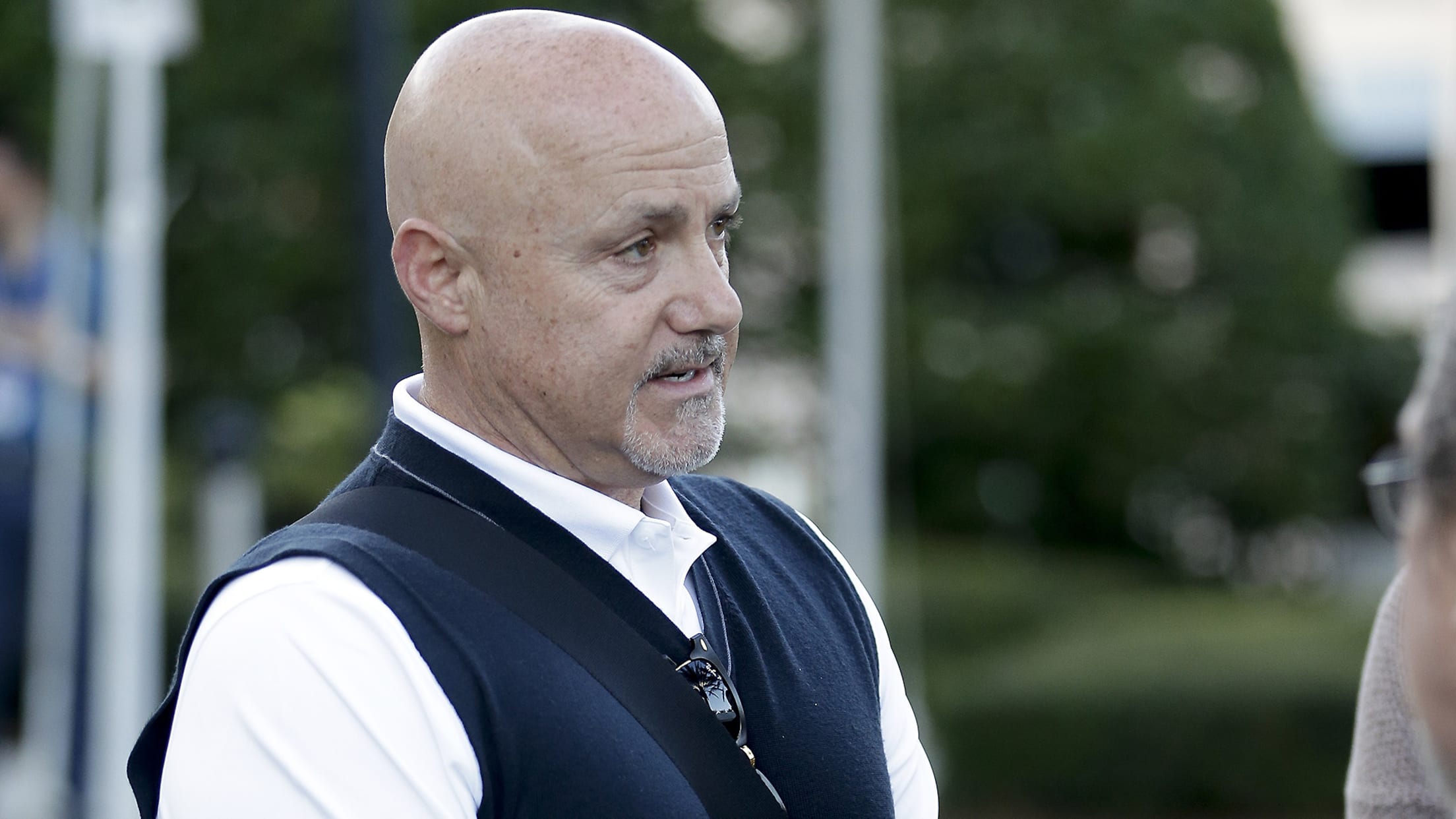 Mike Rizzo, general manager of the Washington Nationals, talks with reporters at the annual baseball general managers' meetings, Monday, Nov. 13, 2017, in Orlando, Fla. (AP Photo/John Raoux) (John Raoux/AP)
WASHINGTON -- As the countdown rolls on toward Tuesday's 4 p.m. ET non-waiver Trade Deadline, the Nationals find themselves awash in uncertainty. They have played 105 games and are a game under .500 (52-53), in third place and looking up at both the Braves and the first-place Phillies, whom they
WASHINGTON -- As the countdown rolls on toward Tuesday's 4 p.m. ET non-waiver Trade Deadline, the Nationals find themselves awash in uncertainty. They have played 105 games and are a game under .500 (52-53), in third place and looking up at both the Braves and the first-place Phillies, whom they trail by six games.
Each time it seems the Nats are putting together momentum for a turnaround -- for instance, last week's three-game winning streak -- it is halted in its tracks, as it was when they dropped the next two games to the fourth-place Marlins. But a team boasting one of the most talented rosters in the National League won't give up too easily.
So -- buy, sell or stand pat? That is the biggest question surrounding the team on the eve of the Deadline and where we begin today's edition of the Nationals Inbox.
what is your vibe? Buying , selling or both?

— Leonard Pumphrey (@FCHSBandAlumni) July 30, 2018
Those within the organization have been careful not to tip their hand in the hours leading up to the Deadline, so it is difficult to tell how much, if at all, plans changed after Sunday's 5-0 loss in Miami, where the team looked "flat," according to manager Dave Martinez. My educated guess, about 24 hours before the Deadline, is that the Nationals will mostly stand pat.
It's not in the nature of general manager Mike Rizzo to concede the season with a roster he believes in and has seen win a ton of games over the past six years. If the Nationals had taken care of business in Miami this past weekend, they could have picked up even more ground in the division. They did not, which is its own issue, but the point is that neither the Braves nor the Phillies look poised to run away with the NL East. The Nats could seek an upgrade at catcher and have been involved in discussions regarding Marlins backstop J.T. Realmuto, who would serve as both an immediate upgrade and a long-term answer at the position.
• Submit a question to the Nationals Inbox
It's a difficult task to convince ownership to invest more money in a midseason acquisition for a team that has underachieved for such a lengthy period of time. MLB Network insider Ken Rosenthal reported on Monday that the Nats have started taking offers for their potential free-agent relievers, perhaps in an effort to reduce some payroll.
I would be surprised by a wholesale teardown, or any trade involving Bryce Harper, just because it would represent such a drastic departure from the course of action the team and Rizzo has taken for years, and especially this season. They have been firm in defending Harper's struggles and are committed to convincing him to re-sign. I could see them potentially ceding a reliever if another team swoops in and offers a great return, but there's such a glut of relief help on the market that I'm not sure how high the return would be on such names as Kelvin Herrera, Ryan Madson and Shawn Kelley, especially considering each has battled his own issues at some point this season.
Smaller moves seem more likely. Maybe they'll find a suitor for Herrera, especially with Sean Doolittle making progress toward a return, and find someone to help at catcher, even if it's just finding a competent backup.
I'll say all this with the caveat that things can, and often do, change rapidly. So with 24 hours to go, everything was still at play, but as of right now, I do not see a major addition or subtraction coming.
Has there been any news regarding Anthony Rendon? We are all worried with his move to the Family Medical Leave list. Wishing nothing but the best for the Rendon family!

— a nats fan has no name. (@PippiNatTalking) July 30, 2018
Sorry, everyone, but the Nationals are not going to provide any updates until his return. So to protect the privacy of both Rendon and his family, I'll respect that. It's not entirely clear how long the team expects him to be away.
Who else besides Robles could the Nats add to Carter Kieboom to entice the Marlins to part with Realmuto?

— Alec Rogers (@alecrogers1968) July 30, 2018
One thing to remember about any potential Realmuto trade is that the Marlins believe they've had no reason to come down on their asking price. Realmuto is under club control for 2 1/2 more seasons, meaning even if they do not move him now, his value would still be pretty high -- basically, until the winter of 2019 -- and he would have a full season left on his contract. So if the Marlins' price began with Victor Robles, there's no reason to think they have or will come down from there. MLB.com's Joe Frisaro reported on Monday that Miami is holding firm in its extremely high asking price.
The Nationals are the team that is beginning to change course. Some within the organization have warmed to the idea of trading Robles for Realmuto, an idea that the Nats wholly rejected as recently as this winter.
We've heard a lot of Realmuto trade rumors this weekend but not much lately about Wilson....any updates on the possibility of getting our beloved buffalo back?

— Kelsey Taylor (@kelseyetaylor) July 30, 2018
I always thought that getting Wilson Ramos back from the Rays would make the most sense for the Nationals' catching situation, but his injury has put a huge damper on that. Until he comes back and proves that he is healthy, I don't think his trade market will really materialize, although he might be a candidate to be moved on waivers in August.
Not a trade question, but how close is Joe Ross to returning?

— David McGee (@dpm917) July 30, 2018
The Nats' rotation could use some help, so Joe Ross could provide a boost. But after spending some time with the club earlier this month and throwing a bullpen session and participating in a simulated game, he is back in West Palm Beach, Fla., rehabbing. He needs an entire Spring Training, and the team will want him to get some Minor League outings before he comes to Washington, so at best he's a potential September callup, if all continues to go well.