Inbox: Which young players will step up in '19?
Beat reporter Thomas Harding answers Colorado fans' questions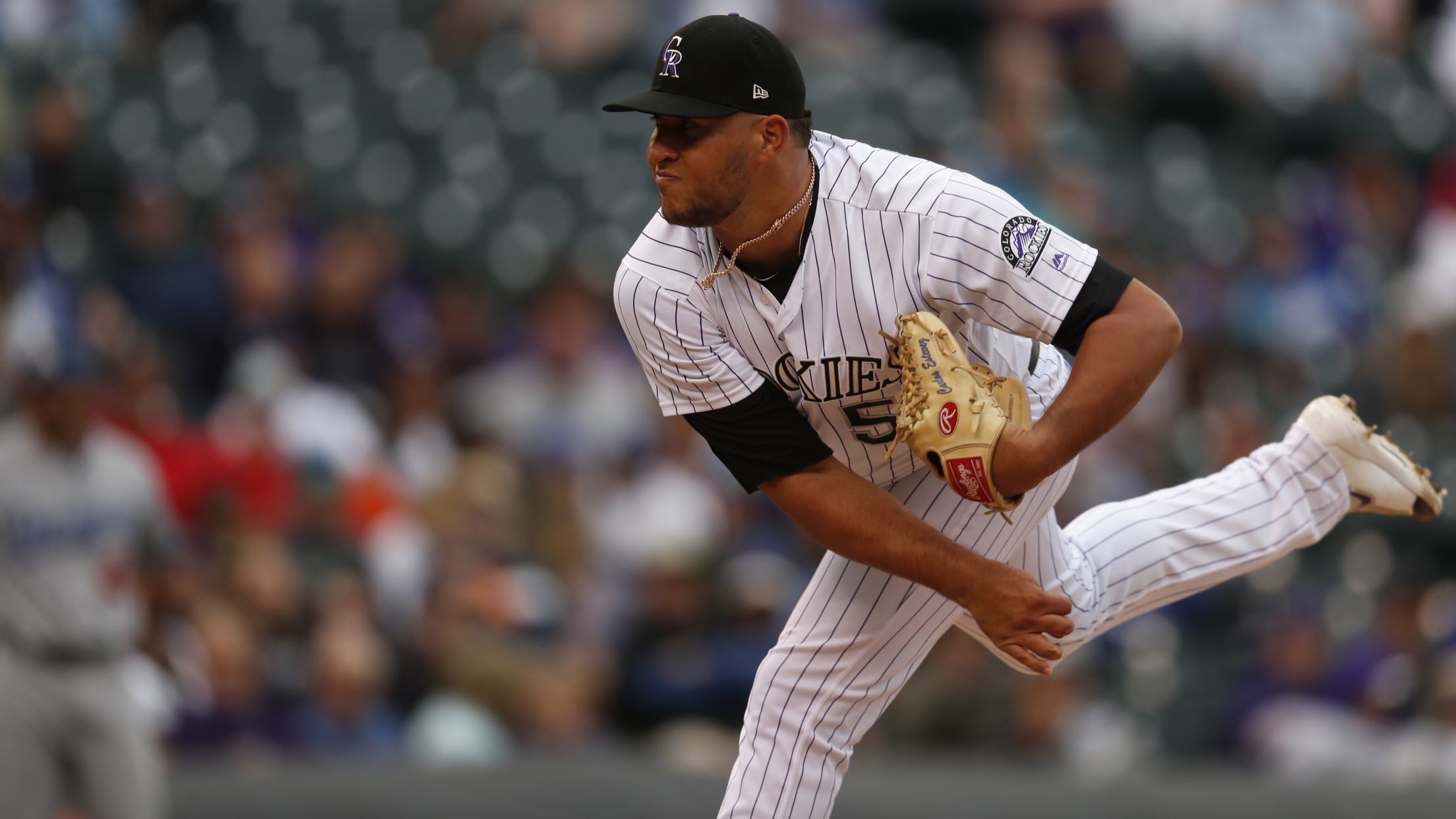 Colorado Rockies relief pitcher Carlos Estevez (54) in the ninth inning of a baseball game Sunday, Oct. 1, 2017, in Denver. The Dodgers won 6-3. (AP Photo/David Zalubowski) (David Zalubowski/AP)
DENVER -- The first offseason installment of the Rockies Inbox is chock full of questions about players who could be making an impact in 2019.
DENVER -- The first offseason installment of the Rockies Inbox is chock full of questions about players who could be making an impact in 2019.
I have 2 pitcher questions. Is Estevez expected to be healthy and part of the team next year? Also, what happened to Hoffman? I was kind of surprised he wasn't called up at the end of the year when the Rox were desperate for a fill-in starter.

— SlackerPerfectionist (@colohockeygirl) October 18, 2018
Carlos Estevez suffered a couple of freak injuries -- an oblique strain when he bent to pick up a ball while playing catch in Spring Training and a right elbow strain when he pushed to get up off the bench after pitching in a game at Albuquerque. He was healthy enough to finish the Triple-A season, but his strike-throwing was not at a level that justified a callup.
• Submit a question to the Rockies inbox
As for Jeff Hoffman, after seeing his decidedly mixed performance in the Major League bullpen, the Rockies judged him to strictly be a starter. Hoffman had a mixed second half at Albuquerque (6.06 ERA but with several stellar performances), and when the Minor League season ended in early September, there wasn't a spot for him in the rotation. When they were short a starter on Sept. 25, that was way after Hoffman's season had ended so they went with Chad Bettis in the 10-3 win over the Phillies.
Both pitchers will be expected to compete for the Opening Day roster next season. Going into 2018, Estevez had one Minor League option and Hoffman had two. The official MLB ruling on options for next season will be made after the World Series.
What's the plan with Tapia in 19? Has only 1 option left, had 27 PA's in 25 games. Was a top 100 prospect by Prospectus 4 years in a row. Has a career MiLB avg of .319. Finished this season with same OPS+ as Parra.

— Charlie Drysdale (@CharlieDrysdale) October 18, 2018
Once the Rockies signed Carlos Gonzalez in March, Raimel Tapia's opportunity to break into the regular lineup to start the season disappeared, then David Dahl emerged and surpassed him. Whatever the OPS+ comparison over Gerardo Parra's full season and Tapia's partial one, Parra slashed .292/.469/.417 in his 24 plate appearances as a substitute in the second half and earned trust in those situations.
Do the Rockies go back to Parra or even Gonzalez as an outfield bench bat? It's a similar situation to the one at the starting second base job; do you go with a veteran or turn it over to Tapia after years of development in the system? For his part, Tapia is working to become stronger and faster for next season.
Does Brendan Rodgers make a meaningful impact in 19? Does he make the opening day roster or begin the year in Albuquerque?

— J.W. Mountain (@JWMountain1) October 18, 2018
The guess here is Brendan Rodgers, the Rockies' No. 1 prospect according to MLB Pipeline, would begin next season in Triple-A, unless he becomes Trevor Story of 2016 in Spring Training and forces a decision. Rodgers had an excellent performance at Double-A Hartford, but recurring hamstring issues slowed his performance at Albuquerque and kept him out of the Arizona Fall League.
Can you please inform us about the Rockies TV deal. It's been one of the worst in baseball. Any chance that changes it improves soon? RSN's are one of the most important things in baseball and I'd love to learn more about the Rockies position.

— Sam Campfield (@SamCampfield) October 18, 2018
The Rockies' television deal runs through 2020. And to your point about its worth, here is a 2016 Fangraphs article that ranks the clubs' television contracts by estimated revenue for the club. The Rays, listed below the Rockies by Fangraphs, have since signed a new contract.
If current trends hold, the Rockies and several other teams with expiring TV deals could see revenue bumps, in part because MLB has been a leader in technology and viewership trends.
I'm a season ticket holder. I've called inquiring whether we'll see ticket price increases. I'm willing if we lock Nolan longterm and sign DJ asap. Any "insider" info???

— John Gillespie (@JJGill7) October 18, 2018
My job would be a heck of a lot easier if I sat in on their meetings. But could a potential new TV deal mentioned above make signing Nolan Arenado to a multi-year deal possible? Certainly. To me, DJ LeMahieu comes down to the Rockies deciding if they want to compete on the market or if they feel comfortable turning over second base to Garrett Hampson. It's always a decision in a draft-and-develop organization.