Abreu testifies that he ate page of passport
White Sox first baseman has limited immunity in Cuban smuggling trial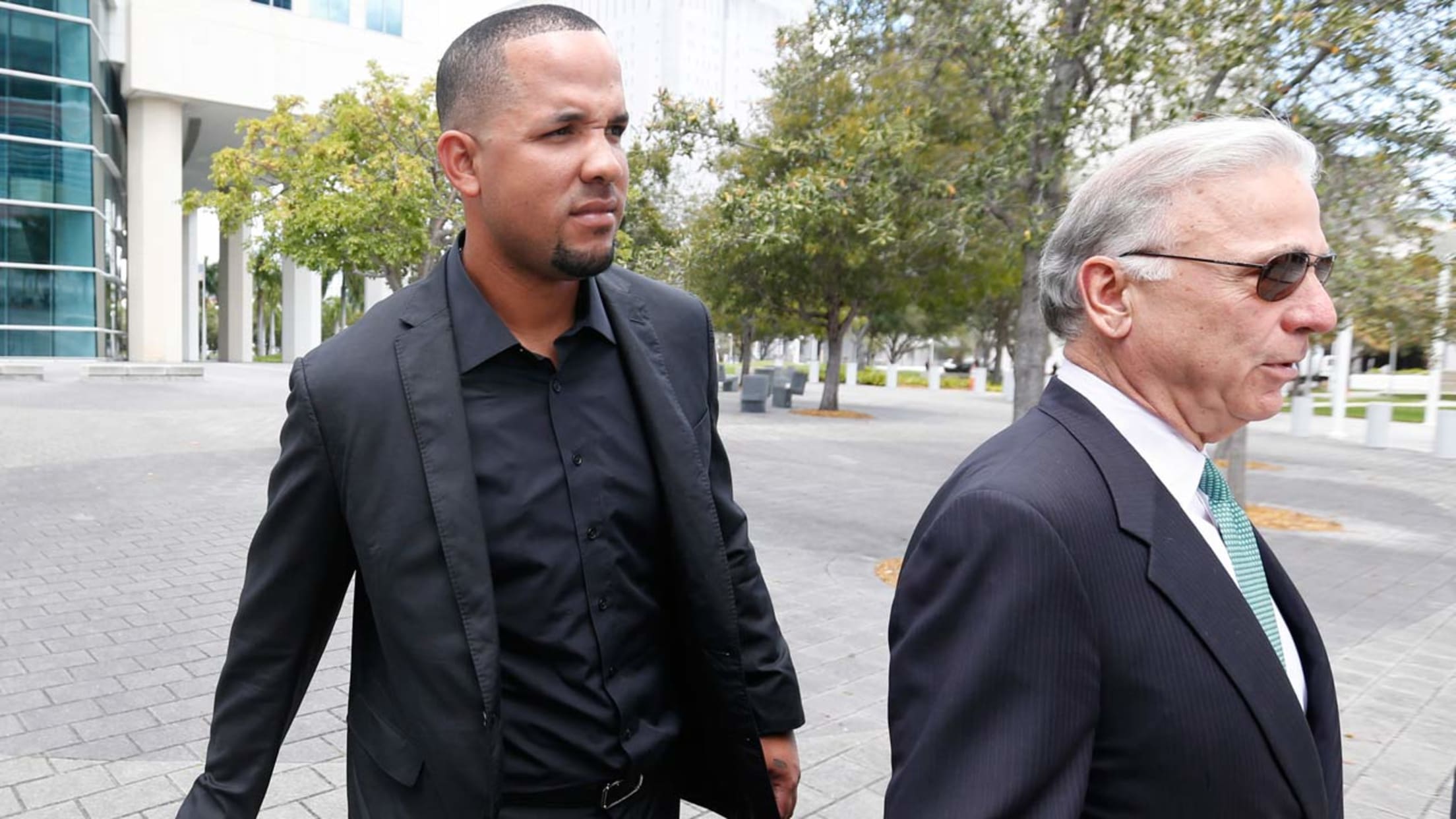 Jose Abreu and attorney Roberto Martinez leave federal court during a break on Wednesday. (AP)
White Sox first baseman Jose Abreu told a Miami federal jury Wednesday that he ate a page of a fake passport and washed it down with beer while flying illegally from Haiti to Miami in a Cuban ballplayer smuggling operation in 2013, according to the Associated Press.Abreu testified in the
White Sox first baseman Jose Abreu told a Miami federal jury Wednesday that he ate a page of a fake passport and washed it down with beer while flying illegally from Haiti to Miami in a Cuban ballplayer smuggling operation in 2013, according to the Associated Press.
Abreu testified in the trial of sports agent Bartolo Hernandez and trainer Julio Estrada, who are accused of alien smuggling and conspiracy. Abreu, who was granted limited immunity and therefore will not be prosecuted as long as he tells the truth, told the jury he broke the law out of fear he would miss an October 2013 deadline and lose the $68 million contract he eventually signed with the White Sox.
"If I had not been there on that particular day, the deadline, then the contract would not be executed and would no longer be valid," Abreu reportedly told the jury. "We had to be in Chicago to sign the contract."
Hernandez and Estrada were indicted for allegedly organizing a smuggling ring in which Cuban ballplayers paid them more than $15 million to leave Cuba in secretive ventures that included boat voyages, fake documents and threats of violence. Abreu is one of several Cuban-born Major Leaguers, including the Marlins' Adeiny Hechavarria and the Mariners' Leonys Martin, to testify in the trial, which is expected to last several more weeks.
Abreu, who won the American League Rookie of the Year Award in 2014, testified that he received the fake passport in Haiti, where he and his family had been taken by speedboat in August 2013. He said a man named Amin Latouff, who was indicted along with Hernandez and Estrada, but who has not been arrested, booked him on the flight and gave him the passport, instructing Abreu to destroy the document on the plane. Abreu said he ordered a Heineken beer, tore the first page of the passport into pieces and swallowed them down.
"I could not arrive in the United States with a false passport," he said.
When Abreu arrived in Miami, the "wet foot, dry foot" Cuban-immigration policy, since rescinded by former President Barack Obama, allowed him to remain on American soil despite his lack of travel documents. Abreu testified that Total Baseball, Estrada's company, was to be paid 20 percent of his contract and that Hernandez was to receive 5 percent.
Abreu, however, testified that it was his idea to get the illegal passport and that he asked Latouff for help in obtaining it.
"I trusted that he was someone who could help me," Abreu said, "and I confided in him that secret."
The White Sox gave Abreu time off from their Spring Training camp in Glendale, Ariz., to testify in the trial. His testimony is expected to conclude Thursday and he should return to camp Friday.