Tough series for White Sox bullpen in KC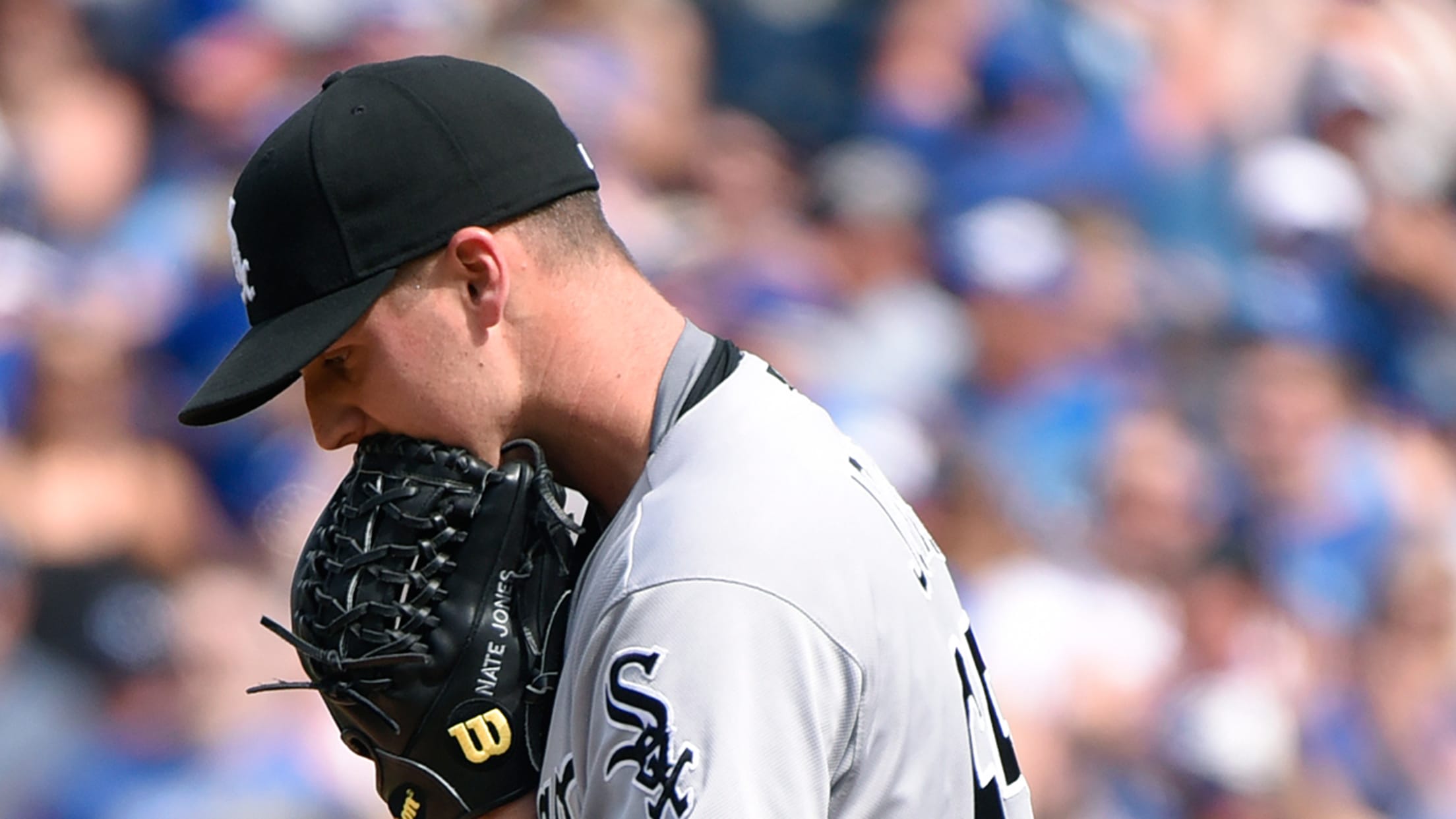 "Today was definitely my fault," said Nate Jones, who allowed three earned runs in the blown save. (Getty)
KANSAS CITY -- As the White Sox walked off the field following Sunday's 5-4 loss to the Royals, they knew they'd missed out on a big opportunity. In fact, they'd missed out on three of them.In all three games of the series, the White Sox held a two-run lead in
KANSAS CITY -- As the White Sox walked off the field following Sunday's 5-4 loss to the Royals, they knew they'd missed out on a big opportunity. In fact, they'd missed out on three of them.
In all three games of the series, the White Sox held a two-run lead in the seventh inning or later. In all three games, they lost.
"It's tough," catcher Dioner Navarro said. "We're playing great teams. We answer every time we get the call, but we fell short."
That's been the case more often than not for the White Sox as of late. After jumping out to a 23-10 start, the team is just 5-13 in its last 18 games. The Sox began this weekend's series in first place in the American League Central; they finished in third.
For the third game in a row, the culprit was the bullpen. The group gave up 14 runs throughout the three games, posting a combined ERA of 19.90 in 6 1/3 innings.
After the first two blown saves, White Sox manager Robin Ventura was asked if the thought the starters needed to eat up more innings. He had the perfect quip ready.
"You mean like nine?" he joked.
Evidently, he wasn't that far off. Left-hander Chris Sale didn't quite make it nine innings Sunday, but he ended up throwing 118 pitches through seven strong innings as the White Sox held a 4-2 lead.
Sale bounced back from his first loss of the season in which he went just 3 1/3 innings, allowing six earned runs, but his team wasn't able to close the deal. And after the game, with a third blown save in the books, Ventura acknowledged the uncertainty with the team's bullpen.
"The last couple days, you don't know," Ventura said of what to expect out of the bullpen. "Until you fight through it and nail one down, that's when you know."
And once again, after a loss, it was a reliever who stood in and put the blame on his shoulder.
"[The offense] did their part. They gave us a lead," said Nate Jones, who allowed three earned runs in the blown save. "Today was definitely my fault."
Now out of first place for the first time in a while, the team didn't point fingers after the game. Sale even brushed off the problems, saying the team is in a great spot if the bullpen is going to be its biggest issue.
But with the losses piling up, the White Sox are left seeking answers to stop the skid. And until the answer comes, the players said all they can do is continue to keep grinding, adding they can't afford to lose faith.
"If we did, we're [in trouble]," Navarro said.
Scott Chasen is a reporter for MLB.com based in Kansas City.