White Sox make calls to fans, visit hospital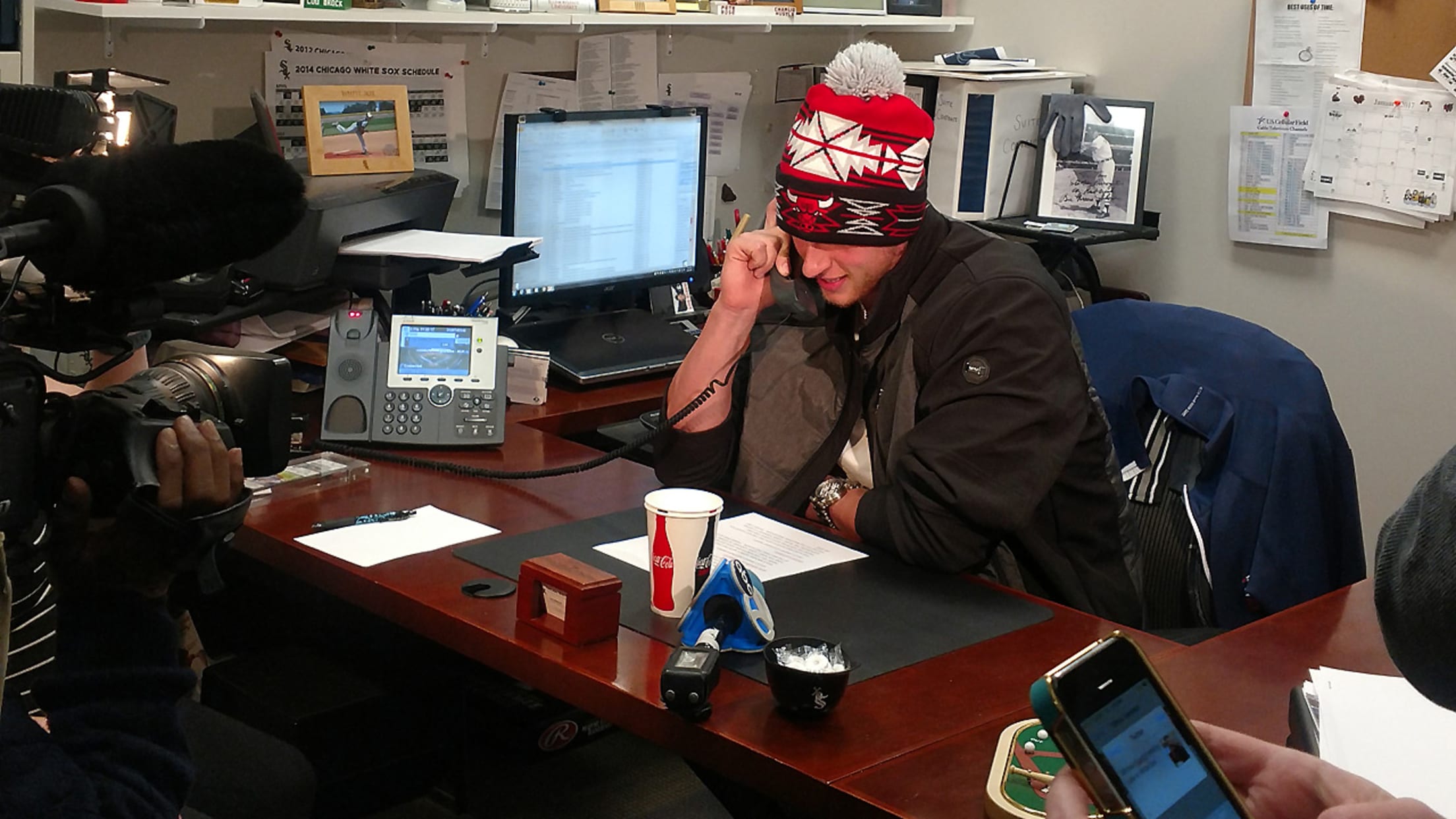 Michael Kopech, who was acquired in the Chris Sale trade, made phone calls to season-ticket holders. (MLB.com)
CHICAGO -- Derek Holland sounded like a longtime White Sox sales representative while making calls to season-ticket holders during a traditional pre-SoxFest event Thursday afternoon at Guaranteed Rate Field.In reality, Holland's enthusiasm comes from a mere one month with the organization after agreeing on a one-year, $6 million deal on
CHICAGO -- Derek Holland sounded like a longtime White Sox sales representative while making calls to season-ticket holders during a traditional pre-SoxFest event Thursday afternoon at Guaranteed Rate Field.
In reality, Holland's enthusiasm comes from a mere one month with the organization after agreeing on a one-year, $6 million deal on Dec. 14.
"To be honest, I've never done this before," Holland said. "Coming from Texas, we never called any of the fans. It's cool, it's something all organizations should do.
"These are the people who make you what you are. It's not taking too much time to sit and say thank you and to interact with these fans. That's what it's all about. I'm lucky to be in this situation."
Holland was joined by veteran reliever Dan Jennings, newcomers Zack Burdi and Michael Kopech, and broadcasters Jason Benetti and Ed Farmer in dialing up valuable White Sox supporters. This event happened hours after manager Rick Renteria, Yoan Moncada, Tim Anderson and Lucas Giolito visited with young patients at the Ann and Robert H. Lurie Children's Hospital of Chicago.
The tone of the morning event didn't feature quite the goofiness attached to the sales calls. But it was important for the White Sox group to produce as many kids smiles as possible, as Giolito worked on a puzzle with one patient and Anderson sat with another talking for close to 10 minutes. Autographs were plentiful, and White Sox baby blankets were handed out.

"It's awesome. Any chance to be able to spend time with kids, and I feel like it's a successful day," Giolito said. "I want to put a smile on kids' faces and make them feel happy. I just care about the community and making sure I can help people in any way I can."
"I cherish moments like that just from me having a daughter and seeing the kids like this," Anderson said. "It's just a blessing to be here."
Making those calls to season-ticket holders served as a point of pride for Burdi, the 26th overall pick in the 2016 MLB Draft who grew up in west suburban Downers Grove, Ill., as a White Sox fan. It was a bit of a learning experience for Kopech, with a few fans informing him they intend to continue to call the ballpark "The Cell" despite the naming rights change.
"Fans have been very excited, but I've been pretty excited myself," said Kopech, who is participating in his first official White Sox event since bringing his 100-mph fastball from Boston as part of the Chris Sale trade. "I just learned more from them than they probably will from me. It's pretty cool we get to interact with them and see how devoted these fans actually are."
Holland stood as the star of the ticket calls, breaking into a Harry Caray impersonation a couple of times.
"That's just me. It's my personality. Live in the moment and have fun with it because once it's gone, it's gone," Holland said. "I want to be who I am, not be somebody I'm not.
"Just because I have a personality I shouldn't be anything different from what I am on the field. I work hard, I play hard, but at the end of the day, I'm going to have a personality, too."