White Sox will call on prospects when ready
Hahn wants young players prepared for MLB scrutiny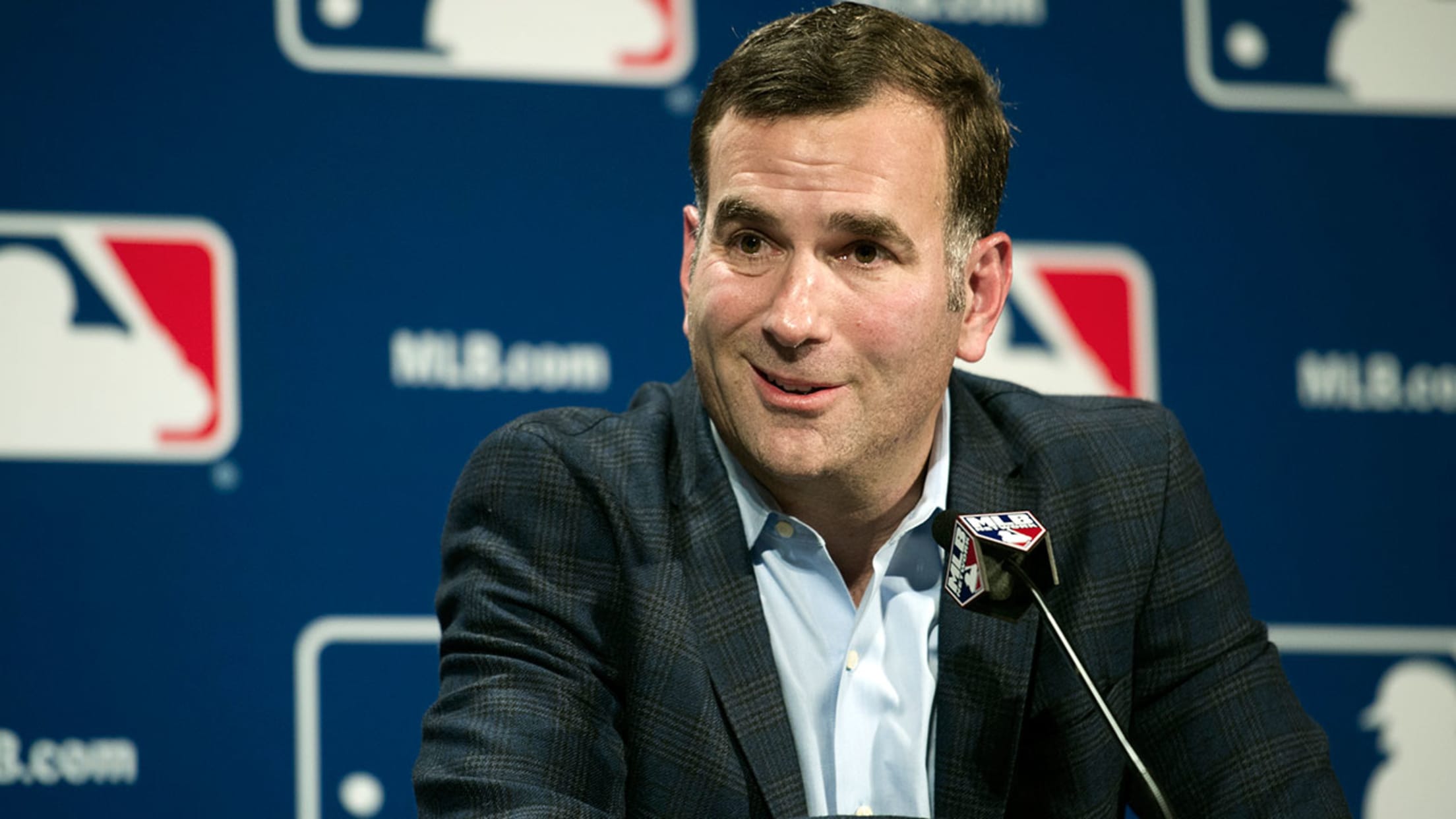 "Once it comes time for him to have that next stage of development in Chicago, we'll see him up here," Rick Hahn said of Yoan Moncada. (AP)
CHICAGO -- One question seems to consistently come up in each of Rick Hahn's media sessions over the past six weeks.When does the road from Charlotte lead Yoan Moncada, MLBPipeline.com's top-rated prospect, to Chicago? On Wednesday, the quick-witted White Sox general manager didn't hesitate with a response."There are planes there
CHICAGO -- One question seems to consistently come up in each of Rick Hahn's media sessions over the past six weeks.
When does the road from Charlotte lead Yoan Moncada, MLBPipeline.com's top-rated prospect, to Chicago? On Wednesday, the quick-witted White Sox general manager didn't hesitate with a response.
"There are planes there every day," said Hahn, drawing laughs from reporters.
"Some point in the future," he added. "Not tonight."
The Moncada case illustrates the White Sox thought process in regard to their plethora of highly rated young players. The organization wants these players to be here to stay when they arrive, although that sort of linear development comes with no guarantees. But the White Sox also want these players to be well-rounded and well-prepared in everything about the game.
"There's a little bit higher level of scrutiny, a little bit higher level of pressure," said Hahn, comparing the big leagues to Triple-A or Double-A. "Guys have to get used to those expectations and answering to you guys every day.
"More of you all show up on a given day to ask questions about the night before or their performance or what's going on and why they are not meeting expectations, so to speak. The game is also faster here. There's a third deck.
"Let's take a position player, a guy working on certain things defensively, he can only be tested to a certain extent at Triple-A. It gets you a long way of the way there. But the game is faster up here. When he gets here, you are going to see a few foibles along the way, and how quickly we are able to iron those things out will further that development and help with the finishing touches."
White Sox prospects such as Moncada, Lucas Giolito, Reynaldo Lopez and Michael Kopech, to name a few, have been joined in the Minors by players such as third baseman Jake Burger, first baseman Gavin Sheets and catcher Evan Skoug from the 2017 Draft class. It is a class with a fair amount of potentially impactful talent, targeting polished bats with power and control of the strike zone.
"That's something, frankly, we were missing in the organization," Hahn said. "It was nice to fill in that area."
Burger, the team's top pick at No. 11, has been projected by some as possessing the capabilities of being part of the same rebuilding talent wave as Moncada. Before the Majors are even a thought for these new additions, they first have to go through the pro baseball acclimation process.
"Not having to go to class every day, learning to hit with wood, learning to hit against premium stuff every single day," White Sox director of amateur scouting Nick Hostetler said. "Just the ins and outs of managing your life, and understanding the future is in your hands.
"You control everything from that point out. As long as they get that and understand it, they are going to have success."
As for the ongoing Moncada question, there's no magical date or formula predicting his arrival.
"We're going to continue to monitor him there, talk with our player-development folks," Hahn said. "Once it comes time for him to have that next stage of development in Chicago, we'll see him up here."