Myers eager to be part of Padres resurgence
Accepting six-year deal shows first baseman believes in future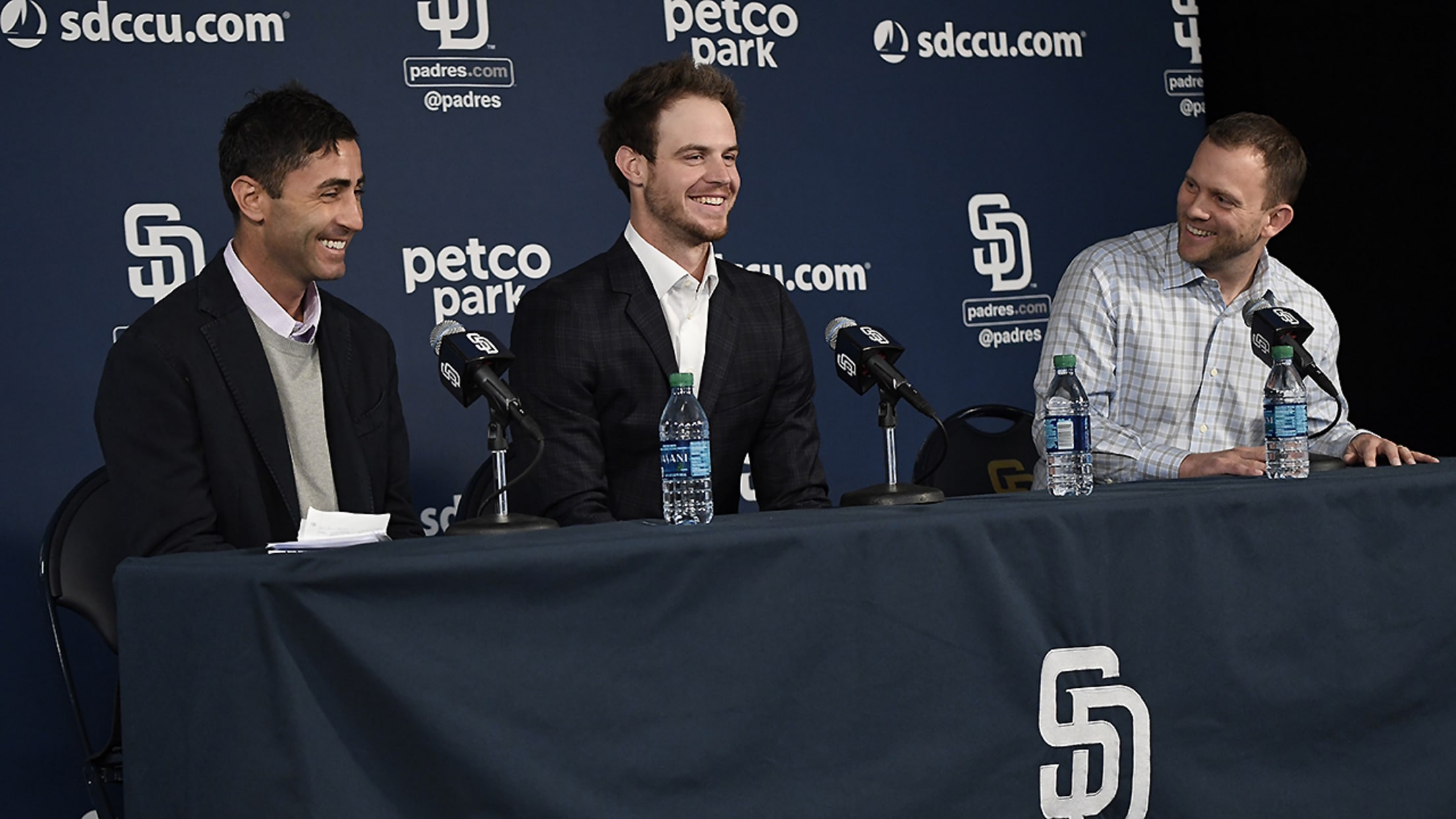 Bill Center, longtime sportswriter for U-T San Diego, is an employee of the Padres.As William Myers was speaking about his extended commitment to the Padres on Monday afternoon, the sun broke through the clouds outside Petco Park -- a sign, perhaps, that brighter times are ahead for the team.That point
Bill Center, longtime sportswriter for U-T San Diego, is an employee of the Padres.
As William Myers was speaking about his extended commitment to the Padres on Monday afternoon, the sun broke through the clouds outside Petco Park -- a sign, perhaps, that brighter times are ahead for the team.
That point quickly became part of Myers' passionate address to the media -- and a group of younger Padres' prospects sitting in the back of the room -- after officially signing the richest contract in franchise history.
"The vision you have, I am behind," said Myers as he turned to Padres' general manager A.J. Preller then to executive chairman Ron Fowler.
Myers agreed to a six-year commitment to the Padres at a time when the Padres are rebuilding for the future. Over the last year, the Padres have added scores of young prospects to their system. Many of those prospects, however, are three, four, five, even six years away.
Many veterans coming into their prime opt for greener pastures during such a time.
Not Myers.
And that speaks volumes -- about the player and the organization.
During his comments, Preller noted that Myers has been studying the backgrounds of the younger prospects the Padres have been stockpiling, among them the 21-year-old shortstop Allen Cordoba that the club recently claimed off waivers from St. Louis.
"Wil had already studied Cordoba when he asked me about him," said Preller. "Wil is in alignment with the front office and the field staff. He wants to be a part of what is going on and our future."
Of course, we already knew that Myers embraced the concept of being a San Diegan. We saw that last July after he was named the club's All-Star Game Ambassador -- which happened before he was named to the National League All-Star Team.
Myers was omnipresent in his ambassador role. Overnight, he became the face of a franchise in transition.
And he has the credentials to support his critical role. Last year, in his first compete season, Myers batted .259 with 29 doubles, four triples, 28 homers, 28 steals, 94 RBIs and 99 runs scored. He became the first Padres player to have 25 or more doubles, homers and steals in the same season.
Room for improvement? Definitely. But he's moving forward from a solid base. And he thinks the Padres are doing the same.
Monday, Myers was both eloquent and concise Monday afternoon as he discussed the Padres' present and future.
"The guys we have here, it's something special," said Myers. "I know there's not a lot of household names yet. But I do believe and trust in this process. I'm a big believer and trust the process that we have going on here.
"I want to be part of this."
And the Padres clearly want Myers to be part of their future -- both on and off the field.
As a player, Myers should just be coming into his own. As a leader -- both in the clubhouse and the community -- Myers has already shown what he can do.
What better face of a San Diego franchise than a smiling one who is happy to be here.