Monday's top prospect performers
Rays shortstop completes first career cycle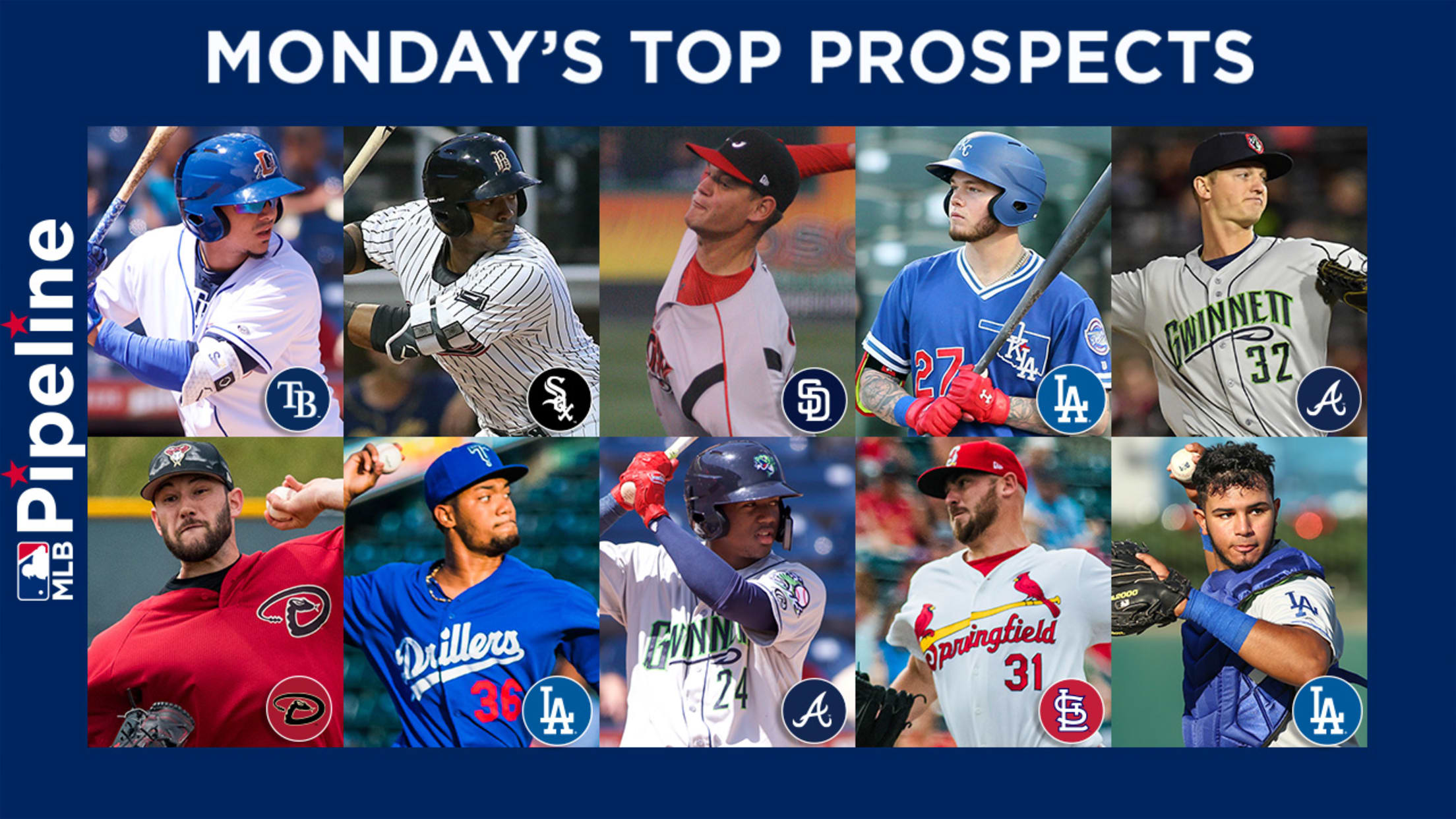 Here's MLB Pipeline's roundup of the top prospect performances in the Minor Leagues on Monday.It was quite a night for Rays No. 2 prospect Willy Adames, who hit for the cycle in Triple-A Durham's 8-1 victory over Buffalo. The No. 22 prospect in baseball doubled in the first inning, singled
Here's MLB Pipeline's roundup of the top prospect performances in the Minor Leagues on Monday.
It was quite a night for Rays No. 2 prospect Willy Adames, who hit for the cycle in Triple-A Durham's 8-1 victory over Buffalo. The No. 22 prospect in baseball doubled in the first inning, singled in the fifth, tripled in the sixth, and homered in the eighth.
The 22-year-old shortstop accomplished the feat a day after hitting his first home run of the season, the first grand slam of his career, against Lehigh Valley. Adames is slashing .345/.441/.582 in 16 games this year after slashing .277/.360/.415 with 10 homers and 11 steals in 130 games for Durham in 2017.
MILB Video - Title: Adames homers for cycle - Url: http://www.milb.com/r/video?content_id=1969862683
"It's my mom. She just got here for a visit and she brings me luck all the time," the native of the Dominican Republic told MiLB.com. "She came with my sister a couple of days ago from Santiago, and whenever she's here, I always hit good. Since I got drafted, she usually makes one trip a year for a week to see me play, but I think this time I'm gonna have to extend her stay. She's my good-luck charm."
Other top prospect performances from Monday's games:
• White Sox No. 1 prospect Eloy Jimenez (No. 4 prospect overall) belted his first two homers of 2018 after opening the season 0-for-10. He was sidelined with a mild left pectoral strain sustained while working out at Camelback Ranch in Glendale, Ariz., this spring. The two homers came during Double-A Birmingham's 9-5 victory over Pensacola and were Jimenez's first two hits of the season.
MILB Video - Title: Jimenez crushes second jack - Url: http://www.milb.com/r/video?content_id=1969660983
Jimenez, 21, slashed .312/.379/.568 with 19 homers in 89 games between Class A Advanced Myrtle Beach (Cubs), Class A Advanced Winston-Salem (White Sox) and Double-A Birmingham last season.
• A pair of top Braves prospects in Ronald Acuna (No. 1, No. 2 overall) and Mike Soroka (No. 3, No. 31 overall) shined in Triple-A Gwinnett's 1-0 win over Rochester. Acuna went 1-for-2 with a single and three stolen bases, scoring the game's lone run, while Soroka tossed seven scoreless innings in his first career shutout, giving up three hits while walking three and striking out four. The right-hander lowered his season ERA to 1.99.
MILB Video - Title: Acuna swipes second and third - Url: http://www.milb.com/r/video?content_id=1969512783
• Padres No. 5 prospect Michel Baez (No. 42 overall) tossed five hitless innings while giving up an unearned run in his debut for Class A Advanced Lake Elsinore against San Jose. It was the first start of the year for the 22-year-old right-hander, who posted a 2.45 ERA in 10 starts for Class A Fort Wayne in 2017.
MILB Video - Title: Baez no-hits Giants over five - Url: http://www.milb.com/r/video?content_id=1970773983
• Cardinals No. 14 prospect Austin Gomber struck out 16 batters in an eight-inning start for Triple-A Memphis against Iowa, throwing 85 of his 112 pitches for strikes in a 3-0 victory. The 16 strikeouts tied a franchise single-game record for the Redbirds. The 24-year-old southpaw did not allow a run over those eight frames, lowering his ERA from 3.57 to 2.45 on the season (four starts).
MILB Video - Title: Gomber's 16th strikeout - Url: http://www.milb.com/r/video?content_id=1969500883
• A trio of Dodgers prospects had impressive performances, led by No. 2 prospect Alex Verdugo (No. 33 overall), who connected for his fourth homer of the season in Triple-A Oklahoma City's 3-2 loss to New Orleans. The 21-year-old outfielder is slashing .297/.324/.531 in 16 games this season.
MILB Video - Title: Verdugo lifts solo shot - Url: http://www.milb.com/r/video?content_id=1969525783
Meanwhile, Dodgers No. 10 prospect Dennis Santana tossed four strong innings for Double-A Tulsa, giving up one unearned run while walking two and striking out three in a 6-5 Drillers loss to Arkansas. In the same game, Dodgers No. 3 prospect Keibert Ruiz (No. 52 overall) went 2-for-4 with a homer, his third of the season. The 19-year-old catcher is slashing .286/.333/.446 in 13 games this season, his first at Double-A.
• D-backs No. 23 prospect Alex Young turned in six scoreless innings for Double-A Jackson against Chattanooga, surrendering just one hit while walking one and striking out eight. The 24-year-old left-hander lowered his season ERA to 3.43 in four starts (22 strikeouts, four walks over 21 innings).
MILB Video - Title: Young K's eighth batter of night - Url: http://www.milb.com/r/video?content_id=1970271083