Teixeira back from DL, seeks spark from bat
Refsnyder will spell veteran at 1B; Yankees DFA Davis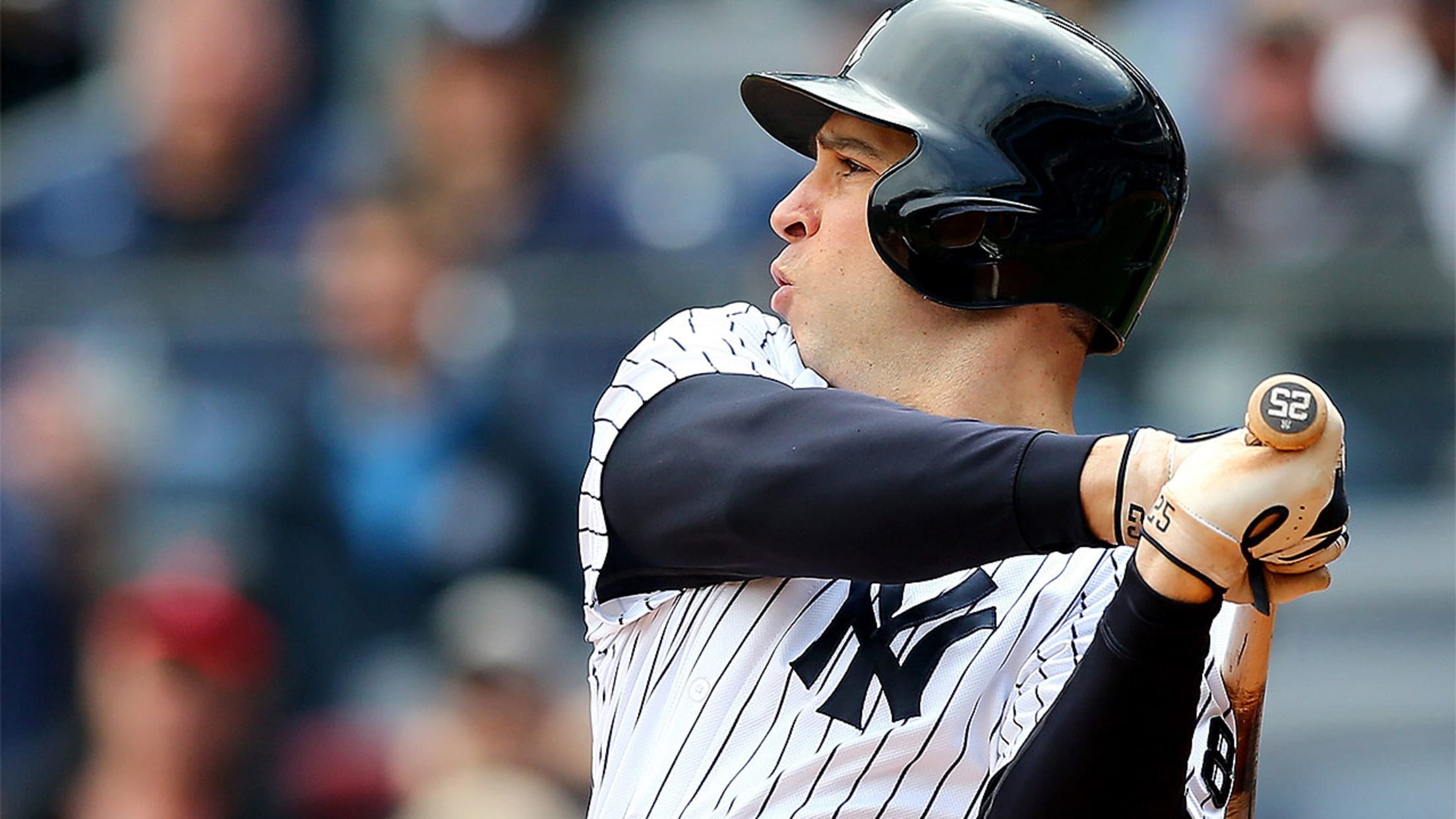 The Yankees plan to ease Mark Teixeira, who went 0-for-3 with a walk in his return to the lineup Saturday, back into action. (Getty Images)
NEW YORK -- Shortly before 1:08 p.m. Saturday, everyone took their stations at Yankee Stadium. The fans rose for the playing of the national anthem, and right-hander Michael Pineda made his way onto the field for warmups, as did the eight position players.For the first time since May 24, that
NEW YORK -- Shortly before 1:08 p.m. Saturday, everyone took their stations at Yankee Stadium. The fans rose for the playing of the national anthem, and right-hander Michael Pineda made his way onto the field for warmups, as did the eight position players.
For the first time since May 24, that group included Mark Teixeira. He jogged over to the right side of the infield, rested his mitt on first base and put his hand over his heart. It's something he's done countless times over his Yankees career, but in New York's 2-1 win over the Twins on Saturday, his presence took on extra meaning.
"I think we all know what I'm capable of when I'm healthy and producing," Teixeira said before the game. "That's what we're all hoping for. It's been a tough couple of first months, not playing in as many games as I'd like and not being as healthy as I'd like, but the second half is going to be different."
Playing in the final season of his eight-year, $180 million contract, Teixeira is hoping to reverse the narrative of his season. The articular cartilage tear in his right knee that relegated him to the 15-day disabled list June 4 was another setback in perhaps the most taxing campaign of his 14-year career.
Teixeira, 36, hasn't hit a homer since April 13, which was his third of the season. Among Major Leaguers with at least 150 plate appearances, his .259 slugging percentage is second-lowest, and his .176 batting average is fourth-lowest.
The first baseman didn't do a ton Saturday to help his cause. He finished 0-for-3 with a walk and a strikeout, which came after a 10-pitch at-bat with runners on first and third and one out in the eighth inning of a tie game.
He flailed at an 84-mph curveball and smacked his bat against home plate in frustration.
"Obviously, you hope for a different result, but I thought it was a good at-bat," manager Joe Girardi said.
With Teixeira's activation, the Yankees designated Ike Davis for assignment and opted to keep Rob Refsnyder on the 25-man roster. Girardi lauded Refsnyder's versatility (he can play second base, right field and first base) and his approach at the plate.
Girardi added he'll likely use Refsnyder to spell Teixeira going forward.
"He's a future Hall of Famer, so I'm excited for him," Refsnyder said of Teixeira, who wasn't in the clubhouse after the game. "He's a Hall of Famer, he's going to swing it. He's huge for our offense."
Refsnyder, though, had been settling into a groove recently as the everyday first baseman, lifting his batting average to .286.
The sentiment around the Yankees is a return to normalcy for Teixeira could provide a big boost. As he looks to return from yet another physical setback, Teixeira is trying to stay optimistic, as difficult as that might be.
"I'm keeping my fingers crossed," Teixeira said.
Joshua Needelman is a reporter for MLB.com based in New York.