Yankees-Astros ALCS Game 1: In Real Life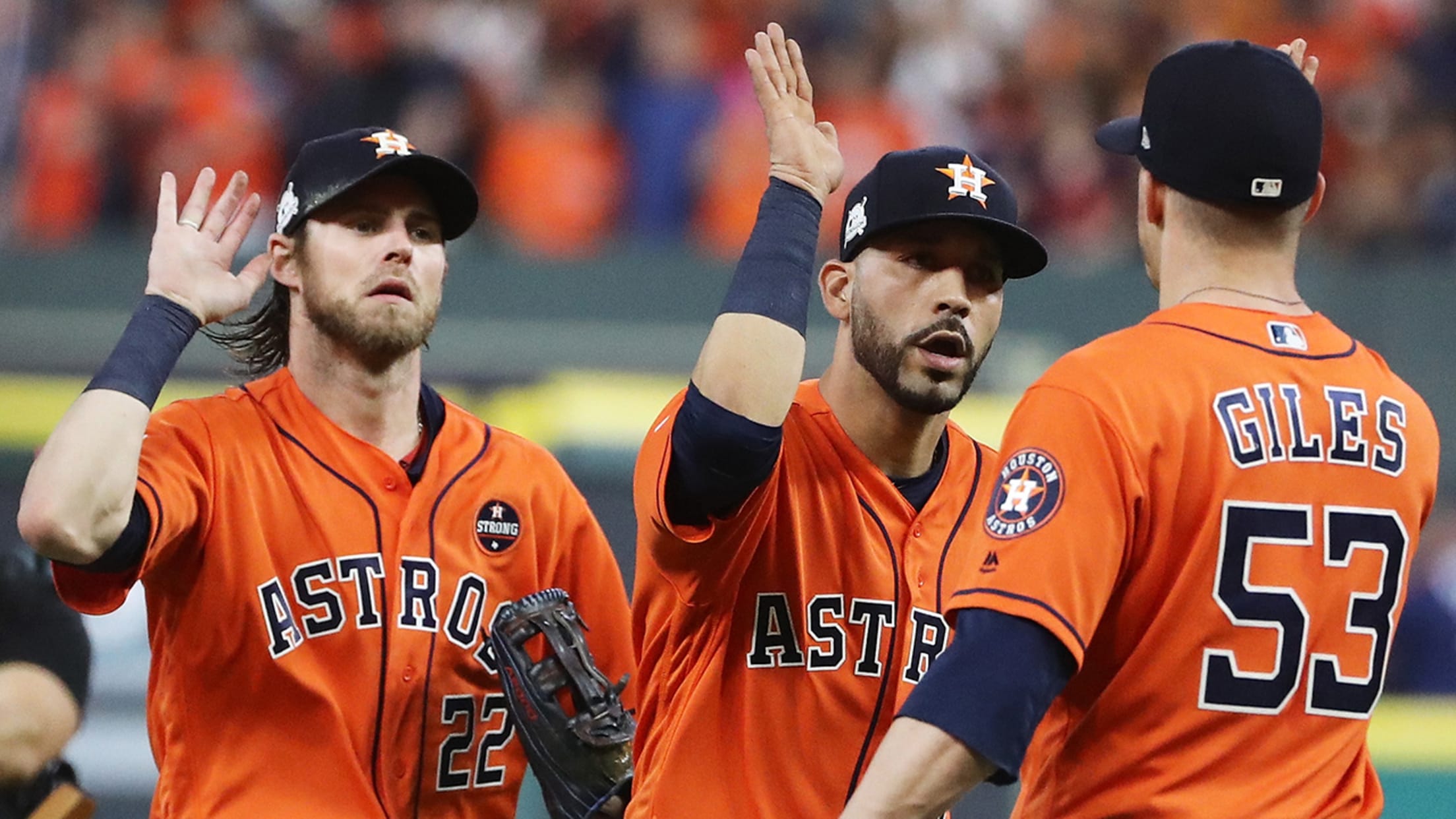 The Astros beat the Yankees, 2-1, on Friday to win Game 1 of the American League Championship Series presented by Camping World. We were at the scene in and around Minute Maid Park.11:32 p.m. ET: And that's a wrapKen Giles worked through a few bumps to deal through the ninth
The Astros beat the Yankees, 2-1, on Friday to win Game 1 of the American League Championship Series presented by Camping World. We were at the scene in and around Minute Maid Park.
11:32 p.m. ET: And that's a wrap
Ken Giles worked through a few bumps to deal through the ninth inning and earn the five-out save. New York made him earn it though: Houston's closer was summoned early, emerging from the bullpen with one out in the eighth inning to relieve Chris Devenski, who issued a one-out walk to Brett Gardner in a two-run game. Enter Yanks slugger Aaron Judge, who worked the count full against Giles, even inducing a wild pitch that sent Gardner to second, before grounding out. Giles proceeded to walk Gary Sanchez but struck out Didi Gregorius for the dramatic inning-ending out.
#Kenneth time. pic.twitter.com/a3xD1Pdytg

— Houston Astros (@astros) October 14, 2017
Giles struck out the first two Yankees he faced in the ninth before Greg Bird smashed a tape-measure homer to spoil the shutout. It was all Giles would bend, though: the righty rebounded to strike out Jacoby Ellsbury and end the game.
10:38 p.m. ET: Fear the beard
With timely hitting and some solid moves on D, the Astros were feeling pretty good at the seventh-inning stretch.
It certainly didn't hurt to have Dallas Keuchel on the mound, either. Keuchel held the Yankees scoreless on four hits and a walk through his seven innings. The 2015 AL Cy Young Award winner struck out 10, the most by an Astros pitcher in the postseason since Nolan Ryan fanned 12 in Game 5 of the 1986 NLCS, and the most ever by an Astros lefty in the playoffs. More >
Keuchel also threw six scoreless against the Yanks in the 2015 AL Wild Card Game, extending his streak to 13 consecutive scoreless frames against New York in the postseason. With his performance tonight, Keuchel also became the first pitcher to record two scoreless starts with at least seven strikeouts against the Bronx Bombers in the postseason.
9:53 p.m. ET: Not on my watch, part two
Perhaps inspired by teammate Jose Altuve's flashy defense, Marwin Gonzalez saved a run in the fifth with his arm, throwing out Bird at the plate with a laser from left field. The throw home came in at 97.4 mph per Statcast™, and marked Gonzalez's second outfield assist in as many games. With two outs and two runners on, Judge ripped a hard liner to left but Gonzalez's grab-and-throw ended the inning and brought the crowd to its feet at Minute Maid Park. More >
The Yankees challenged the play, but it was confirmed after a review and Bird was out trying to advance from second. Gonzalez's Game 4 assist in the AL Division Series presented by Doosan was clocked at 93.6 mph.
Aaron Hicks nearly got the Yankees on the board with a deep drive to center field with two outs in the fourth, but George Springer tracked it down to end the inning. It had a hit probability of 89 percent, per Statcast™, leaving the bat at 103.7 mph with a launch angle of 27 degrees. Historically, Hicks had a nearly 90 percent chance of claiming a hit. Not Friday.
Aaron Hicks' drive to center field has been a home run just under 9 out of 10 times in #Statcast history. Not tonight. #Astros #Yankees pic.twitter.com/1j2lqyuxvg

— Matt Kelly (@mattkellyMLB) October 14, 2017
9:29 p.m. ET: Who can? Altuve can
Both starters are handling their business on the hill through four innings but the defense deserves some love, too: Astros second baseman Altuve robbed Gregorius of a one-out hit in the fourth with a leaping dive to snag the screaming grounder.
Seriously, @JoseAltuve27 is ridiculous! #ALCS pic.twitter.com/4mPQw8XuoV

— MLB (@MLB) October 14, 2017
Altuve wasn't done: The speedster connected for a one-out single in the bottom of the frame, stole second, then scored on a Carlos Correa single for the game's first run. More >
Gonzalez's ensuing groundout placed Correa on second, setting up Yuli Gurriel's two-out RBI single for a 2-0 advantage. Gurriel is 10-for-18 this postseason.
8:46 p.m. ET: Dueling zeros
Keuchel and Yankees right-hander Masahiro Tanaka swapped zeros during the first two innings, neither allowing a hit. Both pitchers worked around a walk in the first inning, marking the first time this postseason the Astros didn't score in the opening frame. Houston hit .421 in the first inning through its first four playoff games.
For Keuchel, it's business as usual:
Coming into tonight, Dallas Keuchel's 1.24 ERA is the best ever vs. the #Yankees (min. 50 IP, including postseason).

— Bryan Hoch (@BryanHoch) October 14, 2017
8:29 p.m. ET: First things first
Keuchel wasted no time giving New York a Houston welcome by fanning Brett Gardner and Gary Sanchez during a 16-pitch, hitless first inning.
LET'S GOOOO! #KeuchelDay pic.twitter.com/zRh9pCCfJy

— Houston Astros (@astros) October 14, 2017
Not to be outdone, Tanaka walked leadoff hitter George Springer, but sat down the next three Astros he faced to escape with no damage after 11 pitches.
That's the first time in five playoff games the Astros haven't scored in the first inning.

— Brian McTaggart (@brianmctaggart) October 14, 2017
8:08 p.m. ET: Play ball
Who's ready? #Yankees. #Astros. The #ALCS. pic.twitter.com/mLpujxpN0G

— Bryan Hoch (@BryanHoch) October 14, 2017
Didi Gregorius and Carlos Correa make this the 1st postseason game in MLB history with both starting shortstops batting in the cleanup spot

— James Smyth (@JamesSmyth621) October 13, 2017
6:17 p.m. ET: Brain trust
Hall of Famer Craig Biggio, Astros general manager Jeff Luhnow and hitting coach Dave Hudgens chat during batting practice.

2005 postseason hero Chris Burke here at Game 1 of the ALCS at MMP. Where were you in the 18th inning? pic.twitter.com/xJhCyB6I5u

— Alyson Footer (@alysonfooter) October 13, 2017
5:02 p.m. ET: Sweet ride, bro
Because we know you're wondering how Orbit gets around town.

Clue: Rhymes with "Bledsoe" and is employed as a universal rallying cry
Answer: "Let's go!" Ever notice MLB players shout the phrase any time they make a big play? The Astros and Yankees are as guilty as anyone.
4:11 p.m. ET: Houston, we have a lineup
Keuchel, who fired six scoreless innings vs. the Yankees in the 2015 AL Wild Card Game, will be on the hill. The Astros' lineup is as follows:
George Springer, CF
Josh Reddick, RF
Jose Altuve, 2B
Carlos Correa, SS
Marwin Gonzalez, LF
Yuli Gurriel, 1B
Carlos Beltran, DH
Alex Bregman, 3B
Brian McCann, C
4:06 p.m. ET: So fresh, so clean
The paint has dried and the ALCS logo is looking pristine.

3:45 p.m. ET: Yankees announce lineup
Tanaka, who beat the Indians in Game 2 of the AL Division Series presented by Doosan, will get the start. The Yanks will go with the following lineup:
Brett Gardner, LF
Aaron Judge, RF
Gary Sanchez, C
Didi Gregorius, SS
Starlin Castro, 2B
Aaron Hicks, CF
Greg Bird, 1B
Matthew Holliday, DH
Todd Frazier, 3B