Yankees Magazine: This is Growing Up
In his playlist, as in life, there is meaning beyond the surface for Clint Frazier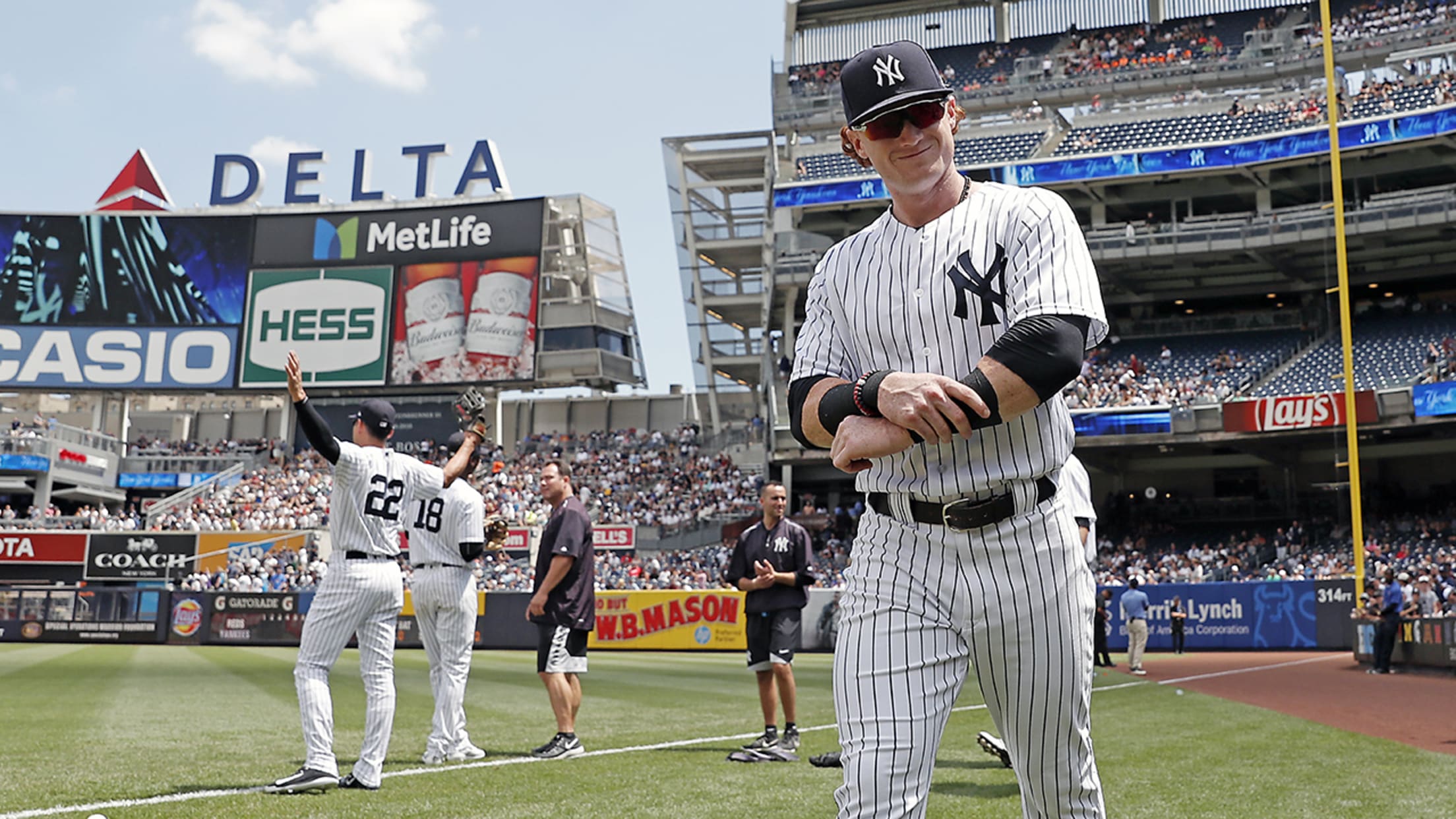 Frazier likes the look of pinstripes, but he likes the feel of them even more, and he doesn't want to lose that. Since being called up to the Big Leagues on July 1, Frazier's play on the field has made Yankees manager Joe Girardi hesitant to keep the outfielder's name out of the lineup. (New York Yankees)
Inside the oval-shaped Yankees clubhouse, there are two main points of entry. Flanking the doors nearest the showers, weight room, dining station and other restricted areas are lockers belonging to the Yankees' longest-tenured players, Brett Gardner and Carsten Sabathia. At the opposite end, where the beat writers file in and
Inside the oval-shaped Yankees clubhouse, there are two main points of entry. Flanking the doors nearest the showers, weight room, dining station and other restricted areas are lockers belonging to the Yankees' longest-tenured players, Brett Gardner and Carsten Sabathia. At the opposite end, where the beat writers file in and out each day, are lockers above which the nameplate changes more frequently. But for the last couple months, the same player's pinstriped jersey has hung in one of those cubbies.
A confident young man strides toward that locker, crossing the large interlocking "NY" in the middle of the floor. With earbuds connected to the phone in his pocket, he moves at a pace that is just a hair slower than his counterparts. It's not a cocky strut or some lame attempt to draw attention, just the glide of a serious player who has become more comfortable in his relatively new surroundings with each passing day.
Clint Frazier's first few weeks in the Bigs could not have gone much better: A home run in his debut. A walk-off a week later. More than half his hits going for extra bases. And the upbeat playlist pulsing in his ears as he traverses the Yankees clubhouse reflects his strong start. In a few weeks, when a mini slump gives way to a mild oblique strain and a trip to the 10-day disabled list, there will be more country songs in the rotation. But for now, while things are going good, electronic dance music and Drake keep his spirit high.
Then, a buzz. He pulls out the phone and reads the text message.
Good luck. I love you.
He turns off the music. All his life, this is what Frazier dreamed of. And now that he's here, he's not about to let anyone take it away.
Don't worry, my love, we're learning to love
But it's hard when you're young
Yeah, it's hard when you're young
- from "Young" by The Chainsmokers


By his own admission, Clint Frazier had some growing up to do. Rewind to last summer. He was 21 -- an age at which few, if any, people have it all figured out -- when a text message of a different sort stopped him in his tracks. The Indians, who had drafted Frazier out of high school in 2013 and promoted him to Triple-A just days earlier, had traded him and three other prospects to the Yankees for All-Star reliever Andrew Miller.
As if the culture shock in going from the franchise that spawned Rick "Wild Thing" Vaughn to the clean-cut Yankees wasn't enough, the added media attention and the self-induced pressure to produce threw Frazier a wicked curveball.
Soon after the July 2016 trade, he found himself living above a Pennsylvania funeral home, batting in the low .200s for the Scranton/Wilkes-Barre RailRiders -- and miserable. The young outfielder was simply not yet equipped to handle the turbulence. Looking back on it, he says that he lost sight of what it meant to be a good teammate, using his newfound stature as a member of the Yankees organization to try and score dates with Instagram models rather than focusing on what really mattered most to him.
"I kind of got out of place with just not knowing who I was," Frazier says. "When I was traded, I was upset, I felt like I wasn't wanted, so I was maybe in a way lashing out because I was upset about certain things."
Then Faith intervened. Via Twitter, Frazier connected with Faith Jewkes, a recent Wofford College grad who ran track and field at the South Carolina liberal arts school. They attended a Mike Stud concert in Atlanta, near Frazier's offseason home, and they've been together ever since. Now, whenever he hears "Anyone Else," Stud's ode to Josie Canseco, Frazier thinks of her. He says that Jewkes' presence in his life as he navigates the road of a young professional ballplayer has been immeasurable.
"She's a strong, Christian girl," Frazier says. "She was going through her own problems at the time when we met, and we kind of just leaned on each other for some guidance on how to handle certain events. Having her there helped me feel more at ease with some of the things that I was going through."
It took some time for Frazier to understand the landmines that, fair or not, can come with being a Yankee. Social media posts are scrutinized and amplified. Media outlets -- especially during the offseason when fans are thirsting for anything related to their team -- will turn a frank conversation with a player into back-page tabloid fodder. Hair length and team rules can become a topic of national conversation.
During Spring Training, Joe Girardi downplayed the "distraction" that Frazier's locks had caused -- "There are a lot of people in that clubhouse who wish they had his hair," the skipper quipped -- but that was enough to make Frazier realize that perhaps a little conformity wasn't such a bad thing. He trimmed his mane, and, more importantly, he observed how the Yankees' veteran players went about their business, absorbing all he could from Matthew Holliday, Chase Headley, Brett Gardner and others. In his fifth pro season, Clint Frazier was becoming a professional.
"I don't want to be the guy that everyone looks at and they're like, 'What is he doing?'" Frazier says. "The way I look at it is, there's something really special here, and I want to be a part of that. So if it means looking the part, acting the part, I'm completely fine with abiding by that."
Frazier heaps praise on his teammates for how comfortable they have made him feel throughout this growth period. "It's hard to go out there and be yourself when you feel like you don't fit in," he says. "These guys all want to win, so anyone that can come up here and help them win, they're going to accept you." Beginning to understand that, he says, is a key factor in how he has found success and gained confidence in the early going. Veteran teammates and younger players alike have taken notice.

"Everybody just grows," says fellow rookie outfielder Aaron Judge, who was the Yankees' first-round pick out of Fresno State in 2013. "If I rewind back to when I was 21 years old, man, I was probably pretty out of control. But with him, he wasn't out of control; he was just young. Everything was brand new to him, coming to a new team. But he's been great so far. [I've got] nothing but good things to say about him."
"When I was 22 years old, I was in Staten Island, so he's a little further ahead at this stage in his career than I was," Gardner says. "I can't imagine being here and contributing the way he is when I was 22 because I simply wasn't ready. He's a very, very talented kid, and I think he's going to have a really good career."
When that summer sun fell to its knees
I looked at her and she looked at me
And I turned on those KC lights and drove all night
'Cause it felt so right, her and I, man we felt so right
- from "Cruise" by Florida Georgia Line
Sitting in the home dugout at Yankee Stadium, shaded from the summer sun, Clint Frazier is all smiles. The 2017 Trade Deadline has just come and gone, and he slept well knowing that he wasn't going anywhere. Brian Cashman was busy as ever, but letting go of Frazier was not even a thought. The Yankees general manager went on sports talk radio to say that even when outfielders Aaron Hicks and Jacoby Ellsbury returned from the disabled list, sending Frazier back down to Triple-A was not a foregone conclusion. Off air, Cashman praised the young man's maturation over the previous year.
"I think being exposed to a larger media market, recognizing that anything you say or do has a ripple effect, has given him a lot better perspective on playing in a big market and the ramifications of anything -- small or big," Cashman says. "Despite being already a very famous name in the industry because of where he was drafted, playing for Cleveland is way different than playing for New York. I think that culture shock and the adjustment has worn off, and he's found higher ground."
The stability in his personal life off the field, the feeling of comfort among his Yankees teammates and the positive contributions he has made on the field add up to a warm feeling inside for the Georgia native, one that reminds him of home.
When he's feeling this way, he might throw on some tunes from his favorite band, Florida Georgia Line. Singer Tyler Hubbard is from the same area as Frazier, who has fond memories of growing up in baseball-mad Loganville, located about halfway between Atlanta and Athens.
"It's a lot like the show Friday Night Lights," Frazier says. "People are used to seeing one sport kind of dominate the rest, and baseball just happens to be the one sport down there that kind of dominated high school athletics."
Four picks after the Indians took Frazier fifth overall in 2013, the Pirates selected fellow Loganville product Austin Meadows, who is now at Triple-A Indianapolis. Former Yankees catcher Brian McCann played his high school ball about 40 minutes away in Duluth, Georgia. And when the Royals visit Yankee Stadium this month, Frazier will say hello to another Loganville High School alum, 11-year veteran Brandon Moss.
"You got all the East Cobb tournaments and stuff down there, so there are a lot of great ballplayers in that region," says Christopher Austin, who faced Frazier's team when he played at rival Heritage High School, about 30 minutes away in Conyers, Georgia. "I hadn't seen him play in a while, but my initial thought (when he arrived in Scranton/Wilkes Barre after the trade) was that he can be a special player in the Big Leagues. He had some stuff that he needed to take care of -- some growing up to do, I guess -- and I think he's done that. He's turned himself into a helluva ballplayer."
The Loganville community embraces its baseball stars, and Frazier, who was named 2013 Gatorade National Baseball Player of the Year, is among its brightest. His Ruthian home run as a senior in a game against Meadows' crosstown high school is legendary, and while Frazier was at MLB Network's Studio 42 in New Jersey for the 2013 draft, several Loganville establishments held viewing parties.
"I know everyone there is very supportive of me," he says. "My friend told me that when I debuted in Houston, the city was shooting off fireworks for me. So, they're very excited, but there's a bunch of guys that the city pays attention to and keeps up with as they go along."
Frazier could go on forever about his love for Loganville, but he has a game to prepare for. And there's another notification on his phone that grabs his attention. It's the same text message that he receives every day.
Good luck. I love you.
I'm gonna walk with my grand daddy
And he'll match me step for step
And I'll tell him how I missed him
Every minute since he left
And then I'll hug his neck
- from "When I Get Where I'm Going" as recorded by Brad Paisley
Kobe Bryant is nearly convulsing. The Lakers great appears on Frazier's phone screen in a clip from the Showtime documentary Kobe Bryant's Muse, trembling as he explains the forces inside of him that necessitated the creation of his on-court alter ego.
I had this frustration that I just needed to let out … this avalanche, man. … There's a battle that's going on within me that I'm carrying into this competition. It's not about you; it's not about anybody else. … I'm driving this thing, and you just happen to be a person that's in the way that may get demolished in the process.
Frazier watches this video before every game, and although it is yet to be determined whether some catchy nickname like The Black Mamba sticks, he does emulate Bryant's single-minded ability to block out any and all distractions come game time.
"He's a different person when he steps into the box and when he's in the outfield," says Judge. "When he's in the dugout, you know, in between innings, he's Clint Frazier -- a young kid out there having fun; that's the cool thing about him. But when he's on deck and about to step into that box, something hits him, and it's like, 'I've got a job to do, and whoever's in my way, I'm going to go out there and get my job done no matter what.'"
Leaving the on-deck circle, EDM or rap would be a perfectly suitable choice for his walk-up music, but Frazier goes a less obvious route. "When I Get Where I'm Going," a spiritual ballad about dying without fear, was a No. 1 hit on the country charts for singer Brad Paisley in 2006, and it has deep meaning for Frazier. It was the song that was played at the funeral when his paternal grandfather, Robert, passed away. More than a tribute to his grandfather, it reminds Frazier as he approaches the batter's box why he is out there doing what he is doing.
"I had to figure out, 'Why am I playing this game?'" he says. "Am I playing it for money and fame, or am I playing for my family? And for me, what it came down to, it was my dad."
Mark Frazier has always been Clint's No. 1 fan. When Clint was in rookie ball with the Arizona League Indians, Mark would stay up until 1 or 2 a.m., refreshing the boxscore on his computer screen to track how his son was doing. That was when he started a ritual that endures today.
"He texts me before every game saying, 'Good luck. I love you,'" Frazier says. "Every game. He's my biggest fan. My goal was to get up here and to do it for him."
He accomplished that goal on July 1, when Mark and Kim Frazier watched their son go 2 for 4 with a home run and two runs scored at Houston's Minute Maid Park. And although a strained oblique that landed him on the disabled list in August may have temporarily hampered his progress, Frazier couldn't wait to get back on the field and work toward his next goal: helping the Yankees win a championship.
"I'm pumped to be here; I'm glad I'm not going anywhere else," he says. "It's a dream come true. That's no [lie]. It really is a dream come true here."
The maturation process may not be fully complete, but at 22 years old, Clint Frazier has discovered that even at the game's highest level, his play speaks for itself.
*Nathan Maciborski is the executive editor of Yankees Magazine. This article appears in the September 2017 issue of Yankees Magazine. Get more articles like this delivered to your doorstep by purchasing a subscription to Yankees Magazine at yankees.com/publications.*