Yankees Magazine: Getting better all the time
Didi Gregorius worked his way out of a hole in 2015. The lessons stuck, and now he and the Yankees are reaping the rewards.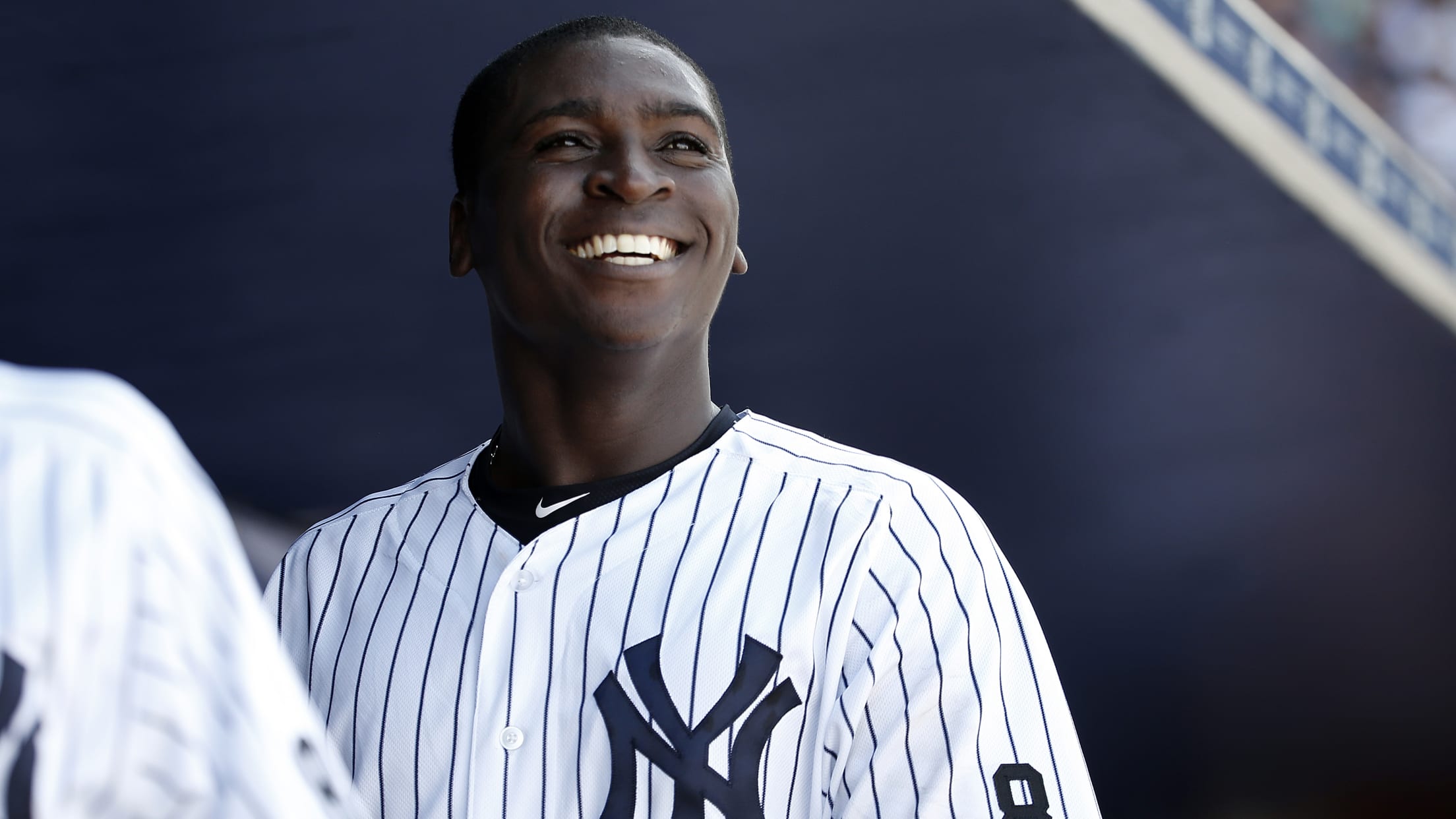 One reason for Didi Gregorius' emergence has been his willingness to listen to and learn from his more experienced peers. His strong work ethic and commitment to routine are paying big dividends in 2016. (New York Yankees) (NEW YORK YANKEES)
It's a steamy mid-July evening in the Bronx. Nearly 43,000 fans are at Yankee Stadium for Sunday Night Baseball, with millions more watching at home. Red Sox left-hander David Price is ahead of left-handed-hitting Didi Gregorius in the count, 0-1. Price's next pitch, a 94 mph two-seam fastball aimed at
It's a steamy mid-July evening in the Bronx. Nearly 43,000 fans are at Yankee Stadium for Sunday Night Baseball, with millions more watching at home. Red Sox left-hander David Price is ahead of left-handed-hitting Didi Gregorius in the count, 0-1. Price's next pitch, a 94 mph two-seam fastball aimed at the inside corner, is right on target.
There was a time, not long ago, when Gregorius would have had a hard time squaring up such a pitch. After a beanball to the head from Josh Outman in 2013, Gregorius was wary, timid against southpaws. He hit .200 against lefties in 2013 and just .137 off them in 2014.
But this is 2016. Gregorius is confident in the batter's box, armed with a game plan and a deep knowledge of his opponent during every at-bat. He tracks the ball out of Price's hand immediately and calculates its trajectory.


What fans see next is a textbook piece of hitting: With zero stride and lightning-quick hands, Gregorius rotates his hips and barrels up Price's offering, scorching it into the right-field corner for a stand-up double -- his seventh extra-base hit in eight games.
What virtually no one saw was the countless hours of work that went into that at-bat. At 26 years old, Gregorius is among the younger players in the Yankees starting lineup. But he's no fresh-faced rookie. He has been around the world, playing in nearly 1,000 games as a professional. He has faced adversity, and proven that he can battle his way out of it.
Most importantly, Gregorius has found a routine that works for him. And he knows that if he sticks to it, good things will happen. They already are.
For Didi Gregorius, everything is coming together.
Adapting to His Surroundings
Born in Amsterdam, raised in Curaçao and now living in the United States, Gregorius has a natural curiosity about life beyond the diamond. He spent his All-Star break this year as a tourist in New York, enjoying time with family and friends and visiting some of the spots that he hadn't had time to see yet.
Gregorius enjoys meeting people, whether it's a new teammate in Spring Training or a random stranger on the street. He happily signs autographs and poses for photos with fans -- though he could do without the overzealous types who interrupt him in the middle of dinner -- and, as someone who speaks four languages (Papiamento, English, Dutch and Spanish), he can often converse with them in their native tongue.
After games, Gregorius relaxes his mind not by zoning out in front of a television but rather with a sketch pad, spending hours drawing life-like illustrations -- something he has done since he was a little kid. Being the millennial that he is, Gregorius is comfortable sharing his artwork and his personal life on Instagram, and his Twitter followers have come to anticipate his positive postgame messages praising teammates after every Yankees victory.
When Gregorius thinks big-picture, he not only speaks of wanting to become a world champion, but also of wanting to give back to the community and improve the lives of others. "It's not just baseball," he said. "I've got a life off the field, too."
Having interests outside of the game is not uncommon, but for some young players, they can become distractions. Not so for Gregorius, whose inclination toward learning -- along with a tireless work ethic -- serves him well in his profession.
For a 7 p.m. home game, Gregorius will typically arrive at Yankee Stadium around 1:30 and begin his daily routine by getting dressed, hitting the weight room and getting loose. He has an extensive set of tee drills and flip drills that he goes through in the batting cage before heading out for batting practice, followed by a session of taking ground balls with third base coach Joe Espada. He then heads inside the clubhouse, grabs a bite to eat and watches that night's pitcher on his iPad while changing into his game uniform.
"If I get here early, I can get stuff done, and I don't have to interrupt other people's schedule," Gregorius said. "Some people like to go in at certain times. So if I get here early, get my stuff done, and be relaxed after that, then I'll be good."
Gregorius may be relaxed and smiling, but he takes his job seriously. "He's the first one on the field to work," said bench coach Rob Thomson. "He plays hurt. He plays tired. He plays through everything. That's a great trait to have. He loves the game, loves to compete, loves to practice. That's a big deal. He's becoming a really, really good player right in front of our eyes."
"The first half that he had, and what he meant to our team … I thought he played like an All-Star," said outfielder Brett Gardner. "He's really risen to the occasion and, even though we're by no means in the position where we want to be, he's been a big part of some really big wins. He's gotten some really big hits for us. As the game goes on, he really seems to have a knack to be able to lock it in and come through in that big moment."
Part of Gregorius' preparation -- as well as a big reason for his recent success -- is closely observing the experienced players and coaches he is surrounded by and listening intently to what they have to say.
Gregorius says that former teammate Carlos Beltrán and long-tenured Yankees slugger Alex Rodriguez are among those who have been willing to share their vast knowledge with him. Beltran, a switch-hitter, was particularly helpful with regard to facing lefties, teaching Gregorius how to keep his front shoulder in and recognize that a pitch with spin heading toward your body is probably going to break over the middle of the plate.
"We've got all the veteran guys here, they always come to talk to you, and you've just got to listen if you want to succeed," Gregorius said. "You've got to be open to what they say and try to see what sticks to you, and then just keep that in your agenda. You're here with all these guys, you can pick their brains almost every day. If you don't want to learn, it's your fault."
Having found a routine that works for him has allowed Gregorius to maintain a consistent approach at the plate. Whether he went 0 for 4 or 4 for 4 the night before, he steps into the box looking to put the barrel of his bat on a pitch in the zone and hit a line drive anywhere fair. He spends a lot of time studying what the opposing pitcher wants to do, and his plate discipline -- visualizing the zone he wants to hit in and not swinging at anything outside of it -- has been one of the biggest reasons for his breakout season.
While strikeouts are on the rise throughout the Major Leagues, Gregorius has been the most difficult Yankees hitter to whiff in 2016. According to baseball-reference.com, he has put the ball in play in 80 percent of his plate appearances -- the fifth-highest rate among all American League hitters -- and his 8.3 at-bats-per-strikeout ratio was sixth in the league.
The double off Price raised Gregorius' average against left-handers to .370 -- the highest mark of any left-handed batter with more than 50 at-bats against southpaws in the Majors. His power numbers have also spiked: By the All-Star break, he had already reached double-digit homers for the first time in his career.
"It's a culmination of the time, the effort and the hard work that he's put in," said Yankees hitting coach Alan Cockrell. "He's been very consistent with his routine in the cage, and he trusts that what he does in there can carry over into the game -- and it is. We don't stray away from the routine at all; it's not reinventing the wheel after a bad day or a rough couple of days.
"He's worked hard, and he deserves the success that he's having right now."
Positive Performances
Derek Jeter used to say that all he ever wanted to be was the shortstop of the New York Yankees, because there's only one of those. Gregorius admits that when he first took over the job in 2015, he tried to do too much, going out of his range to try to make the spectacular play rather than just playing the game the way he knows how. But the fact that the Yankees had entrusted him with the job gave Gregorius the confidence to face the challenge head-on.
"The Yankees gave me an opportunity to follow in Jeter's footsteps, and he was an icon here," Gregorius said. "I always look at it as, they gave me the opportunity to wear the pinstripes. It's something really great for me. Being here with all these guys, that's the best. Playing shortstop, you want to play in the Big Leagues. But here, there's a lot of history and everything. So, it's great to play here in this organization."
A month-and-a-half into his Yankees career, Gregorius was hitting .202. Rather than sulk or panic, he put his head down and went to work. He soon realized that he was surrounded by players and coaches -- even fans -- who supported him, who wanted to see him succeed. He absorbed his veteran teammates' lessons, gained a deeper understanding of what pitchers were trying to do against him, and began to see his batting average climb.
"I started slow, but then I picked up," he said. "It makes it even better. I showed myself that I'm a strong person, that I can go through stuff, and I know how to get out of it."
Then, as now, Gregorius went about his job with a smile. Not all ballplayers are so adept at turning the page after a tough game or during a tough stretch, but Gregorius' positive attitude is as consistent -- and appreciated -- as his cage routine.
"He really loves his job," said Beltran. "He has a routine, and every day, he does the same thing, which is great for a young guy because that's what the game of baseball is all about. He's a very humble guy, quiet. He doesn't say much, but he goes after his business the right way."
"He's smiling all the time, and I think it's really fun to see people like that," said double-play partner and next-door lockermate Starlin Castro. "He works hard every day -- coming to the cage, watching his iPad -- and that's something that impresses me as a teammate. He doesn't take any day for granted. He just wants to be better every day. It's great to see."
The lessons that Gregorius learned early on in his Yankees career should serve him well the next time he faces adversity, and the upbeat attitude that he maintains and the consistency of his work ethic are traits that hopefully remain part of his makeup throughout his career. It is not hard to envision the day when younger players look up to Gregorius, who is the Yankees' 2016 winner of the Heart and Hustle Award, presented by the MLB Players Alumni Association to "active players who demonstrate a passion for the game of baseball and best embody the values, spirit and traditions of the game."
"I've seen steps from him where he's taken on a leadership role," said Manager Joe Girardi. "He's talked to young players about the importance of routines. I've seen him go to the mound and talk to pitchers, which is something that he didn't really do last year. I have seen Didi step up, and that's what you want, because he's supposed to be the captain of the infield. He's supposed to be a take-charge guy."
Maybe there will come a day when Gregorius doesn't need to show up six hours before first pitch, when he doesn't concern himself with staying out of the veterans' way as they go about their routines. But based on the results Gregorius is seeing, it is hard to imagine he'll ever stop working so hard -- or smiling as he does so.
"You've got to stay positive -- never be satisfied with what you have; you've always got to want to get more," he said. "It makes you strive to get better in everything you do. If you stay positive, that's the only way you're going to get to it. If the negative stuff gets in your head all the time, eventually you're going to start being negative, and I don't want that. So, I try to stay positive, just let the bad things go, and I'll be fine.
"The smile tells everything. There's a lot going on, but the smile keeps you relaxed, keeps you happy. So, it's something great."
Nathan Maciborski is the deputy editor of Yankees Magazine. This article appears in the August issue of Yankees Magazine. Get this article and more delivered to your doorstep by purchasing a subscription at yankees.com/publications.