Inbox: Will Stanton play more outfield in 2019?
Beat reporter Bryan Hoch fields Yankees fans' questions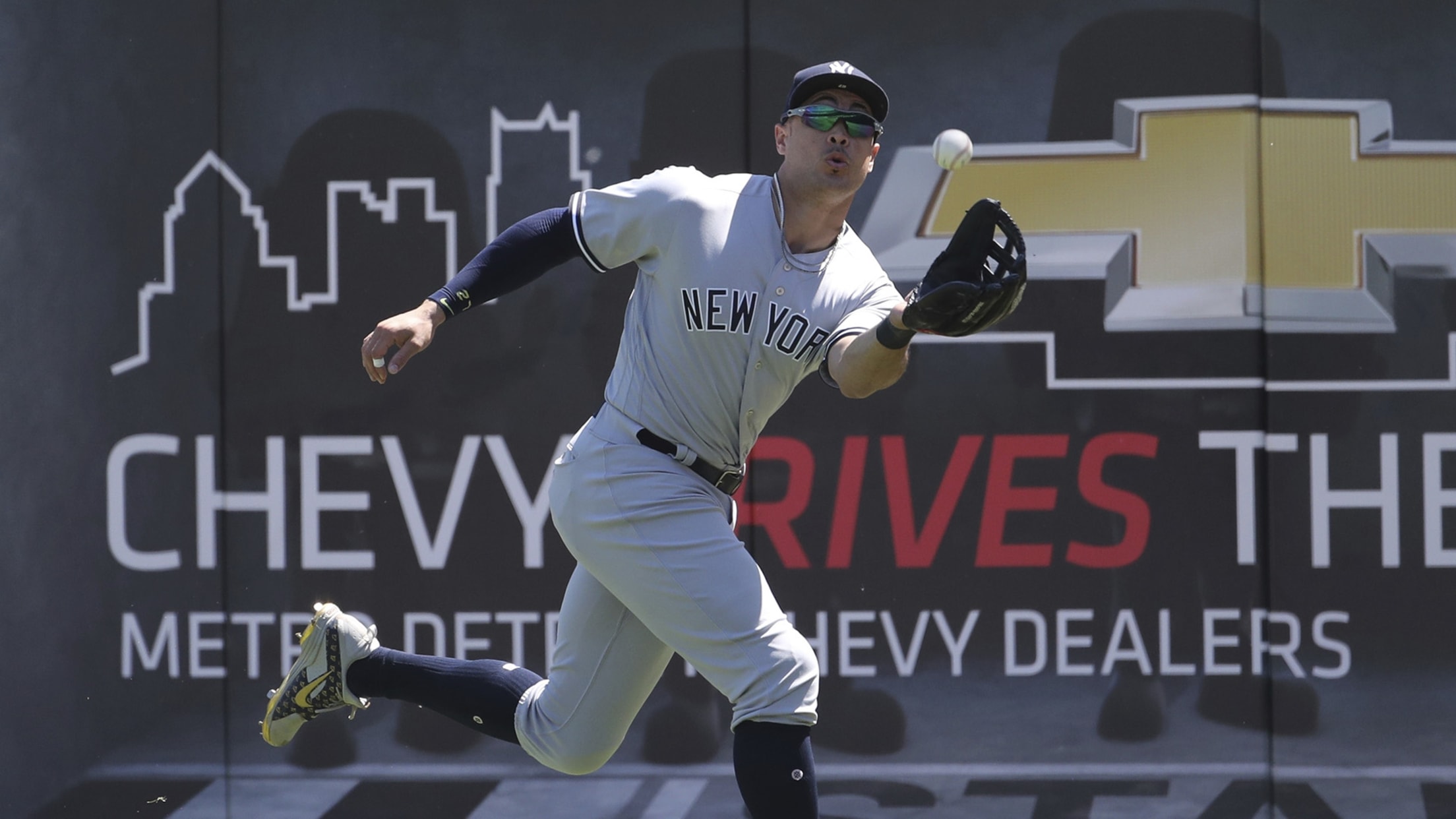 New York Yankees right fielder Giancarlo Stanton catches the fly-out hit by Detroit Tigers' Jose Iglesias during the seventh inning of the first game of a baseball doubleheader, Monday, June 4, 2018, in Detroit. (AP Photo/Carlos Osorio) (Carlos Osorio/AP)
Giancarlo Stanton was playing injured last year. What is his health status, and do we expect to see him playing more outfield than last year? -- Manuel H., Mexicali, MexicoAs a refresher, though Stanton was managing a tight left hamstring for an extended period, he said that he felt a
Giancarlo Stanton was playing injured last year. What is his health status, and do we expect to see him playing more outfield than last year?
-- Manuel H., Mexicali, Mexico
As a refresher, though Stanton was managing a tight left hamstring for an extended period, he said that he felt a responsibility to be on the field while players like Aaron Judge, Didi Gregorius and Gary Sanchez were sidelined. Stanton, 29, made 85 consecutive starts from May 28 through Sept. 1, many of them on 1 1/2 legs, which deserves applause. That seems to have been overlooked in some circles.
All indications are that the hamstring issue has been resolved, though when general manager Brian Cashman went around the diamond to outline his vision of the 2019 Yankees a few weeks back, he listed Stanton as the designated hitter. Stanton played 72 games in the outfield and 86 at DH last year; since there is no shortage of capable defenders on the roster, a similar breakdown seems to be in play for '19.
"There's no question he's going to come in this year knowing his teammates, knowing where he lives, knowing the city, knowing the organization, knowing the resources available to him on a daily basis," manager Aaron Boone said recently. "Hopefully it allows him to go out and have an even bigger year than he had [in 2018]. I think that is my expectation for him."
:: Submit a question to the Yankees Inbox ::
Why wouldn't the Yankees be in on Dallas Keuchel? At the very least, they would know that they wouldn't have to face him.
-- Chad W., Omaha, Neb.
True, Keuchel and the Yankees have history, with the most prominent example being his shutdown performance in the 2015 American League Wild Card Game. As the report date for pitchers and catchers approaches, Keuchel seems to be antsy; on Jan. 17, he replied to a fan tweet citing his career 3.66 ERA, World Series ring and AL Cy Young Award by saying, "That doesn't mean anything anymore ... apparently."
• Latest Hot Stove rumors
Keuchel, 31, has said that he would happily shave his trademark beard for the right opportunity, but when it came to available lefties, the Yanks liked Patrick Corbin and James Paxton more. Keuchel's decreasing ground-ball rate and precision are concerns, as is the fact that Draft compensation is attached. It's possible that the Bryce Harper/Manny Machado free-agent sagas are holding up Keuchel's market. Still, he'd be a solid rotation pickup, especially given any potential uncertainty with Carsten Sabathia's health.
With Miguel Andujar's elite bat but questionable defense, has there been any talk of moving him to the outfield?
-- Heith O., Fargo, N.D.
That is not something that the Yankees have discussed, to my knowledge. A more likely shift would be to first base, but at present, the team's decision makers want to give Andujar more opportunities at the hot corner. Hardly a finished product (Andujar will turn 24 in March), he is ahead of schedule -- remember, the initial plan was to keep him in the Minors for most of 2018 as a development year.
"A lot of people questioned whether he was ready to play defensively at third," Boone said. "He handled himself capably and I think made strides, and I think showed a lot of people that he is going to be able to play the position on a long-term basis."
Why were the Yankees so quick to re-sign Brett Gardner, when his numbers have been declining?
-- John A., Casselberry, Fla.
Simply put, both sides wanted to continue the relationship, as the Yankees value what Gardner, 35, brings on and off the field. Cashman told agent Joe Bick that the team was not going to pick up Gardner's $12.5 million option, but they were able to find common ground at $7.5 million to avoid free agency.
"I think he provides a lot to us, defensively and offensively, despite the second half," Cashman said. "We had a lot of injuries, and we weren't able to back off of Gardy a little bit like we would have liked to. That's the way he is; he's there for us regardless. It's good to have him back in the fold."
What will Adam Ottavino's role be in 2019?
-- Alexander P., Gainesville, Va.
Ottavino will slide into the role vacated by Player Page for David Robertson's departure, working anywhere from the sixth to the ninth innings. The majority of Ottavino's work for the Rockies last season was in the eighth inning. That will likely be Dellin Betances' assignment, pushing Ottavino and Zach Britton to the seventh, with Chad Green also in the mix as a potential ''fireman."
The Yankees appear to have gone past the luxury-tax threshold. Does Cashman have a limit that he's been given to work with, or does he have discretion to find the best players possible?
-- Matt G., Spring Arbor, Mich.
Cashman has said that he does have a budget number, but he would not make it public. The Sonny Gray trade offset some salary, but the Yankees are past the $206 million threshold by approximately $7 million. There is a second luxury-tax threshold of $226 million that would increase their tax rate to 32 percent, then a third threshold at $246 million that would tax every dollar at 62.5 percent.
Those figures are important to keep in mind when entertaining mega-contracts to the remaining free agents. Generally speaking, Cashman has said that he presents all possibilities to managing general partner Hal Steinbrenner, who has final approval. The budget is malleable. For example, in 2008, Cashman was out of money to spend, but he repeatedly pushed for the Yanks to sign Mark Teixeira. The first responses were "no," but eventually it became a "yes."
What is up with Jordan Montgomery?
-- Timothy P., Churchill, Manitoba
Montgomery is recovering from Tommy John surgery performed in June, and the team expects him to be big league ready in the second half of the season. At the time of the procedure, initial estimates were that Montgomery would return to a mound in 12 to 14 months, so maybe we'll see him in August or September.
Where does Jacoby Ellsbury fit with the Yankees in 2019?
-- Steven H., Granite Springs, N.Y.
The Yankees expect that Ellsbury, 35, will be healthy in 2019, though his role is as yet undefined. With Gardner, Aaron Hicks, Judge and Stanton all set for outfield reps, plus Clint Frazier challenging for a spot, it is possible that the Yanks will take their time guiding Ellsbury back from his left hip surgery.
"He'll enter Spring Training as a rehab player," Cashman said recently. "I guess it remains to be seen if he will be a player that we can deploy as early as Opening Day, or is it going to need a little more time? That's to be determined, but he is supposed to be fully recovered."