Yanks host Pitch, Hit & Run event at Stadium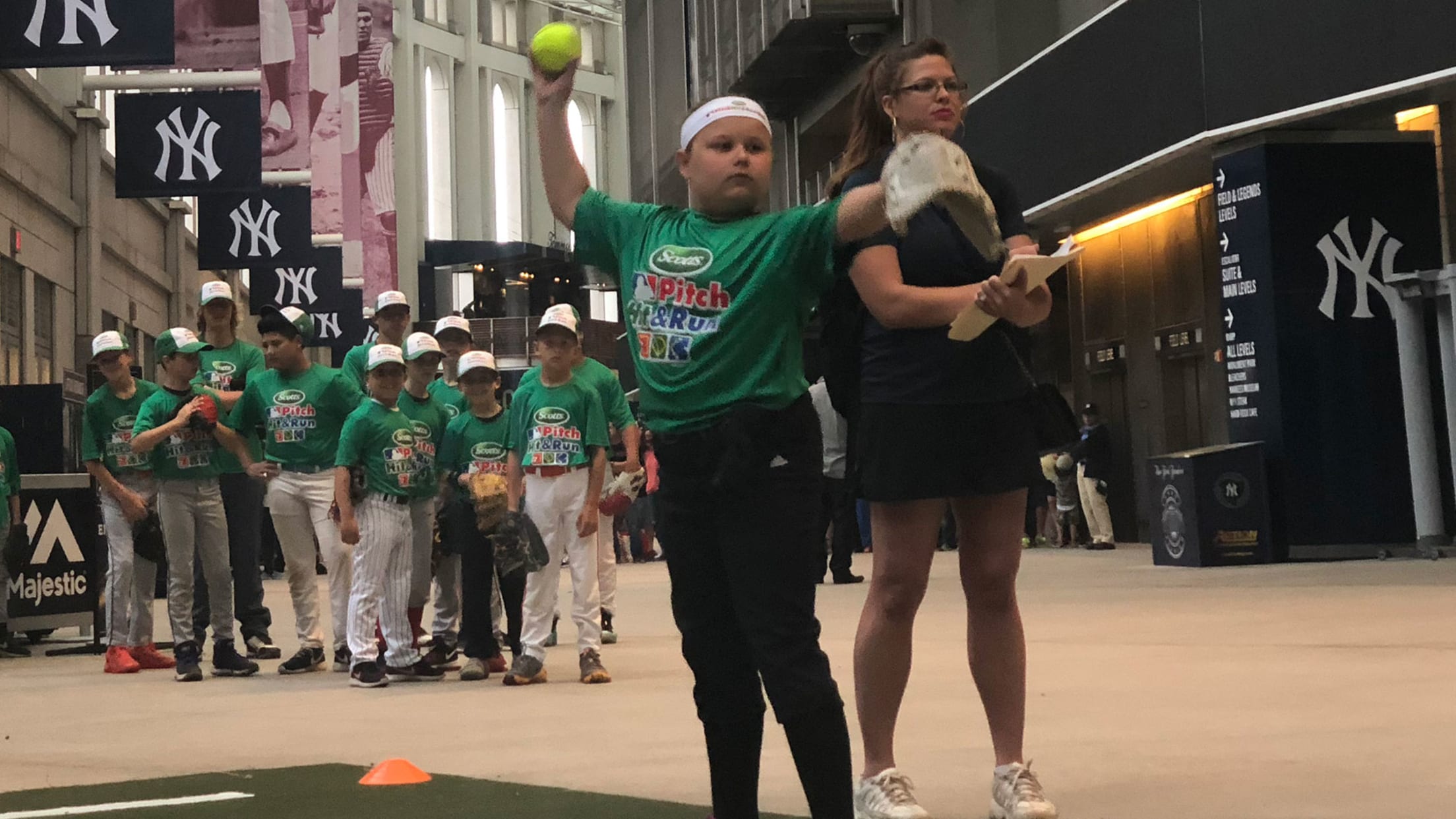 NEW YORK -- The rain may have poured down in the Bronx on Sunday morning, but it did not stop LilliOnna D'Introno, Jessica Tudor and 22 other youth baseball and softball participants from enjoying a special morning at Yankee Stadium for the Scotts Major League Baseball Pitch, Hit & Run
NEW YORK -- The rain may have poured down in the Bronx on Sunday morning, but it did not stop LilliOnna D'Introno, Jessica Tudor and 22 other youth baseball and softball participants from enjoying a special morning at Yankee Stadium for the Scotts Major League Baseball Pitch, Hit & Run program.
Now in its 22nd year, the program has a baseball and softball division and is open to boys and girls ages 7-14. Kids demonstrate their skills competing in pitching, hitting and running events. The Yankees hosted the team championship at their home field on Sunday.
D'Introno and Tudor of the 9- and 10-year-old division entered through Gate 2 with the rest of the participants six hours before their idol Aaron Judge took the field for the Yankees' series finale against the Angels. Because of rain, the young participants could not take the big league field to show off their skills, but that did not stop D'Introno and Tudor from enjoying every second of the experience. The two both said that entering the Stadium before the players even arrived made them feel special and important.
"It was really cool because we get to see all the places all the Yankees can hang out when you're finished," Tudor said.
The kids were ushered through the concourse, able to look down at the tarp-covered field, and were organized in the Great Hall just inside the doors at Gate 6. With pictures of past Yankees legends hanging from the ceiling above, the future stars took turns throwing six pitches into netting, aiming for the strike zone.
We're happy to host the Little League Raiders baseball team as part of #PlayBall weekend. pic.twitter.com/Jmajoae9mx

— New York Yankees (@Yankees) May 27, 2018
After the pitching was complete, the kids went across the street -- where the old Yankee Stadium once stood -- to take a few extra swings in the rain. The running portion of the event had to be canceled due to wet grounds.
The day concluded back inside the Stadium before many of the participants -- including D'Introno, who went a perfect 6-for-6 in the throwing competition -- would stick around to watch the Yankees from the stands.
"It's really cool because I've never actually been to a Major League stadium before," D'Introno said. "So for me, it's just kind of like the fact that it's so big."
The competition is part of the Play Ball initiative between Major League Baseball and USA Baseball, which encourages widespread participation in all forms of baseball activities among all age groups, especially younger participants. The top competitors nationwide from each age group (7-8, 9-10, 11-12 and 13-14) will advance to the Scotts MLB Pitch, Hit & Run National Finals during MLB All-Star Week.
Mandy Bell is a reporter for MLB.com based in New York.