Yanks host kids' fashion show for HOPE Week
NEW YORK -- In this city, runways are usually reserved for models and celebrities, the Hollywood types whose faces shine on screens all over Times Square. At Kleinfeld Bridal -- the upscale Manhattan boutique best known as the featured location on TLC's "Say Yes to the Dress" -- that stage
NEW YORK -- In this city, runways are usually reserved for models and celebrities, the Hollywood types whose faces shine on screens all over Times Square. At Kleinfeld Bridal -- the upscale Manhattan boutique best known as the featured location on TLC's "Say Yes to the Dress" -- that stage is extended to people without the same means.
On Tuesday -- the second day of the Yankees' 10th annual HOPE Week -- another unlikely set became part of that distinguished group. For 30 children with pediatric cancer from hospitals across the area, dubbed "Runway Heroes" by the organization's founder Rachel Goldman, the stage was theirs to own.
"Every child that you're going to see on the runway is either fighting cancer or is recently in remission," Goldman said. "They are stronger and braver than any child should ever have to be. … This is really their moment to shine and we couldn't be happier to give it to them."
In preparation for the fashion show, the kids received the star treatment. While wearing personalized robes, they each picked their catwalk outfit from a line of couture dresses before having their nails, hair and makeup done by a legitimate glam squad. Once they were all runway ready, professional photographers were brought in to conduct a photoshoot, which helped the kids warm up to all the cameras that would soon be on them.
As they were finishing up backstage, Jason Zillo -- the Yankees' vice president of communications and media relations, who first conceptualized the HOPE Week initiative -- took the microphone to address the packed crowd and acknowledge Goldman and Runway Heroes as 2019 honorees. At the organization's outset in '14, its first show was held at a department store with just 17 kids and no more than 50 people in attendance. Tuesday's event was sold out within two weeks, with the ticket proceeds going toward childhood cancer research, and the full house at Kleinfeld Bridal demonstrated just how much and how quickly it has grown.
"We're inspired by people, and what we want to do is acknowledge you, Rachel, and the work that your group does and the fact that the New York Yankees see you and we care about people like you," Zillo said. "We want you to know that what you're doing is important and good and meaningful, and we thank you for what you're doing."
With the show set to begin, Hayley Paige -- a wedding dress and flower girl designer at JLM Couture, who provided many of the outfits the girls wore -- took over as the host. Given her background in the industry, she made sure to emphasize how special this moment would be for these children during a particularly challenging time.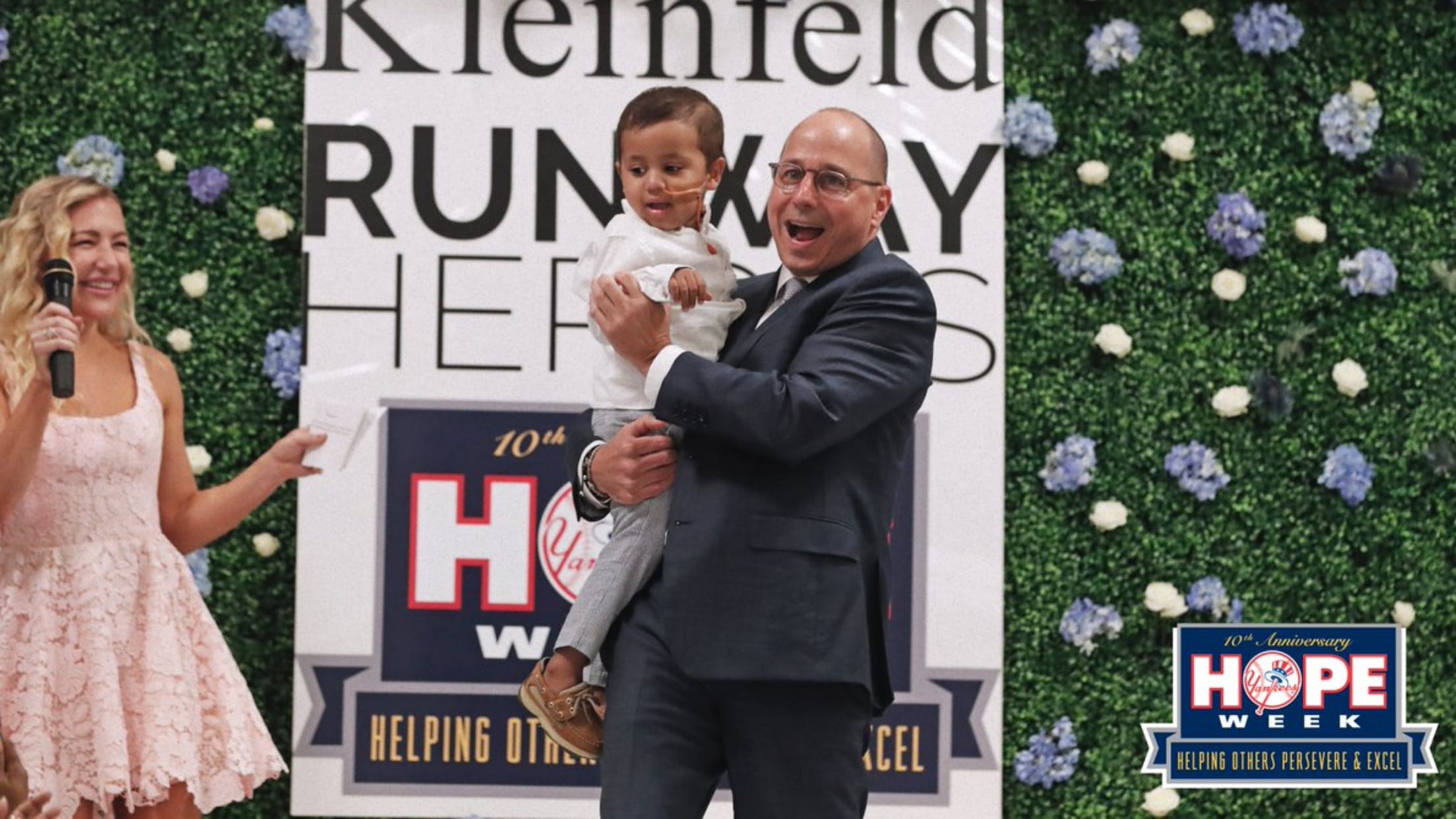 "Using fashion as a catalyst for confidence and creativity is immeasurable," Paige said. "And to be up here is to feel inspired by them. Their bravery, their courage, their beauty. It is just incredible to get their sense of sparkle and shine and have a moment of playful fun and a fashionable moment."
Paige then introduced each of the children -- ranging from 10 to as young as 1 -- as they made their way down the runway alongside a very special guest. Yankees general manager Brian Cashman and players Aroldis Chapman, Didi Gregorius, Masahiro Tanaka, Luis Severino, Kendrys Morales and Domingo Germán -- all dressed to the nines -- joined in on the HOPE Week festivities, taking turns escorting the little girls and boys as they strutted their stuff. They held hands, struck poses and even broke out a few dance moves in the case of Cashman.
Feeling the most underdressed in a normal business suit compared to his team of "fashionistas," Cashman said the dancing was to "make up for my lack of wardrobe."
Chapman stood out the most for his attire, receiving a rousing round of applause from the audience for his bright pink suit with floral patterns. It came as little surprise to his teammates, who said he is widely regarded as the best-dressed player on the roster. Gregorius came in a close second with a deep blue suit and stylish shades to complete the look. Severino's black camo suit jacket and Morales' tan and orange ensemble also made an impression, but it was clear that all the players put a lot of effort into their outfit.
"There's a lot of [the kids] that say they're Yankees fans," Gregorius said. "So it's really something great because we're giving back to them hopefully in everything we're doing. … We have a busy schedule, but we take time. This is really important for the kids [and] for us to be here for them."
Added Cashman: "Those guys are special. First and foremost, we're lucky. Because I know we always try to have great teams, but we have great people. And these are examples for everybody to get a chance to see the real people [that are] behind those uniforms. They care, they're giving of their time and they want to help others. Today was a small expression of that, so I was really proud of them."
After the show came to an end and the kids took their final walk all together, Zillo brought Goldman back onstage for a special moment of her own. Joined by Yankees general partner Jennifer Steinbrenner Swindal, Zillo presented Goldman with a $10,000 check to continue her work with Runway Heroes. But the surprise didn't end there, as he then announced that she would be throwing out the ceremonial first pitch at Tuesday night's Yankees game against the Rays. She and many of the families of the children were in attendance at Yankee Stadium on Tuesday, as the final event of their day as HOPE Week honorees.
"Sports teams, amongst other things, are a real diversion," Cashman said. "It's not just about winning or losing and distracting them for three hours. … [They are] providing a beacon of hope for other challenges they're going through on a personal level. We know that, we take it seriously. And so it was a privilege to be a part of this event today."