Yankees Magazine: The right stuff
With a strong start to the season, the Trenton Thunder pitching staff has a drive to move forward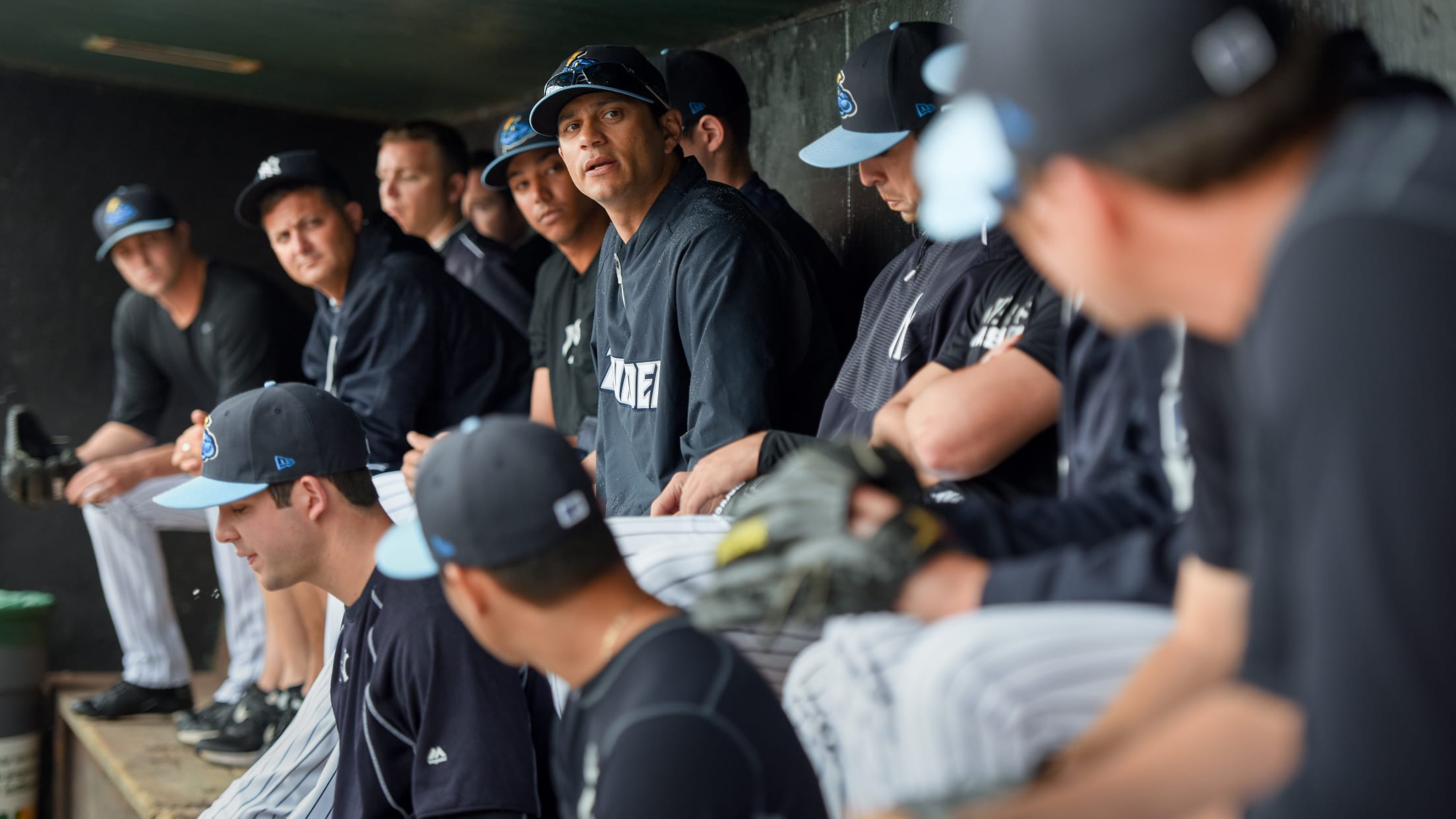 All the pitchers in the Yankees Minor League system share the same goal: Make it to The Show. But just because they are competing against each other for limited spots doesn't mean they don't want the best for each other, something Trenton Thunder pitching coach Jose Rosado knows well. (New York Yankees) (NEW YORK YANKEES)
The rain falls in a steady veil, collecting in small pools on the white tarp covering the diamond and filling the slight recesses in the warning track at Arm & Hammer Park in Trenton, N.J.The showers are heavy enough to keep the Trenton Thunder pitching staff off the field for
The rain falls in a steady veil, collecting in small pools on the white tarp covering the diamond and filling the slight recesses in the warning track at Arm & Hammer Park in Trenton, N.J.
The showers are heavy enough to keep the Trenton Thunder pitching staff off the field for what should have been stretch and catch prior to that evening's game against the Reading Fightin Phils. Instead, the hurlers are staggered along the bench in the home dugout, some sitting on the higher seat of the pine, others leaning forward from the lower ledge.
It is sharing time, a ritual that happens regularly under the direction of pitching coach Jose Rosado. On this day, Rosado is joined by Yankees pitching coordinator Danny Borrell, who -- along with coordinator Scott Aldred -- is tasked with traveling from one farm stand to another to get eyes on all the pitchers in the Yankees' system.


The entire pitching staff is in attendance for the meeting, save for the youngest of the group, Ronald Herrera, who turned 21 years old just 10 days earlier, on May 3, and is the night's starter. By the end of the next day, faces will have changed. Left-hander Dietrich Enns -- the Eastern League's Player of the Month after posting a 3-0 record while striking out 25 and allowing only nine hits in four April starts -- and right-hander Eric Ruth will get promoted to Triple-A. On the Double-A side, Caleb Smith will be activated from the disabled list and newly acquired righty J.R. Graham will arrive.
The gloomy conditions are in contrast to the light mood surrounding the staff, which is coming off an impressive April. But any excitement is tempered; competitors don't rest on last month's numbers or successes. There is work to be done, lessons to be learned.
Rosado calls on pitcher Matt Wotherspoon, who, after logging six scoreless innings out of the bullpen with the Scranton/Wilkes-Barre RailRiders, is back in Trenton. The return is bittersweet -- Rosado and the staff are happy to see the University of Pittsburgh product again, but not at the expense of seeing his trajectory reversed.
Wotherspoon positions himself on the dugout steps, facing his peers.
"I feel like I didn't do much ..."
"OK, thank you," said Rosado, jumping up from his seat on the bench to usher Wotherspoon off his soapbox.
The bit draws laughter from the group. Once things settle back down, questions for Wotherspoon are encouraged, and they range from the technical …
How was the strike zone? Catcher Gary Sanchez makes the pitches look really good.
… to the less-than-technical ...
How was the spread? Real good, and the clubhouse is nice.
Righty starter Cale Coshow is up next. He pitched the previous night, leaving the game in the sixth after allowing three earned runs on five hits and four walks.
Walks were still an issue, he says of his outing, and he threw change-ups when he should have thrown fastballs; however, he adds, he was a few pitches away from a good outing, a fact gathered earlier in the day, when he reviewed video from the game.
"When we don't pitch well, we shouldn't feel embarrassed or sorry," Rosado said to the group. "I respect that you want to do well. Our job is to turn the page.
"Don't feel like you let the team down; I can see you're trying."
The interjection harks back to an earlier conversation Coshow had with his pitching coach during review of the video, when the flame thrower said he was embarrassed by the outing. Coshow, who had the third-lowest ERA (2.45) in the Yankees' system in 2015, later explains that he was more angry at himself than anything, mainly because he hadn't given his team a better chance to win.
There's some more sharing before Rosado and Borrell leave the group with some parting words. You've made it this far for a reason; you have the stuff it takes.
In the 12-team Eastern League, the club was second in ERA (2.89), second in WHIP (1.20) and third in strikeouts (187), giving up the fewest home runs (eight) and second-fewest hits (152) and runs (70) in April. The combined effort made for an enjoyable time for the young guy on the receiving end.
"We have a very good pitching staff here, probably one of the best I've been around," said catcher Kyle Higashioka, who started 26 of Trenton's first 37 games. "A lot of the guys are real easy to catch just because they have good command, or they just have good stuff and get guys out quickly."
He easily ticks off the strengths of several of the team's regular starters.
Herrera: His ability to throw all his pitches, in any count, in any location.
Enns: A fastball with late life that is unhittable when he's locating it.
Coshow: A mid- to upper-90s fastball that hitters would rather not see.
Jordan Montgomery: An over-the-top delivery that makes it difficult for opponents to distinguish between his change-up, curveball and fastball.
"They've been fun to catch," said the 26-year-old, who was drafted by the Yankees in 2008.
April was particularly meaningful for Enns, who is in his first full season since undergoing Tommy John surgery in June 2014.
"It's humbling and it's encouraging to know that you can come back from it and be better than you were before and be stronger than you were before," said the 25-year-old, whose 24.1 scoreless innings to start the season set a Thunder record. "So it's motivating me to continue to pitch well and just do well and perform at this level and hopefully keep moving up."
As a pitcher, Enns wants to put up zeros whenever he can, but executing his pitches and staying aggressive are just as important, if not more so. He continuously works on repeating his delivery -- he throws a fastball, change-up, slider and curveball -- and getting into the right mindset: "You're the pitcher; you have the ball. You just have to go right after the hitters."
And that's what Rosado -- and the rest of the Yankees' baseball operations staff -- likes to hear. As great as it is to have a killer month, the strong start is behind them and secondary to the overarching goal: preparing these young arms to compete in the Bronx.
One of the most important responsibilities Rosado has is managing each individual pitcher's numbers; compiling them is among the first things he does when he starts his day at the ballpark, generally around 10:30 a.m. He prepares a stat card of sorts that lists the number of days off, innings pitched and the number of pitches thrown during last outings, and the number of innings and maximum number of pitches that can be thrown that day for each available pitcher. The process -- paired with observations he makes during daily catch -- helps ensure that whomever he sends to the mound at any given time is healthy, and stays that way.
"We like to win, but we never forget this is a developmental level," said Rosado, who was a two-time All-Star during parts of five Major League seasons with the Kansas City Royals. "Sometimes, I have to fight against myself, because you play this game to win."
That inner struggle was likely in play on April 26, when Herrera took a no-hitter into the eighth inning, striking out five and walking two before he was pulled for righty Jonathan Holder. Holder retired the New Hampshire Fisher Cats in order for the Thunder's first nine-inning no-hitter in their home ballpark. Had this been the Majors, the pitching coach acknowledged, the move might have been an unpopular one in the eyes of both the pitcher and the fans.
"It's great to do well now. If you do well now, you move up," said Rosado, who didn't work under the limits of pitch counts when he was pitching in his 20s. "But it's more important to look at the pitcher's career."
Herrera -- who earned Eastern League Pitcher of the Week honors for the performance -- was grateful for the opportunity to pitch as far into the game as he did, calling the outing a "dream come true" and recalling how, by the sixth or seventh inning, none of his teammates would talk to him in the dugout between innings, a sure sign that everyone was well aware of what was going on. And the native of Venezuela, who came to the Yankees via an offseason trade with the San Diego Padres in exchange for infielder Jose Pirela, knew Rosado had his best interest in mind.
"I was fine with the decision because I know that they care about my career, and that's very important to me, to get that from the Yankees," Herrera said through Rosado, who translated for the young pitcher. "I did understand right away that was what didn't let me finish my game."
Thanks in part to the support of their coaches and also their teammates, the Thunder pitchers are not merely trying to maintain the progress they've made thus far, but rather striving for continued growth. And for them, the formula is simple: Stay focused, work hard and support each other.
"The best part about our pitching staff is that we're all close, and we all want to see each other succeed no matter what," said Coshow. "I'm always pumped when I see our guys [put up a] six-inning shutout with like 10 strikeouts; I love seeing that. At the end of the day, I want to see all of our pitchers in the Big Leagues at some point, whether it's this year or next year, next month even."
That goal is reachable. At this level, the pitchers are pretty sound mechanically, says Borrell, the pitching coordinator; it's just a matter of attacking every pitch consistently, with the same aggression and mindset.
"That's why those guys are in the Big Leagues," he said. "They can bring it on every single pitch. They know how to take a bad pitch and a home run; they can flush that right away. These kids, they are learning that."
And they are -- with each pitch, each outing and each dugout meeting while waiting for the sun to shine.
Kristina M. Dodge is an executive editor of Yankees Magazine. This article appears in the June issue of Yankees Magazine. Get this article and more delivered to your doorstep by purchasing a subscription at yankees.com/publications.