Yankees Magazine: A change is gonna come
Given the chance to fix anything they choose about the game of baseball, do some Yankees have thoughts? Oh, yes they do.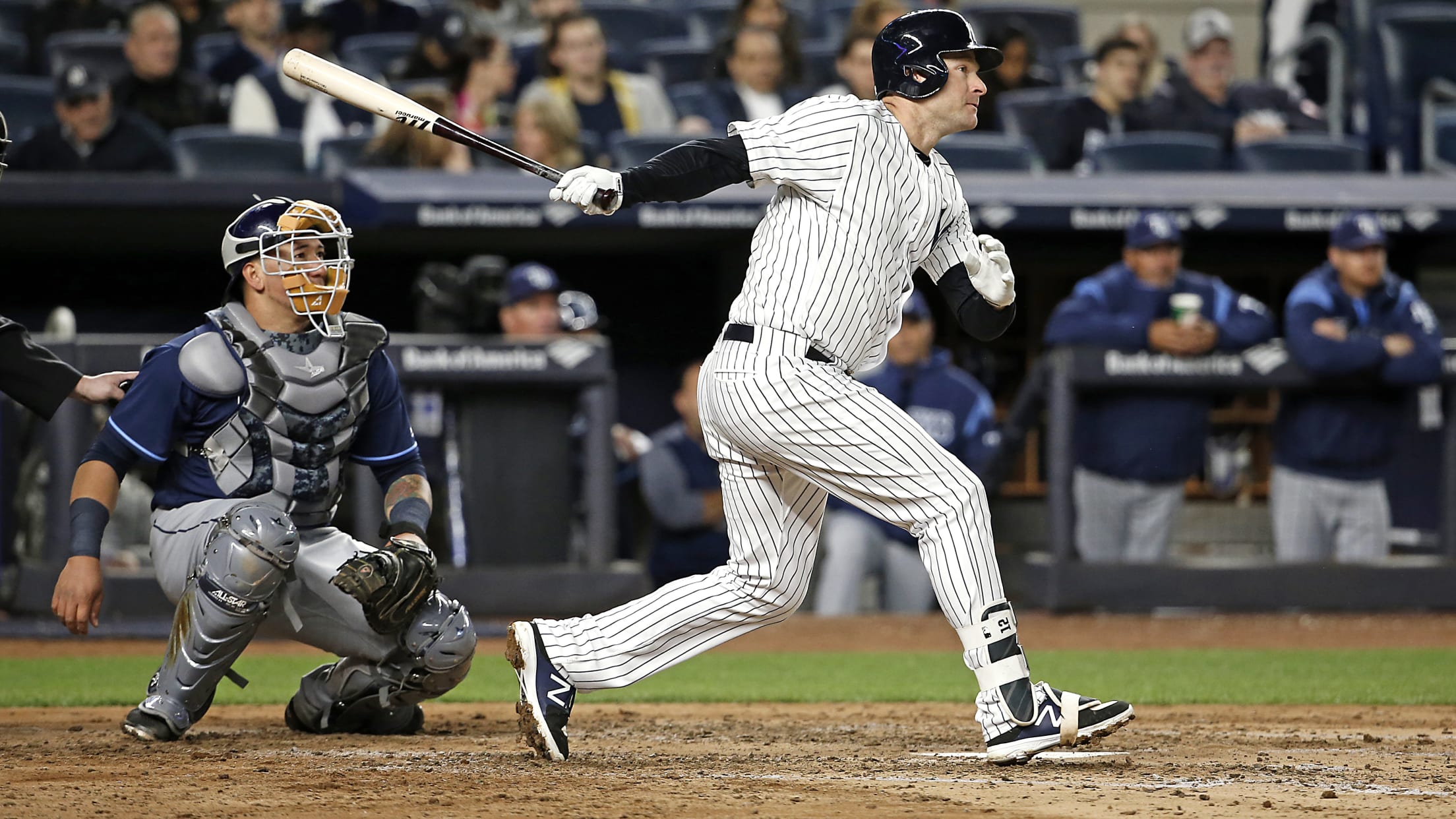 When the Yankees reported to Florida for Spring Training, change was at the forefront of a lot of minds -- and not just the type that the players saw around the trade deadline in 2016. (New York Yankees)
Baseball is a results-based industry, so you can hardly blame Chase Headley for changing his tune to match shifting outcomes."I'll be honest," Headley said in March, as he prepped for the 2017 season, "I'm not a big fan of the shifts. I think that the game was designed to be
Baseball is a results-based industry, so you can hardly blame Chase Headley for changing his tune to match shifting outcomes.
"I'll be honest," Headley said in March, as he prepped for the 2017 season, "I'm not a big fan of the shifts. I think that the game was designed to be played a certain way. What you learn as a hitter growing up is to hit a line drive back up the middle, and if you do that, you should be rewarded for it. There shouldn't be any people playing in positions they don't play."
Yet there was Headley on Opening Day in Tampa, tapping a single away from the shift in his first at-bat of the season. "Maybe that bodes well for a new beginning for Headley," Michael Kay said on the YES Network broadcast. Five innings later, Headley dropped down a bunt toward an unoccupied third base for an easy single.


If you can't beat 'em, hit it away from them.
The switch-hitting Headley finished April batting .301 (25 for 83) with 10 extra-base hits and an .896 OPS, a far cry from a year ago, when he batted .150 in the first month, with none of his nine hits worth more than a single. A key difference was the fact that he was hitting the ball the other way, far from the banefully over-shifted infielders, and Headley credits that success as much to an improved swing as he does to a change in mentality. He mentions the back injury he suffered in 2014, and how, in retrospect, it might have forced him to adjust his swing in a collection of small, almost imperceptible ways. Eventually, he noticed that he wasn't using his legs nearly enough, instead relying on his hands to power his swing. The adjustments he made to his workout regimen this past offseason -- in large part focusing on his flexibility -- have allowed him to stay back on the ball a bit more at the plate, which, in turn, gives him more ability to hit the ball the other way.
"I'm using my legs a lot better," Headley said. "Everything is related, so when you use your legs really well, it allows your hands to work better. … You're going to swing quicker, you're going to have more power, you're going to have a lot of things that are going in sync.
"When they're separate, you're not going to have the bat speed, you're not going to have the power that you want. So inside pitches and things like that, I felt like I had to cheat to get to. Guys were trying to come in on me a lot, and I knew that they were going to, so I would try to get there."
Just that easy? Hardly. But for the 33-year-old Headley, it's all part of evolving along with the game itself.
***
These are tough times for some baseball originalists. The sport without a clock now has one, albeit used in spare, barely noticeable situations (pitching changes, inning breaks and the like). And this past offseason, the intentional walk was revamped, with managers now simply signaling their directive rather than forcing the pitcher to throw four errant pitches.
So when the Yankees reported to Florida for Spring Training, change was at the forefront of a lot of minds -- and not just the type that the players saw around the trade deadline in 2016. Surveyed one by one as to any element of the sport or the life of a player that they would change, the answers ran the gamut. Some were endearingly selfish, some philanthropic, some perfectly practical (see below for examples).
But Headley's aversion to the shift struck a particular chord, even before he spent April making his concerns moot. It's hard to think of any single innovation that has impacted the game as much in recent years as the rampant repositioning of fielders around the diamond; The Wall Street Journal reported recently that teams shifted on 28,132 balls in play last year, compared to just 2,350 five years earlier. And from 2015-16, the tactic rose in frequency by 57.8 percent.
"What you're trying to do is gather data from pitchers executing their pitch," said Yankees third base coach Joe Espada, whose responsibilities include positioning the infielders. "You come up with the best plan to seal a certain area of the field where we think the hitter's going to hit the ball."
But beating the shift isn't as simple as reaching first base safely. Plenty of times, as Espada and other players point out, the Yankees are perfectly fine seeing an opposing power hitter dribble an infield single up the baseline rather than crushing a ball to the bleachers. "If you can keep him to a single, keep the ball in the park, you won," said catcher Austin Romine. "You don't let their best guys beat you."
Which is an easy thing to say from the safety of the clubhouse, but as pitcher Adam Warren points out, it feels different on the mound. Sure, there are those delightful times when he watches a batter make contact and send the ball into what would normally be a hole, but then turns to see a shifted fielder corralling it easily. But the inverse, when a seemingly routine grounder finds an unexpected hole, can feel crushing. "Sometimes people make the argument that they'd rather have the little bloop singles than the doubles or the home run," Warren said. "I don't know if I necessarily buy into that argument -- I don't like any hits. … The pain is much greater when a guy is supposed to be there."
For Headley, who waited until May 12 to record his first extra-base hit of 2016, the improved offensive output early this year wasn't simply a matter of dinking dribblers up the line. His .494 slugging percentage through April was the best start of his career, and the first time since 2013 that he had even been above .400 for the month. It's impossible to say how much of that was due to the fact that he changed his style, but it's worth noting that it wasn't until his 15th plate appearance of the season that he hit a ball to the right side of the field.
"Tampa, they like to throw pitches away. They pitch fastball away and offspeed off of that. That had a lot to do with it," Headley said of the Yankees' season-opening opponent. The pitches that the Rays were throwing him, he says, were in a location and at a speed that made it easy for him to go the other way. But, he also acknowledges, "A lot of it was my approach, because I knew they were trying to do that, and they had 17 guys on one side of the infield."
Baseball has always and will continue to evolve in ways Nostradamus couldn't predict. It wasn't long ago that Moneyball apostles fetishized on-base percentage and devalued defense. These days, though, baseball analytics teams are trying harder than ever to find the new market inefficiency in defensive measurement and positioning. And just as the strategic shortcomings of small ball and bunting are now more apparent than ever, it's certainly possible that this era of shifting will be short-lived.
For the present, though, Headley spent the early part of the season being the change he wished to see in the baseball world. And you can't help but notice that success may have changed his view on the strategy as a whole.
"I really don't care what they're doing, to be honest with you," Headley said recently. "Sometimes, I want them to play the shift on me, because it's just another reminder that a good approach is to think left-center."
What a difference a few extra-base hits can make.
As for the rest of the Yankees, their opinions covered the game's full spectrum. Here's a look at some examples:
Pace of Play
Plenty of players (and, to be sure, a good number of fans) want to see things move a bit faster on the field. As for how they'd do it? Well, ideas abound.
Brett Gardner focuses on the number of pickoff attempts, although he realizes that coming up with an allowable number would be difficult. "The way it's set up right now," Gardner said, "you can have a pitcher on the mound, and he just keeps picking over, picking over, picking over until tomorrow morning, and nobody can do anything about it. It's a waste of everyone's time."
Adam Warren also wants to see the pace pick up, and he sets his focus on a popular enemy: replay. "My biggest complaint right now is how long the challenge takes." Warren wants managers to be forced to take some more risks when they call for replay; rather than waiting for confirmation from their video teams to see if they should challenge, the pitcher believes that decisions should have to come much sooner. "I like maybe a five- or 10-second window where you have to throw a challenge flag or say you're challenging," he said.
As far as changes implemented to shorten games, Manager Joe Girardi is all for trying new things. But he doesn't like one method that has been discussed, which would limit the number of pitching changes.
"The biggest thing for me," Girardi said, "is don't change the strategy. If you need to use two or three relievers to get through an inning, that's part of the strategy. That's part of what you gameplan for. So if you're going to take all that away, it doesn't make sense. The bottom line is that the game is played properly to win. I don't ever want to see anything change in that manner because you want to speed the game up."
Perfect Circle
"I would uniform the baseball. I find it bizarre that the guys coming up in the Minor Leagues are using a different baseball than we're using in the Big Leagues. I think that's a big adjustment for pitchers, and there's no reason for it." -- Tyler Clippard
Can I Get a Minute?
"I'd say more off-days. In my experience, when I tell people that we get two off-days a month, they're blown away. I don't think people really understand it. There are no holidays. Everybody gets Labor Day off. Or July 4. But that's one of our biggest games of the year. My friends are the worst about it. 'Dude, you play a game for a living. You're okay.'" -- Chasen Shreve
Power to the Pitchers
"It would have to be something for the pitcher, because every year, they're making better bats for the hitter. So move the mound a little closer to home plate. Make it harder for the hitters. Every year, they make better bats and things, but it's the same ball. So let's do something special for the pitcher. Make it closer!" -- Michael Pineda
"I'd move the fences back. It's just me being selfish. Everyone's throwing harder, everyone's hitting the ball farther." -- Bryan Mitchell
"Probably move the mound about 5 feet closer to the plate. Make the strike zone go from about mid-shin to the letters of the jersey, and if you strike out a single batter, the inning's over. I feel like I could have a long career if those were the rules." -- Ben Heller
Post Position
"I'd like to see the postseason expanded. Shorter regular season, longer postseason. The energy of the postseason is pretty amazing. It's pretty high stakes. In 2015, we worked extremely hard to get to that position, and it was a one-game thing." -- Rob Refsnyder
Living the High (Minors) Life
Baseball players won't make too many friends complaining about their paychecks, but hear Kyle Higashioka out for just one second. "Spending the past nine seasons in the Minor Leagues, I'd probably change the wage system, make it a more livable wage," the young catcher said. "Not necessarily where guys are making lots of money in the Minors, but something that you can live off of, especially if you have a wife or kid."
Higashioka knows that baseball players probably don't engender too much sympathy from the hard-working fans who pay good money for tickets, and he doesn't resort to any hyperbolic hysterics in making his point; quite the opposite. Players in the Minors make as little as $5,000 to $7,500 a season, but Higashioka says that he managed to get by in the early years by rooming with five teammates and living off his signing bonus. He wonders, though, how teammates with other responsibilities are able to stick it out.
"I've seen some guys come through that have had to give up on baseball because they have a wife or kids, and they can't support them," he said. "So they are forced to stop playing baseball just by the needs of their family."
There are countless incredible parts of making it to the Majors, of taking your first swings in a Big League ballpark in front of 45,000 fans and millions watching at home. And Higashioka and other players acknowledge that the harsh parts of the Minors probably do, in fact, push players even harder to succeed. But the 10-hour bus trips, overpacked apartments and piddling paychecks make some guys appreciate the Major League lifestyle even more than you might expect.
"If you complain about travel," Romine said, "go back to Triple-A and get on a bus for 14 hours. I don't have any complaints about anything. I'm happy to be here."
Paradise
"I mean, for me, baseball is perfect. I wouldn't change anything. I grew up with nothing. And baseball has given me everything." -- Luis Severino
Jon Schwartz is the deputy editor of Yankees Magazine. This article appears in the June 2017 issue of Yankees Magazine. Get more articles like this delivered to your doorstep by purchasing a subscription to Yankees Magazine at yankees.com/publications.