Here are Yanks' Players' Weekend nicknames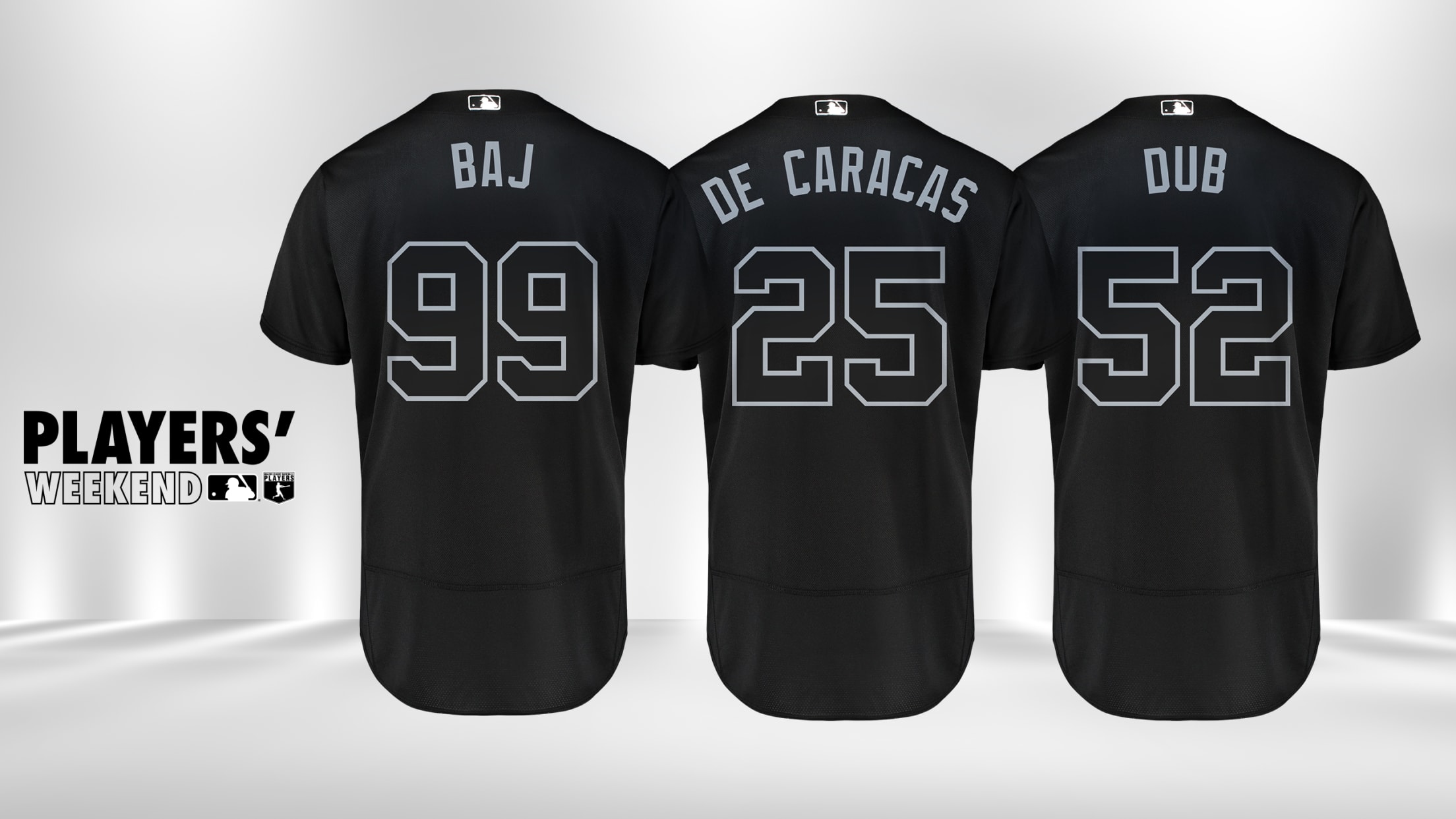 Players' Weekend is returning for a third consecutive season, when all Major Leaguers will be invited to put their personalities and passions on the field during all games from Aug. 23 - 25. For Yankees fans, it marks a rare opportunity to see their favorite performers don names on the
Players' Weekend is returning for a third consecutive season, when all Major Leaguers will be invited to put their personalities and passions on the field during all games from Aug. 23 - 25.
For Yankees fans, it marks a rare opportunity to see their favorite performers don names on the backs of their jerseys, something that the franchise had never done before the inception of Players' Weekend in 2017.
• Every team's Players' Weekend nicknames
Here are the nicknames that the Yankees will wear during the series against the Dodgers in Los Angeles, with explanations for some of the less obvious ones:
Dellin Betances: "DELLIN JAY"
Betances is sporting the name of his son, who was born in February of this season. Betances explained this spring that he and his wife, Janisa, "didn't want people to call him Junior. Call him DJ. Hopefully one day he's winning championships like the other DJ [Derek Jeter]."
Zack Britton: "WITH A K"
Britton's legal name is Zack, though he was known as Zach prior to this season. The lefty referred to that as a "stage name," stemming from a mix-up during his early seasons with the Orioles, one that Britton never bothered to correct. However, he always signed his autograph with a K. The fact that K is baseball short-hand for strikeout doesn't hurt.
Luis Cessa: "KIKÉ"
"It's a nickname for Enrique," Cessa said, presenting a cell phone cover that reads, 'KIKÉ CESSA.' "My name is Luis Enrique, so everybody in my family calls me Kiké. It's the same for [the Dodgers'] Enrique Hernandez."
Aroldis Chapman: "THE MISSILE"
Chapman has proudly sported one of baseball's best nicknames for several seasons, having been referred to as "The Cuban Missile" for his flame-throwing ability. Chapman frequently throws the ball in the triple digits, having twice reached 105.1 mph during his career.
Nestor Cortes Jr.: "HIALEAH KID"
Cortes is honoring his hometown of Hialeah, Fla. He was drafted by the Yankees in the 36th round of the 2013 MLB Draft from Hialeah High School.
Edwin Encarnacion: "RIVERA"
Encarnacion is honoring his mother, Mareya, by wearing her maiden name.
Mike Ford: "FORD"
Brett Gardner: "GARDNER"
Domingo Germán: "SUNDAY"
Domingo, in Spanish, translates to Sunday.
Chad Green: "GREENY"
Didi Gregorius: "SIR MJG"
Gregorius' given name is Mariekson Julius Gregorius, and he was knighted in his native Netherlands for being part of the team that won the 2011 IBAF Baseball World Cup. Thus, Sir MJG.
• Shop for Players' Weekend gear
David Hale: "DH"
J.A. Happ: "JDOT ADOT"
James Anthony Happ offers a helpful spelling reminder for his preferred name.
Aaron Hicks: "HICKSIE"
Kyle Higashioka: "HIGGY"
Jonathan Holder: "JOHNNY"
Aaron Judge: "BAJ"
"BAJ" was Judge's nickname at Fresno State, which he said stands for Big Aaron Judge. Judge recently recalled that before his first college game, he looked at the lineup card and did not see his name. Someone told him to look again; sure enough, BAJ was in the lineup.
Tommy Kahnle: "KING KAHN"
Kahnle's nickname calls to mind a 104-foot reliever hanging from the Empire State Building. He said that it was given to him by teammates during his time with the White Sox.
DJ LeMahieu: "BIG FUNDY"
LeMahieu's nickname is short for "The Big Fundamental," which teammate Adam Ottavino has called him for years dating back to their time with the Rockies. Players' Weekend choices were made in Spring Training, otherwise LeMahieu could have gone with "The Machine," bestowed upon him by Gary Sanchez.
Jonathan Loaisiga: "LO"
Cameron Maybin: "SLIM"
"My dad [Rudy] used to call me Slim when I was growing up," Maybin said. "He had friends around the neighborhood who called him that. When you have a son, it's usually Junior. I'm not a Junior. They just called me Slim Jr. It just kind of stuck. My dad is one of my best friends. I tell people, after I meet them for a while, 'My friends call me Slim.'"
Adam Ottavino: "BROOKLYN"
Ottavino's Big Apple roots run deep, as his family moved from Manhattan to Brooklyn when he was 3 years old. The Yankees hurler graduated from the Berkeley Carroll School in Brooklyn's Park Slope neighborhood in 2003.
James Paxton: "BIG MAPLE"
A product of British Columbia, Canada, Paxton got his nickname during his time with the Mariners as a result of the large maple leaf tattoo that he sports on his right forearm. Paxton said that the nickname was coined by former Mariners bench coach Tim Bogar.
Austin Romine: "RO"
CC Sabathia: "DUB"
Carsten Charles Sabathia has pitched his entire career as CC, which is a double C. Thus, "Dub."
Gary Sánchez: "KRAKEN"
Sanchez received his nickname from Yankees general manager Brian Cashman, who uttered his desire to "release the Kraken, which is Gary Sanchez, on our roster" during the 2015 Winter Meetings.
"For some reason, it just came to me that Gary Sanchez was a mystical beast, that his bat could unleash fury on his opponents," Cashman recalled years later. "The one thing that we always talked about when we saw him coming through the system was that the ball off his bat sounds different. The crack of the bat, the Kraken being a mystical beast, it all fit."
Luis Severino: "PEÑA"
Severino is honoring his mother, Matilde, by wearing her maiden name.
Giancarlo Stanton: "PARMIGIANCARLO"
Though Stanton is not expected to rejoin the active roster until sometime in September, he will at least own the Yankees' most delicious jersey of Players' Weekend.
Masahiro Tanaka: "MA-KUN"
Tanaka has carried this nickname since his childhood. As detailed in a 2014 New York Times profile, "Ma" is short for Masahiro, while "kun" is a term of endearment for someone who is the same age or younger.
Stephen Tarpley: "TARP"
Mike Tauchman: "TAUCH"
Gleyber Torres: "DE CARACAS"
Torres is honoring his hometown of Caracas, Venezuela, where the Yankees infielder was born on Dec. 13, 1996. He lived there until age 14, when Torres moved to an academy in Maracay so he could pursue his professional baseball dream.
Gio Urshela: "GIO"
Breyvic Valera: "BV"
Luke Voit: "LOUIE V"
Voit's given name is Louis Linwood Voit.