Yankees talk shop in 'Buzz in the Bronx' series
YES unveils new promo campaign set in NYC-style barbershop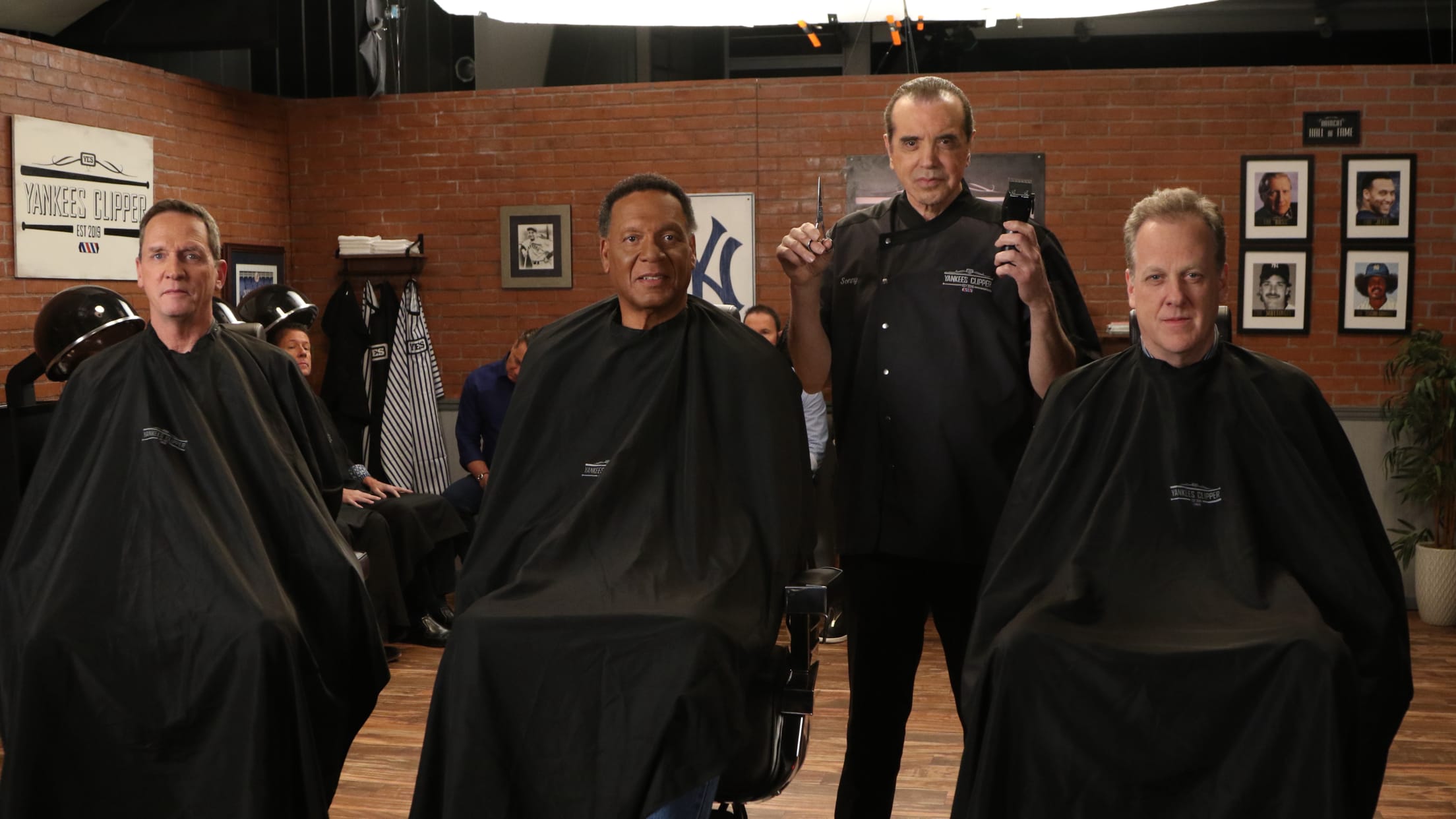 (E.H. Wallop/YES Network)
The Yankees' World Series aspirations are as strong as ever with Opening Day approaching, and the YES Network is tapping into the hype as it kicks off its coverage of the Bronx Bombers' season. YES debuted its "Buzz in the Bronx" Yankees promotional campaign for 2019 on Friday night, airing
The Yankees' World Series aspirations are as strong as ever with Opening Day approaching, and the YES Network is tapping into the hype as it kicks off its coverage of the Bronx Bombers' season.
YES debuted its "Buzz in the Bronx" Yankees promotional campaign for 2019 on Friday night, airing the first three commercials in a series of barbershop-themed TV spots during the Spring Training game against the Phillies.
Buzz in the Bronx takes the buzz of the Yankees' offseason -- trading for James Paxton; adding Adam Ottavino, Troy Tulowitzki and DJ LeMahieu; re-signing CC Sabathia, Zack Britton and J.A. Happ -- and brings it into the classic New York barbershop setting, a hub for community chatter. Plus, it pays homage to the Yankees' clean-cut tradition.
There's a #BuzzInTheBronx this season. pic.twitter.com/YKZQgDatvA

— YES Network (@YESNetwork) March 22, 2019
"Every year what we try to do is hold a mirror up to the Yankees fans and reflect what they're thinking," YES Network vice president of creative services John Zeigler said Friday. "We want to make sure that what we do on-air reflects what the Yankees are doing and specifically what the fans are feeling. ... This offseason, there were a lot of these really smart, strategic moves that just created a buzz."
In the TV spots, YES Network broadcasters like Michael Kay, David Cone, Paul O'Neill and Ken Singleton congregate in a barbershop to talk baseball and get cleaned up for the season. The Buzz in the Bronx promos also feature Yankees manager Aaron Boone and players like Aaron Judge, Didi Gregorius, Brett Gardner, Masahiro Tanaka, Gary Sanchez, Luke Voit, Paxton and Britton.
"I would walk into the office every day and our analysts were buzzing about all these moves," Zeigler said. "That kind of gave birth to the thought of, 'What if we put our guys in a barbershop, and we had them just talking, like they do every single day at work, about what the Yankees were doing in the offseason to build this team?'"
Looks like @CC_Sabathia's not the only one working on his cutter this season. #BuzzInTheBronx pic.twitter.com/CfxENGKigB

— YES Network (@YESNetwork) March 23, 2019
The barbershop's lead barber in the promos -- "The Yankees Clipper" -- is played by Academy Award-nominated actor Chazz Palminteri of "A Bronx Tale" fame.
"For him to be such an enormous Yankees fan to say, 'You know what? I'll play the barber,' … that's really the cherry on top," Zeigler said. "As these guys are talking about baseball, it's paid off with Chazz Palminteri holding up a pair of clippers going: 'This season, there's a buzz in the Bronx.'"
The Buzz in the Bronx campaign follows the YES "#9PersonBooth" promo campaign for 2018 and yoga-themed campaign for '17. The TV spots and various extras will be viewable on YESNetwork.com and on the network's Twitter, Instagram, Facebook and YouTube channels.
As part of the campaign, YES also plans to take the specially constructed barbershop set on the road throughout New York City's five boroughs, with fans able to get a haircut and talk Yankees during the season.
"The whole goal for this thing was to say, 'OK, what do people do at a barbershop?' They talk. They talk baseball, they talk about their lives, they talk about what they're excited about," Zeigler said. "If you're a huge Yankees fan, come to our portable barbershop, get a haircut, and let's talk baseball."
That's right @chazzpalminteri … This season, there's a #BuzzInTheBronx. pic.twitter.com/S1WdtXuwNA

— YES Network (@YESNetwork) March 23, 2019