Grandal gives the stories behind his tattoos 
'I had to figure out a way to come up with something that had meaning'
The tale of Yasmani Grandal's path to MLB stardom is told in the art that adorns his body, if you have time for a story. "I like to be able to express in some sort of way your past experience, and show the world what your life has consisted of,"
The tale of Yasmani Grandal's path to MLB stardom is told in the art that adorns his body, if you have time for a story.
"I like to be able to express in some sort of way your past experience, and show the world what your life has consisted of," said Grandal, the two-time National League All-Star who inked a record 4-year deal with the White Sox on Thursday. "I think that's pretty cool, and it's something that has always resonated with me. Some people use them as a scapegoat. Some people just like having them. In my case, I like to put my story on my body.
"Every time I got a tattoo, I would do well that year. Then the next year I would get one, and do well again. It just seemed like I had to. But I didn't want to get a tattoo of whatever I saw; I had to figure out a way to come up with something that had meaning."
In his own words, and with visual assistance from Brewers team photographer Scott Paulus, here are the stories behind Grandal's favorite pieces of body art.
A version of this story was first published in March 2019.
Left arm: Scorpio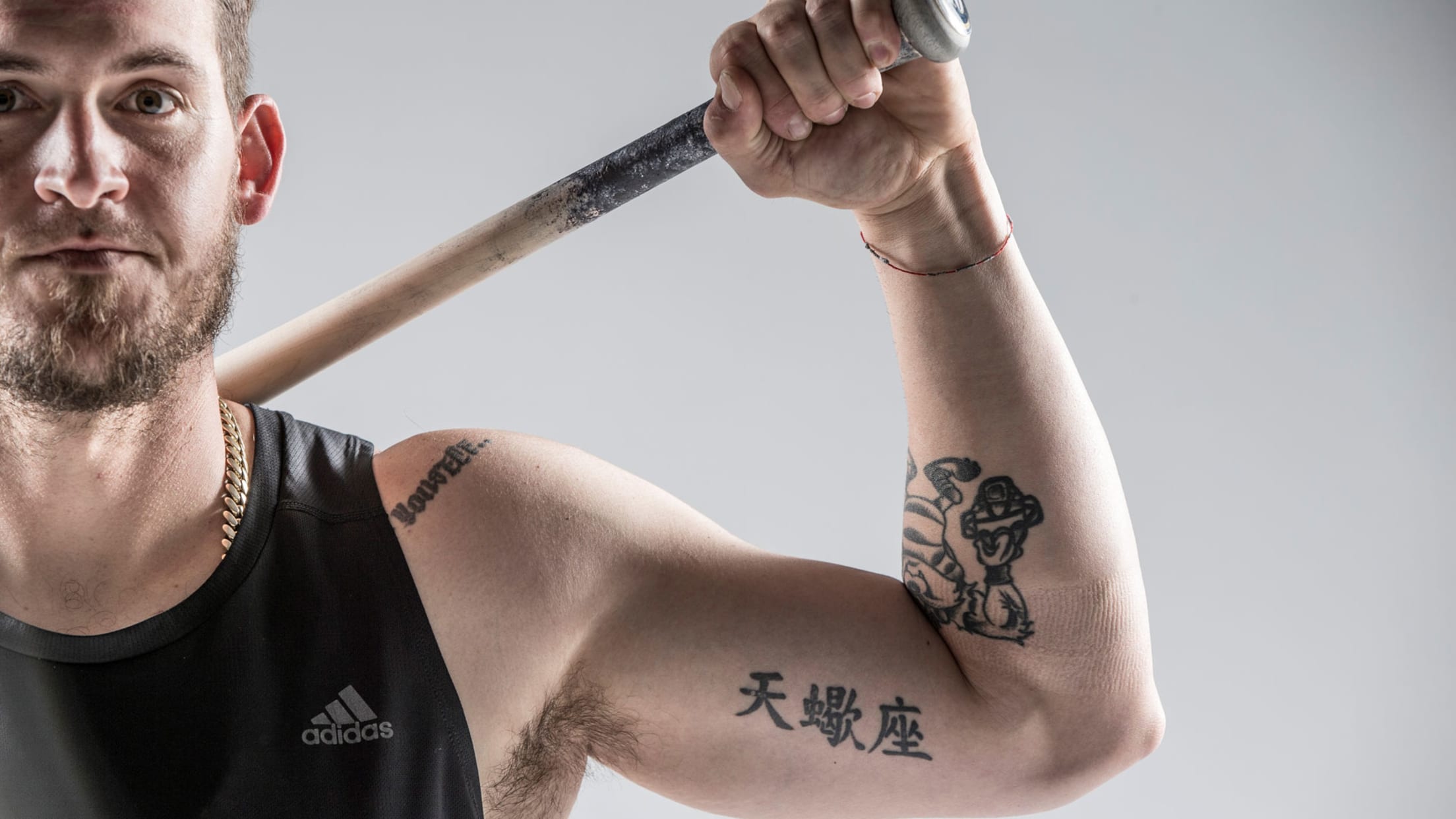 This was my first tattoo, my astrological sign in Japanese letters. Then it went from one, to two, to three. But the first one I was 18 years old, beginning my first year of college at the University of Miami. I was at a girlfriend's house and there was a tattoo shop right down the street. One day I said, "I'm going to do it." I knew I wanted something very small, just to see what it would be like.
Right triceps: The 'U'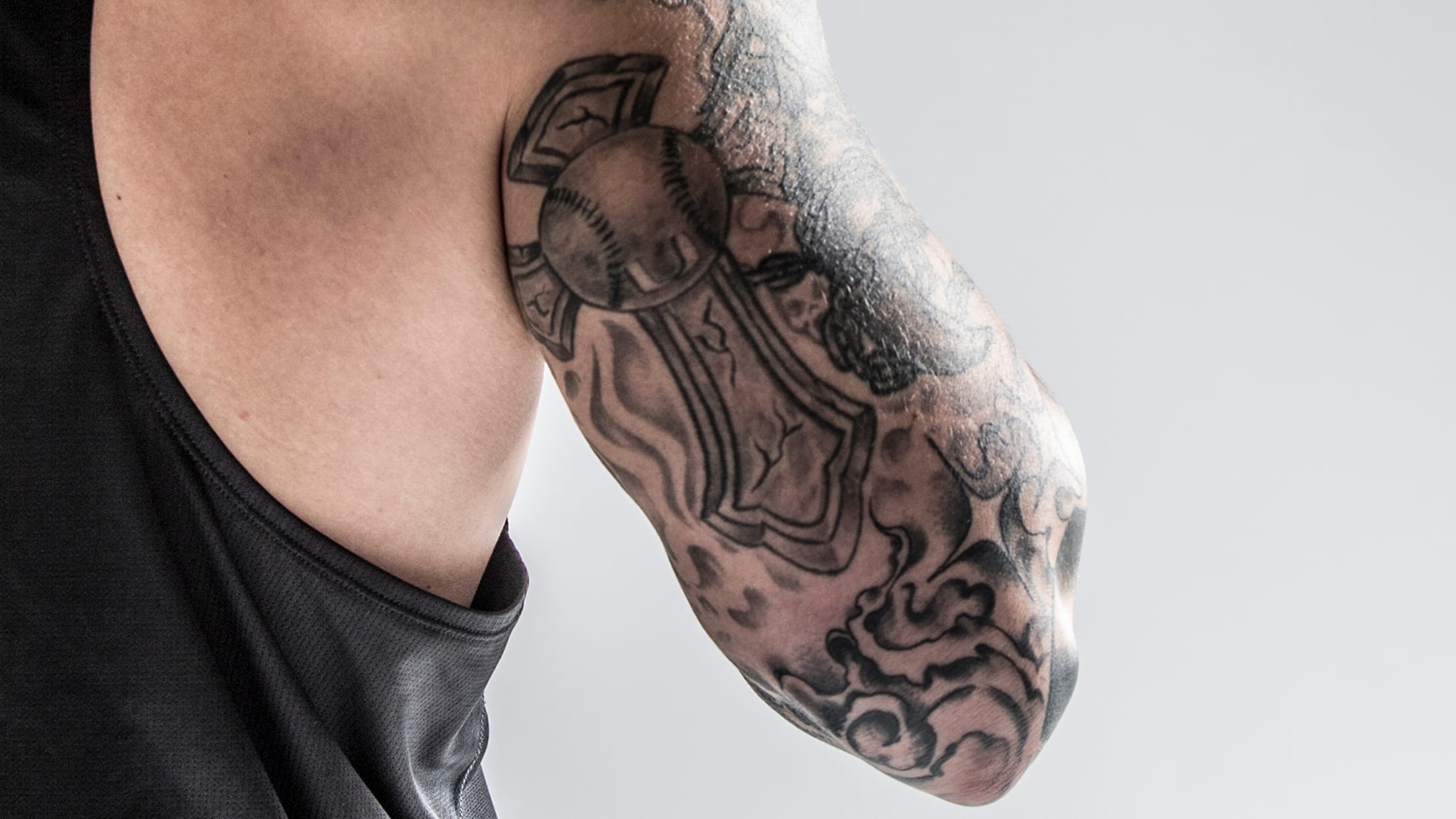 Everyone at Miami ends up getting the "U" with their number on it. I kind of wanted something different, so in my sophomore year I went ahead and got a cross with a baseball and the "U" right in the middle. I go to chapel on Sundays, and I wanted something that had some kind of meaning to me. Baseball, religion and the university I went to.
Upper back: YAZ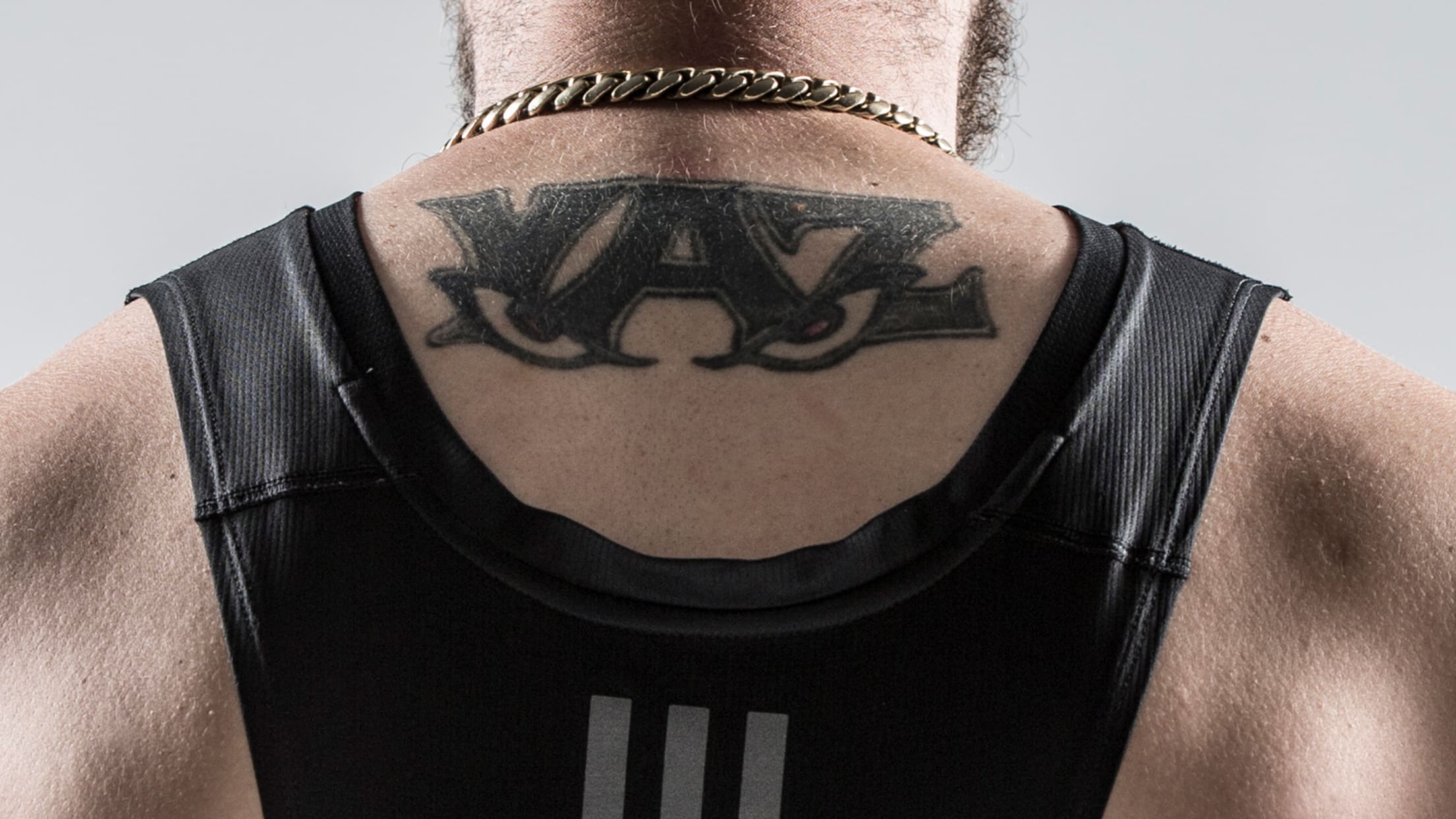 One of the coaches I had coming up through Little League had no idea how to say my name. That was common. I've had teachers who just crushed my name, and they called me "Ya-Swanny" and "Manny," all sorts of things. But this coach was a huge Boston Red Sox fan, and obviously Carl Yastrzemski is a big name over there. He figured if he couldn't get my name right, he might as well call me "Yaz." So ever since I was 12 years old, I've been called Yaz. I had no idea why. I didn't find out about Carl Yastrzemski until I was 16 or 17. People called me Yaz from when I was 12, through high school to college to the Minor Leagues to here. So I figured, I might as well just own it on my body.
I got it in my second year in college. My mom always had this saying that a lot of people have "envy eyes" and you always have to give them the front. But when I'm playing, I'm catching, and my back is to everybody. So I put that nickname with eyes on it. If you're looking at me, I'm looking right back at you.
A funny thing happened when I was on a rehab start for San Diego in Lake Elsinore, Calif. One of the PR people from the team, the Storm, saw me, and were like, "Do you know you have the same lettering and eyes as our logo?" I had no idea. I remembered talking to the artist about how eyes are very difficult to tattoo and be realistic. He wanted to incorporate something cartoonish that could also relate to baseball. Somewhere, I'm sure he came across that team's logo and liked the font and the way it was placed. It was a total coincidence that I wound up playing a game there.
Right upper arm: Chained scorpion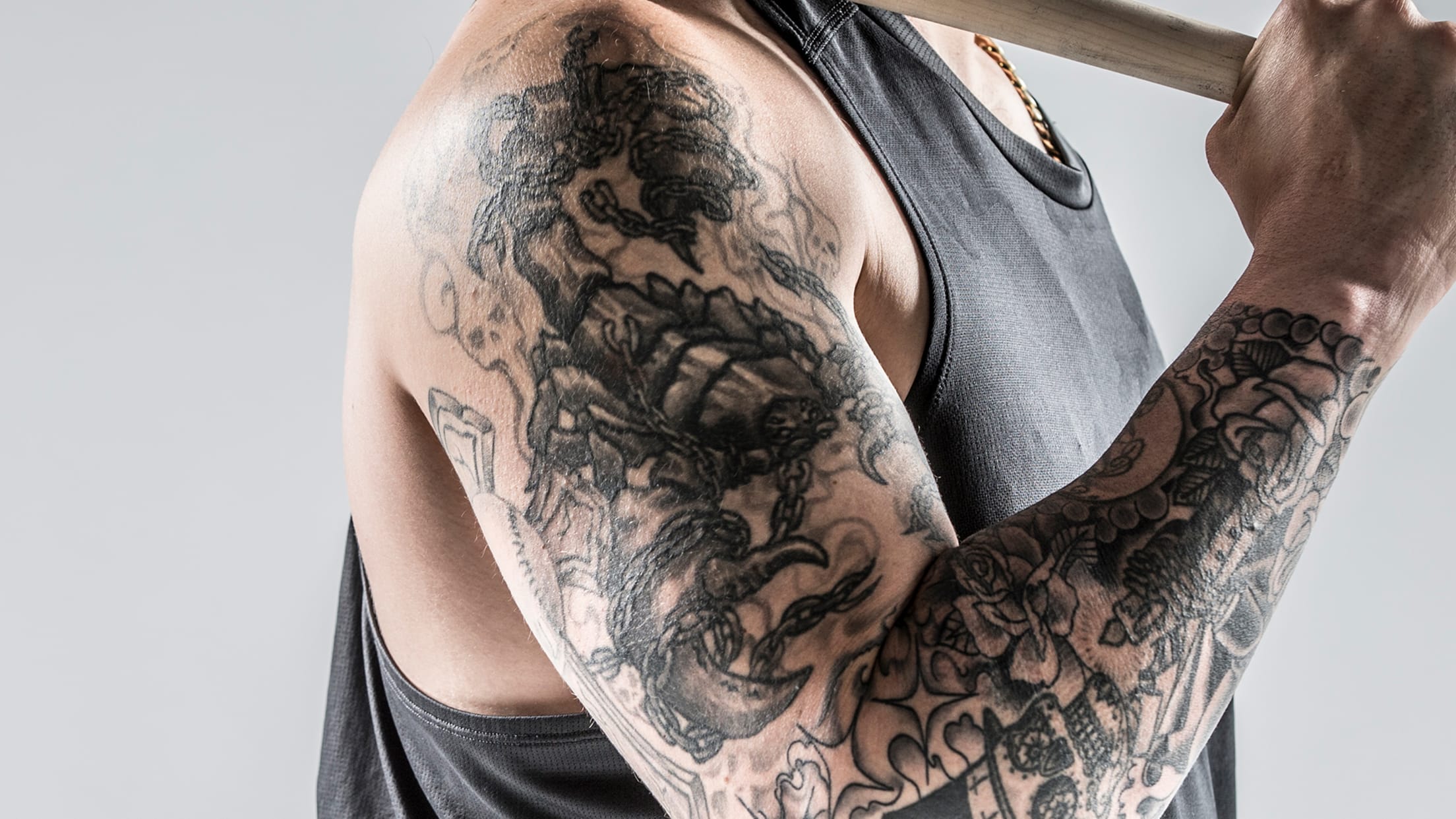 It's a big old scorpion with chains on it. Some chains are broken, some are still attached. I got it after my first year in the Minor Leagues. For me, it meant goals that I have accomplished in my career and goals that are still set that I haven't quite got yet. When you think about a baseball career, you can be the best player in the world and still have goals. It reminds you that you're not done yet. I went to college so I could be a first-rounder and be known as the best catcher in college. But to that point, I hadn't accomplished all of my goals. Now it was a new world coming in professional baseball. People are going to be gunning for you, so you need to find a way to set goals for yourself and get to them.
There is another tattoo with one of the last sentences from a poem from Nelson Mandela: "I am the captain of my soul." For me, that resonated at the time. It was my junior year in college. It meant that in order for me to reach the goal I had for that year, it was up to me to do it, and that there was a reason I had gone to college. I made sure I woke up every day at 4:30 a.m. and saw it. It reminded me even when I was tired that, "Hey, you need to go work and you need to keep working." Whether it was at the gym or running or throwing or hitting or defense, it was always there. It was motivational.
Left wrist: Cuba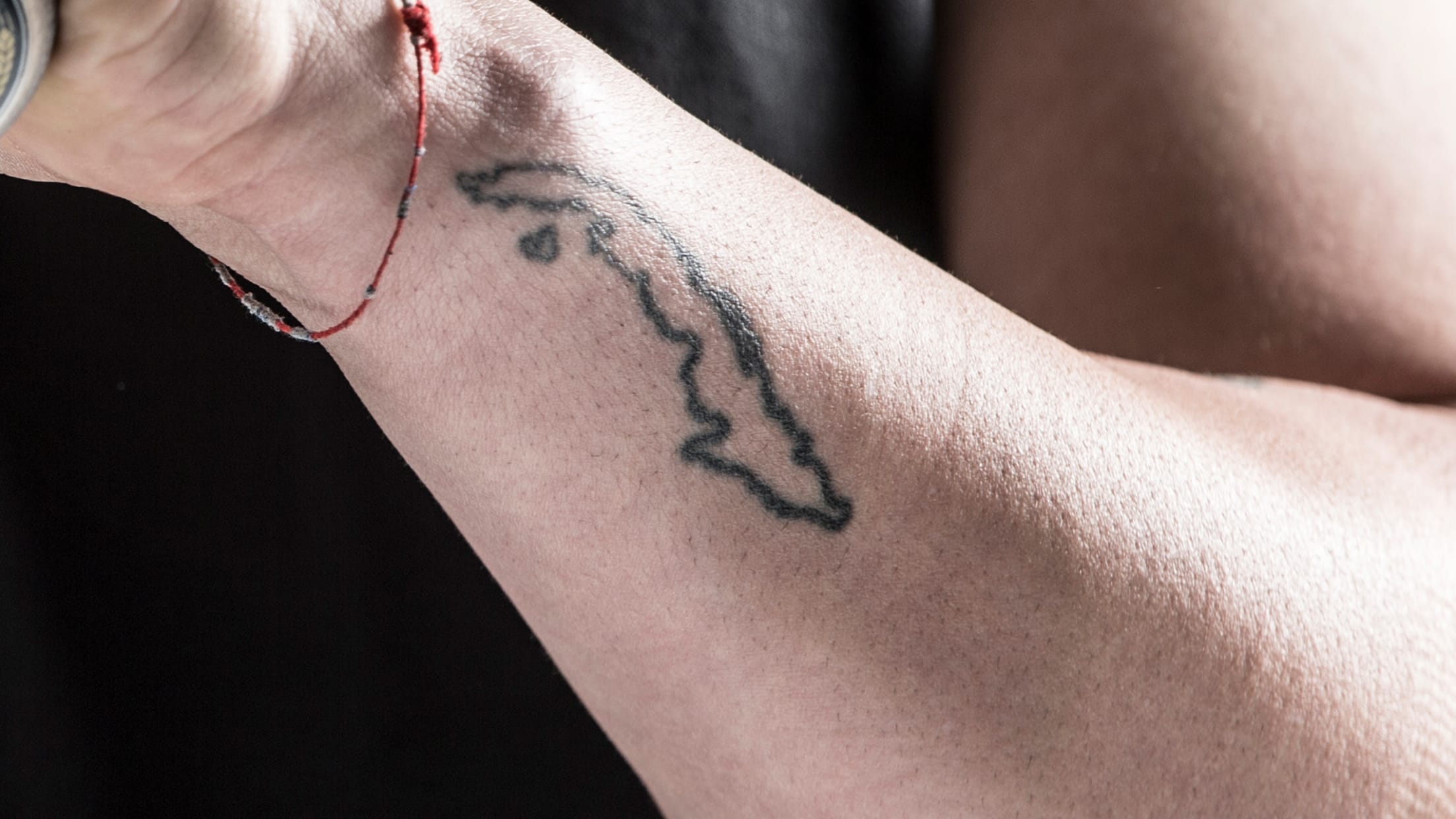 It's an outline of the island. This one has a crazy story. I hadn't seen my older brother in about 17 years, and he came to see me in San Diego in 2014. First thing I noticed for some reason was that he also had a tattoo of Cuba on the same arm, but his had the colors of the flag in it, which I hadn't seen. Then I come to find out that my younger brother also had the same tattoo on the same side. None of us had any idea. I had no idea they had those tattoos, and they had no idea that I did. I thought that was pretty cool.
Left forearm: Tazmanian Devil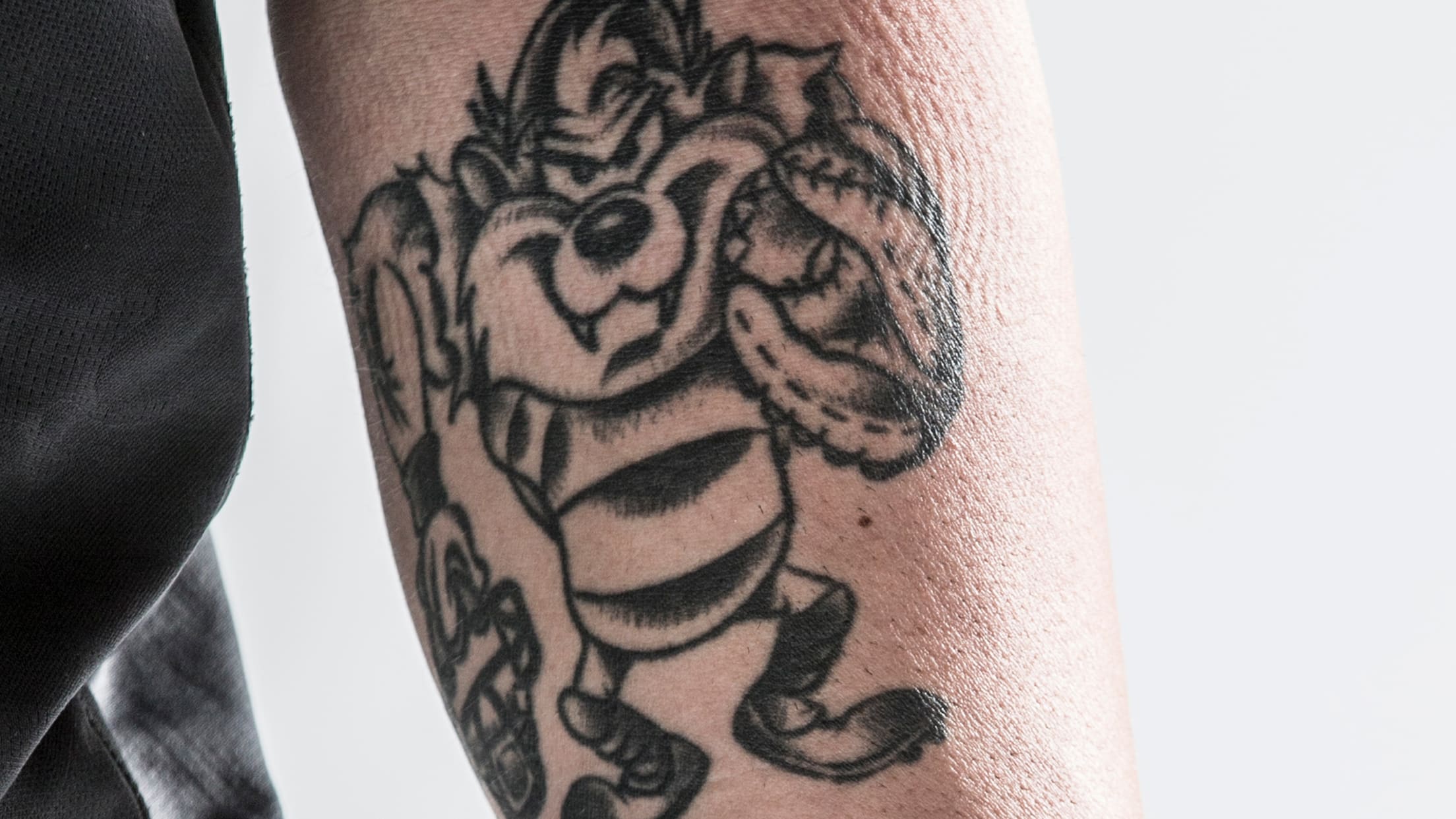 My first year in the big leagues, I had a pretty good run for a second there, and we were playing here in Arizona against the Diamondbacks. It was the first time my wife was able to see me in the big leagues. She made this huge sign that said, "Yazmanian Devil tearing it up." That night, I hit a homer. It kind of stuck for a little bit because she came on the TV and fans saw it. The next year, I was like, why not? Let's own it. I got the Tazmanian Devil tattoo with catcher's gear on it. I thought it was pretty cool, the fact she was able to come up with a nickname that stuck.
After that, the Yazmanian Devil kind of came alive. I started throwing the horns up after a homer. Even last year, you'd see guys in the dugout, as soon as I would hit a homer they threw the horns up. I think it's pretty cool that it has stayed throughout my career.
****
One thing I don't have is a tattoo to honor my mother, even though she is very important to me. To be quite honest, she didn't want me to get any tattoos. She told me, "When you don't live under the same roof as I am, you can do whatever you want." So a lot of tattoos through college, I would do them and not say anything. Since I was leaving the house at 4:30 or 5 in the morning and not coming back until 10 at night, she wouldn't really see them. When she found out, she would say, "What did you do?!" I just said, "It's already on there, there's nothing I can do."
After a while, it kind of became a game for me. I would show up at the house and say, "Hey, I got a surprise for you."
Someday, I want a tattoo for her. I was born in Cuba and my parents split when I was 8 months old, so from that time until I was about 8 years old I grew up with my grandparents and my mom. She was the one who got me into baseball. She was just trying to figure out a way to get me off the streets, and we tried all of these sports that I wasn't quite interested in. But I was still too young to play baseball.
The baseball coach was a good friend of hers, so she went up to him and said, "I just want him to be here, even if he doesn't play. He can't be roaming in the streets when he's 5." He agreed. I joke now that I've played every position in baseball because my very first position the first time I was on a baseball field was batboy. I would get bored, so I tried to find a way to do something. Then one day we took batting practice, and here's a 5-year-old hitting balls as hard as the kids who were 10. The coach said, "He might have a future. Let's keep him around." Once I turned 6, I started playing. When I was 9, I was on the Cuban junior national team.
When I was 10, we came to America. Without a doubt, I want to do something to honor my mom. I think my next tattoo will be a sleeve on my left arm. I already have it in mind, and it will be family-oriented. My mom means a lot to me.