Ventura's 6 K's help Royals foil White Sox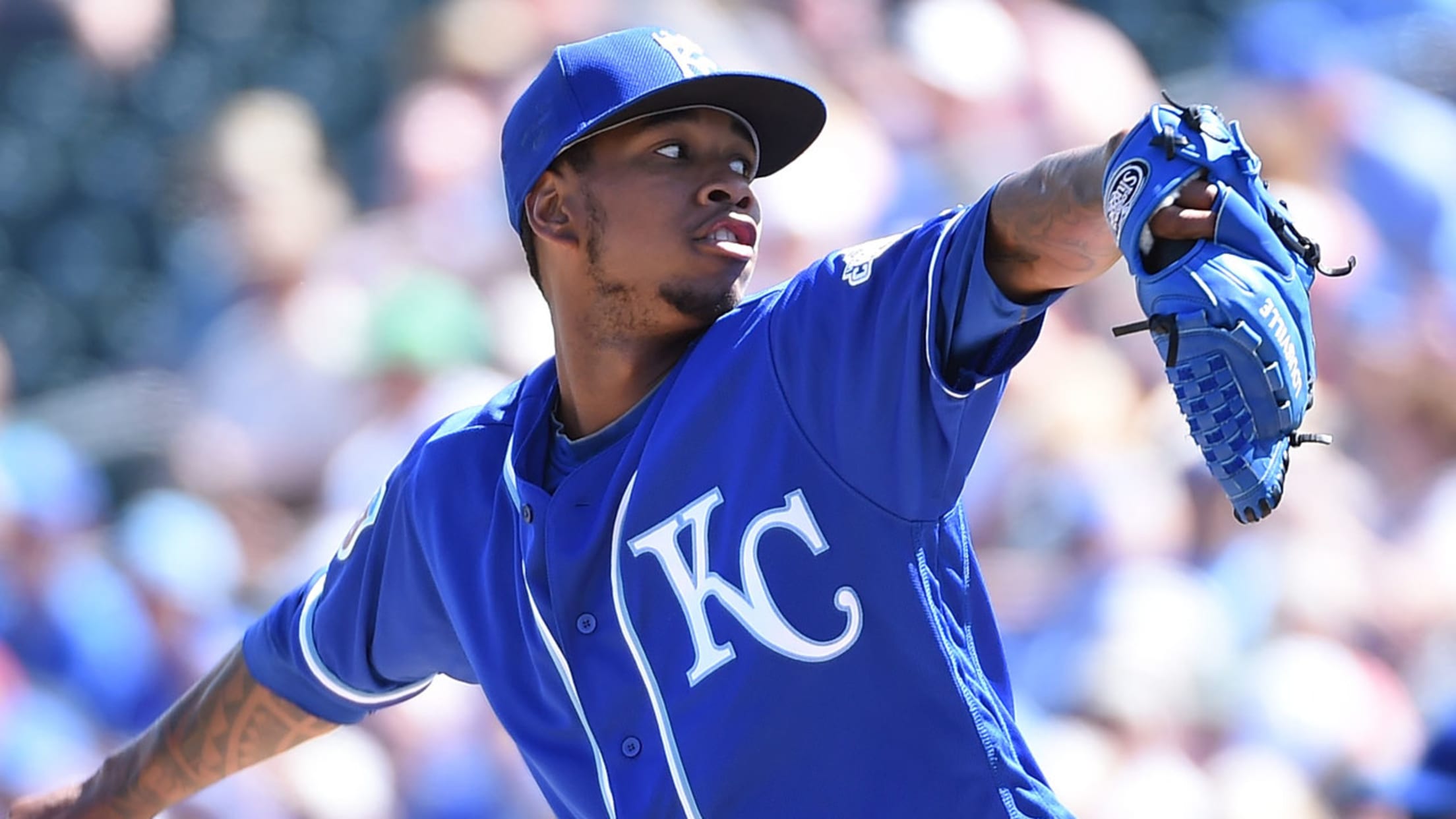 Yordano Ventura threw 62 pitches, 46 for strikes, and he struck out the side in the first inning. (Getty)
SURPRISE, Ariz. -- Right-hander Yordano Ventura struck out six batters in four innings while allowing one run in the Royals' 9-3 win over the White Sox on Monday in a Cactus League matchup at Surprise Stadium.Ventura threw 62 pitches, 46 for strikes. He struck out the side in the first
SURPRISE, Ariz. -- Right-hander Yordano Ventura struck out six batters in four innings while allowing one run in the Royals' 9-3 win over the White Sox on Monday in a Cactus League matchup at Surprise Stadium.
Ventura threw 62 pitches, 46 for strikes. He struck out the side in the first inning. After his previous start, Ventura said he would work on his curveball the next time out.
"I was trying to work on it early in the count and then also for strikeouts," Ventura said. "It's good to have a feel for all your pitches right now."
"He had a good fastball, good breaking ball, good changeup," manager Ned Yost said. Throwing them for strikes. He had a good day."
Alex Gordon drilled his third homer of the spring, and second in two days, to lead off the Royals' first inning. Lorenzo Cain added a two-run homer in the third inning, his first of the spring.
Cain also singled and scored on an RBI hit from Paulo Orlando, who appears to be sewing up the starting right field job in the absence of the injured Jarrod Dyson (strained oblique). Dyson is expected to miss the first two weeks of the regular season.
Travis Snider hit the Royals' third homer -- a three-run blast in the seventh inning to break it open.
"Good to see Gordy hit another home run. And Lorenzo swung the bat well," Yost said. "And it was good to see Snider drive the ball. Everyone is progressing."
Right-hander Jacob Turner, a first-round pick of the Tigers in the 2009 Draft, started for the White Sox and went three innings, giving up six hits and four runs.
"I felt pretty good about the first inning to be honest," Turner said. "I felt like I executed a lot of pitches, a lot of balls found holes. I left a pitch up to Gordon.
"I felt good today. I felt like I had good life on the fastball and the breaking ball when I got ahead was pretty quality. It was a matter of getting ahead. I fell behind too many guys. But for the most part I executed a lot of good pitches."
White Sox right-hander Carson Fulmer, the club's No. 1 prospect according to MLB Pipeline.com, threw a scoreless fourth inning.
Royals reliever Joakim Soria struck out the side in his only inning of work.
Up next for White Sox: Left-hander Jose Quintana will make his second Cactus League appearance as the White Sox return home to face their neighbors at Camelback Ranch, the Dodgers, on Tuesday at 3:05 p.m. CT. Quintana allowed two earned runs in 4 1/3 innings in his spring debut. The White Sox offense likely will have Avisail Garcia back on the field after a day off on Monday. Garcia already has 11 RBIs and 10 hits this spring.
Up next for Royals: Right-hander Ian Kennedy will get the start as the Royals travel to Goodyear Ballpark on Tuesday to face the Reds at 3:05 p.m. CT. Former Royals first-round Draft pick Brandon Finnegan is slated to pitch for the Reds. The game can be seen live on MLB.TV and FOX Sports Kansas City.