Gallardo isn't sweating over rough first outing
Mariners starter felt good, but struggles with command vs. KC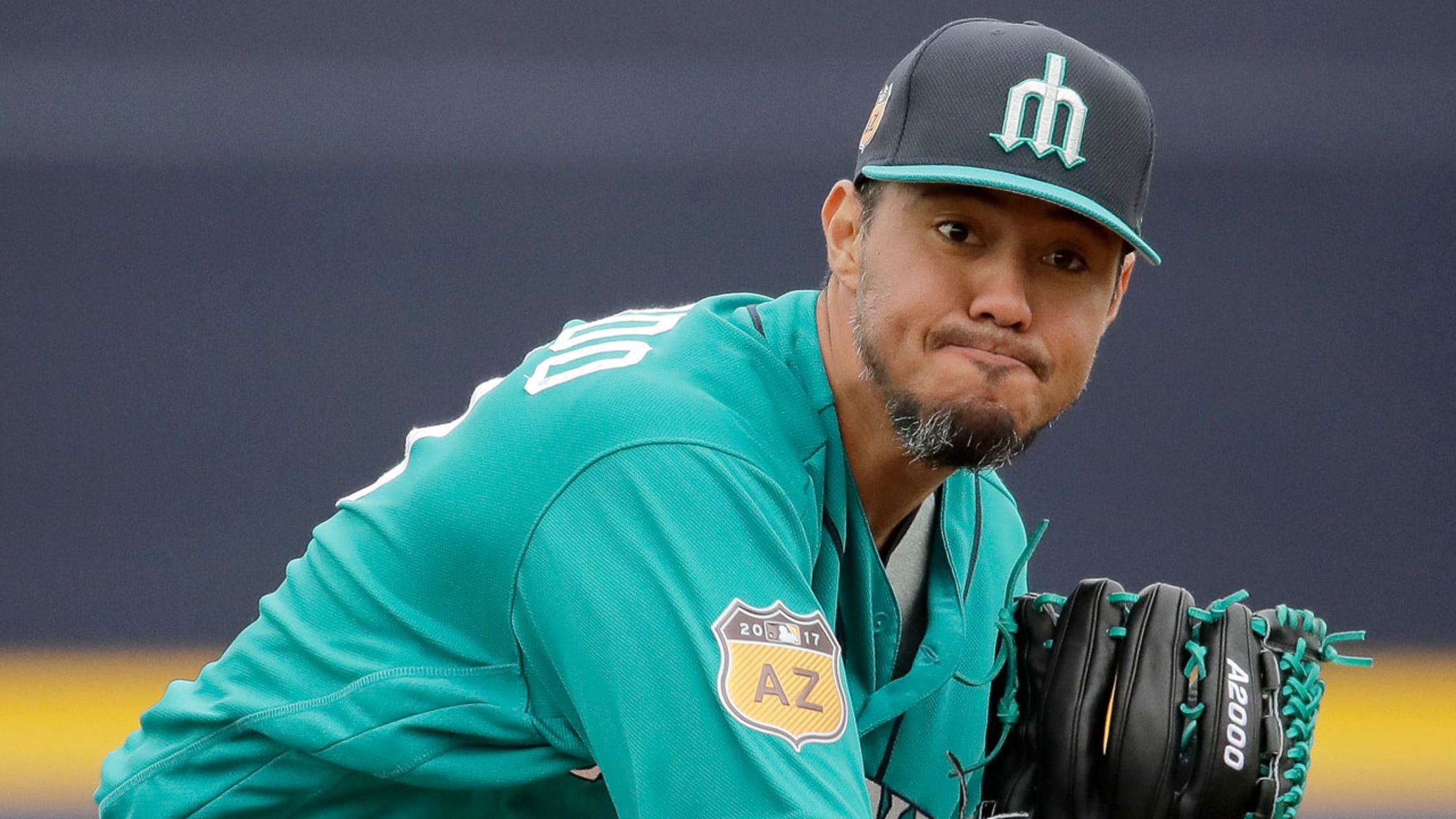 Mariners starter Yovani Gallardo was limited to just one inning of work after running up 35 pitches in the first frame. (AP)
PEORIA, Ariz. -- It surely wasn't the first impression Yovani Gallardo wanted to make with his new team, but the veteran right-hander said his arm felt fine and chalked up a rough outing in Monday's 14-3 rain-shortened loss to the Royals to first-game command issues as the Mariners took their
PEORIA, Ariz. -- It surely wasn't the first impression Yovani Gallardo wanted to make with his new team, but the veteran right-hander said his arm felt fine and chalked up a rough outing in Monday's 14-3 rain-shortened loss to the Royals to first-game command issues as the Mariners took their first Cactus League defeat.
Gallardo allowed four runs on three hits, two walks, a hit batter and a wild pitch as he was limited to just one inning of work after running up 35 pitches in the opening frame.
The 31-year-old, who was acquired from the Orioles in a trade for Seth Smith to fill out Seattle's rotation, will make another start on Saturday before joining Team Mexico for World Baseball Classic workouts on Sunday.
Gallardo retired leadoff hitter Alcides Escobar on a fly ball and had a 1-2 count when the starter hit Paulo Orlando. Things snowballed quickly from there as Gallardo walked Lorenzo Cain before Eric Hosmer doubled on a line drive that deflected off the glove of diving second baseman Taylor Motter.
Salvador Perez followed with a two-run double and Brandon Moss finished the scoring with an RBI single. Gallardo then got out of the inning, but only after catcher Mike Zunino picked Cheslor Cuthbert off first base.
"The first time out, you're always excited to get out there, but you also have to control your emotions and the excitement," said Gallardo, a 10-year Major League veteran. "It started when I hit Orlando, a curveball slipped out of my hand and I kind of let everything get on me for a little bit. But overall, I felt pretty good. I was just missing pitches by a little bit, just getting behind early in the count."
Mariners manager Scott Servais has encouraged Gallardo to pitch more aggressively this spring and not try to be too fine, but the first outing didn't get too far down that path.
"It wasn't like his misses were big, but when he left some stuff over the plate, it was up and very hittable," Servais said. "I'm sure he's not crazy about it. It's his first time out, it happens. And we had it happen to a few guys today. But we'll stay with the plan and he'll pitch again in five days."
Gallardo is one of 11 Mariners preparing for the World Baseball Classic, but he said there's no pressure to speed up his program.
"The most important thing is to just prepare for this team, for Seattle," Gallardo said.
And that means continuing to build up his arm and refine his command, starting on Saturday against the Rockies at Salt River Fields in Scottsdale.
Greg Johns has covered the Mariners since 1997, and for MLB.com since 2011. Follow him on Twitter [
---
@GregJohnsMLB]() and listen to his podcast.