Rehab start could follow Darvish's sim game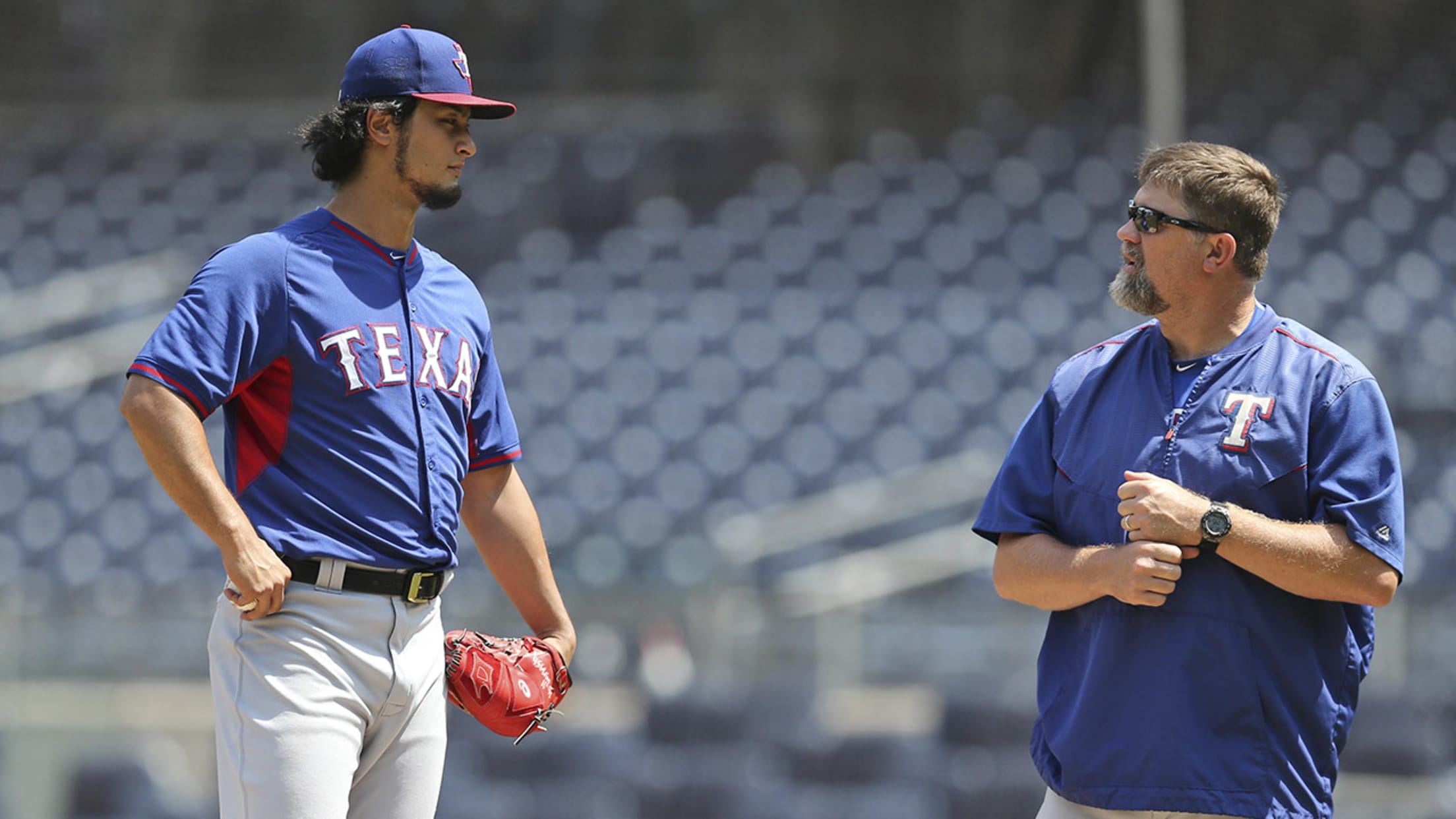 Yu Darvish (left) talks to Rangers pitching coach Doug Brocail during a simulated game Wednesday. (AP)
NEW YORK -- Yu Darvish, who is on the disabled list because of discomfort in his right shoulder, threw 46 pitches without problem in a simulated game on Wednesday afternoon at Yankee Stadium."At the beginning, it had been awhile since I faced hitters, so it was different," said Darvish, who
NEW YORK -- Yu Darvish, who is on the disabled list because of discomfort in his right shoulder, threw 46 pitches without problem in a simulated game on Wednesday afternoon at Yankee Stadium.
"At the beginning, it had been awhile since I faced hitters, so it was different," said Darvish, who hadn't pitched since June 8. "Later I felt really good."
The Rangers want to see how Darvish recovers on Thursday before they decide on his next step. It could be another simulated game at 60 pitches or a start in the Minors on a rehab assignment.
"He's healthy, that's the main thing," pitching coach Doug Brocail said. "I'm not talking about moving forward, because today is not the important day. Tomorrow is the important day. We'll see how he feels, and then we'll sit down and talk about it.
"It depends on how he feels. If he feels like going on a rehab assignment, I would like to send him on one. If he is reluctant, we'll wait."
Darvish returned on May 28 after missing 14 months while recovering from Tommy John elbow reconstruction surgery. He made just three starts before being shut down because of the discomfort.
The Rangers want one more outing -- either in a simulated game or a Minor League game. Darvish is not ready to pitch in a Major League game.
"No, absolutely not," Brocail said. "He hasn't built up [his durablilty]."
Darvish's next outing would be 60 pitches. The one after that would be 75-80 pitches, and Brocail said that might be a Major League start, but likely after the All-Star break.
"It depends on what they say upstairs and how he feels," Brocail said. "This all goes on how he feels. We're in no hurry."
Brocail has been working with Darvish on his mechanics, trying to get him to follow through on his delivery. Brocail said Darvish has been cutting that short, which caused the shoulder problems. Brocail said Darvish got more comfortable with his mechanics as the simulated game progressed.
"I didn't drastically change my mechanics," Darvish said. "Just minor. A few days ago, I found it, and it felt pretty good today."
"All in all, a good day," Brocail said. "Way better finish."
Darvish threw to Jurickson Profar and Ryan Rua. Profar had the one big hit with a home run to right field. Bryan Holaday did the catching.
"It looked great," Holaday said. "He threw the ball well and spun the ball well. It came out of his hand good. It was pretty impressive."
Surkamp claimed: The Rangers have claimed left-handed reliever Eric Surkamp off waivers from the Athletics and optioned him to Triple-A Round Rock. To make room on the 40-man roster, outfielder Drew Stubbs has been placed on the 60-day disabled list with a sprained joint in his left foot.