Blue Jays land a competitor in righty Godley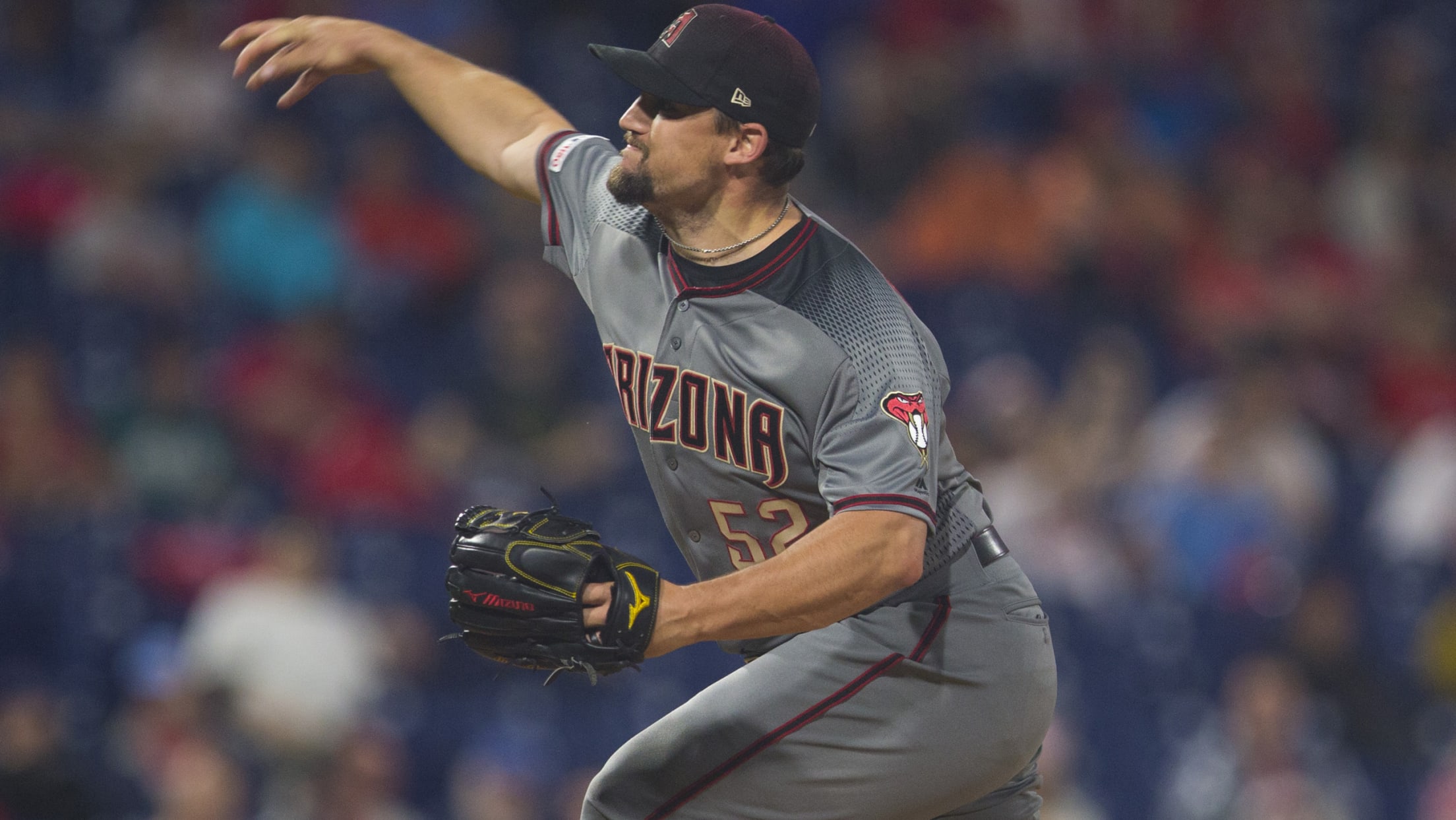 TORONTO -- In acquiring Zack Godley, the Blue Jays are getting a fighter. The 29-year-old right-hander spent his last five seasons in the D-backs organization. In Toronto he reunites with Matt Buschmann, the bullpen coach for the Blue Jays and Godley's former rotation-mate at Triple-A Reno. Buschmann made 24 starts
TORONTO -- In acquiring Zack Godley, the Blue Jays are getting a fighter.
The 29-year-old right-hander spent his last five seasons in the D-backs organization. In Toronto he reunites with Matt Buschmann, the bullpen coach for the Blue Jays and Godley's former rotation-mate at Triple-A Reno.
Buschmann made 24 starts for the Aces in 2016, while Godley split his time between Double-A, Triple-A and the Majors that season, getting six turns in Reno's rotation. The 6-foot-3, 240-pound hurler left a lasting impression after those starts, posting a 3.31 ERA over 32 2/3 innings with 15 walks and 38 strikeouts.
"He's just a competitor," Buschmann said. "That's the one thing that stood out to me -- he's an intense competitor. You'll see it when he pitches; he competes with every pitch. Outside of that, I remember him having a really good curveball, and he could throw his fastball wherever he wanted to.
"As a starter back in '16, every fifth day, he was going to work hard and give you everything he had. It's like he's ready for a fight every time he's pitching. It's good."
Godley joins a depleted pitching staff in Toronto, with the Blue Jays having dealt starters Marcus Stroman and Aaron Sanchez, along with relievers Daniel Hudson, David Phelps and Joe Biagini, at the Trade Deadline.
Though Godley was listed among the members of the bullpen ahead of Thursday's series opener with the Yankees, manager Charlie Montoyo said, "He's going to give us length," not ruling out a potential rotation role.
"Let me see him first," Montoyo said. "Let's see what he does."
Godley was given an immediate chance, entering Thursday's 12-6 loss in relief of starter Thomas Pannone. Pannone had struggled, and so did Godley, allowing three runs on five hits (including a homer) in three-plus innings.
With the D-backs this year, Godley went 3-5 with a 6.39 ERA in 27 appearances (nine starts). Over five seasons in the Majors, he is 36-30 with a 4.70 mark over 122 games and 81 starts.
Though Arizona is the only organization Godley has known at the big league level, he is looking forward to a fresh start with Toronto once he gets through his first challenge -- learning the names of his teammates.
"The welcome has been awesome," Godley said. "Everybody's super nice, everybody's been great. The biggest thing for me is trying to learn names. [There are] a lot of names to learn, because I don't know hardly anybody, to tell you the truth. I played with [Brandon] Drury for a little bit, but for the most part, I haven't played with a lot of the guys.
"I'm excited for the opportunity. I'm happy these guys are taking the chance on me, and I'm excited to get started."
To make room for Godley on the 25-man roster, the Blue Jays optioned right-hander Brock Stewart to Triple-A Buffalo.
The Blue Jays acquired Stewart off waivers from the Dodgers on July 31 and activated him on Monday. They'd looked for him to figure in as a middle-game innings-eater or a bulk guy on the days Toronto opted for an opener. But Godley has experience both starting and relieving, so he could potentially fill a number of roles.