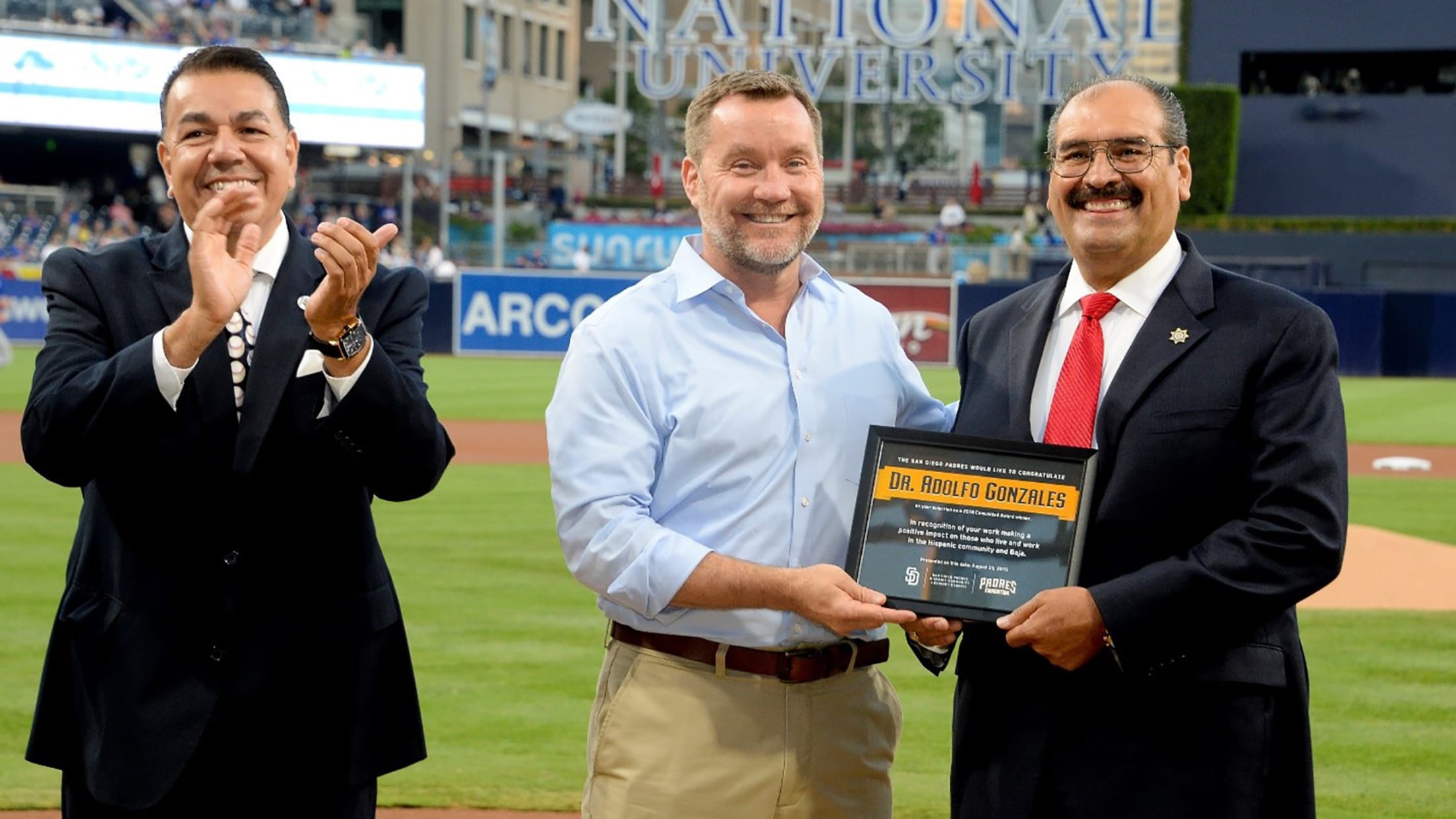 Comunidad Awards
The Padres are currently accepting nominations for the 11th annual Comunidad Awards, presented by COX, which will be announced and celebrated during Hispanic Heritage Weekend (Sept. 30-Oct. 2). This award recognizes and pays tribute to individuals or organizations whose work has made a positive impact on those who live and work in San Diego's Hispanic community. One nominee will be selected from each of the four categories: LIVE (health & mentorship), LEARN (education), PLAY (recreation), and SERVE (volunteerism, military, and first responders). One nominee will be selected from each category.
Nominations will be accepted through Friday, August 19 and winners will be notified in mid-September.
Congratulations to the 2021 recipients and charitable organizations who received $2,500 from the Padres Foundation in their honor including Dr. Mark Sanchez (donation benefitting the Boys & Girls Club Oakes Branch in Barrio Logan), Dr. Albert Pulido (donation benefitting the Turning Wheel Classroom Project through USD), Louis Natividad (donation benefitting the SUHI Foundation Scholarship Fund), and Chris and Julianne North (donation benefitting Build A Miracle).
Past Comunidad Award Winners
| YEAR | LIVE | LEARN | PLAY | SERVE |
| --- | --- | --- | --- | --- |
| 2021 | Dr. Mark Sanchez | Dr. Albert Pulido | Louis Natividad | Chris and Julianne North |
| 2020 | Rev. Richard Brown | Adela Garcia | Blanca Uribe | Memo Cavada |
| 2019 | Alejandro Martin del Campo | Rachel Ortiz | Ernie Lucero | Mery Lopez Gallo |
| 2018 | Gloria Newell | Ana Reyes | Jose Mercado | Officer Raymus Payton |
| 2017 | Yolanda Walther Meade | Venus Molina | Al Alvarado | Jesse Navarro |
| 2016 | Humberto Gurmilan | Andrea Skorepa | Janett Gaytan | Dr. Adolfo Gonzales |
| 2015 | Niki Mani | Gaby Beas | Alex Rejto | Edwin Garrette |
| 2014 | Jose Montaño Foundation | La Maestra Community Center | Ricardo Lopez | Association of Naval Services Officers (ANSO) |
| 2013 | Emilio Nares Foundation and Friends of Scott Foundation | Aldo Sanchez | Ramon Aldana | Los Bomberos de San Diego |
| 2012 | Dr. Raul Trejo | Armando Cataño | Daynara Castillo | N/A |