The official app for mobile ticketing
Everything you need at your fingertips.
Cubs Spring Training tickets will be available exclusively as mobile tickets via the free MLB Ballpark app. The free MLB Ballpark app is your secure and convenient way to instantly access Cubs tickets at Sloan Park via your mobile device.
Use the free MLB Ballpark app to:
Buy tickets on your mobile device
Scan in for entry to Cubs games at Sloan Park on your mobile device
Share tickets from your mobile device with your family and friends instantly
Mobile ticketing has replaced print-at-home as a more secure instant delivery option when purchasing tickets for Cubs games at Sloan Park.
iPhone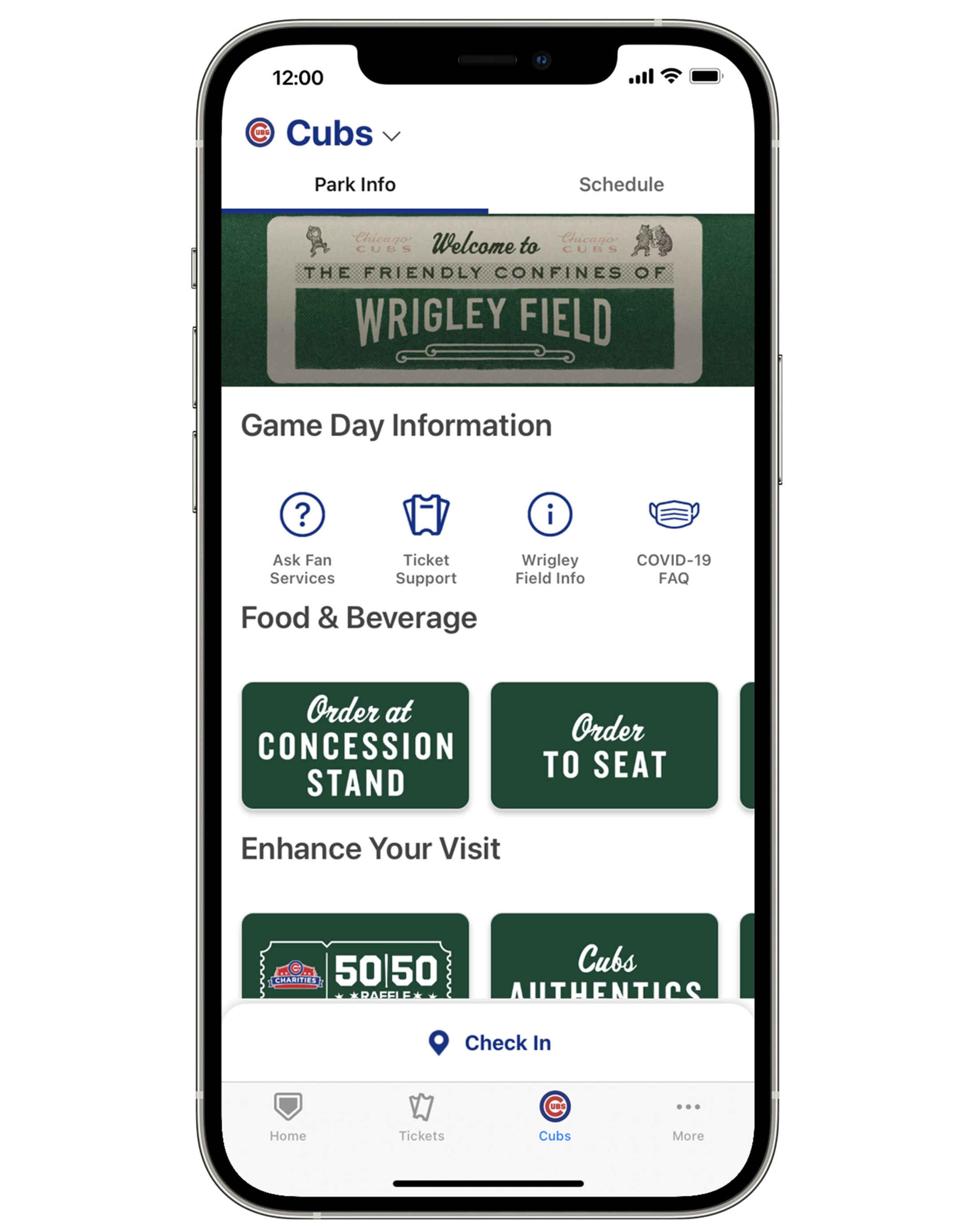 App Highlights
Signing in
You'll be asked to log in with your MLB account. If you can't remember your password, you can have a new one emailed to you directly from the Ballpark app. If you don't have an MLB account, you can easily create one.
Get your tickets on the app
If you purchased tickets with the same email address you used to log in to the Ballpark app, your tickets will already be tied to your MLB account and will automatically appear. You may need to verify your email address in order to access and manage your tickets.
To verify your email address, from the Home tab, tap the Profile icon in the top left hand corner, and choose My MLB Account Emails where you can have a verification email sent to the email address you used to purchase your tickets. Click the VERIFY EMAIL link sent to your email inbox and your tickets will be accessible in the "Tickets Tab" and "Home Tab".
Meeting friends or family at Sloan Park?
Forward them a ticket by going to Wallet within the "Tickets Tab" and selecting the game you're attending. From the game's ticket list, tap the forward button and select which tickets you want to forward.
Choosing via email allows you to enter an email address directly, select contact list to use your device's address book, or quickly send tickets to friends you've forwarded to recently by tapping on their email. Your friend will receive a notification that you've sent them mobile tickets.
Don't know someone's email address? Share tickets via text when you choose to forward via a link.
At the Game
Make sure to enable location to access venue information, app features, and exclusive check-in offers when you're at the stadium. Don't forget to turn on notifications to get updates on your game tickets, important ballpark information, promotions and more.
When you arrive at the ballpark, the Home and Cubs tabs will be your central source for venue information and features to enhance your stadium visit. To document your visit at Sloan Park, upload photos of your memories to My History. Simply go to the Home tab and click on "Go to My History" or tap on the Profile link in the top corner to check out the details of your ballpark check-ins.