Dean Deetz, Cre Finfrock, Cisco Factor and the rest of the best names from the 2014 MLB Draft
The 2013 MLB Draft featured such highly touted names as Kris Bryant, Jon Gray and Mark Appel, but they weren't the only memorable monikers we were introduced to last year. We also got to meet people like Sicnarf Loopstok, Narciso Crook and Daniel Rockett.
The 2014 Draft kicks off Thursday night, and in preparation, our friends over at MLB Pipeline put together a rundown of the top 200 players in the draft pool.
Well, we couldn't help but notice that some of these guys have pretty amazing names, themselves. Take, for instance ...
Derek Fisher -- outfielder
Fisher is actually MLB.com's No. 26-ranked player, so there's a real possibility that you'll hear his named called on Thursday night in the first round. Of course, there's also a real possibility that he'll accidentally be signed as the head coach of the Knicks before then.
Justus Sheffield -- left-handed pitcher
MLB Pipeline lists Sheffield as the No. 39 overall player in this year's class, and if his name is any indication, he's a lock to wind up on the Yankees or Braves at some point in his career.
Dean Deetz -- right-handed pitcher
For those of you in the market for a new favorite baseball player, I'd like to humbly offer No. 140-ranked Dean Deetz for your consideration. Not only does he have a delightful name, this is what he looks like:
Cre Finfrock -- right-handed pitcher
The MLB Pipeline scouting report says, "Finfrock has a quick arm, helping him produce impressive velocity in spite of his small frame. He throws his fastball in the low-90s and has touched 96 mph." The Cut4 scouting report says, "Finfrock is a really fun name to say. Finfrock. FinfrockFinfrockFinfrock."
The rest of these names didn't find themselves on the Top 200 list for MLB Pipeline, but they're still very much on the minds of baseball's talent scouts and could most definitely be drafted in the coming days.
And, we promise: these names are 100 percent real.
Blaze Tart -- right-handed pitcher
If you name your child "Blaze," he's destined for one of only two career paths: baseball pitcher or American Gladiator. Unfortunately, only one of those is still a thing, but thankfully, Blaze Tart has found himself excelling in that field.
Blake Drake -- outfielder
Hopefully, Blake Drake will get a fair shake to prove he can rake. He may make a mistake, but if you give him a break for goodness' sake, he'll take the cake. He's not a snake like Jake -- he can play through an ache, powered by nothing more than steak.
Chase Corn -- outfielder
Chase Corn is possibly the only player in this year's MLB Draft whose name is also a complete sentence. That it's also vaguely baseball related is simply icing on the cake.
Michael Mann -- catcher
If he's not drafted by Miami, it'll be a real shame.
Mat Batts -- left-handed pitcher
Yes, you read that right: Mat Batts is a pitcher. Should he reach the majors, he'll join Homer Bailey and Grant Balfour on the All-Unfortunately-Named-Pitchers team.
Maverik Buffo -- right-handed pitcher
Top Gun is all the rage right now, and it even looks like they're going to make a sequel to the iconic '80s film. It seems fitting that a Maverik could show up in the Majors right around the same time as the new movie.
Tye Rambo -- outfielder
From one classic of 1980s cinema to another. Tye Rambo has made a request that whichever team drafts him install extensive pyrotechnics in the outfield: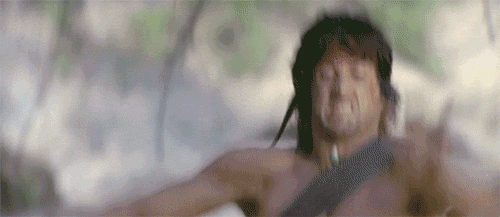 Cisco Factor -- outfielder
It's important that you don't mix him up with the sabermetric statistic "Sisqo Factor", which measures the number of thongs in the universe.
Samuel Johnson -- right-handed pitcher
You may be more familiar with Samuel Johnson's work on one of the most important dictionaries in world history, but he's also an accomplished pitcher.
Rock Rucker -- outfielder
You know, if this baseball thing doesn't work out, Rock Rucker can always fall back on his other job: the main character of a film noir.
Denz'l Chapman -- outfielder
The interesting fact about Denz'l Chapman's first name is that it's very similar to actor Denzel Washington's first name, only much, much better.
Joey Pankake -- outfielder
Joey Pankake is actually a right fielder and not, as you may have previously believed, a competitive eater of breakfast foods.
Nigel Nootbaar -- right-handed pitcher
Many people assume that the Baby Ruth candy bar is named after Babe Ruth, but the company that created the treat said they named it after President Grover Cleveland's daughter, Ruth.
Famed internet hoax-busters Snopes.com argue that this is a lie. President Cleveland left office in 1897, and Ruth Cleveland passed away in 1904, while the Baby Ruth candy bar made its debut in 1921. That would make her an odd choice for a candy tribute. 1921 also happened to be Babe Ruth's second season with the Yankees, during which he led the league in both home runs and RBIs en route to the AL pennant -- the theory being that the company created the Ruth Cleveland story as a way of not owing Babe Ruth any royalties.
What's the point of all this? Tell me you wouldn't eat a delicious nougat-filled chocolate bar called the Nootbaar.
J.P. Sportman -- outfielder
Do you enjoy the majesty of sport? Are you a passionate subscriber to meritorious teachings of the athletic class? Then follow, with great interest, the career of professional base-ballman J.P. Sportman of Connecticut.
Blake Griffin -- right-handed pitcher
Aw, man. Now Pau Gasol can't go to baseball games either: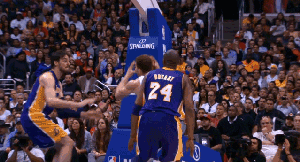 Handsome Monica -- catcher / first baseman
Take a look at this:
This guy - Handsome Monica (@HandsomeOVO) - might have the best name in the 2014 @MLBDraft class AND the best photo. pic.twitter.com/ag7Njk6OHV

- MLB Pipeline (@MLBPipeline) May 8, 2014
He's the guy applying the tag. Also, his twitter handle includes OVO. Handsome Monica should already be in the MVP conversation. For 2014.