Brad Pitt vs. Lorde and other very important AL Wild Card matchups to watch
Comparing postseason teams based on WAR and UZR is fun, but so is comparing them based on their celebrity fans. Let's take a look at the AL Wild Card Game: Oakland Athletics vs. Kansas City Royals
Pop culture moment
Oakland's top pop culture moment is probably the clearest of all 10 postseason teams (and perhaps the most famous). It involves a Michael Lewis book, Brad Pitt and the 2002 A's. Here's The Streak scene from Moneyball.
The film was nominated for six Oscars and made more than $75 million at the box office. It was a roaring success.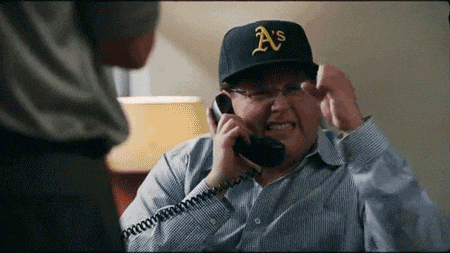 KC's brush with the entertainment industry is also quite noteworthy. Earlier this year, Lorde admitted that her Grammy-winning song "Royals" was kind of inspired by a Royals player. Seriously:
Eventually, we found out the player was George Brett. We weren't surprised.
Superfan
O.co Coliseum is full of so many incredible fans, but one of our favorites from this year had to be the guy that played along to Josh Reddick's "Careless Whisper" walk-up song with a real saxophone:
We're never gonna dance again, the way we danced with you, A's saxophone guy.
Kansas City's superfan may be the super-est of the bunch. SungWoo Lee, a citizen of South Korea, has followed the Royals since the 90's, and in August, he finally saw his first game at Kauffman Stadium.
Lee was given the Royals treatment while in town and the team soared into first place.
Memorable first pitch
After throwing out MLB's first telerobotic first pitch last season, Nick LeGrande, who suffers from a life-threatening blood disease, appeared at O.co to do the honors in-person this year. He nailed it:
Born without arms, Tom Willis volunteered to throw out the first pitch before a Royals game in July. "But, how?" you might ask. This is how.
Food
While the A's have some incredible food options including a barbecue stand that offers freshly made peach cobbler (what?!), it's unfair to compare Bay Area BBQ to the masters in Kansas City.
Which is why we'll highlight that the A's are the home to some of MLB's greatest deep fried delights. The Coliseum lets you indulge your breaded dreams with jalapeno poppers, corn dog poppers and even cheeseburger poppers, the likes of which are normally reserved for the county fair. That's right, who needs a bun when you can have a cheese-injected deep fried loaf. Mmmm.
Ball Park Poppers. The place to go this year for food @OdotCoCOLISEUM @Athletics #monstercorndog #athletics pic.twitter.com/eVc5sFjd0P

- Loreen & Bryan (@makiwolf) April 19, 2014
Yes, the Royals may have a spicy peanut butter bacon burger, but when visiting the home of BBQ, the place where people make pilgrimages for smoked meats, you have no choice but to give it up for their brisket-achos. In case you can't crack the code, those are nachos that have been covered in barbecued brisket, cheesy corn and cole slaw. Of course, it's also served in a helmet. That's an important fact, too.
Throwback postseason performance
The A's, who've won nine World Series titles, have had many big postseason moments. Reggie Jackson's home runs, Joe Rudi's catch and Gene Tenace all come to mind. But perhaps the greatest performance was by Rickey Henderson in the A's 1989 Fall Classic victory. After being named the ALCS MVP, Henderson tallied nine hits, two triples, three steals, a .474/.524/.895 slash line and one long home run:
Unlike Oakland, the Royals don't have as many postseason moments to choose from. But the last time they played in October, they won the World Series. Here's Bret Saberhagen's five-hit shutout against the Cardinals in Game 7 of the 1985 Fall Classic:
Most definitive 2014 highlight
Though he was traded to Boston so that the A's rotation could become the most powerful natural force on Earth (take that, gravity) no highlight better summed up the energy and pizzaz of the Oakland Nine than Yoenis Cespedes' rocket throw to nail Howie Kendrick at the plate.
I mean, that wasn't just a throw. That was an actual missile fired by Yoenis Cespedes who seemingly has a built-in target lock.
That's a play we'll be talking about every time someone makes a great throw over the next twenty years kind of like this Bo Jackson toss. Which is a convenient transition because, hey, Royals:
No highlight better sums up a Royals team that had zero 20-home run hitters but three players with at least 28 steals better than this Lorenzo Cain's walk-off infield single which scored Terrance Gore score from second base. That's right, Gore came around from second on a ball that didn't even reach the base. With the Royals seeing postseason baseball for the first time in 29 years, expect more moments like this.
X-factor
Beards. Seriously, they have walk-off summoning spells.
If things start off poorly and the Royals are unable to get anything going offensively or defensively, they know what to do. They know who to look toward. They know who will will them to postseason glory.
Matt Monagan writes at night for Cut4. In his spare time, he travels and searches Twitter for Wily Mo Pena news.
Teams in this article:
Topics in this article: