Is this 'Groundhog Day'? Kevin Pillar makes ANOTHER amazing catch
Kevin Pillar makes ANOTHER amazing catch
If you've been keeping tabs on the Blue Jays' Kevin Pillar, you may feel like you're living in a direct-to-video sequel to "Groundhog Day." The only difference being that this one stars Kevin Pillar instead of Bill Murray and instead of being about romance and learning to be a better person or whatever, it's just about the Blue Jays centre fielder making insane catch after insane catch.
Honestly, I love "Groundhog Day," but this sounds like a better movie.
Already this season Pillar has auditioned for a role as Spider-man in the newest incarnation of the character ...
Tried to be Wilbur Wright and take flight ...
And even went running into the wall at 18 mph on Thursday night to grab this Brandon Moss blast and end the time loop that he's become stuck in.
Unfortunately, that wasn't enough. Whatever life lesson he still needs to learn is yet to be absorbed. So on Friday night, Pillar raced back on Jason Kipnis' long drive and again flung himself into the wall.
Said manager John Gibbons after the game:
"The big difference is that [Pillar's] out there every day. He wasn't the last couple years, he was playing a platoon role and facing lefties and there aren't many lefties. Now he's playing every day and he's settled in."
But has Pillar been playing every day? Or has it simply been one day looped on repeat? I mean, I started this comparison to "Groundhog Day" as a joke, but honestly, I'm not so sure anymore.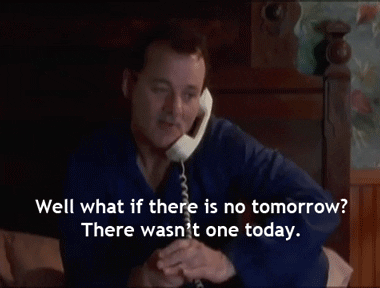 (Additional reporting by August Fagerstrom/MLB.com)