Kristopher Negron is a huge Warriors fan, wore amazing Chris Mullin socks under his uniform
Negron wore Chris Mullin socks under his uniform
If you're anything like me, you may be surprised to learn that the NBA playoffs are going on right now. I know, I know -- shocking, right? But, if you're anything like Kristopher Negron, you've probably been obsessively looking forward to matchups like Penny Hardaway versus Charles Barkley. (Wait, you're saying they've both retired?! What about Detlef Schrempf? Him too?!)
Negron, the Reds utility player and resident northern California resident, is a massive Warriors fan. And not just one who got into the team during their 67-15 dominant run through the Western Conference -- he's one who owns a pair of gorgeous Warriors socks featuring throwback NBA-Jam-and-flat-haircut-legend Chris Mullin:
Oh yeah, I guess that Mullin did some cool stuff on the actual basketball court, too.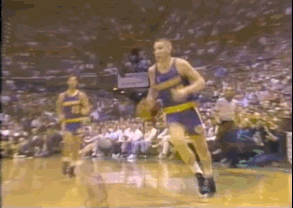 Naturally, with socks that sharp, he had no choice but to wear them under his Reds socks on Saturday when Cincinnati played St. Louis and the Warriors took on the Pelicans in Game 1 of their playoff series. Unfortunately, though the Warriors won, the Reds did not. Because of that, these pieces of wearable art will be left in the clubhouse for future games.
Unless we can convince Negron to cut off the toes and wear them as arm warmers. I know a lot of middle school classmates who did that, so the look is surely primed for a comeback ... just like Penny Hardaway. I mean, a man can dream, right?