Watch Steve Aoki throw a ceremonial first cake at Dodger Stadium
Steve Aoki throws ceremonial first cake for Dodgers
DJ extraordinaire Steve Aoki threw out the ceremonial first cake before Sunday's Rockies-Dodgers game. No, that's not a typo -- Aoki actually fired a mini-cake from the mound because, well, that's just something he enjoys doing: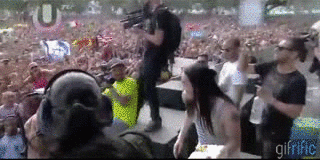 Here is the said ceremonial first cake:
As you can see in the above video, it was better than his first pitch (and most first pitches we've seen by musically-inclined celebs in the past). Conclusion: we'd like to see more first cakes, first hot dogs and first taco-in-a-helmets in the near future.