10 other Rookies of the Year for 2018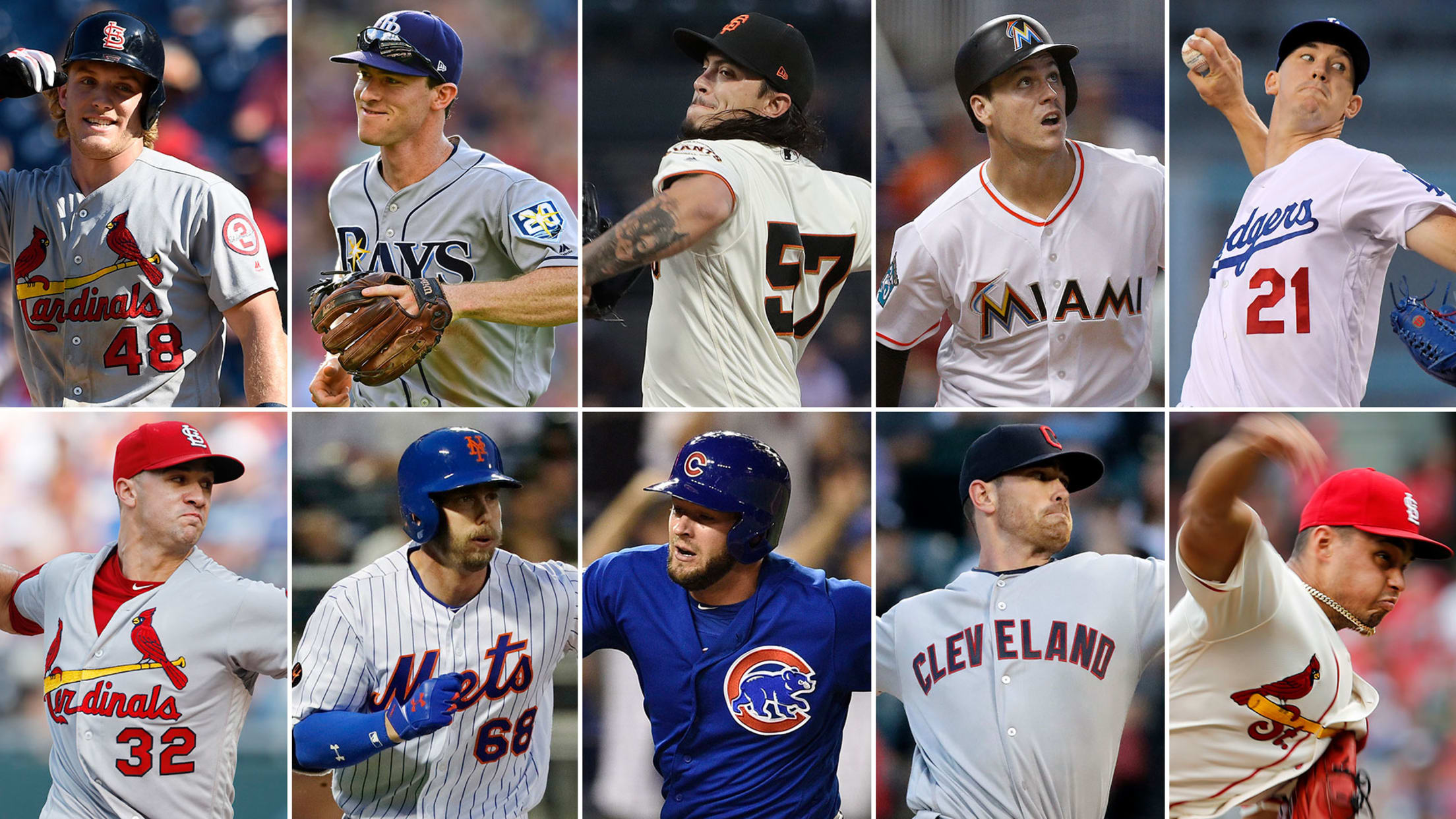 If you feel as though you've been reading about a lot of historic rookie stuff in this 2018 season, your eyes do not deceive you.With 19 homers and upward of 50 good innings for the Angels, Shohei Ohtani really did live up to that circa-1919 Babe Ruth billing, even if
If you feel as though you've been reading about a lot of historic rookie stuff in this 2018 season, your eyes do not deceive you.
With 19 homers and upward of 50 good innings for the Angels, Shohei Ohtani really did live up to that circa-1919 Babe Ruth billing, even if his right elbow ultimately didn't cooperate. Miguel Andujar and Gleyber Torres are the first Yankees rookies with 20 homers each. Any of those three guys would be a worthy American League Rookie of the Year Award winner.
Then there's the National League. Whoa. How'd you like to be one of the NL Rookie of the Year Award voters who has to choose between the historic 20-year-old production of Ronald Acuna Jr. (just the seventh player with a 25-homer season before age 21) and the historic 19-year-old production of Juan Soto (No. 3 and still climbing the all-time list of homers by a teenager)?
The only problem with these ridiculous rookie seasons is that they threaten to overshadow the large swath of other first-timers who, in many years, would have had a real shot at the Rookie of the Year Award.
So here's a list of 10 (-plus) guys whose performance you might have overlooked.
1. Harrison Bader, CF, Cardinals
When the Cardinals shipped out Tommy Pham, it opened the door to more playing time for Bader, who trails only Acuna and Soto among rookie position players in FanGraphs' Wins Above Replacement. He will quite likely never have an offensive season akin to what Pham gave St. Louis last year, but he makes his presence known in other ways -- with his dynamic legs and glove. Bader is tied with Atlanta's Ender Inciarte atop Statcast™'s outs above average metric, and he had the speed to recently score from second on an infield single.
2. Walker Buehler, SP, Dodgers
Friday's dominance of the Cardinals at a veritable must-win moment in the Dodgers' schedule was a window into what this kid is accomplishing this season. Expectations were high for Buehler coming into this year, because, when you're a former first-rounder who has a 100 mph fastball and a plus curve, you tend to attract attention. He has somehow managed to live up to the hype. He's limiting traffic (0.99 WHIP), striking out more than a batter per inning and logging an ERA+ 37 percent better than the league average. That's a pretty good start to what could be a top-of-the-rotation-type career.
3. Joey Wendle, UT, Rays
Wendle actually outpaces Andujar and Torres in fWAR (2.9). Wendle has been solid at the plate (.293/.339/.424) and has hit in various spots in the lineup, but his real value lies in his ability to play second base, shortstop, third base and left field well. He never really got much opportunity with the A's, who acquired him in the 2015 Brandon Moss trade with the Indians. But Wendle has been a big part of the Rays' surprisingly stout season.
(By the way, another Tampa Bay position player, Ji-Man Choi, is listed as a rookie in some places and would definitely be worthy of this list, but he actually exceeded his rookie limits because of Major League service time in 2016.)
4. Dereck Rodriguez, SP, Giants
The Giants showed their age this season, but this 26-year-old has been a real ray of hope. Rodriguez's name wasn't on the top prospects list going into the year, but he got a shot in the bigs after just nine starts in Triple-A and has been fantastic, with a 2.35 ERA and 168 ERA+ over 103 1/3 innings.
5. Brian Anderson, RF, Marlins
Anderson is the "other guy" in the NL East rookie scene. He's on a predictably bad Marlins team, which is to say he's invisible to the casual fan. But Anderson has had a really nice first full season in Miami, with 31 doubles and a .753 OPS to go with eight assists in right field (after transitioning from third base in the first half).
6. Jack Flaherty, SP, Cardinals
Another former first-rounder, Flaherty has a deep arsenal and gained a reputation as a reliable strike-thrower in the Minors. Thrust into duty in an increasingly young Cards rotation, he has delivered with 10.9 strikeouts per nine, a 133 ERA+ and the second-highest innings total on the team.
7. Jeff McNeil, 2B, Mets
McNeil is a former 12th-round Draft pick who was limited by injury to just 51 games in the Minors in 2016 and '17 and was never considered a big prospect. And even when his bat caught fire in Double-A Binghamton and Triple-A Las Vegas this year, there was reluctance on the part of the Mets to bring him up. But McNeil has been one of the most valuable rookies in baseball in the second half, showing superb bat control en route to an .877 OPS, to go with good defense and baserunning instincts.
8. David Bote, 3B, Cubs
Bases loaded, two out, ninth inning, down three, and Bote walked it off with what some called an "ultimate grand slam" on national television on Aug. 12. That was the most meaningful and magical moment he provided with Kristopher Bryant on the shelf, but not the only time he's impacted this Cubs club in 2018. Bote hit another game-winning homer two weeks later, is 5-for-11 as a pinch-hitter and even made himself into a meme the other night.
9. Shane Bieber, SP, Indians
There was nothing particularly notable about having the last name Bieber until around 2009 or so, but Shane has learned to handle his awkward appellation with grace, even donning a "Not Justin" jersey for Players' Weekend. As far as what he does on the mound, Bieber's 4.32 ERA through 17 starts is not going to earn him Justin Bieber-like attention. But his 3.00 FIP is much more indicative of how well his command and poise has translated to the bigs -- and why he entered the weekend leading all rookie pitchers in fWAR (2.6).
10. Relievers galore: Lou Trivino, A's; A.J. Minter and Dan Winkler, Braves; Seranthony Dominguez, Phillies; Yoshihisa Hirano, D-backs; Jordan Hicks, Cardinals; Corbin Burnes, Brewers
As baseball becomes increasingly bullpen-oriented, it's essential that clubs groom arms that can come up and throw impact innings right away. So here are seven guys -- basically, a full bullpen worth -- who have done just that on contending clubs (Hirano is a different kind of rookie in that he was signed out of the Japanese Pacific League).
The quick and dirty analysis: Trivino has thrown north of 70 innings for the surprise A's. Minter and Winkler have helped stabilize a Braves bullpen that was not a defined strength going into the season. Dominguez ran out of gas in the second half but was electric in the first for the rising Phillies. Hirano had a rather seamless transition to the States. Hicks jumped over two Minor League levels to take on a prominent role in the Cardinals' 'pen (that'll happen when you throw 105 mph). And Burnes has quickly taken on meaningful second-half innings for the Brew Crew despite not being on their 40-man roster at the start of the year.
Honorable mentions: Baseball is getting younger, rookies are increasingly being thrust into regular roles and, as a result, there are simply more guys worthy of mentioning here than a reasonable column length would allow. So I went into this knowing I could rightly be accused of overlooking some rookies in a column about overlooked rookies, which is not a good feeling.
So my apologies to the A's Ramon Laureano (he's done far more than just make the Throw of the Year), the Royals' Brad Keller (3.26 ERA in 18 starts, 2.01 in 21 relief appearances), the White Sox's Daniel Palka (22 dingers), the Tigers' Niko Goodrum (has played everywhere while providing league-average production), the Reds' Jesse Winker (he was having a great year before he had shoulder surgery), the Rays' Ryan Yarbrough (as a function of the Rays' opener strategy, he's going to have a 1970s-like "wins as a reliever" tally) and all the other worthy ones who didn't get their names in bold. Perhaps we'll cross paths again next year in a column about sterling sophomores.