The biggest questions left in each LCS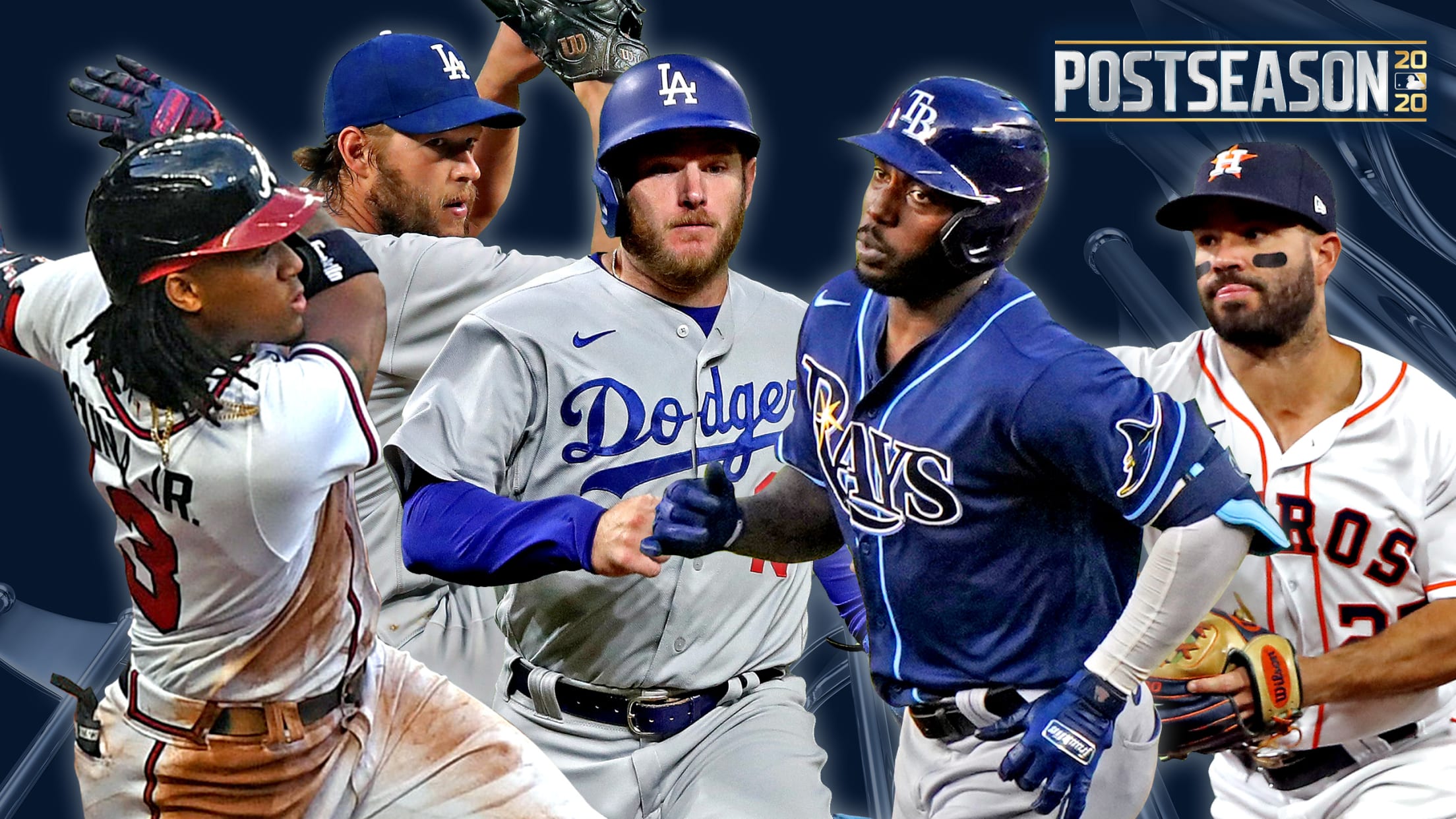 What's the old line? "You can't predict ball?" If you saw either one of Wednesday night's games coming -- or really, any night's -- you are a time traveler who probably should have seen what 2020 had in store for us and thus should have said something. Here are five
What's the old line? "You can't predict ball?" If you saw either one of Wednesday night's games coming -- or really, any night's -- you are a time traveler who probably should have seen what 2020 had in store for us and thus should have said something.
Here are five questions for each League Championship Series heading into Thursday:
ALCS Game 5: Rays vs. Astros, 5 p.m. ET on TBS
FAQs: Lineups, pitchers, more
1) Was Jose Altuve saving this for right now?
Altuve's struggles have not only been a primary reason for the Astros' disappointment, they've been a reason for skeptics to cast shadows and doubt on much of his past successes. He's had some trouble in the field this series, but with the bat, he's like his old self, except crossed with Hank Aaron. He hit his third homer of the series in a 4-3 win in Game 4 on Wednesday, and his second in the first inning, setting the tone and making it clear that the Astros weren't going to just roll over and let the Rays sweep. Altuve is under contract through 2024, so he's not going anywhere. But whenever this season ends for the Astros, it feels like it might be the end of an era, and Altuve has been there the entire time. It is perhaps not surprising that he is not ready to let go of that yet.
2) Anybody other than Arozarena gonna hit around here?
The mammoth out-of-nowhere success of Randy Arozarena, this series' obvious MVP if the Rays go on to win, has obscured the fact that no one else on the Rays offense is doing much. Arozarena has accounted for half of the Rays' homers -- including his fifth postseason shot on Wednesday -- and more than one-third of their hits. The number of Rays hitters struggling is rather remarkable for a team up 3-1 in the series, but of course no one is struggling more than Brandon Lowe, the Rays' best hitter during the regular season and the guy many felt was going to finally have his moment on the national stage these playoffs. Instead: He was out of the starting lineup for Game 4, and then he struck out meekly in a pinch-hit appearance in the ninth. You can probably expect to see him start Game 5, and they need him. The Rays' lineup hasn't been great this season. But it has usually been more than this.
3) Is Kiermaier going to return?
After he took a fastball off his hand in Game 3, the longtime Ray and face of the franchise sat out Game 4. It's not like the Rays lost because he didn't play -- Kiermaier is 2-for-9 in the series, and there weren't a ton of balls that Manuel Margot didn't get to in center field or anything -- but they did win Game 3 because of their outfield defense, and Kiermaier, as always, was in the middle of it. If the Rays make it to their first World Series in 12 years, they'll want to have their longest-tenured player on the field to celebrate. Having him in the field unquestionably makes it more likely that happens.
4) How do the Astros piece together the innings?
Dusty Baker surprised many by leaving in Zack Greinke to face Arozarena and Mike Brousseau in the sixth inning of Game 4, but it may have been even more surprising who he brought in to relieve him in the seventh: Cristian Javier, the man many felt would start a potential Game 5. Baker wanted to make sure that the Astros reached a Game 5, which makes sense. But now that he has one, who is gonna pitch this thing? It would seem like the Astros would just try to piece this together bit by bit, which will put a lot of stress on potential Games 6 and 7. Of course, worrying about hypothetical future games is exactly what Baker hasn't been doing -- which is why his team is still playing.
5) Can the Rays remember there is no reason to panic?
As every person who writes about sports never fails to remind people, there is only one example of a team taking a 3-0 lead and losing it: The Yankees against those Red Sox in the 2004 ALCS. Otherwise, nada. So don't sweat it, Rays! You've got three more chances at this, with all of your top starters lined up to make it happen, and you're playing an Astros team that has no idea how it's going to cobble together a staff for Game 5. The Rays still have a death grip on this series. Now they just need to finish the squeeze.
NLCS Game 4: Dodgers vs. Braves, 8 p.m. ET on FOX/FS1
FAQs: Lineups, pitchers, more
1) Are the Braves' heads done spinning yet?
The Braves, oddly, may be better situated than any other team in MLB history to deal with giving up 11 runs in the first inning of a postseason game: They did, after all, just give up 10 to the Cardinals in the NLDS last year. The advantage they have this time is that it did not end their season. As painful as that was to watch, the 15-3 blowout does, in fact, only count as one loss. You can even make an argument that losing like that is far better than losing a tight, taut 3-2 12-inning game. The Braves knew it was over quickly and thus gave a bunch of regulars some rest (they pulled Freddie Freeman and Ronald Acuña Jr. early) and didn't have to use too much of their bullpen, thanks to the willingness of Grant Dayton and Huascar Ynoa to be sacrificial lambs. That loss hurt. But it could have hurt a lot more.
• 15 stats, facts from NLCS Game 3 stunner
2) Does that feel a little better, Dodgers?
In the moment, the Dodgers' near comeback in Game 2 on Tuesday, in which they nearly came all the way back from down 7-0, felt like a bursting of the dam, and the Dodgers' giddiness was infectious, like puppies busting out into the yard. That giddiness clearly carried over and was an undeniable precursor for what was coming in the first inning of Game 3. And that Max Muncy slam was just the capper. The Dodgers have the sort of overwhelming talent that can just roll you. This might just be the start.
• Batter up! Biggest playoff innings in history
3) Hey, when are Acuña and Ozuna going to get going?
The big hope the Braves had going into this series was that their MV3 -- Freeman, Acuña and Marcell Ozuna -- would all be clicking at the same time, pretty much how they were all season. Freeman has had an excellent series so far (and so has Ozzie Albies), but Acuña and Ozuna have been awfully quiet. They're a combined 3-for-22, with no homers and just one RBI. It hasn't mattered yet; the Braves won the first two games without them and got so blown out in Game 3 that any contributions wouldn't have mattered. But this series is tight now, and very well might get tighter. Acuña and Ozuna have been stars this season. It's time to hit like stars in this series.
4) Who is Bryse Wilson again?
You can be forgiven if you thought the Braves' Game 4 starter is just the opener for a bullpen game. But Bryse Wilson, the guy with the oddly spelled first name, is a former top-shelf prospect who spent most of the year at the Braves' alternate training site before kicking into gear late in the regular season, and made two solid starts. (He's probably most famous for being the guy who got a save in a historic 29-9 game.) Game 4 will be the seventh start of Wilson's career, and he hasn't pitched since the final day of the regular season. And now here he is, trying to get the Braves within one game of the World Series against a no-doubt Hall of Famer. Good luck, kid!
5) Kershaw. Kershaw! Kershaw?
The injury has added a clear level of intrigue to Clayton Kershaw's debut this series in Game 4, but in a way, this NLCS and this postseason were always going to be about Kershaw. Skeptics and grouches have been after Kershaw and his supposed postseason struggles for years, but their complaints have been mostly rooted in bunk. Except …
• Can Kershaw reharness magic for Game 4?
Last year, the Nationals knocked Kershaw around for five runs in 6 1/3 innings, and that was a year after he had a 7.36 ERA in two World Series starts (both losses). He has been excellent in both his postseason starts this year, but still, that postseason ERA is at 4.32. You're tired of hearing about Kershaw's "difficulties" in October, and so am I. So the best way to end them would be to dominate -- like he has in most of 2020 -- once and for all, particularly when his team needs him so badly. But he's gotta be healthy. He's gotta be Kershaw.